3D printed packaging products: Introduction & Significance
3D printing refers to a specific field of manufacturing technology which includes a range of processes and applications. The concept includes construction of parts, layer-upon-layer. In the past few years, 3D printing has witnessed rapid adoption among manufacturers as it completely elimiates the need for tooling. In its initial days, 3D printing had limited applications in the packaging industry, which included prototyping. However, in recent years, 3D printing has made several strides in applications, and is expected to continue the momentum during the forecast period. 3D printing is now being increasingly used for the construction of final products. 3D printing is anticipated to create immnese opportunity for the growth of the packaging industry, especially during occasions, ranging from corporate events & conferences, to special events with worldwide coverage such as the Olympics. This arises from the requirement to turn around packaging that relates to that event. 3D printing has equally likely chances of disrupting the packaging industry as nanotechnology. Therefore, the outlook for the growth of the global 3D printed packagingis anticipated to be largely positive.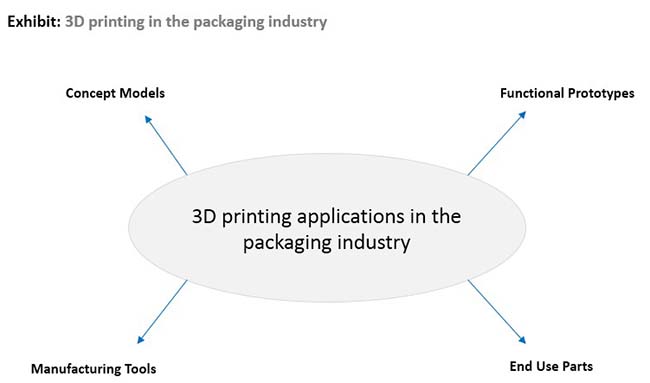 Research Methodology
A robust research methodology was adopted to determine the market size for 3D printed packaging products.
Supply-side analysis
The collected numbers are primarily obtained from key 3D printed packaging product manufacturers in the world, their product offerings, sales revenues in each market verticals. Sales revenue from 3D printed packagingwas estimated after comprehensive product mapping. Various market and industry experts, which includes sales and marketing heads of 3D printed packaging product manufacturers, independent consultants, and distributors, were contacted to validate the penetration of 3D printed packagingin the total packaging market.
Demand-side analysis
The overall end use market size was determined, and the penetration of 3D printed packaging was determined in eash of the end uses. The total value and demand for 3D printed packagingwas mapped in each end use industry, across the world.
This approach is followed for the global market, and bottom-up analysis was used to arrive at the market size of 3D printed packaging products, in terms of consumption and revenue.
Global 3D printed packaging market: Segmentation
The global 3D printed packaging market has been segmented as follows –
On the basis of end use packaging industry, the global 3D printed packaging market has been segmented as follows –
Food & Beverage packaging
Personal care & cosmetic products packaging
Medical products & pharmaceutical packaging
Others
On the basis of 3D printing method, the global 3D printed packaging market has been segmented as follows –
Additive manufacturing
Subtractive manufacturing
Additive manufacturing
It is the process which allows the construction of 3D objects by successively depositing material in layers such that it becomes a predesigned shape.
Subtractive manufacturing
In this method, 3D objects are constructed by successively cutting material away from a solid block of material.
On the basis of application, the global 3D printed packaging market has been segmented as follows –
Concept models
Functional prototypes
Manufacturing tools
End use parts
*Price range for the market has been studied on the basis of application
Global 3D printed packaging market: Key Players
Some of the key players using 3D printing for packaging are –
The Dial Corp.
Silgan Plastics
Xerox Corp.
Tray-Pak
Some of the brand owners who use 3D printing include –
Estee Lauder
Coty, Inc.
L'Oreal S.A.
GlaxoSmithKline plc
Mondelez International, Inc.
Some vendors in the market include
GenPak
Lombardi Plastic
Smart Design Co.
Key developments & dynamics of the market
3D printing has had a troubling history of competing with alternative technologies for price. However, one of the key characteristics observed in modern consumers is a large affinity towards packaging designs which are more exciting, engaging, and interactive. 3D printing would enable designers and engineers to do just that. The possibilities with 3D printing in the packaging industry are limitless, especially with bespoke packaging formats. 3D printing is also anticipated to play a pivotal role in the growth of contract manufacturers. 3D printing enables a company to add real-time innovations to a packaging line, efficiently.
Several companies use 3D printing to construct packaging prototypes, molds for thermoforming parts, and making prototypes of packaging machinery parts.
Many pharmaceutical companies use their 3D printers to construct functional prototypes.
3D printing is being used to construct robotic arms used in production. Therefore, 3D printing is anticipated to positively impact packaging machinery manufacturers.
3D printing is also a boon to the industry, especially the food & beverage industry, as an aid to custom and personalized packaging solutions.
3D printing is expected to witness growth in the rate of adoption in the next few years, owing to their zero contribution to plastic waste pollution.
The road ahead
To conclude, 3D printing will eventually be routinely used as a means of manufacturing products related to end use. In the recent years, we have witnessed a growing interest for personalized packaging among brands and packaging manufacturers. For instance, Coca-Cola's share a coke campaign, Nutella offering personalized jars of chocolate spread displaying the name of the consumer, Heinz running a competition to win a personalized bottle for HP sauce, for Father's day. These, and the fact that many beverage and alcohol brands are now selling NFC enabled bottles which can be connected with smartphones, emphasize that the trend of personalized packaging is unlikely to become obsolete any time soon. Therefore, experimenting with 3D printed packaging would be of great interest for these brands. There are several challenges to be faced down the line. High investment is required for 3D printing equipment, along with skilled operators. Also, mass production of large volume glass bottles is a feat yet to be achieved.
The report offers a comprehensive evaluation of the market. It does so via in-depth qualitative insights, historical data, and verifiable projections about market size. The projections featured in the report have been derived using proven research methodologies and assumptions. By doing so, the research report serves as a repository of analysis and information for every facet of the market, including but not limited to: Regional markets, technology, types, and applications.
The study is a source of reliable data on:
Market segments and sub-segments
Market trends and dynamics
Supply and demand
Market size
Current trends/opportunities/challenges
Competitive landscape
Technological breakthroughs
Value chain and stakeholder analysis
The regional analysis covers:
North America (U.S. and Canada)
Latin America (Mexico, Brazil, Peru, Chile, and others)
Western Europe (Germany, U.K., France, Spain, Italy, Nordic countries, Belgium, Netherlands, and Luxembourg)
Eastern Europe (Poland and Russia)
Asia Pacific (China, India, Japan, ASEAN, Australia, and New Zealand)
Middle East and Africa (GCC, Southern Africa, and North Africa)
The report has been compiled through extensive primary research (through interviews, surveys, and observations of seasoned analysts) and secondary research (which entails reputable paid sources, trade journals, and industry body databases). The report also features a complete qualitative and quantitative assessment by analyzing data gathered from industry analysts and market participants across key points in the industry's value chain.
A separate analysis of prevailing trends in the parent market, macro- and micro-economic indicators, and regulations and mandates is included under the purview of the study. By doing so, the report projects the attractiveness of each major segment over the forecast period.
Highlights of the report:
A complete backdrop analysis, which includes an assessment of the parent market
Important changes in market dynamics
Market segmentation up to the second or third level
Historical, current, and projected size of the market from the standpoint of both value and volume
Reporting and evaluation of recent industry developments
Market shares and strategies of key players
Emerging niche segments and regional markets
An objective assessment of the trajectory of the market
Recommendations to companies for strengthening their foothold in the market
Note: Although care has been taken to maintain the highest levels of accuracy in TMR's reports, recent market/vendor-specific changes may take time to reflect in the analysis.

3d Printed Packaging Market