Home Press Releases
Molecular Diagnostics Market to Amount US$8.7 billion by 2019 due to Growing Demand from Asia Pacific
Molecular Diagnostics Market to Amount US$8.7 billion by 2019 due to Growing Demand from Asia Pacific
According to a recent study published by Transparency Market Research (TMR), the
global molecular diagnostics market
is anticipated to expand at a CAGR of 11.1% during the period from 2013 to 2019 to reach a value of US$8.7 billion by the end of the forecast period.The market study, titled "
Molecular Diagnostics Market - Global Industry Analysis, Size, Share, Growth, Trends and Forecast, 2013 - 2019
", states that the rising geriatric population and the increasing prevalence of chronic diseases around the world is driving the growth of the molecular diagnostics market all over the world.The study determines that the next generation sequencing market is emerging as the fastest growing technological segment of the global molecular diagnostics industry, reporting rapid growth. The brisk turnaround time of the next generation sequencing technique has helped it gain momentum. The cost reduction of sequencing has also added to the growth of this market segment. In addition to this, the PCR market segment, which had dominated the global molecular diagnostics market in 2012, is projected to lose ground on account of the regular advancement in high yield sequencing technologies.
According to the study, the infectious diseases market segment dominates the global molecular diagnostics market based on application, holding 60% of the overall market. The market for genomics and for blood donor screening jointly hold the remaining portion of the industry. The rising prevalence of hospital acquired infections (HAI) has stimulated the market for molecular diagnosis in the field of infectious diseases, resulting in the rise of the HAI testing market within the segment. This market is expected to grow at a CAGR of 15.1% during the forecast period. Additionally, the rise in the incidence of cervical cancer caused by human papilloma virus (HPV) is giving rise to HPV testing, supporting the infectious diseases market segment. The HPV testing market is expected to develop at a CAGR of 14.8% between 2013 and 2019. Furthermore, the markets for HLA typing testing and oncology testing within the genomics segment are also anticipated to register a rapid growth rate during the forecast period.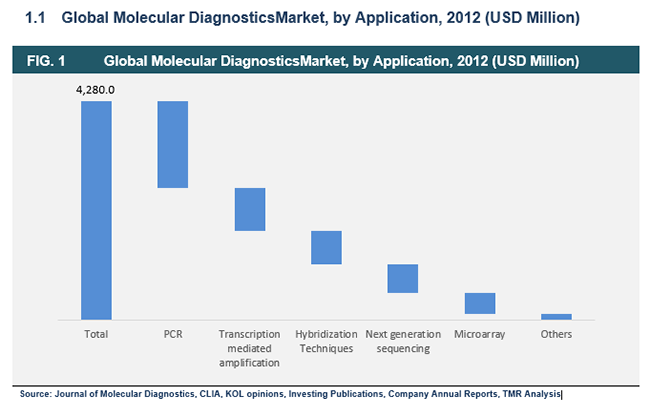 The report also analyzes the global molecular diagnostics market based on its geographical distribution. The markets in North America and Europe collectively account for the largest share in the global market for molecular diagnostics owing to high public investment in the field of proteomics and genomics. The increase in the awareness and utilization of personalized medicines provides an additional advantage to these regional markets. In 2012, the molecular diagnostics market in North America accounted for 42.68% of the overall market, while the market in Europe occupied a 29.79% share.Apart from this, the market for molecular diagnostics in Asia pacific is expected to register the highest growth in the coming year and held a 17.47% share of the global market in 2012. The rising awareness among the common populace regarding health and wellness, utilization of preventive medicine, availability of technically advanced medical products and devices, and developing economic conditions in the region are the major causes fueling the molecular diagnostics market in this region. The Rest of the World segment held 10.06% of the global molecular diagnostics market in 2012.
Browse Full Report
Molecular Diagnostics Market (PCR, Next Generation Sequencing, Microarray, Infectious diseases, Genetic disease, Oncology testing, Blood donor screening) - Global Industry Analysis, Size, Share, Growth, Trends and Forecast, 2013 - 2019
Research Report With Full TOC @
http://www.transparencymarketresearch.com/molecular-diagnostics-industry.html
Some of the major participants of the global molecular diagnostics industry profiled in this report are Abbott Laboratories, bioMerieux, Becton Dickinson & Company, Bio-Rad, Danaher Corporation, Cepheid, F. Hoffmann-La Roche Ltd., Myriad Genetics, Inc., Hologic, Inc., Novartis International AG, Quest Diagnostics, Inc., Qiagen, Thermo Fisher Scientific, and Siemens AG.
About Us
Transparency Market Research (TMR) is a global market intelligence company providing business information reports and services. The company's exclusive blend of quantitative forecasting and trend analysis provides forward-looking insight for thousands of decision makers. TMR's experienced team of analysts, researchers, and consultants use proprietary data sources and various tools and techniques to gather and analyze information.
TMR's data repository is continuously updated and revised by a team of research experts so that it always reflects the latest trends and information. With extensive research and analysis capabilities, Transparency Market Research employs rigorous primary and secondary research techniques to develop distinctive data sets and research material for business reports.
Contact
Mr. Nachiket
State Tower,
90 State Street,
Suite 700,
Albany NY - 12207
United States
USA - Canada Toll Free: 866-552-3453
Email: sales@transparencymarketresearch.com
Website: http://www.transparencymarketresearch.com
Share This Article!
Related Report
Asia, Europe, and South America Anti-aging Market (By Products: UV Absorbers, Dermal Fillers, Botox, Anti-stretchmark, Hair Color, and Anti-wrinkle By Services: Anti-pigmentation, Anti-adult Acne, Breast Augmentation, Liposuction, Abdominoplasty, Chemical Peel, Eye Lid Surgery, Hair Restoration, and Sclerotherapy; By Devices: Anti-cellulite Treatment, Microdermabrasion, Laser Aesthetic, and Radio Frequency) - Industry Analysis, Size, Share, Growth, Trends and Forecast 2014 - 2020

This report studies the anti-aging products, services and devices market in Europe, Asia and South America. The market has been segmented on the basis of demographics for analyzing each of the segments including products, services and devices for three major geographic regions: Europe, Asia and South America. The anti-aging services market has been sub-segmented into anti-pigmentation therapy, adult anti-acne therapy, breast augmentation, liposuction,...

A hearing aid is an electronic device designed to amplify sounds, particularly speech for people with hearing impairments and loss in hearing abilities. A hearing aid consist of a microphone, a loudspeaker, an amplifier and a battery. The microphone picks up the sound, which is made louder with the help of an amplifier so the wearer can hear things more clearly. Hearing aids are incapable of truly correcting a hearing loss but they are an aid to make sounds...

Canada Home Healthcare Market (By Device Types - Diagnostics and Monitoring Devices, Therapeutic Home Healthcare Devices, Mobility Assist Devices and Medical Supplies; By Services - Rehabilitation, Telehealth and Telemedicine, Respiratory Therapy, Infusion Therapy and Unskilled Home Healthcare Services) - Industry Analysis, Size, Share, Growth, Trends and Forecast 2014 - 2020

The home health care market includes a wide range of medical devices and services that are used by patients to treat, diagnose, and monitor a variety of chronic diseases. These devices and services play an important role in providing cost-effective health care to the patients. The home health care market offers lucrative business opportunities in Canada due to increased acceptance of home health care, technological advancements, and cost-effective...