Workstation Software Market: Introduction
Workstation software is designed for power users who need to do things quicker, wait less, and accomplish more in less time. Workstation software offers premier level of performance, visualization, and data integrity.
Workstation means upgrading the current systems to the advance systems to perform the heavy workloads.
Workstation software consist a capable and ideal way to resolve the difficulty of heavy workload applications, irrespective of platforms or industry.
The workstation software is mostly used in entertainment sector where a lot of audio and video processing is needed. Also, such software work great in the media sector where live broadcasting is done.
The rising usage of CAD and 3D displaying software for generating complicated engineering designs is anticipated to drive the growth of workstation software market during the forecast period.
To increase the performance of workstation software it requires a huge ram capacity, GPU, thermal cooling, high storage, and support running of heavy memory applications such as CAD, CAM and Photoshop etc.
Workstation Software Market: Dynamics
Workstation Software Market: Key Drivers
Workstations aimed at content formation and computer aided design (CAD) that supports in increasing 3D modeling workflow and escalates efficiency. Adoption of workstations permits users to run mission critical applications on a stand-alone workstation.
One of the major factors obstructing implementation of workstation software is the high preliminary upfront cost of high-end workstations. Numerous industries such as manufacturing, engineering, architecture, and construction depend on computers that include high graphics, additional number of cores, and massive storage space.
Small as well as large scale businesses are implementing workstations and related software to improve computing performance. Thus, the increasing acceptance of workstations among businesses such as heavy video editing and graphics, financial analysis, engineering design is predicted to boost the growth of the market.
Gamers nowadays expect high graphics with a good configuration and a non-lagging play experience of the game they are playing. Subsequently, most gamers want to play the latest games with high graphics settings, leading to a supply and demand scenario for high-powered gaming workstations
A rise in rate of adoption and increasing demand for workstation technologies across various sectors is projected to boost the growth of the workstation software market.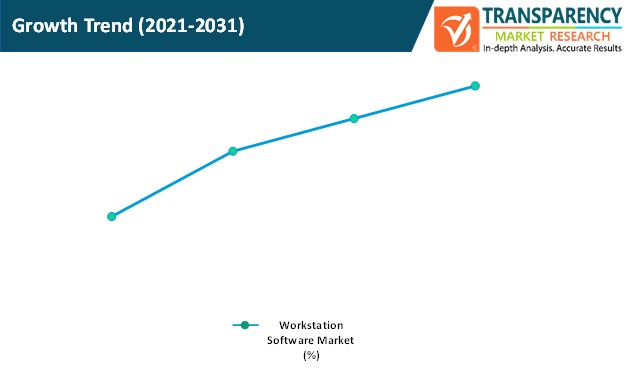 Impact of COVID-19 on the Workstation Software Market
Increasing cases of COVID-19 across the globe is causing economic slowdown and millions of employees are working from home for the first time, during this pandemic. So, it is very difficult to high end users to work on a normal systems and organizations have started investing in high tech computer technologies. So as a result, over the past few months workstation software vendors has increased the sales and there is huge demand in market.
North America to Hold Major Share of the Workstation Software Market
In terms of region, the global workstation software market can be divided into North America, Europe, Asia Pacific, Middle East & Africa, and South America
North America dominated the global workstation software market with the largest share mainly because of developed economies, such as the United States and Canada. Moreover, the increasing demands, specifically from the architecture and manufacturing sector has propelled the growth of the U.S. workstation software market
The global workstation software market in Asia Pacific is anticipated to expand at a rapid pace during the forecast period. Developing countries are mostly focusing on adoption of new technologies, and countries such as India and China are focusing on investing in the workstation software market.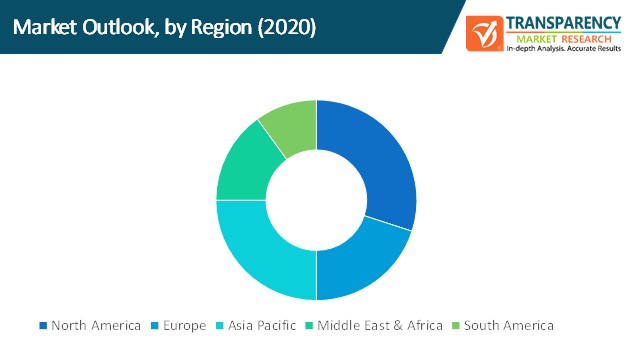 Workstation Software Market: Competition Landscape
Several local, regional, and global players are active in the workstation software market with a strong presence. Rapid industrial progress has created noteworthy prospects in the market. Players in the market are constantly focusing on developing technology advanced solutions for their customers.
Key Players Operating in the Global Workstation Software Market Include:
Enscape
Luxion Inc.
Enscape
Adobe Inc.
Maxon Computer GMBH
Skylum
Fujitsu
Survios
GIMP
Autodesk, Inc.
SubVrsive Inc.
Autodesk, Inc.
Unity Technologies
Virtuix
Solidworks (Dassault Systems)
Microsoft Corporation
Workstation Software Market: Research Scope
Workstation Software Market, by Software
Image and Video Processing Software
Virtual Reality Software
CAD, CAM, and CAE Software
3D Modelling and Rendering Software
Workstation Software Market, by End-user
Gaming and Entertainment
Media and Publishing
Engineers, Designers, and Architects
Enterprise Software Developers
Others
Workstation Software Market, by Region
North America

U.S.
Canada
Rest of North America

Europe

Germany
France
U.K.
Italy
Rest of Europe

Asia Pacific

China
Japan
India
South Korea
Rest of Asia Pacific

Middle East & Africa

GCC
South Africa
Rest of Middle East & Africa

South America

Brazil
Rest of South America