Weather Data Services - Introduction
Weather data services are an effective way to access data about the weather forecast and historical weather observation data, which helps keep track of climate situations periodically.
Weather data services help to gather data from international weather data providers, which collects the weather data from the global surface area.
Usage of weather forecasting services in various industries is expected to rise in order to improve safety and reduce losses occurring due to natural disasters in various end-user industries.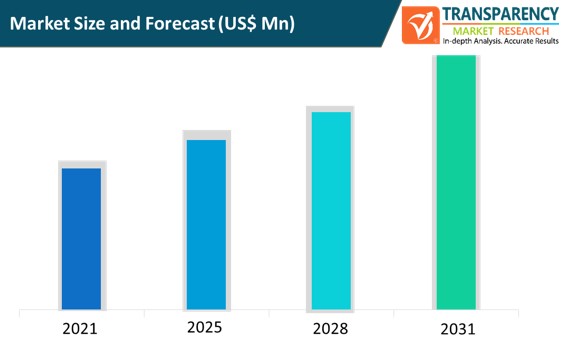 Global Weather Data Services Market: Dynamics
Global Weather Data Services Market: Key Drivers
Increased fluctuations in weather and climate results in global warming. Adoption of weather data services is expected to rise during the forecast period in order to monitor these changes in weather.
Adoption of artificial intelligence (AI) and machine learning (ML) technology in weather monitoring systems, in order to monitor and inspect real-time weather database, is expected to fuel the weather data services market during the forecast period
Rise in adoption of weather data services in the weather forecast department ensures the timely prediction of weather up to 13 days in advance. This feature of weather data services is estimated to boost the market during the forecast period.
High initial cost of investment and maintenance are expected to restrain the weather data services market
Renewable energy generation from wind and solar power is expected to offer significant opportunities for the weather data services market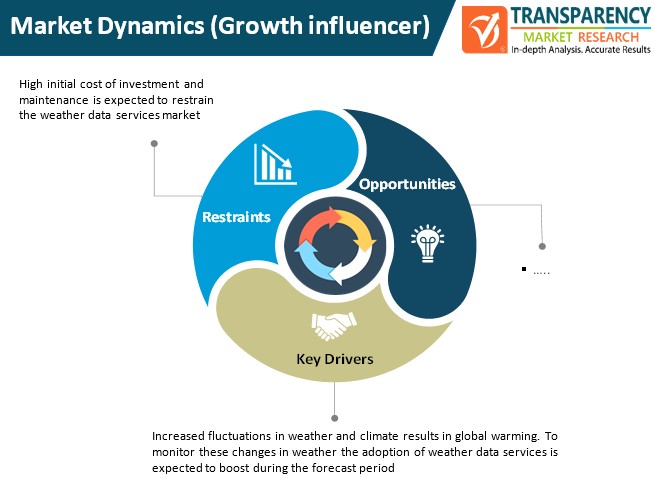 Impact of COVID-19 on Global Weather Data Services Market
Most countries across the globe were facing lockdowns due to the COVID-19 pandemic, which resulted in economic slowdown. The pandemic created disruptions in weather conditions in both positive and negative ways.
People were prohibited to meet in person due to safety reasons owing to the rules and regulations imposed by governments. This had an indirect effect on climate conditions during the pandemic situation.
The use of vehicles reduced during COVID-19 situation, which led to a decline in pollution levels. This, in turn, improved the performance of weather data services.
Thus, the weather data services market is expected to decline during the COVID-19 situation
North America to Hold Major Share of Global Weather Data Services Market
In terms of region, the global weather data services market can be divided into North America, Europe, Asia Pacific, Middle East & Africa, and South America
North America is anticipated to dominate the global weather data services market during the forecast period due to the presence of several prominent players operating in the weather data service market in the region
Rise in awareness about cloud-based weather data services in India and China is expected to boost the market in Asia Pacific during the forecast period
Increase in adoption of weather forecast solutions to provide an accurate weather database in Europe is projected to boost the rate of adoption of weather data services in the region
Rise in advancement in weather prediction systems in Middle East & Africa is estimated to fuel the weather data services market in the region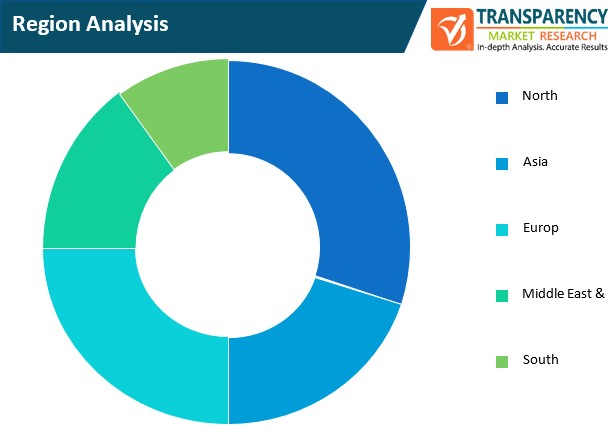 Global Weather Data Services Market: Competition Landscape
Several key players operating in the weather data services market are focused on the launch of new services to consolidate their presence in the market. They are undertaking rapid technological innovations.
For instance, in July 2020, AccuWeather launched new AccuWeather Local Hurricane Tracker, which helps provide real-time updates about wind speeds and rainfall amounts and provides weather reports to the weather forecast department
Key Players Operating in the Global Weather Data Services Market Include:
AccuWeather, Inc.
DTN, LLC
Earth Networks, Inc.
International Business Machines Corporation
Meteoblue AG
Meteomatics AG
OpenWeather Ltd
The Tomorrow Companies Inc.
Visual Crossing Corporation.
Weather Source, LLC
WeatherAlpha
Weatherbit, LLC
Global Weather Data Services Market: Research Scope
Global Weather Data Services Market, by Component
Global Weather Data Services Market, by Deployment
Global Weather Data Services Market, by Enterprise Size
Small & medium Enterprise
Large Enterprises
Global Weather Data Services Market, by End-user
Automotive
Manufacturing
Transportation & Logistics
Information and Technology
Government
Agriculture & Fisheries
Energy & Utilities
Meteorology
Others
Global Weather Data Services Market, by Region
North America

U.S.
Canada
Rest of North America

Europe

Germany
France
U.K.
Italy
Rest of Europe

Asia Pacific

China
Japan
India
South Korea
Rest of Asia Pacific

Middle East & Africa

GCC
South Africa
Rest of Middle East & Africa

South America

Brazil
Rest of South America