Waterproofing Chemicals Market
Waterproofing Chemicals Market (Product Type - Bitumen, PVC, EPDM, TPO, PTFE and Silicone; Technology - Sheet-based Membrane, Liquid Coated Membrane, and Cementitious Waterproofing; End Use - Construction, Infrastructure, Automotive, Textile and Leather) - Global Industry Analysis, Size, Share, Growth, Trends, and Forecast 2016 - 2024
Chemicals & Materials
TMRGL8530
2016-11-14
210

Pages
Waterproofing Chemicals Market: Construction Industry to Build Monumental Growth
The waterproofing chemicals market is expected to register healthy growth in the near future, thanks to rising demand in construction industry. The waterproofing chemicals market is likely to grow at the CAGR of 5.10% during 2016-2024. The market is expected to reach a total valuation of US$12.3 bn by 2024 end. The waterproofing chemicals market stood at a modest US$7.6 bn.
The growing demand for waterproofing chemicals market in applications such as protection of buildings from leakage and seepage. Additionally, growing urbanization across the world and industrialization are further expected to drive demand for constructions. Moreover, rise in technology such as automation in manufacturing of the waterproofing chemicals are expected to increase their uptake and production simultaneously. Additionally, new technologies like big data are also making it easier to find new materials and combinations which make way for advancements in waterproofing chemicals. The reduction in costs due to mass manufacturing will also drive considerable growth in the waterproofing chemicals market.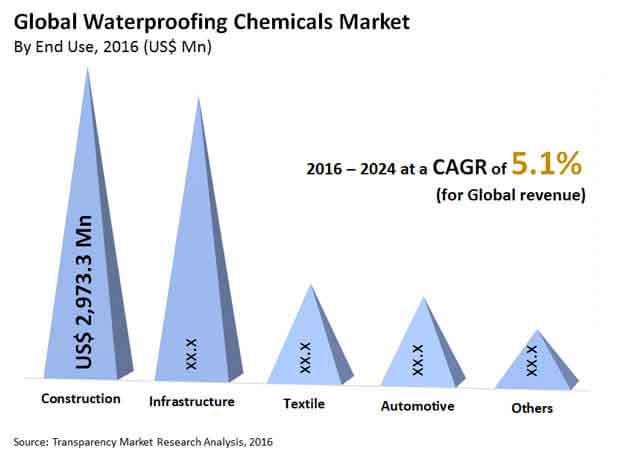 Waterproofing Chemicals Market: Applications Rise to Drive Robust Growth
Waterproofing chemicals market is experiencing robust growth in construction, thanks to growing infrastructure developments across the world, especially in Asia Pacific. Additionally, the waterproofing chemicals market is witnessing a growing demand in new applications such as textiles, construction, leather, and automotive as well. The waterproofing chemicals play an important role in wearable goods like textile and leather items like bags. The chemicals help keep moisture away from important personal valuables and are expected to create new opportunities in the waterproofing chemicals market.
In the construction industry, the waterproofing chemicals market is expected to play a key role in roofing applications. Major regional markets like North America are seeing a rise in home and office renovations. Additionally, roofing and renovation applications in general are growing in importance due to extreme climatic changes witnessed across the world recently. Additionally, regions like Asia Pacific are witnessing substantial increase in infrastructure developments. This is expected to create several opportunities for waterproofing chemicals market.
The Waterproofing Chemicals Market: Bitumen Binds Growth
The global waterproofing chemicals market is segmented into thermoplastic olefin, PVC, polytetrafluoroethylene (PTFE), ethylene propylene, bitumen, and silicone. Among these, bitumen dominated the growth of the waterproofing chemicals market recently. The segment is expected to continue its robust growth, thanks to its exceptional binding properties and high viscosity. Additionally, silicone and PVC are also expected to register strong growth over the forecast period.
The rising infrastructure projects such as bridges, pavements, and tunnels in Asia Pacific and Europe are expected to drive growth. Additionally, North America region is witnessing a growing public outcry about crumbling infrastructure in some parts. This can also make way for significant growth in the waterproofing chemicals market in the near future. Additionally, Europe is constructing environment friendly bridges, which can keep natural pathways for animals and humans intact in accordance with nature. Similarly, underwater bridges like the newly under-construction one in Norway is also expected to drive significant growth in the waterproofing chemicals market.
The Middle East region is also expected to grow at a significant CAGR over the forecast period. The region is witnessing major initiatives for oil explorations as well as construction of several new oil refineries. The rising demand for advanced waterproofing chemicals and reliable materials can make way for new opportunities in the waterproofing chemicals market in this region.
Magnifying Investments in Infrastructure and Construction Sector Waterproofing Chemicals Market
The construction sector has witnessed extensive advancements over the years. The rising disposable income, increasing purchasing power parity, and the increase in the rural-to-urban migration percentage have served as positive growth indicators for the construction sector. The expanding number of construction activities also proves to be a boon for the associated industries. The waterproofing chemicals sector is one of them. Thus, based on all these aspects, the waterproofing chemicals market will observe considerable growth across the assessment period of 2016-2024.
Waterproofing chemicals refer to the chemicals used for waterproofing activities conducted across various buildings. Bitumen, PTFE, Silicone, TPO, EPDM, PVC, and others are some of the vital chemicals used for waterproofing. The overwhelming use of waterproofing chemicals across automotive, textile, and leather industries other than the construction industry will also bring substantial growth prospects through the tenure of 2016-2024.
The government bodies of various countries are focusing on developing the quality of infrastructure. Densely populated countries such as India and China are increasing their attention toward improving the infrastructure. Ongoing large infrastructural projects across the world, especially in these countries will help in increasing the growth rate of the waterproofing chemicals market. The growing expenditure on landfill systems by numerous manufacturers in the construction industry has also led to an increase in growth opportunities.
The COVID-19 pandemic has a negative impact on the growth of waterproofing chemicals market. The closure of manufacturing units on the back of the strict lockdown restrictions led to a decline in the production of the chemicals. The disruption in supply chain and logistics due to border restrictions also affected the growth of the waterproofing chemicals market to a considerable extent. Nevertheless, the relaxations announced by the governments in terms of lockdown restrictions will prove to be a relief to the players in the waterproofing chemicals market.
Global Waterproofing Chemicals Market: Overview
Waterproofing Chemicals are a class of fine/specialty chemicals which arrest or inhibit permeability of water or moisture to interior or exterior surfaces of wide range of materials e.g. cement/ concrete walls, fabrics, leather articles, paper, electronic goods etc. It is applied mainly in form of sheet membranes, cementitious coating, liquid coating membranes, sprays and coatings etc. The major product types include bitumen, EPDM, TPO, PVC, PTFE and silicone, while the end use applications include Construction, Infrastructure, Automotive, Textile & Leather and others.
Global Waterproofing Chemicals Market: Scope of the Report
The report estimates and forecasts the waterproofing chemicals market on the global, regional, and country levels. The study provides forecast between 2016 and 2024 based on volume (Kilo Tons) and revenue (US$ Mn) with 2015 as the base year. The report comprises an exhaustive value chain analysis for each of the product, technology and end use segments highlighting the process and the key participants involved. Value chain analysis also offers detailed information about value addition and profit margins earned at each stage. The study includes market dynamics i.e. drivers, restraints, opportunities and trends for the waterproofing chemicals market along with their impact on demand during the forecast period. The study also provides key market indicators affecting the growth of the market. The report analyzes opportunities in the waterproofing chemicals market on the global and regional level. Drivers, restraints, and opportunities mentioned in the report are justified through quantitative and qualitative data. These have been verified through primary and secondary resources. Furthermore, the report includes waterproofing chemicals global average price trend analysis and regional market trend analysis as well.
The report includes Porter's Five Forces Model to determine the degree of competition in the waterproofing chemicals market. The report comprises a qualitative write-up on market attractiveness analysis, wherein end-users and countries have been analyzed based on attractiveness for each region. Growth rate, market size, profit margin, impact strength, technology, competition, end use applications and other factors (such as environmental and legal) have been evaluated in order to derive the general attractiveness of the market. The report comprises price trend analysis for waterproofing chemicals between 2016 and 2024.
Global Waterproofing Chemicals Market: Segmentation
The study provides a comprehensive view of the waterproofing chemicals market by dividing it into product, technology, end-user and geography segments. The waterproofing chemicals market has been segmented into bitumen, TPO, EPDM, PVC, Silicone and PTFE based on product. Application segment have been analyzed based on historic, present, and future trends.
Regional segmentation includes the current and forecast demand for waterproofing chemicals in North America, Europe, Asia Pacific, Latin America, and Middle East & Africa (MEA). Additionally, the report comprises country-level market sizing in terms of volume and revenue under each respective region. Key countries such as the U.S., Germany, the U.K., Spain, GCC, India, China, South Africa, Mexico, Brazil, etc. have been included in the study. Market segmentation includes demand for individual applications in all the regions and countries.
Global Waterproofing Chemicals Market: Competitive Dynamics
The report covers detailed competitive outlook that includes market share and profiles of key players operating in the global market. The companies included in this reports are major global/regional players which are catering to all types of end use markets such as Construction, Automotive, Leather, Textile, Electronics etc. such as Archroma Management LLC in textiles and Liquipel LLC in electronics .
Key players profiled in the report include The Dow Chemical Company, BASF SE, E.I. du Pont de Nemours and Company, Akzo Nobel NV, Evonik Industries, Wacker Chemie GmbH, W.R. Grace and Company and Other major market players. Prominent regional company profiles have also been mentioned such as Pidilite Industries Limited, MUHU (China) Construction Materials, RPM International Inc. etc. The Company profiles include attributes such as company overview, number of employees, brand overview, key competitors, business overview, business strategies, recent/key developments, acquisitions, and financial overview (wherever applicable). Competitive Analysis as well as SWOT analysis of top companies have been provided in this report.
Global Waterproofing Chemicals Market: Research Methodology
Secondary research sources that were typically referred to include, but were not limited to company websites, financial reports, annual reports, investor presentations, broker reports, and SEC filings. Other sources such as internal and external proprietary databases, statistical databases and market reports, news articles, national government documents, and webcasts specific to companies operating in the market have also been referred for the report.
The primary research sources consists of key officials from the companies mentioned in competition landscape, other mid-small size company representatives, industry experts, volunteers from industrial associations etc. In-depth interviews and discussions with a wide range of key opinion leaders and industry participants were conducted to compile this research report. Primary research represents the bulk of research efforts, supplemented by extensive secondary research. Key players' product literature, annual reports, press releases, and relevant documents were reviewed for competitive analysis and market understanding. This helped in validating and strengthening secondary research findings. Primary research further helped in developing the analysis team's expertise and market understanding.
The global waterproofing chemicals market has been segmented as follows:
Waterproofing chemicals Market – Product Analysis
Bitumen
TPO
EPDM
PVC
PTFE
Silicone
Waterproofing chemicals Market – Technology Analysis
Sheet Membrane
Liquid Coated Membrane
Cementitious Waterproofing
Others
Waterproofing chemicals Market – End Use Analysis
Construction
Infrastructure
Automotive
Textile and Leather
Others
Waterproofing chemicals Market – Regional Analysis
North America
Europe

Germany
France
U.K.
Italy
Spain
Rest of Europe

Asia Pacific

China
India
Japan
ASEAN
Rest of Asia Pacific

Middle East & Africa

GCC
Egypt
South Africa
Rest of Middle East & Africa

Latin America

Brazil
Mexico
Rest of Latin America
Custom Market Research Services
TMR offers custom market research services that help clients to get information on their business scenario required where syndicated solutions are not enough.
REQUEST CUSTOMIZATION

Waterproofing Chemicals Market