Transformer Oil Market
Transformer Oil Market (Product - Mineral Oil (Naphthenic Oil and Paraffinic Oil), Silicone-based Oil, and Bio-based Oil; Application - Power Transformers and Distribution Transformers - Global Industry Analysis Size Share Growth Trends and Forecast 2016 - 2024
Category :

Chemicals & Materials

Format :
Insulating oil used in an electrical transformer is usually known as transformer oil. These oils are widely used in switch gears, florescent ballast lamps, oil-filled transformers, and various types of high voltage capacitors. Transformer oil acts as a coolant. Such oil is mainly derived from crude oil through the process of fractional distillation. In a transformer, transformer oil serves two crucial functions such as dissipation of heat which is generated inside of the transformers and suppression of arcing. Such oil exhibits excellent properties such as high resistivity, di-electricity, chemical stability, minimum power loss, and thermal conductivity. Transformer oils are stable at high temperature. Such USPs are driving the global transformer oil market. Apart from this, increasing rate of power consumption, and rapid expansion of electrical grids in developing economies are further fueling growth in the global transformer oil market. Along with this, growing demand for electrical energy worldwide is also propelling expansion in the global transformer oi market.
According to experts, the global transformer oil market is anticipated to register revenue valued at US$3.26 bn by 2024 end. The growth is prophesized to occur at a promising CAGR of 5.70% during the assessment period from 2016 to 2024. Transformer oil is required for repairing and renovating the existing power sector infrastructure. The market is mainly segmented on the basis of product type, application, and region.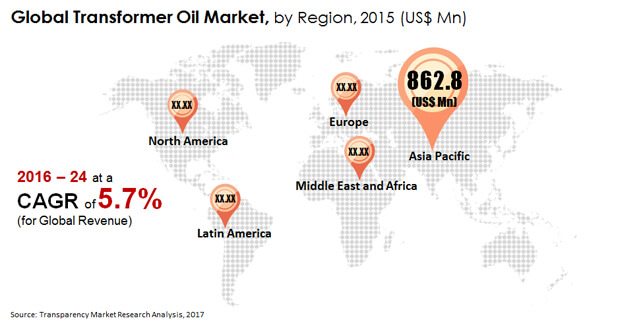 Power Transformers Anticipated to Hold an Insignificant Share in Market
From the perspective of product type, the global transformer oil market is segmented into silicone-based oil, mineral oil, and bio-based oil. Among these segments, mineral oil is expected to showcase fantastic expansion in the next few years, especially during the forecast period – 2016 to 2024. This is because of the mushrooming industrialization, rapid urbanization, and huge demand for mineral oil from various industries. However, apart from mineral oil, bio-based oil is the next segment to witness largest sale due to their high performance properties along with a wide range of application areas.
In terms of application, the global transformer oil market is bifurcated into following segments – distribution transformers and power transformers. Among these applications, the distribution transformers segment is expected to witness highest proliferation due to the ability of distribution transformers to outnumber power transformers to a high extent. The maximum demand for transformer oil is coming from distribution transformers, thanks to the governments' initiatives in expanding the power infrastructure in developing economies. Power transformers is expected to become the next dominating segment during the forecast period due to their significant uptake of transformer oil and broadening application areas such as circuit boards and switchgears.
Asia Pacific Showcases Largest Share in Transformer Oil Market
On the regional front, the global transformer oil market is segmented into Latin America, Asia Pacific, the Middle East and Africa, North America, and Europe. Among these, Asia Pacific dominated the global transformer oil market with a lion's share of above 43%. This is because the region has seen the rapid advancement in the power infrastructure. In Europe, rapid development of offshore wind farms for power generation is driving demand for transformer oil market.
Some of the prominent players operating in the global transformer oil market are Dow Corning Corp, Cargill, Gulf oil Middle East Ltd, Electrical Oil Services Ltd, and ExxonMobil Corp. These players are expanding their product portfolio to gain a competitive edge in the market.
Rising Demand for Electricity to Benefit Global Transformer Oil Market
The transformers industry has made considerable progress as the power sector expands to meet rising electricity demands. The demand for transformer oil has been driven by an increased emphasis on rural electrification in developing regions such as China and India. In addition to that, widespread awareness about equipment maintenance is further likely to bolster growth of the global transformer oil market in near future.
In many parts of Asia Pacific's rural areas, rapid urbanization, industrialization, and increasing access to conventional electricity grids have resulted in a rise in electricity consumption. In the last few years, the demand for electricity in this region has almost doubled. Market demands are increasing, and distribution networks are expanding at an exponential pace, which is likely to add to the growth of the global transformer oil market in near future.
Accelerated Pace of Rural Electrification to Open Up Revenue Streams for the Market
These oils are utilized in various applications, such as cooling systems, heat dissipation, and power isolation equipment. In developed countries such as Europe and North America, the replacement and modernization of existing transformers has had a significant impact on the development. Strict energy waste legislation enacted by the Electricity & Cogeneration Regulatory Authority, the US Environmental Protection Agency, and various other federal agencies has also boosted oil demand in order to reduce pollution and electricity waste. Extensive uses of small-scale transformers are likely to leave considerable positive impact on the global transformer oil market. These systems are widely used to meet the growing demand for electricity in small towns and rural areas with space constraints.
In the countries of Asia Pacific like Sri Lanka, Bangladesh and India, increasing urbanization and electrification of rural areas have made a significant contribution towards the development of the global transformer oil market. Consumers often prefer to buy in bulk so as to offset the high costs of complex filling systems, which has resulted in increased market sales and production in the recent years.
The installation of transformers is quite a time-consuming and cost-effective process, which is further indicated by unpredictable raw material prices for copper and electric steel. This factor is likely to hamper market growth in the recent years.
Global Transformer Oil Market: Overview
Transformer oil is an oil used in oil filled transformers for insulation purposes. It is also used as a coolant and to prevent arcing and corona discharges in a transformer. The report provides in-depth analysis and forecast of the transformer oil market on the global as well as on regional level. It further includes value chain analysis to help understand the industry thoroughly. Value chain analysis comprises detailed evaluation of the roles of various entities involved in the transformer oil industry, from raw material suppliers to end-users.
Various processes employed in the manufacture of transformer oil have been included in the value chain analysis. Porter's five forces model has been included to determine the degree of competition in the market during the forecast period. Furthermore, market attractiveness analysis has been conducted to analyze application segments that are expected to be lucrative during the forecast period. This is based on various factors such as market size, growth rate, profitability, raw material procurement, and competition in each application segment.
Global Transformer Oil Market: Research Methodology
The report includes forecast for the period from 2016 to 2024 in terms of volume (kilo tons) and revenue (US$ Mn). Quantitative data has been derived through extensive secondary research of the global transformer oil market. Secondary sources typically include company websites, relevant magazines, government documents, and press releases. The top-down approach has been adopted to derive the regional numbers from global revenue and volume figures. Furthermore, the bottom-up approach has been employed to derive data for various product type and application segments based on demand for transformer oil in each geographical segment. A combination of top-down and bottom-up approaches helps in validation of the quantitative data of the market. The data was further validated with the help of primary research with industry experts to ensure accuracy of derived numbers.
Detailed analysis of various factors driving the global transformer oil market has been included for astute decision making. Impact of these drivers during the forecast period has been included with data to substantiate research findings. Furthermore, factors restraining market growth have been included for better understanding of the market. Impact of these restraints has been analyzed over the forecast period. The report also comprises various opportunities available for market growth over the next eight years. Opportunities entail untapped or recently explored factors that are anticipated to drive the transformer oil market during the forecast period.
Global Transformer Oil Market: Segmentation
The global transformer oil market is divided on the basis of product type as mineral oil, silicone based and bio based transformer oil. The mineral oil segment is further classified into naphthenic oil and paraffinic oil. Based on application type, the transformer oil market has been segmented into power transformers, distribution transformers and others application segment.
In terms of region, the market has been segmented into North America, Europe, Asia Pacific, Latin America, and Middle East & Africa. Demand for transformer oil in each application segment type has been analyzed and forecast for a period of eight years. The report comprises detailed analysis of all the segments in the regional and global markets and forecast based on current and future trends in the industry in terms of volume (kilo tons) and revenue (US$ Mn).
Companies Mentioned in the Report
The report also comprises profiles of leading companies in the transformer oil market. These include Nynas AB, Sinopec Corp., ExxonMobil Corp., Royal Dutch Shell Plc, Cargill Incorporated, Apar Industries Ltd., Gulf Oil Middle East Ltd., and Ergon Inc. among others. Various attributes of these companies such as company overview, business strategies, and recent developments form the core of the company profiles section.
This report segments the global transformer oil market as follows:
By Product

Mineral Oil

Naphthenic Oil
Paraffinic Oil

Silicone based
Bio based

By Application

Power Transformers
Distribution Transformers
Others

By Region

North America
Europe

U.K.
Italy
Spain
France
Germany
Rest of Europe

Asia Pacific

China
Japan & Korea
India
ASEAN
Rest of Asia Pacific

Latin America

Brazil
Mexico
Rest of Latin America

Middle East & Africa (MEA)

GCC
South Africa
Rest of MEA
Custom Market Research Services
TMR offers custom market research services that help clients to get information on their business scenario required where syndicated solutions are not enough.
REQUEST CUSTOMIZATION