Global Thermoplastic Polyurethane Films Market: Overview
Thermoplastic polyurethane is a division of polyurethane plastics that is created by a polyaddition reaction between a single or multiple long- or short chain diols and a diisocyanate. Thermoplastic polyurethane films feature a great resistance to abrasion, amazing flexibility, and excellent toughness. The films are used in a multitude of industries such as construction, aerospace, automotive, and energy. TPUs can be made into fine strings, and can be joined with nylon to make more lightweight, stretchable pieces of clothing. In view of these methods, producers can make a wide scope of foot wear. Different evaluations of thermoplastic polyurethane can give a scope of hardness to convey the required measure of flexibility and friction. Attributable to enhanced biocompatibility, hydrolytic solidness, biostability, versatility, elasticity, high rigidity and abrasion resistance, thermoplastic polyurethane is utilized in various other medical and therapeutic applications. On account of the multitude of applications that TPF offer, the global thermoplastic polyurethane films market is expected to grow substantially over the coming years.
The market intelligence report provides an in-depth study of the global thermoplastic polyurethane films market while providing a rich analysis of the market situation, with detailed focus on its drivers, opportunities, restraints and trends. The report delves into the resultant of the product in associated industries and application areas. The global reports provides exhaustive information on the procedures that current vendors in the market could attempt so as to pick up momentum in the business, alongside an examination on entry points for new players. The market intelligence study represents an intensive guide on the global market for thermoplastic polyurethane films over the duration of forecast.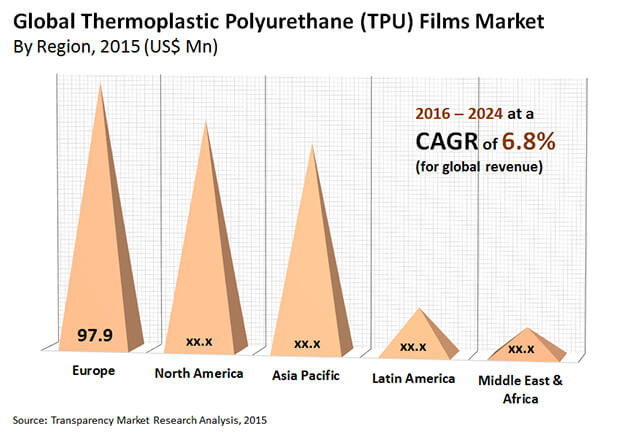 Automotive, Construction to Account for Key Market Shares
The global thermoplastic polyurethane films market has been segmented for further study in terms of type into polyester TPU, polyether TPU and polycaprolactone TPU. Based on the end-user segment the market comprises of aerospace, building and construction, energy, automotive, furniture, footwear, and others. Among these, the automotive segment hold a significant market share which could be attributed to the increasing replacement of heavy metals by lightweight materials for improved efficiency of automobiles. Furthermore, the end-use segment of construction and buildings segment is slated to rise at a rapid rate on account of rising adoption of thermoplastic materials in walls, insulation, and flooring. Aerospace is likely to emerge as a swiftly growing application area in the forthcoming years.
Europe to Remain Prominent Regional Market
The report analyzes the global thermoplastic polyurethane market in terms of geography by dividing it into- Asia Pacific, Europe, North America, South America, and the Middle East and Africa. The market in Europe currently dominates the global thermoplastic polyurethane market in terms of revenue, benefitted by the presence leading automobile vendors across the globe. The steady recovery of the automotive industry post the recent economic slowdown in the region is expected to offer lucrative growth opportunities to market vendors.
Due to growing expansion of existing facilities by established market players coupled with emergence of favorable government policies regarding textile trades, Asia Pacific is prognosticated to hold immense market potential. Additionally, growing infrastructure industries along with the rising disposable over forecast period in the region.
The global TPU films market is currently fragmented due to strong presence of local manufacturers and suppliers in various regions, particularly in China.
Leading vendors operating in the global thermoplastic polyurethane films market are BASF SE, Shanghai Lejoin Polyurethane Industrial Co., The Lubrizol Corporation, Tosoh Corporation, Wanhua Chemical Group Co., Ltd., and Huntsman Corporation.
Thermoplastic Polyurethane Films? Market: Scope of the Study
The report estimates and forecasts the thermoplastic polyurethane (TPU) films market on the global, regional, and country levels. The study provides forecast between 2016 and 2024 based on volume (tons) and revenue (US$ Mn) with 2015 as the base year. The report comprises an exhaustive value chain analysis for each of the product segments. It provides a comprehensive view of the market. Value chain analysis also offers detailed information about value addition at each stage. The study includes drivers and restraints for the thermoplastic polyurethane films market along with their impact on demand during the forecast period. The study also provides key market indicators affecting the growth of the market. The report analyzes opportunities in the thermoplastic polyurethane films market on the global and regional level. Drivers, restraints, and opportunities mentioned in the report are justified through quantitative and qualitative data. These have been verified through primary and secondary resources. Furthermore, the report analyzes substitutes of TPU films. It also provides the global average price trend analysis.
The report includes Porter's Five Forces Model to determine the degree of competition in the thermoplastic polyurethane films market. The report comprises a qualitative write-up on market attractiveness analysis, wherein end-users and countries have been analyzed based on attractiveness for each region. Growth rate, market size, raw material availability, profit margin, impact strength, technology, competition, and other factors (such as environmental and legal) have been evaluated in order to derive the general attractiveness of the market. The report comprises price trend analysis for TPU films between 2016 and 2024.
TPU Films Market: Segmentation
The study provides a comprehensive view of the TPU films market by dividing it into product segments, end-user and geography. The TPU films market has been segmented into polyester TPU, polyether TPU and polycaprolactone TPU. The end-user segment include automotive, building & construction, furniture, aerospace, footwear, energy and others. Product & End-user segments have been analyzed based on historic, present, and future trends, and the market has been estimated in terms of volume (tons) and revenue (US$ Mn) between 2016 and 2024.
Regional segmentation includes the current and forecast demand for TPU films in North America, Europe, Asia Pacific, Latin America, and Middle East & Africa (MEA). Key countries such as the U.S., Germany, France, the U.K., Spain, Italy, India, China, South Africa, Mexico, and Brazil have been included in the study.
TPU Films Market: Competitive Landscape
The report covers detailed competitive outlook that includes market share and profiles of key players operating in the global market. Key players profiled in the report include BASF SE, Covestro AG, The Lubrizol Corporation, Huntsman Corporation, and Polyol Macromolecule Polymer (Fujian) Co., Ltd. Company profiles include attributes such as company overview, number of employees, brand overview, key competitors, business overview, business strategies, recent/key developments, acquisitions, and financial overview (wherever applicable).
TPU Films Market: Research Methodology
Secondary research sources that were typically referred to include, but were not limited to company websites, financial reports, annual reports, investor presentations, broker reports, and SEC filings. Other sources such as internal and external proprietary databases, statistical databases and market reports, news articles, national government documents, and webcasts specific to companies operating in the market have also been referred for the report.
In-depth interviews and discussions with wide range of key opinion leaders and industry participants were conducted to compile this research report. Primary research represents the bulk of research efforts, supplemented by extensive secondary research. Key players' product literature, annual reports, press releases, and relevant documents were reviewed for competitive analysis and market understanding. This helped in validating and strengthening secondary research findings. Primary research further helped in developing the analysis team's expertise and market understanding.
The thermoplastic polyurethane films market has been divided into the following segments:
Thermoplastic Polyurethane Films Market – Product Analysis
Polyester TPU
Polyether TPU
Polycaprolactone TPU
Thermoplastic Polyurethane Films Market – End-user Analysis
Automotive
Building & Construction
Furniture
Aerospace
Footwear
Energy
Others (including medical & health care, flexible packaging, and recreation)
Thermoplastic Polyurethane Films Market – Regional Analysis
North America
Europe

Germany
France
U.K.
Italy
Spain
Rest of Europe

Asia Pacific

China
India
Japan
ASEAN
Rest of Asia Pacific

Middle East & Africa

GCC
Egypt
South Africa
Rest of Middle East & Africa

Latin America

Brazil
Mexico
Rest of Latin America