After the food grade thermic fluids got permit from FDA, the thermic fluids market is anticipated to grow at a stellar rate during the forecast period 2015 – 2024, reported Transparency Market Research, The global thermic fluids market is prognosticated to rise at robust CAGR of 7.1% during the assessed period. The introduction of concentrated solar power (CSP) technology that aids in deploying solar photovoltaics on a rampant scale is prophesized to create lucrative growth opportunities for thermic fluids market. Erratic costs of raw materials is one of the important factor that is expected to deter the growth of the market, however the market is predicted to find new avenues in various parts of the world like the China, the U.S, and Japan.
Thermic fluids finds its application in various industries such as food and beverages, pharmaceuticals, oil and gas, concentrated solar power, HVAC (heating, ventilation, and air conditioning), plastics, and chemicals. According to the analysis done by TMR, aggressive industrialization is developing countries is like to favor the growth of the market.
In terms of revenue, the global thermic fluids market was valued at US$2.1 bn in 2014 and is predicted to touch US$4.17 bn by the end of the assessed period. By volume the market is likely to show a rise of 5.9% CAGR during the before mentioned period.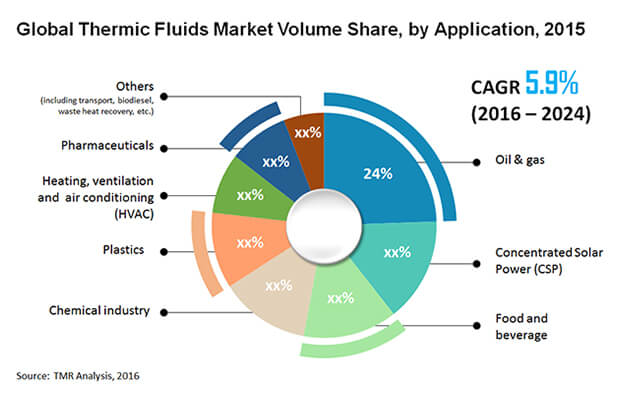 Europe to Steer the Market Owing To Rise in CSP Plants
Owing to rise of greenhouse gas and rapid depletion of ozone layer, policy makers particulary in Europe, have been deliberately working to rise the share of renewable energy. A healthy increase in the concentrated solar power plants is significant in the region. Rising application of thermic fluids for thermal storage in these concentrated solar power plants has stoked up the sales rates from Europe thermic fluids market
This region is anticipated to show a noteworthy usage of bio-based thermic fluids. Portugal, Ireland, Greece, and Poland are the countries that are likely to provide lucrative growth opportunities in the Europe. The thermic fluids market in Europe is predicted to rise at 6.8% of CAGR during the forecasts period.
On the basis of volume, the U.S and China are likely to hold a lion's share. When combined together, the two counties held a whooping share of 35% of the worldwide market. It is also expected that Asia Pacific will show a substantial growth in years to come.
Rising Oil and Gas Industry to Thrive Thermic Fluids Market
On the basis of end user, the market is likely to see a tremendous growth opportunities in the oil and gas industry. The market was driven by this industry in recent years and is like to grow at a stupendous rate during the assessed period. In terms of revenue, the oil and gas industry was valued at US$479.4 mn in recent years.
Apart from these, the market has been noticing a significant demand from the chemicals industry. In terms of revenue, this end user segment was valued at uS$254.4 mn in 2014 and is predicted to expand at 6.6% of CAGR during the forecasts period. However, the concentrated solar power industry is likely to rise at robust CAGT of 8.3% during the above mentioned period.
Erratic Crude Oil Prices Deters the Growth of Market
The advantages associated with thermic fluids in comparison to traditional steam systems, is making industries to put money on thermic fluids market, this is likely to fuel the market growth in future. However, volatile prices of crude oil is expected to produce a negative impact on the growth of the market.
Some of the major players in the market are British Petroleum (BP), Dow Chemicals, and BASF SE.
This report analyzes and forecasts the thermic fluids market at the global and regional level. The market has been forecast based on volume (kilo tons) and revenue (US$ Mn) from 2016 to 2024. The study includes drivers and restraints of the global thermic fluids market. It also covers the impact of these drivers and restraints on demand for thermic fluids during the forecast period. The report also highlights opportunities in the thermic fluids market at the global and regional level.
The report includes detailed value chain analysis, which provides a comprehensive view of the global thermic fluids market. Porter's Five Forces Model for the thermic fluids market has also been included to help understand the competitive landscape. The study encompasses market attractiveness analysis, wherein end-use industries are benchmarked based on market size, growth rate, and general attractiveness.
The study provides a critical view of the global thermic fluids market by segmenting it in terms of end-user industries. These segments have been analyzed based on present and future trends. Regional segmentation includes current and forecast demand for thermic fluids in North America, Europe, Asia Pacific, Latin America, and Middle East & Africa. The report also covers demand for thermic fluids in end-user segments in all the regions.
The study includes profiles of major companies operating in the global thermic fluids market. Key players in the thermic fluids market include The Dow Chemical Company, Exxon Mobil, Eastman Chemical Company, British Petroleum, Shell, BASF SE, Dynalene Inc., Paratherm Corporation, Multitherm LLC, and Kost USA, Inc. Market players are profiled in terms of attributes such as company overview, financial overview, business strategies, and recent developments.
The report provides the estimated market size of thermic fluids for 2015 and forecast for the next eight years. The global market size of thermic fluids is provided in terms of both volume and revenue. Market numbers are estimated based on end-uses of thermic fluids. Market size and forecast for each major end-use and product are provided in terms of global and regional markets.
In order to compile the research report, we conducted in-depth interviews and discussions with a number of key industry participants and opinion leaders. Primary research represents the bulk of research efforts, supplemented by extensive secondary research. We reviewed the key players' product literature, annual reports, press releases, and relevant documents for competitive analysis and market understanding. Secondary research includes a search of recent trade, technical writing, Internet sources, and statistical data from government websites, trade associations, and agencies. This has proven to be the most reliable, effective, and successful approach for obtaining precise market data, capturing industry participants' insights, and recognizing business opportunities.
Secondary research sources that are typically referred to include, but are not limited to are company websites, annual reports, financial reports, broker reports, investor presentations, SEC filings, internal and external proprietary databases, and relevant patent and regulatory databases such as ICIS, Hoover's, oneSOURCE, Factiva, and Bloomberg, national government documents, statistical databases, trade journals, market reports, news articles, press releases, and webcasts specific to companies operating in the market.
Primary research involves e-mail interactions, telephonic interviews, category, segment, and sub-segment across geographies. We conduct primary interviews on an ongoing basis with industry participants and commentators to validate data and analysis. Primary interviews provide firsthand information on market size, market trends, growth trends, competitive landscape, outlook, etc. These help validate and strengthen secondary research findings. These also help develop the analysis team's expertise and market understanding.
The global thermic fluids market has been segmented as follows:
Thermic Fluids Market - Product Segment Analysis
Silicone and Aromatic Based Thermic Fluids
Mineral Oils Based Thermic Fluids
Glycol (ethylene and propylene) Based Thermic Fluids
Others (Including molten salts, HFPE thermic fluids, etc.)
Thermic Fluids Market - End-user Analysis
Oil & Gas
Chemical
Concentrated Solar Power (CSP)
Food & Beverages
Plastics
Pharmaceuticals
Heating, Ventilation, and Air Conditioning (HVAC)
Others (Including transport, biodiesel, waste heat recovery, etc.)
Thermic Fluids Market - Regional Analysis
North America

U.S.
Rest of North America

Europe

France
U.K.
Spain
Germany
Italy
Rest of Europe

Asia Pacific

China
Japan
ASEAN
Rest of Asia Pacific

Latin America

Brazil
Rest of Latin America

Middle East & Africa (MEA)

GCC
South Africa
Rest of MEA