Having realized that analysis of text data can allow a better understanding of consumers' priorities and overall behavior, a constantly rising number of companies across the globe are focusing on the enhancement of their text analytics capabilities. Text data is being swarmed in from sources such as e-mails, social media platforms, and consumer reviews on company web portals, creating mounting volumes of business critical data. In the intensely competitive market, where competitors are leaving no stone unturned to align strategies with consumer preferences, text analytics prowess is expected to be a major determinant of success for companies in the near future.
Transparency Market Research, in one of its recent market intelligence reports, states that the global text analytics market will exhibit an exponential 17.6% CAGR from 2015 to 2024. The market, which had a valuation of US$2.82 bn in 2015, will rise to US$12.16 bn by 2024.
IT and Telecom Industries to Constitute Majority of Demand
In 2015, the military and defense sector accounted for a dominant share of 19.7% of the overall text analytics market. However, this end-use segment is projected to lose its attractiveness to the IT and telecom sector in the next few years. These flourishing industries are expected to incorporate an increased number of text analytics solutions for achieving improvement in visibility in market trends, internal processes, and core operations.
The world is currently on the verge of a digital revolution, and the telecom and IT sectors, which constitute the core competencies enabling digitization, will witness vast global expansion in the next few years, and will require effective text analytics solutions at a rapid pace. The market for text analytics will exhibit an 18.5% CAGR in the IT and telecom sector from 2016 to 2024.
On-premise Deployment Model to Maintain Dominance but to Lose Attractiveness to Cloud
The on-premise mode of deployment is currently the most preferred for text analytics solutions across the globe. On-premise IT solutions that process critical data hold the promise of added security and low risks of breaches as the data remains confined within an organization's infrastructure or corporate network. Owing to these benefits of on-premise deployment, this medium accounted for a massive 84% share in the global text analytics market in 2015.
However, on-premise solutions are expensive as they require installing added infrastructure capable of processing the application, resources that are dedicated solely to practice, and purchasing licensed copies of software products. As such, this mode of deployment is limited mostly to large enterprises with the necessary funds.
As an increased number of small- and medium-sized companies demand text analytics solutions, the cloud mode of deployment, known for its cost-effective nature, is gaining increased prominence. It is expected that cloud-based text analytics solutions will expand at a CAGR of 20.2% from 2016 to 2024 in the global market. It is no doubt that cloud will present the most lucrative development opportunities ahead of text analytics companies in the near future.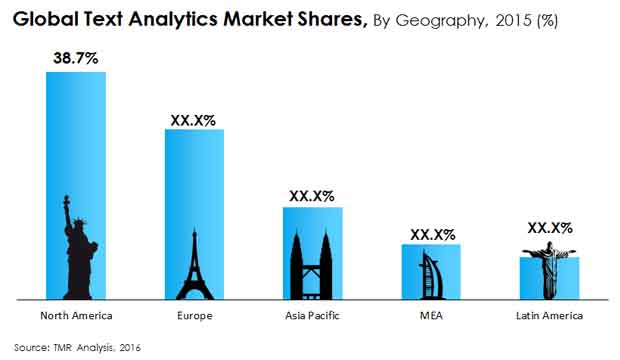 North America to Narrowly Get Ahead of Europe
Developed regions such as North America and Europe are equally attractive for the text analytics market owing to the large numbers of social media followers, technologically advanced industrial infrastructures, and rapid growth of digital platforms such as e-Commerce and social media marketing. These factors are projected to enable both these regions in presenting attractive growth opportunities for the global text analytics market in the next few years. Although North America is presently the dominant region in terms of market valuation among these two regions, it is expected to witness stiff competition from Europe in terms of the rate of development of the market. From 2015 to 2024, North America text analytics market is expected to exhibit a 17.8% CAGR, while Europe is expected to marginally lag, with 17.2% CAGR over the same period.
This report on the global text analytics market provides analysis for the period from 2014 to 2024, wherein 2015 is the base year and the years from 2016 to 2024 are the forecast period. Data for 2014 has been included as historical information. The report covers all the prevalent trends and technologies playing a major role in the growth of the text analytics market over the forecast period. It also highlights various drivers, restraints, and opportunities expected to influence market growth during this period. The study provides a holistic perspective on market growth throughout the above forecast period in terms of revenue estimates (in US$ Mn) across different geographies, which include North America, Europe, Asia Pacific (APAC), Middle East & Africa (MEA), and Latin America (LATAM).
Text analytics continue to deliver measurable benefits to organizations in both commercial and public sectors. In commercial sectors, it supports improved customer relationship management by interpreting real time views and preferences leading to effective marketing, and improved customer loyalty and brand value. It accelerates the cycle times in the development of products, and early detection of product related issues. In the public sector, text analytics help in uncovering patterns that shows fraudulent behavior, identify threats, and detect connections among criminal groups. North America dominates the text analytics market globally owing to growing technological advancements and enhanced demand for data analysis in this region.
This research report provides in-depth analysis of the global text analytics market on the basis of deployment type, applications, and end-users. The text analytics market based on deployment type includes on-premise and cloud-based text analytics solutions. The text analytics market on the basis of applications is segmented into data analysis & forecasting, fraud/spam detection, intelligence & law enforcement, and customer relationship management (CRM). The text analytics end-user segment comprises military and defense, BFSI, retail, healthcare, IT and telecom, entertainment and media, and others.
In terms of geographical regions, the report segments the global text analytics market into North America, Europe, Asia Pacific, Middle East & Africa (MEA), and Latin America; the regions are analyzed in terms of revenue generation. The report provides a cross-sectional analysis of the global text analytics market in terms of estimates and forecasts for all segments across different geographic regions.
The report includes competitive profiling of major players engaged in the development of text analytics. The major business strategies adopted by these players, their market positioning, and recent developments have been identified in the research report. The report also provides market positioning analysis of major players in the text analytics market based on their 2015 revenues. Some of the major players profiled in the report include IBM Corporation, Microsoft Corporation, SAS Institute Inc., SAP SE, RapidMiner, Inc., Attensity Group, Inc., Predixion Software, Lexalytics, Inc. and Angoss Software Corporation.
The global text analytics market is segmented as below:
Text Analytics Market:
Text Analytics Market: By Deployment Type
Text Analytics Market: By Applications
Data Analysis & Forecasting
Fraud/Spam Detection
Intelligence & Law Enforcement
Customer Relationship Management (CRM)
Text Analytics Market: By End-User
Military and Defense
Manufacturing
BFSI
Retail
Healthcare
IT and Telecom
Entertainment and Media
Others (Automotive and Transportation and Hospitality)
Text Analytics Market: By Region
North America

U.S.
Rest of North America

Europe
Asia Pacific

Japan
China
South Asia
Australasia
Rest of APAC

Middle East & Africa

GCC
South Africa
Rest of Middle East & Africa

Latin America

Brazil
Rest of Latin America