Text Analytics Market
Text Analytics Market (Deployment Type - On-Premise, Cloud-Based; Application Type - Data Analysis & Forecasting, Fraud/Spam Detection, Intelligence & Law Enforcement, Customer Relationship Management (CRM); By End-User - Military and Defense, Manufacturing, BFSI, Retail, Healthcare, IT and Telecom, Entertainment and Media, Automotive and Transportation and Hospitality) - Global Industry Analysis, Size, Share, Growth, Trends and Forecast 2016 - 2024
Category :

IT & Telecom

Format :
Text Analytics Market - Snapshot
Text analytics refers to the process of extracting the intrinsic meaning of written communication. In the context of customer experience, text analytics is meant to examine text that was written about or by customers. One can find topics of interest and patterns of conversation or messages and then an action can be taken based on what one gets to learn. Given the availability of humongous amount unstructured messages, the global text analytics market is likely to witness considerable growth over the tenure of assessment, from 2016 to 2024
Notes of call center executives, emails, survey results, tweets, online reviews, and various other types of written communication contain insights about the choices and preferences of customers. There exists a huge amount of information in recorded interactions and those can be converted into insightful texts. Text analytics can be utilized to add meaning to such unstructured texts.
The global text analytics market is likely to clock a double-digit growth rate of 17.6% CAGR over the period of forecast, from 2016 to 2024. Expanding at such a robust growth rate, the global text analytics market is expected to touch a market valuation of around US$12.16 billion through 2024.
Some of the key players in the global text analytics market comprise MeaningCloud LLC, International Business Machines Corporation, Luminoso Technologies, Inc., Megaputer Intelligence, Inc., OpenText Corporation, and SAP SE.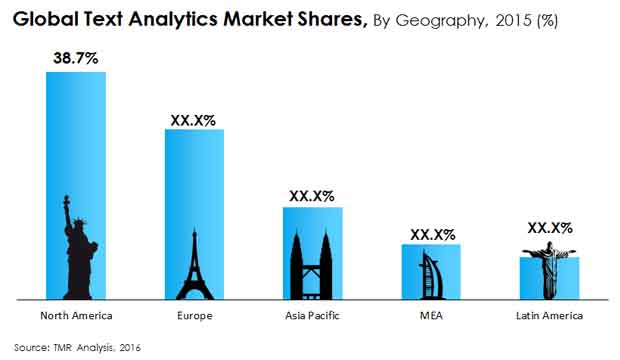 Increased Demand for Analysis of Unstructured Data Shoots Up Demand
The global text analytics market is estimated to be driven by increasing demand for the tools of text analytics from various end use sectors. Tools of text analytics are utilized by organizations to assist in the process of business-related decision making. It offers valuable actionable insights from various sources such as blogs, center logs, client interaction, tweets, and product reviews.
With the emergence and rapidly growing popularity of big data analytics, several organizations are focusing more on making a combination of dissimilar external and internal data sources to attain improved performance. As such, the advent of big data is likely to encourage the growth of the global text analytics market in the years to come. Utilizing the tools of text analysis, the data thus derived can be utilized in many different ways.
Unstructured data is present everywhere, from online news sources to call centers to tweets to blogs to posts and comments. Companies are utilizing this data in more than one ways to turn it into their advantage. In addition, emergence and rapid adoption of social media analytics are expected to favor the growth of the global text analytics market in the forthcoming years. Social media analytics track data from various social media networks to track online conversations about different products and companies. Marketers strategize and formulate plans for the company based on the information thus gathered from social media websites. In addition, augmented adoption and integration of text analytics tools into analytics software tools of companies assists businesses to analyze data. This factor is also likely to fuel the expansion of the global text analytics market.
However, the technology is still in its nascent stage and it needs to come a long way for its widespread application in organizes of all sizes.
Driven by Technological Advancement, North America Likely to Lead the Market
The global text analytics market has been divided into the key regions of Middle East and Africa, Asia Pacific, Latin America, North America, and Europe. It is estimated that the North America region will rise to prominence over the period of assessment due to the presence of several leading players in the regions. In addition, early adoption of text analytics tools and its widespread implementation is expected to boost the growth of the text analytics market in North America.
The region comes with a highly advanced technological infrastructure of various companies, which facilitates the use of these tools to optimize revenue generation.
This report on the global text analytics market provides analysis for the period from 2014 to 2024, wherein 2015 is the base year and the years from 2016 to 2024 are the forecast period. Data for 2014 has been included as historical information. The report covers all the prevalent trends and technologies playing a major role in the growth of the text analytics market over the forecast period. It also highlights various drivers, restraints, and opportunities expected to influence market growth during this period. The study provides a holistic perspective on market growth throughout the above forecast period in terms of revenue estimates (in US$ Mn) across different geographies, which include North America, Europe, Asia Pacific (APAC), Middle East & Africa (MEA), and Latin America (LATAM).
Text analytics continue to deliver measurable benefits to organizations in both commercial and public sectors. In commercial sectors, it supports improved customer relationship management by interpreting real time views and preferences leading to effective marketing, and improved customer loyalty and brand value. It accelerates the cycle times in the development of products, and early detection of product related issues. In the public sector, text analytics help in uncovering patterns that shows fraudulent behavior, identify threats, and detect connections among criminal groups. North America dominates the text analytics market globally owing to growing technological advancements and enhanced demand for data analysis in this region.
This research report provides in-depth analysis of the global text analytics market on the basis of deployment type, applications, and end-users. The text analytics market based on deployment type includes on-premise and cloud-based text analytics solutions. The text analytics market on the basis of applications is segmented into data analysis & forecasting, fraud/spam detection, intelligence & law enforcement, and customer relationship management (CRM). The text analytics end-user segment comprises military and defense, BFSI, retail, healthcare, IT and telecom, entertainment and media, and others.
In terms of geographical regions, the report segments the global text analytics market into North America, Europe, Asia Pacific, Middle East & Africa (MEA), and Latin America; the regions are analyzed in terms of revenue generation. The report provides a cross-sectional analysis of the global text analytics market in terms of estimates and forecasts for all segments across different geographic regions.
The report includes competitive profiling of major players engaged in the development of text analytics. The major business strategies adopted by these players, their market positioning, and recent developments have been identified in the research report. The report also provides market positioning analysis of major players in the text analytics market based on their 2015 revenues. Some of the major players profiled in the report include IBM Corporation, Microsoft Corporation, SAS Institute Inc., SAP SE, RapidMiner, Inc., Attensity Group, Inc., Predixion Software, Lexalytics, Inc. and Angoss Software Corporation.
The global text analytics market is segmented as below:
Text Analytics Market:
Text Analytics Market: By Deployment Type
Text Analytics Market: By Applications
Data Analysis & Forecasting
Fraud/Spam Detection
Intelligence & Law Enforcement
Customer Relationship Management (CRM)
Text Analytics Market: By End-User
Military and Defense
Manufacturing
BFSI
Retail
Healthcare
IT and Telecom
Entertainment and Media
Others (Automotive and Transportation and Hospitality)
Text Analytics Market: By Region
North America

U.S.
Rest of North America

Europe
Asia Pacific

Japan
China
South Asia
Australasia
Rest of APAC

Middle East & Africa

GCC
South Africa
Rest of Middle East & Africa

Latin America

Brazil
Rest of Latin America
Custom Market Research Services
TMR offers custom market research services that help clients to get information on their business scenario required where syndicated solutions are not enough.
REQUEST CUSTOMIZATION