Biscuits Market
Biscuits Market (Ingredients - Flour, Sugar, Butter, Chocolate, Milk, Cream; Product - Rich Tea, Bourbon, Plain biscuits, Chocolate Coated biscuits, Filled biscuits; Age Group- 5 - 10, 11 - 19, 20 - 30, 31 - 40, 41 and Above) - Switzerland Industry Analysis, Size, Share, Growth, Trends And Forecast 2016 - 2024
Category :

Food & Beverages

Format :
Growing Tourist Arrivals Translate to Higher Biscuit Sales in Switzerland
A constant rise in demand for healthy and nutritious product varieties, with low-calorie and sugar-free products gaining high consumer preference, and the demand for convenient snacks are some of the key trends impacting the overall development of the present-day Switzerland biscuits market. The rising numbers of international and domestic tourists in the country and steady growth in the retail sector post the economic turmoil of 2008 are aiding the market in moving along a sustainable growth path.
However, rising raw material, labor, and packaging costs and the need to hold on to prices to withstand the intense competition in the market are collectively leading to a stagnant rise in profit margins for manufacturers. Transparency Market Research estimates that the Switzerland biscuits market will expand at a CAGR of 1.7% over the period between 2016 and 2024, rising from a valuation of US$973.3 mn in 2015 to US$1,125.7 mn by 2024. The market will expand at a 1.2% CAGR in terms of volume over the same period.
Chocolate Coated Biscuits Contribute Sizeable Share in Market's Revenues
Of the vast variety of products available in the Switzerland biscuits market, the segment of chocolate coated biscuits contributed the largest share to the market's overall revenues in 2015. The segment acquired a 36.9% share in the market's revenues in 2015 and is expected to reach 39.4% by 2024. Bourbon biscuits, filled biscuits, and plain biscuits were the other leading product segments in terms of their contribution to the market's revenues in 2015.
Volume-wise, the segment of plain biscuits emerged as the market's most favored product variety, accounting for nearly 29.4% share in the market's overall volume-wise sales in 2015. The segment is, however, expected to lose its prominence to other segments such as filled biscuits and rich tea biscuits over the forecasting horizon, with its share witnessing a meagre decline to 28.6% by 2024. The health appeal of plain biscuits will allow the segment to remain at the forefront of sales in the near future as well.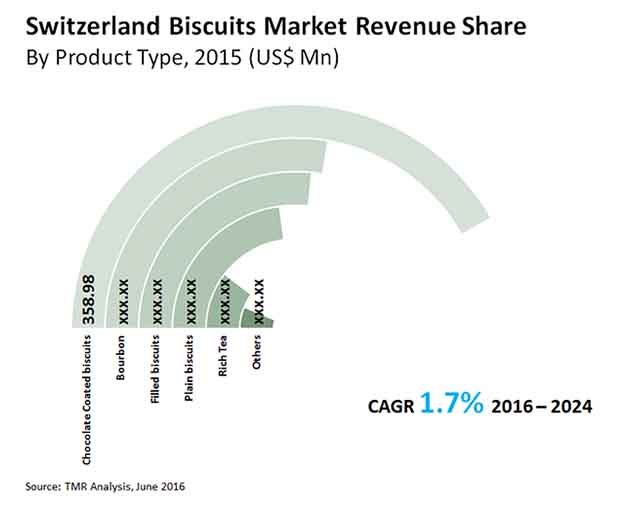 Consumers between 20-30 Years of Age Emerge as Most Lucrative Demographic for Market
In terms of revenue, the consumer group between the ages of 20-30 years dominated the Switzerland biscuits market in 2015. This segment accounted for a nearly 28% share in the market's revenues in 2015. The age group of 31-40 years held the second largest revenue share in the market in 2015, accounting for 23.2% of the overall market. These sectors are also expected to be the key determinants of the market's overall development in the next few years. A vast rise in health consciousness among consumers in these age-groups is also the key reason why manufacturers have started focusing more on the production of healthy and nutritious product varieties.
Over the period between 2016 and 2024, the age group of 5-10 years is expected to lead to the most promising growth opportunities for the Switzerland biscuits market. TMR estimates that the segment will expand at the fastest CAGR of 2.7% from 2016 through 2024. This estimate translates in a substantial rise in the overall consumption of product varieties such as chocolate coated and filled biscuits.
In the fragmented market, some of the key vendors operating amid intense competition are Lefèvre-Utile, Walkers Shortbread Ltd, Confiserie Sprüngli AG, Kägi Söhne AG., Kambly SA, Wernli AG, Barilla G. e R. Fratelli S.p.A, Lotus Bakeries N.V., Nestle S.A., Burton's Food, Midor AG, HUG AG, and United Biscuit.
Switzerland Biscuits Market Witnesses Automation in Manufacturing Processes
Swiss biscuits have a worldwide delight, and the region has been making steady production of long-life bakery products. Over the years, biscuit-makers and confectioners have come out with new flavors, combinations, nutritional profiles, and ingredient mix to meet the demands for domestic consumption. Changing regulations have circumscribed the pricing structure and raw materials sourcing strategies of biscuit makers in the Switzerland biscuits market. Advent of new equipment has allowed companies to produce and market range of forming and baking processes. They account for a major pie of the processed food sector, which is why the confectionery industry has witnessed new regulations. Adoption of fully automated manufacturing processes is one of the key advancements in the Switzerland biscuits market. In particular, this has enabled manufacturers to produce batches with standard product and with miniscule quality variations. In recent times, due to excessive reliance in product standardization as well meeting range of sensory attributes of the target consumers, small and medium-sized companies have been facing budget constraints to meet heavyweights. Further, the demand for new creams and toppings to meet new aesthetics has also motivated biscuit manufacturers to bring variations. Simultaneously, the market is witnessing new packaging trends in a bid to position their brands uniquely.
The COVID-19 pandemic has caused some of the most severe disruptions in the cross-border trade. Exports of the nonessential items have taken a backseat in several economies. Lack of access to cost-efficient logistics still continues to be a challenge for industry players, with biscuit manufacturers in Switzerland forced to look inward to drive consumption. Domestic consumptions witnessed a fillip on one hand, while exports suffered heavily, especially in 2020. The trends in the Switzerland biscuits market have alarmed policy makers and food regulators to come out with new frameworks to support the long-term health of biscuit manufacturing. In the post-pandemic world, it remains to be seen what initiatives private investors and governments will take to change the growth trajectories of the market.
The biscuits market is a huge market as compared to other packaged food markets. Biscuits contain nutritional components which include carbohydrates, fats, and fibers which are essential to human health. The nutritional value of biscuits has made them a highly preferred breakfast meal worldwide. Biscuits are easy to carry, store, and can be consumed as per preference. These aspects make them a convenient food product which are consumed and enjoyed by people of every age group. Biscuits can be consumed along with beverages like tea and coffee or as it is. Premium quality biscuits contain a rich taste and flavor and are heavily consumed.
The Switzerland biscuits market has been segmented by ingredients, products, and age group type. In terms of ingredients, the market has been segmented into flour, sugar, butter, chocolate, milk, cream, and others. Others ingredients segment includes nuts, salt, flavor agents and vegetable oil among others. Flour is by far the largest segment by ingredients due to its diversified application in preparation of biscuits, whereas chocolate and milk are expected to be fast growing ingredient segments. Flour ingredient segment dominates the market share in terms of revenue as well as volume. In terms of product type, the market has been segmented into: rich tea biscuits, bourbon biscuits, plain biscuits, chocolate coated biscuits, filled biscuits, and others. Others products segment includes speculaas and wafers among others. In terms of revenue, a chocolate coated biscuit is the largest segment by product type; however, bourbon biscuits also hold significant market share owing to the growing popularity of chocolate flavor cream based biscuits.
In addition, rich tea biscuits are low fat, low calorie, and high fiber snacking alternatives; thus, this segment is expected to become popular among senior Swiss consumers who are conscious about their health. In terms of age group, the biscuits market has been segmented into: 5 – 10 age group, 11 – 19 age group, 20 – 30 age group, 31 – 40 age group, and 41 and above age group. In terms of revenue, 20-30 years age group consumers dominate the Switzerland biscuits market. Whereas, 5-10 age group consumers in Switzerland is expected to be the fastest growing segment over the forecast period. Children of age group 5-10 enjoy cream-filled biscuits and different flavor of wafers. Chocolate coated biscuits, jam filled or cream filled biscuits are very popular among this age group.
Increasing retail outlets and strengthening retail network is anticipated to be the most prominent driver for the Switzerland biscuits market. Organized retailing and marketing and effective branding by vendors is expected to open new market opportunities for the biscuits market in Switzerland. Increasing capital investments is the major driver of the retail sector.
In this report, detail analysis of major driving factors along with key restraints and opportunities (DROs) of the Switzerland biscuits market are covered. The research study analyzed the ongoing market trends and provides details forecast for the period from 2016 to 2024. In addition, major suppliers and manufacturers in this industry are listed in the scope of the report. Price trend analysis for different product types in this biscuits industry would help the market players to understand the different factors that are influencing on the average unit price of biscuits. Average unit prices of biscuits remained unchanged in 2015 and this is expected to increase marginally over the forecast period. Due to the strong position of the Swiss franc, domestic manufacturers faced a heavy burden not only in exports, but also from the intense price competition by imports from European countries. The increasing number of imported biscuits as well as the strong position of private label products reduced the average unit price in many categories. However, the volatile commodity prices of cereals, cocoa and nuts lifted the prices of other categories, most notably chocolate coated biscuits.
Major players in the biscuits market include Kambly SA, Wernli AG, Walkers Shortbread Ltd,Kägi Söhne AG., Lefèvre-Utile, Barilla G. e R. Fratelli S.p.A, Nestle S.A., Lotus Bakeries N.V., Burton's Food, Confiserie Sprüngli AG, Midor AG, HUG AG, United Biscuit among others. This report would help the biscuits manufacturer, suppliers and distributer to estimate and analyze the demand and consumption of biscuits across the Switzerland.
The scope of the study presents a comprehensive evaluation of the stakeholder strategies and winning imperatives for them by segmenting the Switzerland biscuits market as below:
Switzerland Biscuits Market, Ingredients Analysis
Flour
Sugar
Butter
Chocolate
Milk
Cream
Others
Switzerland Biscuits Market, Product Analysis
Rich Tea
Bourbon
Plain biscuits
Chocolate Coated biscuits
Filled biscuits
Others
Switzerland Biscuits Market, Age Group Analysis
5 – 10
11 – 19
20 – 30
31 – 40
41 and Above
Custom Market Research Services
TMR offers custom market research services that help clients to get information on their business scenario required where syndicated solutions are not enough.
REQUEST CUSTOMIZATION

Switzerland Biscuits Market