Superabrasives Market
Superabrasives Market (Material - Diamond, Cubic Boron Nitride, Others; End user - Automotive, Aerospace and Defense, Building and Construction, Oil and Gas) - Global Industry Analysis, Size, Share, Growth, Trends, and Forecast 2018 - 2026
Category :

Chemicals & Materials

Format :
Superabrasives Market - Snapshot
Superabrasives is a material that is used as a substrate to make various machining products. It can be used in the form of grits, powders, and course particles; or as substrate to bind tools. The superabrasives market encompasses products that are used to shape surfaces in order to customize and design hard-to-grind materials. These products include tools, wear parts, and work piece materials. Superabrasives material include diamond, cubic boron nitride, and others (including wire dies). Wire dies are used in mechanical processing and ultra-precision machining of non-ferrous wires such as bronze, aluminum, nickel, stainless steel, and other alloy wires. Diamond in the form of synthetic diamond is used as a superabrasives material. Synthetic diamond is primarily manufactured by processing diamond powder or graphite through high pressure, high temperature (HPHT) technology. This technology is also used to manufacture cubic boron nitride. Synthetic diamond is used for grinding of non-ferrous materials such as cemented carbide, glass, ceramics, and fiberglass. Cubic boron nitride is used in grinding ferrous materials such as steel, hardened carbon steel, nickel and its alloys, alloy steel, and other ferrous materials. Superabrasives are primarily used for drilling, grinding, polishing, lapping, and honing of surface for high profile accuracy and surface quality. They provide high surface quality and higher grinding efficiency for grinding of hard surfaces, which cannot be polished or grinded by conventional abrasives such as aluminum oxide and tungsten carbide.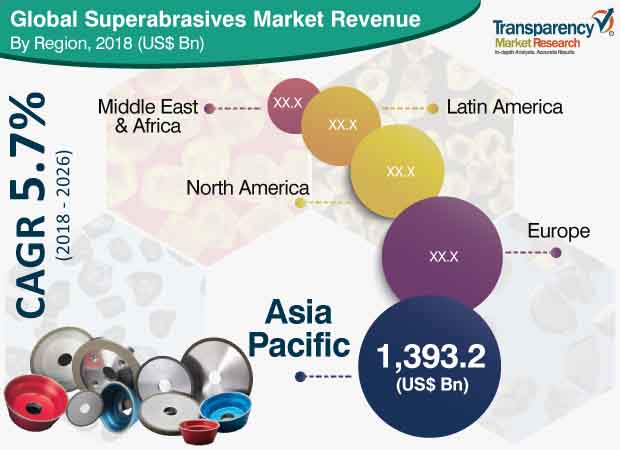 Automotive Industry to Boost Superabrasives Market
The purchasing power of people has increased due to the rise in per capita income. This is driving the global demand for vehicles. Additionally, the process of vehicle restoration has increased owing to the growth in number of road accidents across the globe. This increase in vehicle restoration process is fueling the global superabrasives market. Superabrasives are also used for better finishing of surfaces in the automotive sector, due to the increase in demand for electric and fuel-efficient vehicles. Superabrasives are also employed for the development and manufacture of engine shafts. Some manufacturers make hollow shafts instead of solid camshafts. In hollow shafts, the cam lobes are mounted, and superabrasives wheel are used for grinding cam lobes.
Leading Players Focusing on Geographical Expansion
Key players profiled in the global superabrasives market include Element Six (UK) Limited, Henan Huanghe Whirlwind Co., Ltd., ILJIN DIAMOND CO., LTD , Saint-Gobain S.A., SHOWA DENKO K.K., Hyperion Materials & Technologies, and Zhengzhou ZZDM SUPERABRASIVES CO., LTD. These players engage in collaborations, mergers & acquisitions (M&A), geographical expansion, and launch of new products. In June 2018, Element Six invested US$ 95 Mn in a CVD diamond plant to produce lab-grown diamonds at Oregon, the U.S. The facility is expected provide the company an edge over other players through new product development.
Cubic Boron Nitride Segment to Dominate Superabrasives Market
Diamond, a form of carbon, is known as the hardest mineral. It is used in jewelry and industrial applications, such as cutting concrete & stone, grinding wheels for machinery, car body work, and high precision grinding equipment, due to its cubic crystalline structure. Synthetic diamond is manufactured using high-pressure high-temperature (HPHT) and chemical vapor deposition (CVD) formation methods. Cubic boron nitride is known to be the second hardest mineral, which is man-made. These are extensively employed in grinding of ferrous metals such as steel and nickel alloys, splitters for space applications, and laser windows for high-power carbon dioxide lasers. Superabrasives offer low and controlled wear rates and lesser wheel change than conventional abrasives. The cubic boron nitride segment is expected to expand rapidly in the near future, due to its higher thermal stability than diamond.
Demand for Superabrasive to Increase in Automotive End-user
In terms of end-user, the automotive segment is projected to hold dominant share of the global superabrasives market during the forecast period. The segment is likely to expand at significant pace from 2018 to 2026. Superabrasives are employed in the manufacture of alloy wheels, cylinder blocks, cam and crank shaft casing machining, and reamed gearbox housings. Additionally, they are also employed in finishing and polishing of ceramic metal-based matrix composite disc brakes. This is anticipated to boost the demand for superabrasives in the next few years.
Emerging Economies Dominating Superabrasives Market
In terms of revenue, Asia Pacific dominates the superabrasives market, owing to the rise in demand for vehicles across the globe. This rise can be ascribed to the growth in per capita income and increase in purchasing power of people in emerging economies in countries such as China and India. Additionally, superabrasives are extensively employed in finishing applications. They are used to coat the cutting edge of saws, which are employed to cut cement in highway construction and repair work. Furthermore, rise in activities such as rebuilding, refurbishing, and renovation of old buildings has augmented investments in the building & construction industry, thereby fuelling the demand for superabrasives. Asia Pacific is a prominent region of the market, owing to the presence of a well-established industrial base in the region.
Superabrasives Market - Overview
The report analyzes and forecasts the superabrasives market at global and regional levels. The market has been forecast based on volume (million carats) and value (US$ Mn) from 2018 to 2026. The study includes drivers and restraints of the global market. It covers the impact of these drivers and restraints on the demand for superabrasives during the forecast period. The report also highlights opportunities in the superabrasives market at the global level.
The report comprises a detailed value chain analysis, which provides a comprehensive view of the global superabrasives market. The Porter's Five Forces model has also been included to help understand the competitive landscape of the market. The study encompasses market attractiveness analysis, wherein various applications of superabrasives have been benchmarked based on their market size, growth rate, and general attractiveness.
The study provides a decisive view of the global superabrasives market by segmenting it in terms of material and end-user. These segments have been analyzed based on the present and future trends. Regional segmentation includes the current and projected demand for superabrasives in North America, Europe, Asia Pacific, Latin America, and Middle East & Africa. Key players operating in the superabrasives market include Element Six (UK) Limited, Henan Huanghe Whirlwind Co., Ltd., ILJIN DIAMOND CO., LTD., Saint-Gobain S.A., SHOWA DENKO K.K., Hyperion Materials & Technologies, Zhengzhou ZZDM SUPERABRASIVES CO., LTD., and Shannon Abrasives. These companies have been profiled in terms of attributes such as company overview, financial overview, business strategies, and recent developments.
The report provides size (in terms of value and volume) of the superabrasives market for the base year 2017 and the forecast between 2018 and 2026. Market numbers have been estimated based on materials and end-users of superabrasives. Market size and forecast for each end-user segment have been provided for the global and regional markets.
In-depth interviews and discussions were conducted with several key market participants and opinion leaders to compile the research report. Primary research represents a bulk of research efforts, supplemented by extensive secondary research. Annual reports, press releases, and relevant documents of key players operating in various application areas have been reviewed for competition analysis and market understanding. Secondary research also includes recent trends, technical writing, Internet sources, and statistical data from government websites, trade associations, and agencies. These have proved to be reliable, effective, and successful approaches for obtaining precise market data, capturing market participants' insights, and recognizing business opportunities.
Key Takeaways
Extensive analysis of the superabrasives market trends and shares from 2017 to 2026 to identify growth opportunities and analyze market developments
List of key developments made by major players in the superabrasives market
List of key factors useful for building a roadmap of upcoming growth opportunities for the superabrasives market at global, regional, and country levels
Insights into growth opportunities for various stakeholders in the value chain and a detailed competition landscape of major players to help understand the market competition level
Porter's Five Forces analysis that highlights the potency of buyers and suppliers and enables stakeholders to make profit-oriented business decisions
Material

Diamond
Mesh Diamond
Polycrystalline Diamond
Others (Chemical Vapor Deposited Diamond and Nano Diamond)
Cubic Boron Nitride
Mesh Cubic Boron Nitride
Polycrystalline Cubic Boron Nitride
Others (Chemical Vapor Deposited Cubic Boron Nitride)
Others (Wire Dies (Large Crystal and Polycrystalline) and New Crystals)

End-user

Automotive
Oil & Gas
Building & Construction
Aerospace & Defense
Others (Electrical & Electronic and Medical & Dental)

Region

North America
Europe

Germany
U.K
France
Italy
Spain
Russia & CIS
Rest of Europe

Asia Pacific

China
Japan
India
ASEAN
Rest of Asia Pacific

Latin America

Brazil
Mexico
Rest of Latin America

Middle East & Africa

GCC
South Africa
Rest of Middle East & Africa
Custom Market Research Services
TMR offers custom market research services that help clients to get information on their business scenario required where syndicated solutions are not enough.
REQUEST CUSTOMIZATION