Styrene Butadiene Latex Market
Styrene Butadiene Latex Market for Paper Processing, Fiber Processing, Glass Fiber Processing, Paints & Coatings, Adhesives, Mortar Additives and Other Applications - Global Industry Analysis, Size, Share, Growth, Trends and Forecast 2015 - 2023
Category :

Chemicals & Materials

Format :
Styrene butadiene latex is an emulsion polymer containing styrene and butadiene. Feedstock required for the production of styrene butadiene latex includes styrene, butadiene, water, and emulsifier. Carboxylic acid is added in order to manufacture carboxylated styrene butadiene latex. The mixture then undergoes polymerization reaction, following which the unreacted monomers (light and heavy) are recovered from the emulsion. Latex is generally manufactured through cold process for which efficient refrigeration equipment is required. Finally, the latex is stored and later packaged to be marketed. The main raw materials for styrene butadiene latex are styrene and butadiene, both of which are downstream derivatives of crude oil. The prices of the two feedstock vary with the price of crude oil and mostly exhibit similar trends. Based on the composition of styrene butadiene latex, content of styrene is higher than butadiene. The higher content of styrene facilitates improved plasticity of the end product. The content of styrene and butadiene varies based on end-user applications. Styrene butadiene latex finds extensive applications in paper processing, fiber processing, glass fiber processing, paints & coatings, adhesives, and mortar additives among others. One of the major applications of styrene butadiene latex is in manufacturing coated paper. Moreover, styrene butadiene latex is generally used in the carpet industry as it is used for carpet backing especially in manufacturing tufted carpet.
Paper processing application accounted for the largest share of the global styrene butadiene latex market in 2014. Styrene butadiene latex is used for paper processing which includes manufacturing of coated papers. In coated paper, the treatment of styrene butadiene latex provides gloss, opacity, brightness, image quality, and printability. Coated papers are used in advertising flyers, magazines, and catalogues. Styrene butadiene latex is used in the manufacture of carpets, as it acts as a binding agent to hold the tuft in the carpet, and is crucial in carpet backing. Carpets are used both for residential and non-residential purposes. Most manufactured carpets are used in residential applications and the remaining is utilized in commercial and industrial applications.
Mortar additives are anticipated to be the most promising application of styrene butadiene latex during the forecast period, as these additives are used in cement in the construction industry. Mortar additives offer compressive strength, bonding adhesion, water resistance, and tensile strength when added to cement. Global demand for cement due to rising construction activity is expected to increase the consumption of styrene butadiene latex. Styrene butadiene latex is also used as binder and for surface treatment in glass fiber processing applications. Furthermore, it is used in emulsion polymer for paints & coatings applications. The inclusion of styrene butadiene latex in paints & coating provides a classy look to walls, wood, etc. Styrene butadiene latex is also used in other applications such as adhesives, molded foam, and hand gloves.
Asia Pacific is the major producer and consumer of styrene butadiene latex accounting for more than 40% of the global market in 2014. The key demand for styrene butadiene latex is a result of the growing carpet industry along with high demand for paper coating in Asia Pacific. In terms of volume, the demand for styrene butadiene latex in Asia Pacific is expected to rise at a CAGR of 3.6% from 2015 and 2023. In the Asia Pacific region, Japan and China account for the bulk of demand for styrene butadiene latex. Developed regions such as Europe and North America are expected to hold a major share of the global market despite the slowdown of paper processing application in this region. Latin America and Middle East & Africa (MEA) are expected to see strong demand for styrene butadiene latex during the forecast period. Latin America and Middle East & Africa (MEA) are anticipated to experience significant demand due to the increasing construction industry across the region coupled with growing usage of carpets in this region.
The global styrene butadiene latex market is highly concentrated in nature with the top two companies commanding majority of the market share. Major companies operating in the market include Dow Chemical Company, Trinseo S.A., BASF S.E., Synthomer Plc, LG Chem Ltd., Synthetic Latex Company (Pty) Ltd, NANTEX Industry Co., Ltd, Asahi Kasei Chemical Corporation, and OMNOVA Solutions Inc. Some of the major players of styrene butadiene latex are intensifying their production capacity to tap the potential demand that would arise due to growth of coated paper in the Asia Pacific market.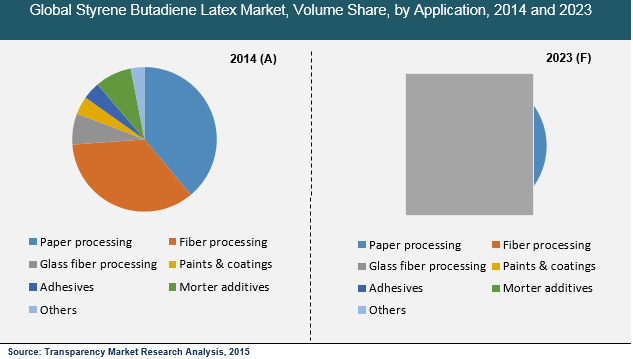 This report covers the analysis and forecast of the styrene butadiene latex market on a global and regional level. The study provides historic data of 2014 along with forecast for the period between 2015 and 2023 based on volume (kilo tons) and revenue (US$ Mn).
The study provides a decisive view of the styrene butadiene latex market by segmenting it based on applications and regional demand. Application segments have been analyzed based on current trends and future potential. The market has been estimated from 2015 to 2023 in terms of volume (kilo tons) and revenue (US$ Mn). Regional segmentation includes the current and forecast demand for North America, Europe, Rest of Asia Pacific, Latin America, and the Middle East and Africa. These have been further sub-segmented into countries and regions with relevance to the market. The segmentation also includes demand for individual applications in all regions.
The study covers the drivers and restraints governing the dynamics of the market along with their impact on demand during the forecast period. Additionally, the report includes potential opportunities in the styrene butadiene latex market on the global and regional level.
We have included a detailed value chain analysis to provide a comprehensive view of the styrene butadiene latex market. Analysis of Porter's Five Forces model has also been included to help understand the competitive landscape in the market. The study encompasses market attractiveness analysis, wherein applications have been benchmarked based on their market size, growth rate, and general attractiveness for future growth.
The market has been forecast based on constant currency rates. Prices of styrene butadiene latex vary in each region and are a result of the demand-supply scenario in the region. Hence, a similar volume-to-revenue ratio does not follow for each individual region. Individual pricing of styrene butadiene latex for each application has been taken into account while estimating and forecasting market revenue on a global basis. Regional average price has been considered while breaking down the market into application segments in each region.
The report provides the size of the styrene butadiene latex market in 2014 and the forecast for the next nine years up to 2023. The size of the global styrene butadiene latex market is provided in terms of both volume and revenue. Market volume is defined in kilo tons, while market revenue for regions is in US$ Mn. The market size and forecast for each product segment is provided in the context of global and regional markets. Numbers provided in this report are derived based on demand generated from different applications and types of raw materials. Market dynamics prevalent in North America and Europe have been taken into account for estimating the growth of the global market.
Market estimates for this study have been based on volume, with revenue being derived through regional pricing trends. The price for commonly utilized grades of styrene butadiene latex in each application has been considered, and customized product pricing has not been included. Demand for styrene butadiene latex has been derived by analyzing the global and regional demand for styrene butadiene latex in each application. The global styrene butadiene latex market has been analyzed based on expected demand. Market data for each segment is based on volume and corresponding revenues. Prices considered for calculation of revenue are average regional prices obtained through primary quotes from numerous regional suppliers, distributors, and direct selling regional producers based on manufacturers' feedback and application requirement. Forecasts have been based on the expected demand from styrene butadiene latex applications and end-user segments. We have used the bottom-up approach to estimate the global styrene butadiene latex market, split into regions. The application split of the market has been derived using a top-down approach for each regional market separately, with the global product segment split being an integration of regional estimates. Companies were considered for the market share analysis based on their product portfolio, revenue, and manufacturing capacity. In the absence of specific data related to the sales of styrene butadiene latex of several privately held companies, calculated assumptions have been made in view of the company's product portfolio and regional presence along with the demand for products in its portfolio.
The report covers a detailed competitive outlook that includes market share and company profiles of key players operating in the global market. Key players profiled in the report include Trinseo S.A., BASF SE, The Dow Chemical Company, Asahi Kasei Chemicals Corporation, Synthomer plc, and LG Chem Ltd. Company profiles include attributes such as company overview, brand overview, financial overview (in terms of financial year), business strategies, and recent/key developments.
Styrene Butadiene Latex Market - Application Analysis
Paper Processing
Fiber Processing
Glass Fiber Processing
Paints & Coatings
Adhesives
Mortar Additives
Others
Styrene Butadiene Latex - Regional Analysis
North America

U.S.
Rest of North America

Europe

Germany
U.K.
France
Spain
Italy
Finland
Rest of Europe

Asia Pacific

China
Japan
ASEAN
Rest of APAC

Latin America
Middle East and Africa

GCC Countries
South Africa
Rest of MEA
Custom Market Research Services
TMR offers custom market research services that help clients to get information on their business scenario required where syndicated solutions are not enough.
REQUEST CUSTOMIZATION

Styrene Butadiene Latex Market