Stone Paper Market
Stone Paper Market (Application: Packaging & Decoration, Industrial, Printing, Marketing & Advertising, and Others [Poster Display and Metro Advertising]) - Global Industry Analysis, Size, Share, Growth, Trends, and Forecast, 2020-2030
Category :

Chemicals & Materials

Format :
Long-term Financial Forecasts Help Tide over Uncertainties during Coronavirus Pandemic
Paper and packaging manufacturers are likely to face fluctuations in demand due to the coronavirus crisis, resulting from economic hardships faced by consumers, communities, and businesses. The ongoing period of economic uncertainty is anticipated to reduce customer appetite of products, thus causing potentially disruptive effects in production and revenue of the stone paper market. Hence, paper manufacturers must update their near and long-term forecasts, including updated assumptions to tide over uncertainties in business.
Many manufacturers in the stone paper market are finding it challenging to finalize their quarterly financial statements, owing to disruptions in operations. Analysts at the Transparency Market Research (TMR) opine that the COVID-19 pandemic might trigger long-lived asset impairments and liquidity issues. In order to overcome this, manufacturers should perform rigorous and forward-looking stress testing and sensitivity analysis of the cash flow statement and determine real-time visibility toward access for funding.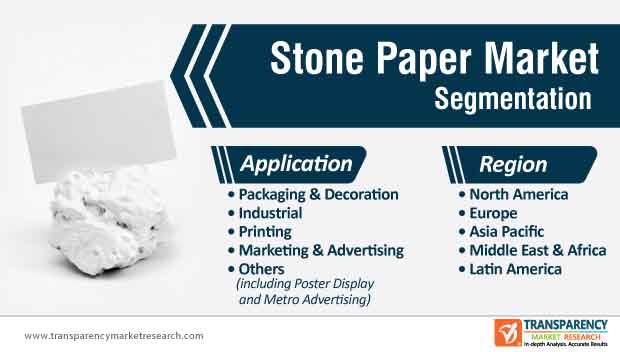 To gauge the scope of customization in our reports Ask for a Sample
Startups Leverage Opportunities in Sustainable, High-quality Stone Paper Development
The stone paper market is expected to cross the revenue mark of US$ 1.3 Bn by the end of 2030. However, manufacturers are struggling to adopt sustainable and economic ways of producing stone paper. Thus, startups such as Karst Stone Paper are improving their R&D efforts to develop sustainable and high quality stone paper. Companies in the stone paper market are learning from such startups to expand their supply in local bookstores and stationery shops.
Consumers have become conscious about environment-friendly paper products. This has compelled manufacturers to adopt sustainable operations in order to gain a competitive edge over other manufacturers. The booming eCommerce sector is another market driver for revenue growth. Sustainably developed products are gaining visibility at trade shows, which helps to boost the uptake of stone paper products in printing, industrial, and diverse marketing applications.
Get an idea about the offerings of our report from Report Brochure
Tear Resistant Products and Recycled Stone Paper Create Revenue Opportunities for Manufacturers
The need to produce paper without cutting down trees is creating value grab opportunities for companies in the stone paper market. There is a growing awareness of paper products that are free from use of water and chemicals. Stone paper is highly resistant against water. Thus, this is being preferred by customers in decoration and metro advertising industries. Displaymanufaktur Hamburg GmbH— a packaging company in Germany, is gaining proficiency to manufacture stone paper according to the Cradle to Cradle principle.
Companies in the stone paper market are increasing the availability of products that are tear resistant and reminiscent of plastic. As such, the recyclability of stone paper is gaining popularity in the manufacturing of eco-solution products. In order to achieve this, manufacturers are combining recycled stone paper with virgin stone paper.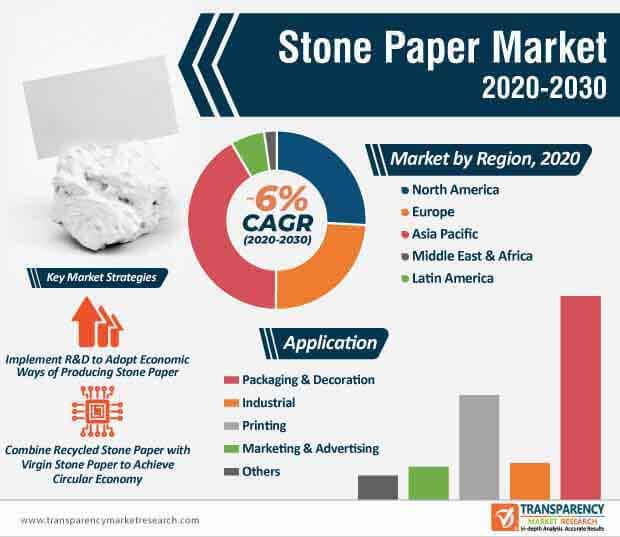 Looking for Regional Analysis or Competitive Landscape in Stone Paper Market for Performance OEM , ask for a customized report
Robust Supply Chains and Knowledge Sharing Boost Product Uptake
Reduced water consumption and decreased carbon dioxide (CO2) emissions are proving advantageous in stone paper production. This explains why the stone paper market is projected to register a favorable CAGR of ~6% during the assessment period. Companies in the stone paper market such as Pebble Printing Group— a company dedicated to accelerate the spread of rich mineral paper internationally, is expanding its services portfolio in packaging, printing, and research to gain a competitive edge over other market players.
Labelling, packaging, and other cumulative applications involving poster displays are creating stable revenue streams for manufacturers and suppliers. Companies are establishing robust supply chains, since printers are always testing unique properties of stone paper. As such, knowledge sharing has become an important service for suppliers to increase client acceptance toward stone paper. Companies are publishing high quality information about material awareness to boost product uptake.
High-performance Eco Products to Combat Issue of Climate Change
The negative impact of climate change has led to the popularity of green products. Companies in the stone paper market such as Taiwan Lung Meng Advanced Composite Materials Co. has invested in R&D worth US$ 49.8 Mn to manufacture green products such as cups, notebooks, and shopping bags. Manufacturers in the stone paper market are striving to adopt eco-friendly practices. They are increasing the availability for high performance eco products to combat the issue of climate change. Thus, manufacturers are grinding waste marble into fine powder, which is then shaped into pellets before being stretched and cut repeatedly. Stone paper products are posing as a tough competition to the sales of pulp-based products. Cost efficient manufacturing of stone paper-based products is grabbing the attention of stakeholders in the packaging, marketing, and decoration industries.
FDA Approved and Phthalate-free Stone Paper Gains Prominence in Books, Labels
The budget-friendly production of stone paper has intensified competition in the market. Webmart U.K.— a multichannel marketing company, is publicizing the importance of greaseproof and print convenience advantages of stone paper, which is gaining prominence in books, floor graphics, and tickets. Stone paper is helping to improve customer perception toward its enhanced weight and feel properties. Manufacturers are increasing their production capacities in stone paper bags, which is helping to reduce the sales of environment-damaging polythene bags.
Companies in the stone paper market are augmenting water-free manufacture and tear resistant advantages of this paper. They are increasing efforts to produce FDA (Food & Drug Administration) approved and phthalate-free stone paper, which is acquiring prominence in maps, calendars, and product labels. Environment-friendly properties of stone paper are aligning with the needs of eco conscious manufacturers.
High Demand for Stone Paper from Flexible Packaging Industry
The ever-growing flexible packaging industry is willingly accommodating stone paper in food & beverages and FMCG (fast moving consumer goods) packaging applications. Aesthetic qualities and sustainability of stone paper are being preferred by food companies. Companies in the stone paper market are expanding their supply chains for the production of heavy-duty bags, stand up pouches, and side gussets to broaden their revenue streams. Sustainable and eco-friendly attributes of stone paper are significantly reducing production waste and maximizing customer satisfaction. The digital printing technology is being used in stone paper box pouches to help products gain retail visibility.
Analysts' Viewpoint
Careful consideration of cash, liquidity, and working capital strategies help companies to absorb future commercial shocks amidst the ongoing COVID-19 pandemic. Eco conscious clients are increasingly opting for stone paper-based products to boost their credibility credentials. However, there is a need for increasing research expenditure to develop innovative products for high performance FMCG and F&B packaging applications. Hence, companies should collaborate with experts, consultants, and professionals in the paper manufacturing industry to increase the availability of robust and innovative products. The flexible packaging industry in healthcare, cosmetics, retail non-food, and consumer goods is creating incremental opportunities for suppliers and manufacturers in the stone paper market.
Stone Paper Market: Overview
According to Transparency Market Research's latest research report on the global stone paper market for the historical period 2019 and the forecast period of 2020 to 2030, rise in demand for sustainable packaging materials and growth in consumer awareness are key factors expected to boost the global stone paper market during the forecast period. Stone paper is extensively used in a wide range of applications, including packaging & decoration, industrial, printing, and marketing & advertising.
In terms of value, the global stone paper market is projected to surpass US$ 1.3 Bn by 2030, expanding at a CAGR of ~6% during the forecast period. In terms of application, packaging & decoration is anticipated to be a highly lucrative segment of the global stone paper market during the forecast period.
Attributes and Production Benefits of Stone Paper: Key Driver of Stone Paper Market
Stone paper is primarily made of recycled products and a binder based on polyethylene. Thus, it is a less environmentally hazardous product. Stone paper also offers several other benefits such as flame resistance and durability. It is also waterproof. Stone paper is used for making maps, charts, field notebooks, manuals, and waterproof journals, owing to its excellent durability. These journals are tear and stain resistant.
Stone paper is also employed in the production of tags and labels, posters, banners, and outdoor signs. Other potential applications of stone paper include production of umbrella protecting grapes from external weather conditions.
Stone paper is easier to manufacture than conventional paper. This is another vital factor that is expected to drive the demand for stone paper in the near future. Fiber or cellulose is not required during the production of stone paper. Thus, natural temperature variation does not have any effect on the paper. Stone paper does not react to expansion and contraction. Hence, it is a highly attractive paper to offset printing machine operators.
Investment cost of equipment is estimated at US$ 150 Mn for the production of 120 kilo tons of stone paper per annum. The investment cost of stone paper is 40% less than that of traditional paper. Significant decrease in capital requirement of stone paper can be ascribed to the lack of need of water treatment. Water is not needed for the production of stone paper; this helps to lower the demand for energy. These characteristics as well as production benefits of stone paper are expected to offer lucrative opportunities to the market in the near future.
Increase in Usage of Stone Paper in Packaging & Decoration Application
Demand for stone paper is rising in paper and packaging applications, as it offers exceptional tear resistance, water resistance, and oil-resistance due to its unique composition. Therefore, stone paper is used in the production of boxes, wraps, stone thermoformed containers, labels, tags, etc.
Stone Paper Market: Competition Landscape
Detailed profiles of companies operating in the global stone paper market have been provided in the report to evaluate their financials, key product offerings, recent developments, and strategies
Key players operating in the global stone paper market are

Taiwan Lung Meng Advanced Composite Materials Co., Ltd.
TBM Co., Ltd
Pishgaman Sanat Sabz
Shenzhen Stone Paper New Materials Co., Ltd
Armen Paper
Sphera International
Stone Paper Italia
Stone Paper Market: Strategic Partnerships
Prominent companies operating in the global stone paper market, such as Taiwan Lung Meng Advanced Composite Materials Co., Ltd., Pishgaman Sanat Sabz, and TBM Co., Ltd, are focusing on strategic partnerships and acquisition activities to expand their global footprint. Other key developments in the global stone paper market are highlighted below:

In August 2019, TBM Co., Ltd. introduced LIMEX Bag, a product containing zero petroleum derived resin at the G20 Innovation Exhibition. LIMEX has the potential to substitute paper without the consumption of water and wood pulp, as well as substitute plastic, while reducing the use of petroleum-derived raw materials. To date, the company has received more than 500 inquiries from around the world for its plastic substitute material.
In 2016, Pishgaman san'at sabz company (PSSCO) started stone paper production facility with annual production capacity of 5000 tons Yazd province, Iran. The stone paper is made from calcium carbonate and HDPE. Its stone paper is used for printing and packaging applications. It is produced in rolls and sheets in thicknesses of 100 to 400 microns.

In the global stone paper market report, we have discussed individual strategies, followed by company profiles of providers of stone paper. The 'Competition Landscape' section has been included in the report to provide readers with a dashboard view and company market share analysis of key players operating in the global stone paper market.
Stone Paper Market – Scope of the Report
The latest study collated and published by Transparency Market Research (TMR) analyzes the historical and present-day scenario of the global stone paper market to accurately gauge its growth potential. The study presents detailed information about important growth factors, restraints, and key trends that are creating the landscape for growth of the global stone paper market in order to identify opportunities for stakeholders. The report also provides insightful information about how the global stone paper market would expand during the forecast period of 2020 to 2030.
The report offers intricate dynamics about different aspects of the global stone paper market, which aids companies operating in the market in making strategic decisions. TMR's study also elaborates on the significant changes that are anticipated to configure growth of the global stone paper market during the forecast period. It also includes key indicator assessment that highlights growth prospects for the global stone paper market and estimates statistics related to the market in terms of value (US$ Mn) and volume (kilo tons).
This study covers detailed segmentation of the global stone paper market, along with key information and a competition outlook. The report mentions company profiles of players that are currently dominating the global stone paper market, wherein various developments, expansions, and winning strategies practiced by these players have been presented in detail.
Key Questions Answered in TMR's Report on Stone Paper Market
The report provides detailed information about the global stone paper market on the basis of a comprehensive research on various factors that are playing a key role in accelerating the growth of the market. Information mentioned in the report answers path-breaking questions for companies that are currently operating in the global market and are looking for innovative methods to create a unique benchmark in the global market so as to help them design successful strategies and make target-driven decisions.
Which application segment of the global stone paper market would emerge as a major revenue generator during the forecast period?
How are key market players successfully earning revenues in the global stone paper market?
What would be the Y-o-Y growth trend of the global stone paper market between 2019 and 2030?
What are the winning imperatives of leading players operating in the global stone paper market?
Research Methodology – Stone Paper Market
The research methodology adopted by analysts for compiling the report on the global stone paper market is based on detailed primary as well as secondary research. With the help of in-depth insights of the market-affiliated information obtained and legitimated by market-admissible resources, analysts have offered riveting observations and authentic forecasts of the global stone paper market.
During the primary research phase, analysts have interviewed market stakeholders, investors, brand managers, vice presidents, and sales and marketing managers. Based on data obtained through interviews of genuine resources, analysts have emphasized the changing scenario of the global stone paper market.
For secondary research, analysts have scrutinized numerous annual report publications, white papers, market association publications, and company websites to obtain the necessary understanding of the global stone paper market.
Stone Paper Market – Segmentation
TMR's research study assesses the global stone paper market based on application and region. The report presents extensive market dynamics and progressive trends associated with different segments and how they are influencing growth prospects of the global stone paper market.
Application

Packaging & Decoration
Industrial
Printing
Marketing & Advertising
Others (including Poster Display and Metro Advertising)

Region

North America
Europe
Asia Pacific
Middle East & Africa
Latin America
Custom Market Research Services
TMR offers custom market research services that help clients to get information on their business scenario required where syndicated solutions are not enough.
REQUEST CUSTOMIZATION