Sports Sponsorship: Introduction
Sponsoring is the financial support of a sport (be it an event, an organization, or an artist) by an external body (a person or an organization) for mutual benefit. Sponsoring takes place at all levels of a sport. School teams can have a sponsored team, while top athletes can be given large sums of money to wear certain sportswear or branded equipment. Sponsorship can consist of financial or indirect payments. Sponsorship means that both parties receive benefits from the agreement.
Demand or need for sponsorship in sports can be attributed to the fact that sponsorship enables the sports organization to organize the event of their dreams; athletes and sports event organizers can focus more on training and preparation than sponsorship; large sponsorship partners can attract larger viewers; and higher number of visitors to sports events means more revenue.
Sports sponsorship has various benefits – it raises awareness of the company or brand, advertises products and services, provides rewards or incentives for staff and customers, enhances revenue or sales through improved media exposure, decreases tax through tax relief, and increases brand loyalty/premium prices.
Different types of sports sponsorship include digital activation, signage, club and venue activation, and are used in training sponsorship, and competition sponsorship.
Sponsorship represents a large part of the sports business industry today. According to PWC, the global sports sponsorship market was estimated at more than US$ 46 Bn in 2018, which is expected to reach US$ 49 Bn by 2023.
Global Sports Sponsorship Market: Dynamics
Global Sports Sponsorship Market: Key Drivers
The market for sports sponsorship is expected to grow during the forecast years due to increasing number of sports events and the fact that sponsorship has a greater reach compared to traditional marketing such as sales promotions and advertising.
Additionally, significant improvement in audience engagement is likely to propel the sports sponsorship market during the forecast period.
Increasing popularity of sports and demand for online sports by viewers is anticipated to increase the demand for sports sponsorship during the forecast period.
Growing popularity of marketing analytics and increasing number of new sports leagues are expected to drive the sports sponsorship market in the near future.
However, high initial investment and budget constraints may hamper the sports sponsorship market growth in the coming years.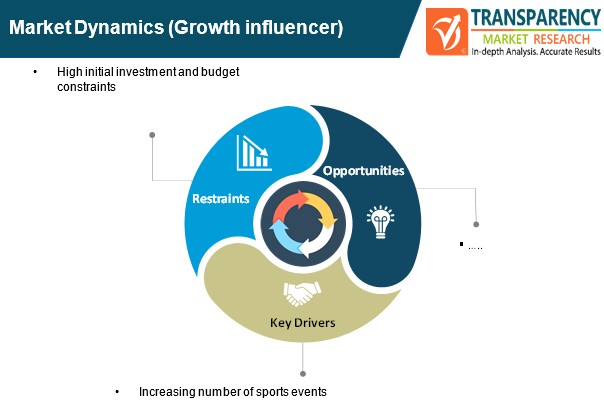 Impact of COVID-19 on the Global Sports Sponsorship Market
The Coronavirus pandemic is expected to have several ramifications on the sports sponsorship industry, and while most analysis these days has focused on assessing income losses, it also needs to consider the possible future investments that will be required to make the gradual return to the new normal.
No sporting event currently benefits the sponsors of live events that forms the foundation of most organizations, whether amateur or professional. Absence of live sport means that there is no live reporting and hence sponsors do not have the basis to start their fan engagement, marketing, and all other activities related to the rights and assets acquired.
North America to Hold Major Share of the Global Sports Sponsorship Market
The global sports sponsorship market can be divided into North America, Europe, Asia Pacific, Middle East & Africa, and South America.
North America is expected to have a large share of the sports sponsorship market due to the growth in established economies such as Canada and the United States (US). Additionally, the increased presence of key players is likely to boost the sports sponsorship market in North America during the forecast period.
Increasing adoption of new sports leagues and demand for sports in Asia Pacific is anticipated to increase the sport sponsorship market during the forecast period.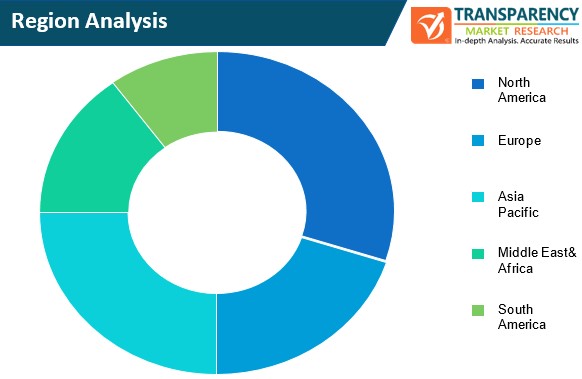 Global Sports Sponsorship Market: Competition Landscape
In August 2020, after a long and tight break from Indian cricket, the second largest sportswear manufacturer in the world, Adidas jumped into the slots for the uniform sponsorship offer and the official marketing partner rights of the Indian cricket team.
In November 2020, the fantasy gaming platform Mobile Premier League (MPL) was selected to be the clothing sponsor of the Indian cricket team for three years. The fact that BCCI dyed clothing and merchandise with MPL, which Nike replaced, was confirmed by a member of the ApeX Council.
Key players operating in the global sports sponsorship market include:
Adidas AG
Hero MotoCorp Limited
Hyundai Motor Company
Nike Inc.
Nissan Motor Co., Ltd.
PepsiCo Inc.
PUMA SE
Qatar Airways Group
Rolex SA
Samsung Electronics Co. Ltd.
The Coca-Cola Company
Global Sports Sponsorship Market: Research Scope
Global Sports Sponsorship Market, by Type
Signage
Digital Activation
Club and Venue Activation
Others
Global Sports Sponsorship Market, by Application
Competition Sponsorship
Training Sponsorship
Others
Global Sports Sponsorship Market, by Region
North America

U.S.
Canada
Rest of North America

Europe

Germany
France
U.K.
Italy
Rest of Europe

Asia Pacific

China
Japan
India
South Korea
Rest of Asia Pacific

Middle East & Africa

GCC
South Africa
Rest of Middle East & Africa

South America

Brazil
Rest of South America