Sports Food Market
Sports Food Market (Product - Protein, Energy, Pre-workout, Rehydration, Meal Replacement; Gender - Female, Male; Distribution Channel - Online Stores, Hypermarket and Supermarkets, Convenience Stores, Drug Stores) - Global Industry Analysis, Size, Share, Growth, Trends and Forecast 2017 - 2022
Category :

Food & Beverages

Format :
Global Sports Food Market: Snapshot
Globally, people these days have started showing more interest in sports activities and inclined towards various physical activities. With these changes, these individuals are consuming food that high in nutrition and that can support the nutritional requirement of the body. All these factors have boosted growth in the global sports food market.
Rising number of gymnasiums in both developed and developing economies, increasing international sports events, and growing preference to maintain physical fitness has also accelerated growth in the global sports food market. With growing disposable income and increasing importance of health has surged demand for various energy drinks, protein bars, and dietary supplements have contributed in driving sports food.
Owing to these developments, the global sports food market is expected to progress at healthy CAGR of 6.90% over the forecast period between 2017 and 2022. In 2017, the market earned US$63.7 bn and this figure is likely to touch US$88.7 bn by 2022. With the changing perception towards sports activities and increasing number of health conscious people, the global sports food market is expected to rise at a healthy rate in the next few years.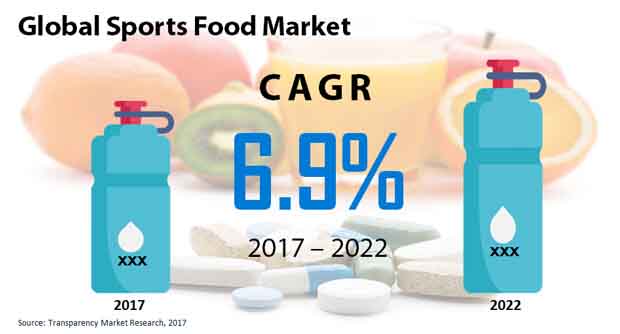 Energy Sports Food and Protein-Based Sports Food to Hold Larger Share in Sports Food Market
The global sport food market is categorized on the basis of product, gender and distribution channel. Based on product, the market is segmented into rehydration sports food, energy sports food, protein-based sports food, meal replacement sports food, pre-workout sports food, and miscellaneous sports food. Among these, energy sports food and protein-based sports food are expected to hold maximum share in the global sports food market.
In terms of distribution channel, the market is segmented into convenience stores, supermarkets and hypermarkets, online stores, and drug stores. Among these channels, the demand in traditional stores that includes convenience stores, supermarkets and hypermarkets, and drug stores have high demand for sports food. But with the growing use of smartphones and high penetration of internet online sales of sports food have also increased at a substantial rate.
Moreover, the demand for sports food is high among males, as they are into heavy practice of different sports activities as compared to women. However, this trend is likely to change in the coming years, as females are also actively participating in various sports activities.
North America to Hold Dominant Share Due to Large Number of Sports Enthusiast
With respect to geography, North America is leading the global sports food market due to the presence of large number of sports enthusiasts. Increasing health consciousness among people and growing interest for different sports activities lead the demand for sports food in North America. Moreover, presence of large number of sports food manufacturers in the region has further strengthen position of North America in the global market.
The demand for sports food is also high in developed regions in Europe, due to increasing inclination for physical activities. Moreover, increasing government initiatives encourage healthy living and reduce obesity among people has also contributed in growing global sports food market.
The report also provides detailed analysis of Asia Pacific, Latin America, and the Middle East and Africa. Among these, the Middle East and Africa is also expected to contribute substantially in the growth of the global sports food market. Growing interest of people in maintaining physical fitness and increasing disposable income among people will further augment growth in this market.
The vendor landscape includes Dr Pepper Snapple Group Inc., General Mills, GlaxoSmithKline Plc, Abbott Laboratories, Red Bull GmbH, Monster Beverage Corp., GNC Holdings Inc., The Coca-Cola Co., Glanbia Plc., and Nestlé S.A. the vendor landscape is likely to be fragmented, as large number of players are competing against each other.
Increased Availability of Sports Food Items on Online Platforms to Drive Sports Food Market
Sports nutrition is made up of two different components, which are sports food and sports drinks. Sports beverages account for majority of the business in sports nutrition, whilst sports food items are projected to expand rapidly in the years to come. This can be due to the fact that these items are becoming more widely available in department stores, supermarkets, and online markets. Nutritious powder, energy bars, and protein bars are all instances of sports food items. Businesses are also selling a range of supplement bars and powders in the global sports food market, acknowledging the market's needs. Due to the demands of modern life, it is simple to obtain the required nutrients for athletes in one single product. In the sports nutrition industry, protein foods and carbohydrates are very common items. In the global sports food market, whey and soya are the most common sources of protein. The immense growth of the market is attributed to the increased demand for sports food products, and it is anticipated to remain to expand rapidly in the coming years.
Rapid Urbanization and Increased Health Awareness to Shoot Up Demand in the Market
Consumer health issues and rapid urbanization are two major factors likely to drive growth of the global sports food market. The market becomes more dynamic as a result of effective and innovative product growth. Companies' mass marketing campaigns make sports food goods readily available, enabling marketers to broaden the scope of sports food market into previously untapped and targeted markets. Several macroeconomic factors, like housing, rising level of disposable income, and other social factors, are likely to have an indirect effect on the global sports food market.
Sports nutrition is not easily accessible to customers in many under-developed parts of the world. In addition to that , the market is only focused amongst higher middle and high income groups owing to the high cost of sports food items. These factors are likely to limit growth of the market in the years to come. Developing markets and various underdeveloped countries, on the other hand, represent untapped markets for the manufacturers of sports food items. The global poverty rate is decreasing, and with that the sports food market is expected to retain a substantial market share amongst developing and emerging countries in the years to come. Sports foods items are becoming more common amongst consumers of non-sports food items a result of increased consumer health awareness.
Global Sports Food Market: Overview
Sports, fitness, and health have become the watchwords of a large part of the population and people are immensely driven towards engaging themselves in strenuous activates. This has also been the pretext for various health and sports clubs to surface on the global landscape. The Global sports food market is benefiting from this inclination of the masses by offering positive hopes for various stakeholders in the market. As people prefer a diet which complements their physical activity, the sports food industry has gained traction from all arenas, thus, bolstering the entire market. There is an increased impetus on maintaining healthy body standards which has also been a major plsu point for the global market of sports food. It is anticipated that the market would continue to soear greater heights through the launch pad of evolving lifestyles.
The market for sports food is segmented by geography, distribution channel, type of product, and gender. The sub-categorization of each segment gives a deep-seated view of the market dynamics.
This review covers comprehensive aspects associated with the market for sports food. The various projections have been made in conjugation with the trends that currently exist in the market and the various propensities that expected to transcend in future. The various insights mentioned in the report succinctly cater to the market and can be employed for research and analysis.
Global Sports Food Market: Trends and Prospects
Health and fitness has been promoted over recent years via an array of campaigns, entertainment channels, and health enthusiast. This has led to an awakening amongst the masses to stay fit and healthy to maintain their physiological wellbeing. Urbanization has also channeled people towards the fitness and self-care by positioning various products and campaigns to show that a healthier lifestyle is the way forward. This has fueled the demand for sports food, which people now consider as an essential intake to complement their health needs. A rise in the number of gymnasiums and health clubs which promote the usage of sports foods is also a riveting factor that is cruising the market towards fruition.
Although people have become welcoming of sports food as part of their diet, there are threats to the growth of the market. In a lot of regions, consumers complain of the unavailability of sports food or the food type they want. Moreover, sports food is bundled at high prices which restricts its consumption to the higher-income group, thus, leaving a major part of the population uncaptured. These factors pose a threat to the propulsion of the market. Nevertheless, the impact of fitness on the minds of the people is stupendous, which is expected to outdo the hindrances.
Global Sports Food Market: Regional Outlook
The geographical outlay of the market manifests that North America is the leading market amongst all other regional markets including Europe, Latin America, Middle East and Africa, Asia Pacific Excluding Japan (APEJ), and Japan. The market in North America is anticipated to reach US$36.73 bn by 2022 registering a CAGR of 7.70% from 2017-2022. Europe is expected to follow North America offering a resplendent market for sports food. The Middle East and African region along with Asia Pacific would see great growth opportunities owing to an affinity towards fitness and a rising disposable income, respectively.
Global Sports Food Market: Competitive Landscape
The global market for sports food is characterized stiff competition attributed to the multiplying number of vendors for the industry. There are a number of players who are engaging in core research and development to induce innovation in their product portfolio and introduce new products with greater health benefits, better flavor, and increased nutritional value. The current market players with reckon and renown in the market include GlaxoSmithKline Plc, Abbott Laboratories, Nestlé S.A.,The Coca-Cola Co., Red Bull GmbH, GNC Holdings Inc., Dr Pepper Snapple Group Inc., Monster Beverage Corp., General Mills, and Glanbia Plc.
By Product Type

Energy Sports Food
Protein-Based Sports Food
Rehydration Sports Food
Pre-Workout Sports Food
Meal Replacement Sports Food
Others

By Distribution Channel

Drug Stores
Supermarkets and Hypermarkets
Online Stores
Convenience Stores

Market Segmentation
Custom Market Research Services
TMR offers custom market research services that help clients to get information on their business scenario required where syndicated solutions are not enough.
REQUEST CUSTOMIZATION