Solder Flux Market
Solder Flux Market (Type - Water Soluble and No Clean; Application - Ball Grid Arrays (BGAs)) - Global Industry Analysis, Size, Share, Growth, Trends, and Forecast 2016 - 2024
Category :

Chemicals & Materials

Format :
Global Solder Flux Market: Snapshot
Flux is utilized for cleaning metal surfaces before fastening them together. Since any oxides that stay on a metal surface can bring about poor patch associations, the main capacity of motion is to deoxidize metal surfaces without breaking down. Patch motion is an indispensable piece of electronic plan and fix. Moreover, with growing consumer electronics industry and manufacturing of various electronic components, the demand for solder flux is experiencing major growth these days, which as a result is propelling the growth of global solder flux market in during these tenure.
What are the Best Solder Flux in Global Solder Flux Market?
Rosin flux is made up fundamentally of rosin, which is separated from the sap of pine trees, and contains the dynamic fixing abietic corrosive (different acids might be available too). Rosin flux is utilized for cleaning effectively clean surfaces, and has the benefit of abandoning no buildup. Rosin somewhat enacted motion is utilized on dirtier surfaces and will leave more buildup than customary rosin transition; in the wake of utilizing rosin flux, you utilize a motion cleaner to purge the surface. Owing to these benefits the rosin flux is dominating the global solder flux market.
No-clean flux is a blend of natural saps — beside rosin — blended in with certain inorganic operators. The practices and properties of no-clean flux can differ altogether relying upon their separate synthetic structure; for instance, some no-clean flux leave a huge measure of buildup, which is ugly, however it is no danger to the surface. You can, in any case, locate no-clean motions that won't desert buildup. The principle bit of leeway of utilizing a no-clean flux is that you won't have to clean the surface subsequent to welding, since they don't influence electrical conductivity. Owing to these advantages the no-clean flux is holding a significant share in global solder flux market.
Global Solder Flux Market: Snapshot
The global market for solder flux is heavily influenced by the sturdy rise in the manufacturing of printed circuit board (PCB), fueled by the increasing production of computers and mobile phones across the world. The significant growth in the automotive and the semiconductor industries is also having a positive impact on the sales of solder flux, reflecting positively on this market.
On the other hand, the easy availability of PCB design software and the disparity in the tariffs for different regions may restrict this market from growing smoothly in the near future. However, the decrement in tariff from solder flux is anticipated to boost the demand for them, globally, over the years to come. The opportunity in the global market for solder flux, which was valued at US$213.2 mn in 2015, is estimated to reach US$367.3 mn by 2024, swelling at a CAGR of 6.30% between 2016 and 2024.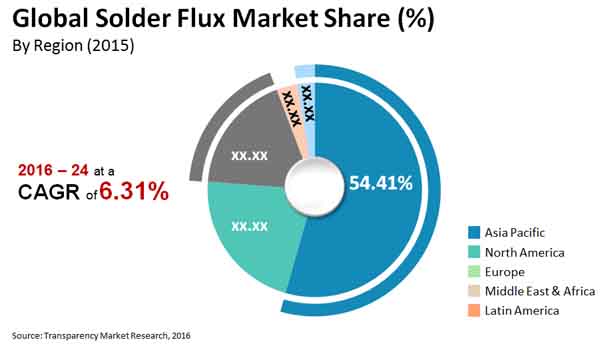 BGAs to Remain Leading Consumers of Solder Flux
Solder flux finds a widespread application in ball grid arrays (BGAs) and several other equipment such as flip chip and surface mounted devices (SMD). BGAs have been the key consumers of solder flux and are likely to remain so over the forthcoming years. In 2015, a share of more than 63% in the overall demand for solder flux was held by BGAs.
As BGA is utilized in printed circuit boards of electronics and semiconductor products, the increasing demand for electronics all over the world is expected to boost their consumption in the years to come, eventually leading to raised demand for solder flux.
Asia Pacific to Continue to Lead Global Solder Flux Market
Asia Pacific, Europe, Latin America, North America, and the Middle East and Africa are the prime regional markets for solder flux across the world. While North America and Europe, together, held the global market for solder flux in 2015, the maturing state of the North American market and the economic instability in Europe have turned the tables on Asia Pacific, which already is the most prominent individual market for solder flux. With the fast developing automotive and consumer electronics industries, specifically in China, Asia Pacific is likely to retain its position in this market over the coming years.
China, among all the domestic markets in Asia Pacific, has surfaced as the key consumer of solder flux and is likely to remain seated in this position over the next few years, thanks to the steady rise of the semiconductor and the PCB industries. The market for solder flux in India is also anticipated to experience a gradual expansion in the years to come on the ground of various government initiatives, especially the "Make in India" project. The economic strengthening in China and India is anticipated to aid the market for solder flux in Asia Pacific in the years to come.
STANNOL GmbH, AIM Metals & Alloys LP, Indium Corp., DUKSAN Hi-Metal Co. Ltd., Kester, Heraeus Holding, Henkel AG & Co. KgaA, Johnson Matthey, and KOKI Co. Ltd. are the key companies operating in the global solder flux market.
Global Solder Flux Market: Overview
This report analyzes and forecasts the market for solder flux at the global and regional level. The market has been forecast based on volume (tons) and revenue (US$ Mn) from 2016 to 2024. The study includes drivers and restraints of the global solder flux market. It also covers the impact of these drivers and restraints on demand for solder flux during the forecast period. The report also highlights opportunities in the solder flux market at the global and regional level.
The report comprises a detailed value chain analysis, which provides a comprehensive view of the global solder flux market. Porter's Five Forces model for the solder flux market has also been included to help understand the competitive landscape in the market. The study encompasses market attractiveness analysis, wherein end-users are benchmarked based on their market size, growth rate, and general attractiveness.
Global Solder Flux Market: Scope of the Study
The study provides a decisive view of the global solder flux market by segmenting it in terms of type and application. These segments have been analyzed based on present and future trends. Regional segmentation includes the current and forecast demand for solder flux in North America, Europe, Asia Pacific, Latin America, and Middle East & Africa. The report also covers demand for individual end-user segments in all the regions.
The report provides the estimated market size of solder flux for 2015 and forecast for the next nine years. The global market size of solder flux has been provided in terms of volume and revenue. Market numbers have been estimated based on key form, and application segments of solder flux market. Market size and forecast for each major form and application have been provided in terms of global and regional markets.
Global Solder Flux Market: Research Methodology
In order to compile the research report, we conducted in-depth interviews and discussions with a number of key industry participants and opinion leaders. Primary research represents the bulk of research efforts, supplemented by extensive secondary research. We reviewed key players' product literature, annual reports, press releases, and relevant documents for competitive analysis and market understanding. Secondary research also includes a search of recent trade, technical writing, internet sources, and statistical data from government websites, trade associations, and agencies. This has proven to be the most reliable, effective, and successful approach for obtaining precise market data, capturing industry participants' insights, and recognizing business opportunities.
Secondary research sources that are typically referred to include, but are not limited to company websites, annual reports, financial reports, broker reports, investor presentations, and SEC filings, internal and external proprietary databases, and relevant patent and regulatory databases, national government documents, statistical databases, and market reports, news articles, press releases, and webcasts specific to companies operating in the market, National government documents, statistical databases, and market reports, US EPA, The Minerals, Metals & Materials Society, IEEE Technology Navigator, IPC - Association Connecting Electronics Industries.
Primary research involves e-mail interactions, telephonic interviews, and face-to-face interviews for each market, category, segment, and sub-segment across geographies. We conduct primary interviews on an ongoing basis with industry participants and commentators in order to validate the data and analysis. Primary interviews provide firsthand information on market size, market trends, growth trends, competitive landscape, and outlook, etc. These help validate and strengthen secondary research findings. These also help develop the analysis team's expertise and market understanding.
Companies Mentioned in the Report
The study includes profiles of major companies operating in the global solder flux market. Key players operating in the solder flux market include KOKI Company Ltd., Johnson Matthey, Henkel AG & Company KGaA, Heraeus Holding, Kester, DUKSAN Hi-Metal Co., Ltd. and others. Market players have been profiled in terms of attributes such as company overview, financial overview, business strategies, recent developments, and SWOT analysis.
The report segments the global Solder Flux market as:
By Type

Water Soluble
No-Clean
Others

By Application

Ball Grid Array (BGA)
Others

By Region

North America
Europe

France
U.K.
Spain
Germany
Italy
Rest of Europe

Asia Pacific

China
Japan
India
ASEAN
Rest of Asia Pacific

Latin America

Brazil
Mexico
Rest of Latin America

Middle East & Africa (MEA)

GCC
Egypt
South Africa
Rest of MEA
Custom Market Research Services
TMR offers custom market research services that help clients to get information on their business scenario required where syndicated solutions are not enough.
REQUEST CUSTOMIZATION