Solder Balls Market
Solder Balls Market (Alloy Type - Lead Solder Balls and Lead Free Solder Balls; Solder Type - Eutectic and Non-Eutectic; Size Type - Up to 100um, 100um - 400um and 400um & above) - Global Industry Analysis, Size, Share, Growth, Trends, and Forecast 2017 - 2025
Chemicals & Materials
TMRGL30917
2017-09-19
205

Pages
Global Solder Balls Market: Snapshot
The global solder balls market is benefitting tremendously with the expansion of the automotive and electronics sector. Rapid industrialization and economic development in several parts of the world have led to an improved standard of living. Consequently, this has led to an increased demand for high quality and environmental friendly electronics and automotive products. This is directly influencing the demand for solder balls for soldering processes in these sectors.
Besides this, the advantage of contact reliability in soldering processes that use solder process is also leading to their increased use in the industrial sector. Moreover, products that are developed using high-performance solder balls display attributes of high reliability and high performance.
On the downside, environmental concerns associated with the discharge of lead that is critical component of solder balls is proving to be a roadblock to the market's growth.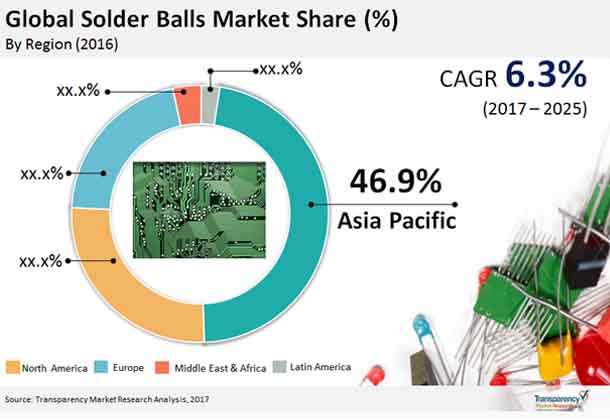 Environmental Concerns of Lead Solder Balls Account for their Low Demand
On the basis of solder type, the solder balls market has been segmented into eutectic and non-eutectic. Between the two, the non-eutectic segment the leading share of the market in 2016. The segments of the solder ball market depending upon alloy type are lead solder balls and lead free solder balls. Lead free solder balls held the leading share of the market in 2016, as the product is free of lead which is associated with environmental concerns. This has also been a reason for restrictions imposed on the use of lead solder balls in Europe and North America.
However, lead and eutectic solder balls that contain lead as a raw material are cheaper and efficient as compared to non-eutectic solder balls. This has been a reason eutectic solder balls are still used in several parts of the world.
In terms of size type, the global solder balls market is divided into up to 100um, 100um-400um, and 400um and above. In 2016, 400um and above led the market vis-à-vis revenue. Industrialization leading to urbanization in several parts of the world is a key factor for the prominent share of this segment. Solder balls of 400um and above are widely used in automotive and electronic sectors. The expanding automotive and electronics industries in China and India are displaying substantial demand for 400um and above sized solder balls. To serve the demand, leading players in the global solder balls market such as Senju Metal Industry Co. Ltd. And Solder Coat Co. Ltd. are primarily focused in the manufacture of 400um and above sized solder balls. Solder balls of size up to 100um are fewer applications.
Expanding Automotive and Electronics Sectors Make Asia Pacific Leader
The global solder ball market is studied across North America, Asia Pacific, Europe, Latin America, and the Middle East and Africa in this report. Asia Pacific accounted for the leading share of the overall market in 2016 in terms of revenue. Going forward, the region is anticipated to display a significant CAGR amongst other key regional markets. This is mainly because of a rising middle-class population in the region that is spending liberally on big ticket items such as automobiles and electronics. Powered by China and India, the Asia Pacific solder balls market is expected to receive a boost in the forthcoming years.
North America and Europe collectively held more than 45% of the overall solder balls market in 2016.
Key players in the global solder balls market include Duksan Metal Co. Ltd., Hitachi Metals Nanotech Co. Ltd., Nippon Micrometal Corporation, Indium Corporation, and Senju Metal Industry Co. Ltd.
Product Reliability of Solder Balls Market Gathers Attention for SMT Assembly Processes
Solder balls are used extensively in surface mount technology (SMT) manufacturing processes for PCB manufacturing. The electric clearance principal dictates that solder balls should be located within 0.13mm of traces or that it shouldn't be wider than 0.13mm in diameter. Thus, solder balls are a key determinant of reliability and functioning of PCB in spectrum of electronic components. Growing focus on use of advanced chip packages for consumer electronics is one of the key trends that have shaped the growth trajectories of the solder balls market over the past few years In the foreseeable future, the market is expected to make remarkable strides from the growing adoption of techniques to reduce the causes of beading and balling in circuits. Electronics manufacturers and chip fabricators use corrective actions to rectify any defects and also expend their money and time on analyzing the root causes of defects in solder balls. Moreover, these techniques and methods are increasingly made to comply with new standards. A case in point is IPC A 610 standard. New methods of troubleshooting errant candidates have also boosted the prospective use of solder balls. Growing complexity of electronic circuitry for commercial and industrial applications is expected to increasingly shape the future contours of demand in the solder balls market.
The COVID-19 pandemic has led to emergence of new strategic models, information systems, and operational models for business to adopt in order to remain agile. The pandemic is still emerging in numerous economies, causing uncertainties in macroeconomic fundamentals. The cost constraints and uncertainties in consumer demands are relevant for electronics manufacturing solder balls market. On the other hand, IC manufacturers are witnessing rise in demand among businesses engaged in production of smart consumer devices. Growing focus on adopting reliable circuitry for range of enterprise applications, such as smart IoT devices, might spur the demand by business buyers in the solder balls market in near future.
Global Solder Balls Market: Overview
Solder balls are bumps of solder that has been placed manually or by automated equipment, and are held in place with a tacky flux to provide the contact between the chip package and the printed circuit board. Rise in quality and performance standards from end-user industries and improvement in living standard in developing countries across the globe is observed to boost the demand for solder balls across the globe.
Global Solder Balls Market: Scope of Study
The report estimates and forecasts the solder balls market on the global, regional, and country levels. The study provides forecast between 2017 and 2025 based on volume (Units) and revenue (US$ Mn) with 2016 as the base year. The report comprises an exhaustive value chain analysis for each of the product segments. It provides a comprehensive view of the market. Value chain analysis also offers detailed information about value addition at each stage. The study includes drivers and restraints for the solder balls market along with their impact on demand during the forecast period. The study also provides key market indicators affecting the growth of the market. The report analyzes opportunities in the solder balls market on the global and regional level. Drivers, restraints, and opportunities mentioned in the report are justified through quantitative and qualitative data. These have been verified through primary and secondary resources.
The report includes Porter's Five Forces Model to determine the degree of competition in the solder balls market. The report comprises a qualitative write-up on market attractiveness analysis, wherein applications and countries have been analyzed based on attractiveness for each region. Growth rate, market size, raw material availability, profit margin, impact strength, technology, competition, and other factors (such as environmental and legal) have been evaluated in order to derive the general attractiveness of the market. The report comprises price trend analysis for solder balls between 2017 and 2025.
Secondary research sources that were typically referred to include, but were not limited to company websites, financial reports, annual reports, investor presentations, broker reports, and SEC filings. Other sources such as internal and external proprietary databases, statistical databases and market reports, news articles, national government documents, and webcasts specific to companies operating in the market have also been referred for the report.
In-depth interviews and discussions with a wide range of key opinion leaders and industry participants were conducted to compile this research report. Primary research represents the bulk of research efforts, supplemented by extensive secondary research. Key players' product literature, annual reports, press releases, and relevant documents were reviewed for competitive analysis and market understanding. This helped in validating and strengthening secondary research findings. Primary research further helped in developing the analysis team's expertise and market understanding.
Global Solder Balls Market: Market Segmentation
The study provides a comprehensive view of the solder balls market by dividing it on the basis of end-use and geography segments. The solder balls market has been segmented into up to 100um, 100um – 400um and 400um and above based on size type. Size type segment have been analyzed based on historic, present, and future trends.
Regional segmentation includes the current and forecast demand for solder balls in North America, Europe, Asia Pacific, Latin America, and Middle East & Africa (MEA). Additionally, the report comprises country-level analysis in terms of volume and revenue for various segments. Key countries such as the U.S., Canada, Germany, France, the U.K., Spain, Italy, India, China, Japan, South Africa, Mexico, and Brazil have been included in the study. Market segmentation includes demand for individual applications in all the regions and countries.
Global Solder Balls Market: Competitive Landscape
The report covers detailed competitive outlook that includes market share and profiles of key players operating in the global market. Key players profiled in the report includes Duksan Metal Co. Ltd., Senju Metal Industry Co. Ltd., Indium Corporation, Nippon Micrometal Corporation, Hitachi Metals Nanotech Co. Ltd. and others. Company profiles include attributes such as company overview, number of employees, brand overview, key competitors, business overview, business strategies, recent/key developments, acquisitions, and financial overview (wherever applicable).
The global solder balls market has been segmented as follows:
Alloy Type Analysis

Lead Solder Balls
Lead Free Solder Balls

Solder Type Analysis

Size Type Analysis

Up to 100um
100um – 400um
400um and above

Regional Analysis

North America
Europe

Germany
France
U.K.
Italy
Spain
Rest of Europe

Asia Pacific

China
India
Japan
ASEAN
Rest of Asia Pacific

Middle East & Africa

GCC
South Africa
Rest of Middle East & Africa

Latin America

Brazil
Mexico
Rest of Latin America
Custom Market Research Services
TMR offers custom market research services that help clients to get information on their business scenario required where syndicated solutions are not enough.
REQUEST CUSTOMIZATION