Social VR Market - Introduction
Companies and social platforms are using virtual reality solutions to enhance the experience of social platforms. The social VR app is integrated with a virtual reality headset to provide a virtual meeting room and social event experience.
Social media users or participants appear as virtual characters or Avatars in virtual environments to attend organized social events, virtual parties, and virtual team meetings. Adoption of video conferencing and online meeting platforms is increasing among enterprises to reduce the travel time of employees and expenses on commercial meetings.
The social VR system allows the participant to choose their virtual characters for participating in virtual social meeting events. The social VR is a next-generation social platform to enhance the meeting experience for users and companies.
Demand for social VR systems is increasing among social media platform companies to provide advanced platforms to interact with others in a virtual environment as they interact in real life.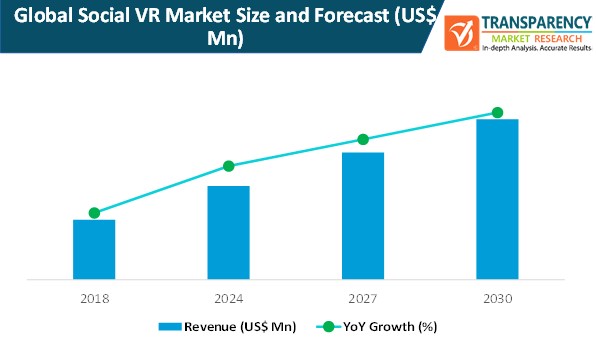 Key Drivers of the Social VR Market
Increasing demand for an advanced social platform with VR technology is expected to drive the growth of the social VR market. Advancements in technology regarding communication standards are expected to boost the growth of the social VR market.
Adoption of social VR helps to minimize the business expenditure by investing in the separate video or VR based communication channel and is expected to create better business opportunities for providers of social VR.
High cost of the system and lack of awareness about technologically advanced social platforms expected to hinder the market
The high cost of VR headsets and customized software platforms increases the overall cost of the solution. The high cost of the virtual system and equipment for social media platforms may restrain the growth of the social VR market.
Lack of awareness about virtual platforms for social meetings among residential and commercial users is also expected to hamper the growth of the social VR market.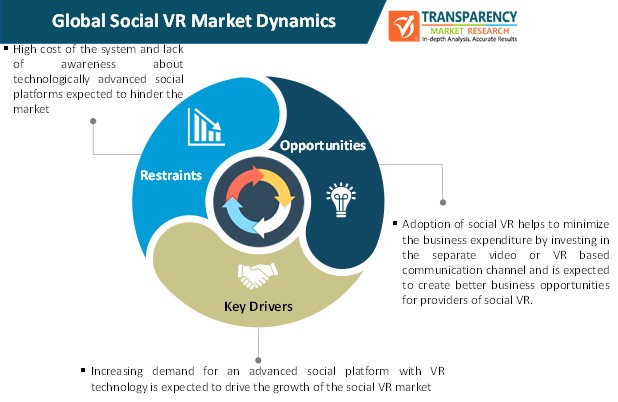 Impact of COVID-19 on the Global Social VR Market
Companies are expanding their geographical presence to capture more market share in Asia Pacific due to the increasing impact of COVID-19 on business growth. Companies are adopting the work from home model for employee safety, which creates opportunities for video conferencing service providers and virtual reality meeting service providers.
Companies are adopting social VR services to provide better social media platform solutions and services to viewers and customers.
Asia Pacific to Hold Major Share of the Global Social VR Market
Asia Pacific holds a prominent share of the social VR market due to the increasing adoption of high-speed virtual reality solutions for business communication and commercial meetings.
The social VR market in Asia Pacific is expected to expand the fastest during the forecast period due to increasing investment by major players to provide services across the region and also due to the increasing number of IT and service companies in Asia Pacific. In North America and Europe region, solution providers are offering the advanced social media VR platform to maintain their market positions.
Key Players Operating in the Global Social VR Market
Wookey Projects, Inc. was founded in 2013 and is based in Liverpool, United Kingdom. The company is a global virtual reality solutions provider for attending live events on virtual platforms. It offers a VR solution for PCs and VR headsets to attend events and video game events.
vTime Holdings Ltd. was founded in 2013 and is a global social media platform providing company. The company offers solutions in augmented reality, virtual reality, and mixed reality for residential and commercial sectors and is available on multiple platforms.
Other key players operating in the global social VR market include Bigscreen, Inc., VRChat Inc., HTC Corporation, Facebook Technologies, LLC, Google LLC, and Microsoft Corporation.
Global Social VR Market: Research Scope
Global Social VR Market, by Component
Hardware (Headset)
Software/Application
Services

Implementation & Integration
Support & Maintenance
Global Social VR Market, by End-user
Commercial
Residential
Government
Global Social VR Market Segmentation, by Region
North America
Europe

Germany
U.K.
France
Russia
Italy
Spain
Nordic
Rest of Europe

Asia Pacific

China
India
Japan
Australia
Singapore
Malaysia
South Korea
Rest of Asia Pacific

Middle East & Africa (MEA)

UAE
Saudi Arabia
South Africa
Rest of Middle East & Africa

South America

Brazil
Rest of South America
Alternative Keywords
Virtual Reality Meetings
Virtual Reality in Social Media
Interested in this report?
Get a FREE Brochure now!