Smart Pressure Gauge Market - Introduction
Smart pressure gauge is an equipment that helps to measure the variations in the environmental characteristics or physical quantity of any material. A smart pressure gauge transforms measurement into signals in the form of inputs to control the device. Smart pressure gauges measure the pressure of a wide range of liquids & gases and produce an electric signal due to applied pressure.
The smart or connected pressure gauge primarily utilizes sensor technology to provide reliable readings and better visibility of field changes. Smart pressure gauges are ideally utilized for testing & monitoring purposes; for instance, sensor-based pressure gauges are used to monitor the oil pressure in automobiles. The smart pressure gauge is utilized in various end-use industries such as automotive, oil & gas, consumer electronics, medical, utility, and in the industrial sector.
Smart Pressure Gauge Market- Competitive Landscape
In May 2018, Emerson introduced its new pressure gauge product portfolio "the Rosemount Smart Pressure Gauge" to provide reliable pressure readings. These gauges provide a safer field environment and delivers up to 150X overpressure protection.
Click here to read more about competition landscape: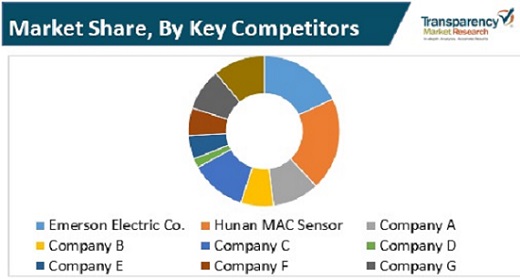 Emerson Electric Co.
Founded in 1890 and located in Missouri, the U.S., Emerson is an American company that designs, develops, and manufactures products and offers engineering services for consumer, commercial, and industrial markets. The company operates its business through the automation solutions segment and commercial & residential solutions segment. The company's commercial & residential solutions provide various products & services including valves, controls & system protectors, control & monitoring systems, and construction & plumbing tools.
Hunan MAC Sensor
Founded in 2009 and based in China, Hunan MAC Sensor is specialized in designing and manufacturing automation products & services specifically in China and others countries. The company provides wireless IOT sensor systems, pressure measurement instruments, level measurement instruments, and flow measurement instruments.
Meriam Process Technologies
Founded in 1911 and headquartered in Ohio, the U.S., Meriam Process Technologies is a subsidiary of Scott Fetzer and manufactures a wide range of process measurement instrumentation that includes digital & analog pressure transmitters, MFT calibrators, handheld calibrators/data loggers, pipeline integrity testers, handheld HART communicators, MFC HART communicators, pressure gauge, primary element flow solutions, and hydraulic pressure pumps.
Kobold Messring GmbH
Founded in 1980 and located in Germany, Kobold is one of the key manufacturers in the field of industrial measuring and control devices. The company provides wide-ranging temperature sensors and measuring devices that help to determine exact temperature measurement. Its products and services are available across Europe, Asia Pacific, and other regions worldwide.
Schneider Electric
Founded in 1836 and based in France, Schneider Electric is one of the leading providers of automation and energy management solutions in commercial, residential, data centers, infrastructure, and other industries worldwide. The company has more than 20,000 system integrators & partners and above 650,000 service providers & partners in over 100 countries worldwide.
Some of the other prominent players in the smart pressure gauge market include Testo India Private Limited, DP-Flow Ltd, Labcell Limited, Honeywell International Inc. and Topeak.
Smart Pressure Gauge Market Dynamics
Rapid adoption of digital pressure gauge driving the smart pressure gauge market
End-use industries are rapidly shifting to digital pressure gauges due to lack of accuracy while measuring changes in the field through analog pressure gauges. Digital pressure gauges can easily enhance the process efficiency and ensure the subsequent accuracy of readings and durability of the gauges. These gauges are appropriate for various applications & industries, including pneumatics/hydraulics, mechanical engineering, test operations, and pumps/compressors. Furthermore, digital pressure gauges help to minimize the workforce that is generally required to interpret the readings and it can automatically record the determined pressure level during the measurement. Therefore, rapid adoption of digital pressure gauges due to its better accuracy and efficiency is significantly enhancing the growth of the smart pressure gauge market worldwide.
High maintenance cost of sensor based pressure gauges restraining the growth of the market
Various technologies such as piezo resistive pressure gauge, resonant solid state pressure gauge, electromagnetic pressure gauge, optical pressure gauge and capacitive pressure gauge are substantially involved with pressure gauges which require significant calibration & maintenance services. This increases maintenance cost of pressure gauges, which is expected to hamper the growth of the smart pressure gauges market worldwide. However, manufacturers are currently focusing on adopting low cost board mount pressure sensors to overcome this issue.
Click here to read more about PESTLE analysis:
Smart Pressure Gauge Market Segmentation
Based on technology, the smart pressure gauge market is segmented into
Resonant Solid State Pressure gauge
Piezoresistive Pressure gauge
Electromagnetic Pressure gauge
Optical Pressure gauge
Capacitive Pressure gauge
In terms of type, the smart pressure gauge market is segmented into
Based on end-use industry, the smart pressure gauge market is segmented into
Automotive
Oil & Gas
Consumer Electronics
Medical
Utility
Industrial Segment
Others
Click here to read about end-use industry segment market share: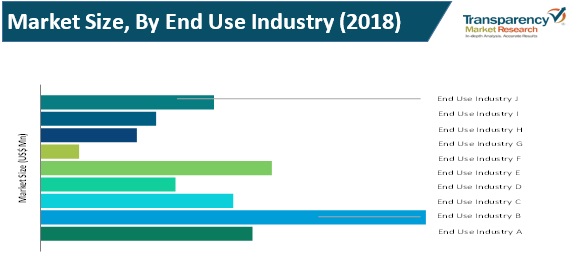 The report on the smart pressure gauge market is a compilation of first-hand information, qualitative and quantitative assessment by industry analysts, and inputs from industry experts and industry participants across the value chain. The smart pressure gauge market report provides in-depth analysis of parent market trends, macroeconomic indicators, and governing factors along with market attractiveness as per segments. The report also maps the qualitative impact of various factors on market segments and geographies.
Regional analysis of the smart pressure gauge market includes:
North America
South America
Europe
Asia Pacific
Middle East & Africa (MEA)
Alternate Keywords
Smart Pressure Gauge Emerson
Smart Gauge Pressure Transmitters
Smart Digital Pressure Gauges

Smart Pressure Gauge Market