Smart Irrigation Market
Smart Irrigation Market (Component Type - Smart Irrigation Controller System, Soil Moisture Sensor, Rain or Freeze Sensor, Water Management Platform, Flow Management Solution and Other Sensors; End-user - Agri Professionals, Commercial Properties, Communities, Education & Play Grounds, Government, Architect & Specifiers, and Other End-users; Solution Type – Smart Irrigation Management, Leak & Flow Management, Water Budget Management, Drought Compliance Management, and Other Solutions) - Global Industry Analysis, Size, Share, Growth, Trends and Forecast 2017 - 2026
Category :

IT & Telecom

Format :
Global Smart Irrigation Market: Snapshot
The integration of "smart" technologies in irrigation systems helped the agriculture industry in overcoming the shortcomings of traditional irrigation practices. By offering a variety of advantages, smart irrigation systems and solutions are being adopted in several parts of the world. Agriculturists and farmers, in particular, are promoting smart irrigation technologies on the grounds their key role in optimizing the usage of water. From checking the soil moisture levels to prepping up for changing weather conditions, a range of sensors and wireless communication technologies are lined together for facilitation smart irrigation. The advantage of these technologies remains long-terms as every drop of water saved with the help of smart irrigation amounts for a significant contribution to the global water conservation.
With advancements in sensor technologies, smart irrigation systems of tomorrow are becoming more effective in controlling the usage of water. Even in domestic end-uses such as schoolyards, government parks and community botanical gardens, smart irrigation is witnessing a steadfast adoption. Smart irrigation has commendably changed the status quo of how farming was solely dependent on favorable weather conditions. New products entering the global smart irrigation market are transforming the irrigation practices, and thereby boosting the agricultural produce to a considerable extent. According to Transparency Market Research's recently published report, factors as such are expected to drive the demand for smart irrigation vigorously. The study forecasts that the global smart irrigation market will expand at a CAGR of 13.1%, reaching an estimated value of US$ 2.32 Bn by the end of forecast period, 2017-2026.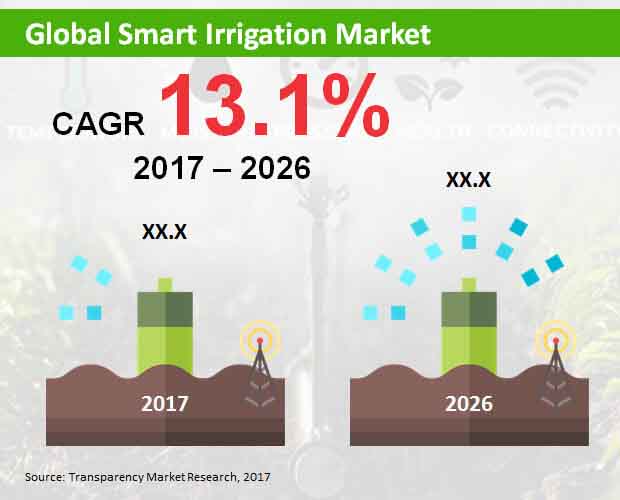 Smart Irrigation Controller Systems to Represent Top-Selling Components through 2026
The report projects that the sales of smart irrigation controller systems will remain predominantly high in the market's expansion over the forecast period. By the end of 2026, smart irrigation controller systems worth nearly US$ 900 Mn are expected to be sold in the global market. The effectiveness of smart irrigation solutions continues to remain largely dependent on the efficacy of controller systems. In addition to the smart irrigation controller systems, soil moisture sensors and water management platform are also expected to represent leading component-type segments. Collectively, these two segments are likely to account for more than one-third share on global smart irrigation market value throughout the forecast period.
Through 2026, smart irrigation will remain highly profitable for agri professionals – from farmers to agronomists. Agri professionals will emerge as the largest end-users of smart irrigation, and will bring in nearly US$ 800 Mn to the global market value by 2026-end. However, the report also projects that the end-use of smart irrigation systems and solutions across communities and among architect & specifiers will be the fastest, exhibiting more than 14% CAGR in terms of revenues.
North America and Europe to Register High Adoption of Smart Irrigation
The report estimates that developed regions will be lucrative for the adoption of smart irrigation. In 2017, North America's smart irrigation market surpassed an estimated valuation of over a quarter of billion dollars. The report further reveals that Europe's smart irrigation system sales will account for one-fourth of the revenues procured in the global smart irrigation market through 2026. However, the Asia-Pacific excluding Japan region will register the fastest growth over the forecast period. While nascent integration of technologies in farming practice will act as an impediment, but progressive economies such as India, South Korea and China are showcasing great leaps towards steadfast adoption of smart irrigation. Over the forecast period, the APEJ smart irrigation market is poised to expand at the highest CAGR of 16.6%.
Leading players in the global smart irrigation market will be focused on tapping the demands of the APEJ region. In addition, several companies will be largely focused on providing smart irrigation management solutions. The overall demand for smart irrigation management solutions is poised to witness a significant upsurge, bringing in nearly US$ 950 Mn by the end of the forecast period. Companies namely, Rain Bird Corporation, Netafim Ltd., HydroPoint Data Systems, Inc., Rachio Inc., The Toro Company, Galcon Ltd., Hunter Industries Inc., Telsco Industries Inc., Orbit Irrigation Products Inc., Valmont Industries, Inc., and Blossom are expected to cater to the brimming demands of smart irrigation in the foreseeable future.
Global Smart Irrigation Market: Overview and Research Outlook
Increasing usage of water in farming and gardening activities has aggravated the concerns over global water conservation. Farmers are using sensors and other technologies to be a step ahead of planning the cultivation of crops against the changing weather and irregular water supply. Smart irrigation systems are being adopted in agricultural sector across developed countries, while developing economies are striving to build strong rapport between farmers and smart irrigators through awareness programs. Companies are developing advanced smart irrigation systems that can facilitate the cultivation needs for future generations. Moreover, smart irrigation systems being developed are being used for watering the schoolyards and common botanical gardens under municipal limits.
According to Transparency Market Research's latest report, the demand for smart irrigation systems will continue to gain traction in the foreseeable future. The global smart irrigation market will expand vigorously during the forecast period, 2017-2026. The report has compiled valuable insights and analytical assessments to develop an accurate forecast on the expansion of the global smart irrigation market for the near future. The report analyzes the current market scenario and gauges the future prospects of smart irrigation with an elaborate segmentation of the overall smart irrigation market. The report provides a market snapshot through an executive summary that gives details on the key research findings and forecasted market estimations. These insights can enable the companies in smart irrigation market to take strategic decisions towards future market direction.

Scope of the Report
A robust research methodology has been incorporated to develop this report. Market size estimations have been interpreted across multiple parameters and the report findings have been developed to capture global understanding. By blending qualitative data with quantitative insights, this report provides critical information that suits the scope of enabling companies in the global smart irrigation market make informed analysis and develop credible strategies for future business development.
Smart Irrigation Market: Report Highlights and Segmentation
The report includes a range of chapters that offer distinct information on the changing landscapes of the global smart irrigation market. An overview of the technologies used in smart irrigation systems is provided in the report. The technological analysis of smart irrigation systems puts forth a comparative study of the best practices and the sought-after tools. The report further delivers analysis on the global smart irrigation value chain and the global smart irrigation supply chain. In these sections, key role of product developers, distributors and regulatory bodies is categorically assessed.
Furthermore, cost structure and pricing analysis entailing the production and distribution of smart irrigation systems is also analyzed in the report. A detailed competition assessment is provided in the report, wherein companies are profiled with an unbiased methodology. Their current market standings are taken into account and weighed against their strategic developments. The report has created an intensity map that traces the presence of these companies across several regions. Players with higher presence in particular countries are observed to be the regional market leaders. The report further offers a slew of sections on segmental analysis of the global smart irrigation market. Primarily, the global smart irrigation market has been segmented on the basis of component type, end-user, solution type, and region. The overall smart irrigation market taxonomy has been illustrated below.
Region

North America

Latin America

Europe

Japan

APEJ

MEA

Component Type

Smart Irrigation Controller System

Soil Moisture Sensor

Rain or Freeze Sensor

Other Sensors

Flow Management Solution

Water Management Platform

End-User Type

Agri Professionals

Commercial Properties

Communities

Education & Play Grounds

Government

Architect & Specifiers

Other End-Users

Solution Type

Smart Irrigation Management

Leak & Flow Management

Water Budget Management

Drought Compliance Management

Other Solutions
Custom Market Research Services
TMR offers custom market research services that help clients to get information on their business scenario required where syndicated solutions are not enough.
REQUEST CUSTOMIZATION