Smart Food Logistics Market: Introduction
Smart food logistics provider helps FMCG industries to maintain the quality of foods, such as fruits and vegetables, so that it does not spoil. Smart food logistics companies use wireless temperature sensors that help preserve frozen foods and provide multi-zone monitoring in refrigerated trucks and trailers.
Smart food logistics providers utilize cloud-based collaborative solutions that spread through the entire supply chain. These solutions offer tight integration of transport, warehouse and end consumer information, and transparency through the supply chain.
Increase in digitalization day by day, IoT technology has a vital role to play in addressing cold chain encounters by providing real-time visibility into consignment status, including temperature, location, and other conditions
Adoption of smart food logistics is expected to increase, as it provides real-time knowledge about fleet/asset location and information about temperature conditions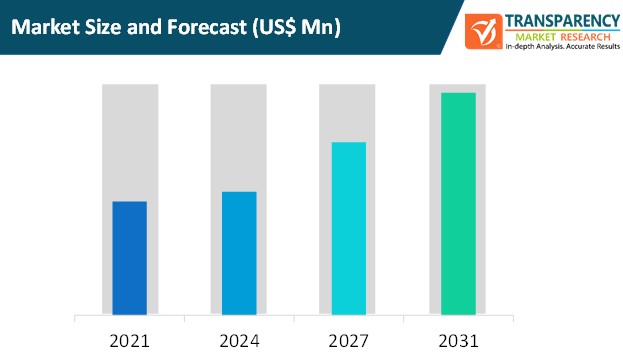 Smart Food Logistics Market: Dynamics
Smart Food Logistics Market: Key Drivers
Smart food logistics providers employ cold chain monitoring solutions that help food manufacturers to efficiently manage shipment, storage, and distribution of their products that require a temperature controlled environment. Partial cooling chains caused by traffic delay, mechanical breakdowns, and other factors create variation in temperatures, which can affect and spoil unpreserved food and hamper its safety.
Cold chain monitoring solutions provide a stable temperature for the storage of goods and transport. Advance technology such as BLE (Bluetooth low energy) beacons with temperature sensors enable tracking the location of goods at significant checkpoints and tracking temperature data during shipments or throughout the supply chain.
Smart food logistic companies provide traceability solutions to secure or digitize the supply chain. It shows real-time data, enabling to trace and track all phases of the product journey from raw materials to consumer.
Lack or limited awareness and high initial cost to implement and integrate smart food logistics are expected to hamper the market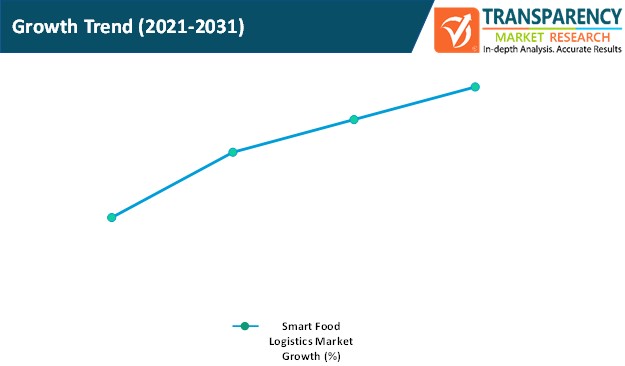 Impact of COVID-19 on the Smart Food Logistics Market
Increasing cases of COVID-19 across the globe are resulting in an economic slowdown. Developed countries are strongly affected by the pandemic. COVID-19 has had a negative impact on the smart food logistics market. Some companies have withheld all investments in advanced business solutions and tools due to the low return on investment.
North America to Hold Major Share of the Smart Food Logistics Market
North America is the global leader in smart food logistics market due to the presence of several vendors and growing concern about optimization of resource and elimination of wastage. North America holds a major share due to the strong presence of logistics industries, manufacturing and transport, with various technological advancements in the region. Moreover, government regulations and initiatives in several end-user industries are anticipated to further boost the North America market.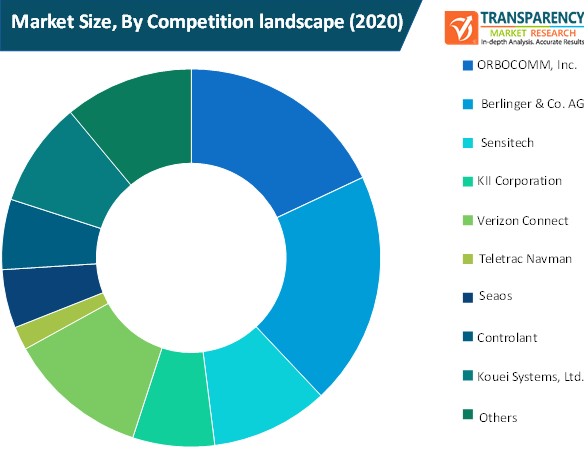 Key Players Operating in the Global Smart Food Logistics Market
ORBCOMM, Inc. was incorporated in 1993 and is headquartered in New Jersey, U.S. The company is a global leader in the Industrial Internet of Things (IoT). The company provides machine-to-machine communications, which are designed to monitor, track, and control fixed and mobile assets. The company provides services in oil & gas, transportation and distribution, mining, maritime, transportation and distribution, and government sectors.
Berlinger & Co. AG was incorporated in 1865 and is headquartered in Massachusetts, U.S. The company provides temperature monitoring and long-lasting doping control. The company has a wide range of products, from data loggers to wireless devices and temperature indicators. The temperature monitor provides data in real-time or passive mode. The company has cloud-based data management systems, combining shipment monitoring and site monitoring under one platform.
Other key players operating in the global smart food logistics market include LYNA LOGICS, Inc., K​ouei system ltd.​, Hacobu Co., Ltd. (MOVO), YUSEN LOGISTICS CO.,LTD., Nippon Express co. ltd., Seaos​, Samsara Networks, Inc.​​, Controlant​​, Monnit Corporation, T​​eletrac Navman​​, Verizon Connect​​, Kii Corporation, Sensitech and Geotab Inc.​​
Smart Food Logistics Market: Research Scope
Smart Food Logistics Market, by Component
Hardware

Sensors
Networking Devices

Software
Services

Professional Services

Consulting
Support & Maintenance

Managed Services
Smart Food Logistics Market, by Technology
Cold Chain Monitoring
Asset Tracking
Fleet Management
Smart Food Logistics Market, by Application
E-Commerce
Supermarket
Agricultural Trade
Smart Food Logistics Market, by Region
North America

U.S.
Canada
Rest of North America

Europe

Germany
France
U.K.
Italy
Rest of Europe

Asia Pacific

China
Japan
India
South Korea
Rest of Asia Pacific

Middle East & Africa

GCC
South Africa
Rest of Middle East & Africa

South America

Brazil
Rest of South America
Interested in this report?
Get a FREE Brochure now!