Global Superabsorbent Polymer Market: Snapshot
The global superabsorbent polymer market is driven by the rise in demand for disposable baby diapers and sanitary products. Asia Pacific accounts for major share of the global superabsorbent polymer market, led by the increase in population and growth in awareness about hygienic products, diabetic wounds, and wound care products in the region.
Especially India and China, is another lucrative region for wound dressings. This can be ascribed to the large population, increase in patient awareness levels, and surge in incidence of diabetes ulcer in the region. These factors are likely to boost the superabsorbent polymer market in Asia Pacific during the forecast period.
According to the report by TMR, the global market for superabsorbent polymer was valued at US$ 9,106.02 Mn in 2017 and is anticipated to expand at a CAGR of 6.0% from 2018 to 2026.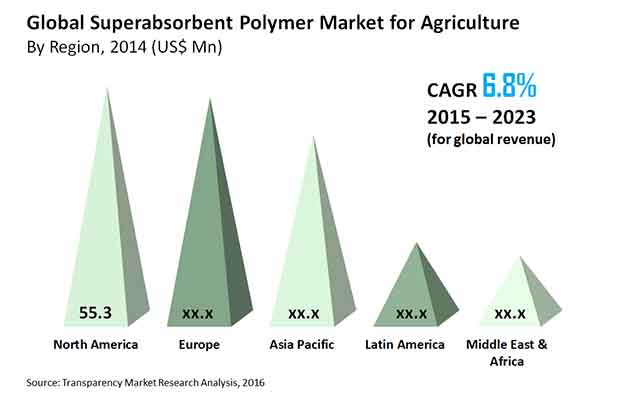 Rising Demand for High Performance Hygiene Products to be Beneficial for Growth
On the basis of resin, the superabsorbent polymer market is segmented into sodium polyacrylate, potassium polyacrylate, polyacrylamide copolymer, ethylene maleic anhydride copolymer, polysaccharides, and others. Of these, sodium polyacrylate is leading the global superabsorbent market owing to rise in the need of reliable and high performance hygiene products, growth in awareness about health among people, and surge in demand for female hygiene products such as adult incontinence pads. However, potassium acrylate is expanding with faster pace owing to higher demand for potassium polyacrylate is used as soil water in the agriculture industry and gardening application. It improves seed germination and increases yield.
On the basis of application, the superabsorbent polymer market is segmented into hygienic, diapers, adult incontinence products, sanitary products, non-hygienic, packaging, medical & health care, agriculture, and industrial. Of these, hygiene is a dominant segment of the global market. This segment is witnessing faster growth owing to the various initiatives and programs regarding hygiene programs especially in the developing countries such as India and China.
Expansion of Chemical and Pharmaceuticals industries in the Asia Pacific to Influence Growth
On the basis of region, the global superabsorbent polymer market is segmented into North America, Europe, Asia Pacific, Latin America, and Rest of the World. Of these, Asia Pacific is dominating the global market for superabsorbent polymer followed by the Middle East & Africa. Growth of both the regions is attributable to the numerous manufacturers of superabsorbent polymers and expansion of chemical and pharmaceuticals in the regions. These manufacturers are gradually shifting their focus away from developed economies. However, North America and Europe have the wide consumer base for wound dressings owing to rise in geriatric population and increase in prevalence of chronic wounds and high demand for high-quality health care products in the regions.
Some of the players operating in the global market for superabsorbent polymer are Nippon Shokubai Co., Ltd, BASF SE, Evonik Industries, Songwon Industrial Co., Ltd, and KAO Corporation. These players are focusing on the improvement of capacity and expansion of their businesses, to achieve this, these players are increasingly taking part in the strategies such as mergers and acquisitions. The top three players – Nippon Shokubai Co., Ltd, BASF SE, and Evonik Industries – cumulatively accounted for more than 45% share of the market in 2017. Manufacturers of superabsorbent polymers are primarily concentrated in China, the U.S., Japan, and Germany.