Superabsorbent polymers have been witnessing an increased application in agricultural practices across the world since last few years. The trend looks rising steadily in the near future, owing to the absorbing property of these polymers.
In 2014, the opportunity in superabsorbent polymers, globally, reached US$184.7 mn. Expanding at a CAGR of 6.80% between 2015 and 2023, it is estimated to possibly worth US$327.4 mn by the end of 2023. The application of superabsorbent polymers in agricultural practices, In terms of volume, is projected to report a CAGR of 5.90% during the same period.
Rising Depletion of Soil Water Boosts Application of Superabsorbent Polymers in Agriculture
The rapid growth in the global population has increased the demand for food across the world. The rise in the depletion of soil water is causing significant threat to crop yield, putting farmers and agriculturists in a fix. Moreover, the escalating global warming has created draught-like situation in various parts of the world by badly impacting the rains. Superabsorbent polymers, also called slush powder, possess a property to absorb a huge amount of liquid, specifically water. This factor has increased the application of these polymers substantially in farming.
Their application in agriculture has also been fueled their capability to support crops in survive through the reduction of water up to 50% of the required amount in mountains, deserts, as well as dry lands.
Going forward, the emergence of bio-based polymers, propelled by the growing focus of consumers on sustainability and their increasing awareness regarding environment, is likely to provide ample opportunity for growth to market players. The potential application of bio-bases superabsorbent polymers in agriculture, pharmaceuticals, and medical and healthcare are also anticipated to fuel their demand in the near future.
According to analysts at TMR, the application of these polymers will remain increasing in the agriculture sector in the forthcoming years. However, the high costs associated with raw materials may hinder their adoption to some extent over the next few years.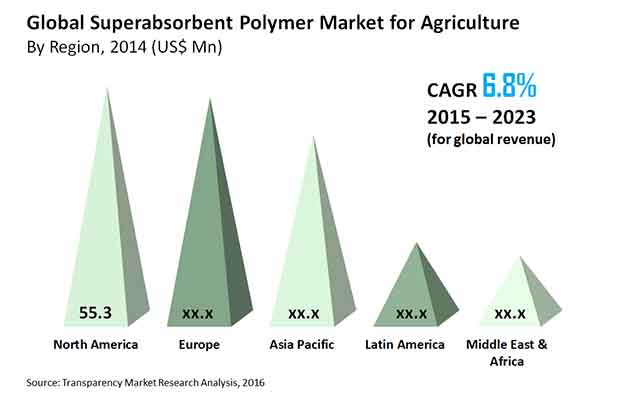 Asia Pacific to Register Fastest Consumption of Superabsorbent Polymers
North America, Asia Pacific, Latin America, Europe, and the Middle East and Africa are the key regional markets for superabsorbent polymers. North America emerged the leading consumer of these polymers with a share of approximately 30% in 2014. Technical advancements in farming methods led to early adoption of these polymers in this region, resulting in its dominance.
By 2023, North America is expected to retain its position; however, Asia Pacific, which emerged third in 2014, will not remain far behind, rising at the fastest growth rate during the forecast period. The growing demand for food, owing to a huge population base, is projected to encourage farmers and agriculturalists to conform to advanced farming techniques, thereby fueling the demand for superabsorbent polymers in this region.
Europe is also expected to contribute significantly in the revenue generated from superabsorbent polymers, worldwide. France and Germany are the key consumers of agricultural superabsorbent polymers in this region.
The leading producers of superabsorbent polymers for agriculture purposes are Evonik Industries, LG Chem Ltd., Songwon Industrial Co. Ltd., Nippon Shokubai Co. Ltd., Sumitomo Seika Chemicals Co. Ltd., and BASF SE.
This report covers the analysis and forecast of the superabsorbent polymer (SAP) market for agriculture on a global and regional level. The study provides historic data of 2014 along with forecast between 2015 and 2023 based on volume (kilo tons) and revenue (US$ Mn).
The study provides a decisive view of the superabsorbent polymer market for agriculture by segmenting it based on regional demand. Regional segments have been analyzed based on current trends and future potential. The market has been estimated from 2015 to 2023 in terms of volume (kilo tons) and revenue (US$ Mn). Regional segmentation includes the current and forecast demand for North America, Europe, Rest of Asia Pacific, Latin America, and Middle East and Africa. These have been further sub-segmented into countries and regions with relevance to the market. Segmentation also includes demand for individual applications in all regions.
The study covers the drivers and restraints governing the dynamics of the market along with their impact on demand during the forecast period. Additionally, the report includes potential opportunities in the superabsorbent polymer market for agriculture on the global and regional level.
We have included a detailed value chain analysis to provide a comprehensive view of the superabsorbent polymer market for agriculture. Analysis of Porter's Five Forces Model has also been included to help understand the competitive landscape in the market. The study encompasses market attractiveness analysis, wherein applications have been benchmarked based on their market size, growth rate, and general attractiveness for future growth.
The market has been forecast based on constant currency rates. Prices of superabsorbent polymer vary in each region and are a result of the demand-supply scenario in the region. Hence, a similar volume-to-revenue ratio does not follow for each individual region. Regional average price has been considered while breaking down the market into application segments in each region.
The report provides the size of the superabsorbent polymer market for agriculture in 2014 and the forecast for the next eight years up to 2023. Numbers provided in this report are derived based on demand generated from different regions. Market dynamics prevalent in North America, Europe and Asia Pacific have been taken into account for estimating growth of the global market.
Market estimates for this study have been based on volume, with revenue being derived through regional pricing trends. Revenue has been forecasted based on constant currency rates. Demand for superabsorbent polymer in agriculture has been derived by analyzing global and regional trends of superabsorbent polymer application. Prices for different applications considered in the study are based on average price for superabsorbent polymer in different regions as received from quotations. We have used the top-down approach to estimate the global superabsorbent polymer market for agriculture. The regional split of the market has been derived using the top-down approach for each country separately. Drop in feedstock prices in the current year has been accounted for in the study. Price correlation of superabsorbent polymer, acrylic acid (feedstock), and polypropylene (upstream product) has been considered to project revenue forecast.
Key market players profiled in the report include BASF SE, Evonik Industries, LG Chem Ltd., Sumitomo Seika Chemicals Co., Ltd., NIPPON SHOKUBAI Co., Ltd., and Songwon Industrial Co., Ltd. Company profiles include attributes such as business overview, financial overview, business strategy, and recent developments.

The report provides a cross-sectional analysis of superabsorbent polymer market for agriculture with respect to the following regions:
North America

U.S.
Rest of North America

Europe

Germany
U.K.
France
Italy
Spain
Rest of Europe

Asia Pacific (APAC)

China
Japan
ASEAN
Rest of APAC

Latin America (LATAM)
Middle East and Africa (MEA)

GCC Countries
South Africa
Rest of MEA