Rigid Polyurethane Foam Market
Rigid Polyurethane Foam Market (End User - Automotive, Building and Construction, and Appliances) - Global Industry Analysis, Size, Share, Growth Trends & Forecasts 2017 - 2025
Chemicals & Materials
TMRGL33224
2017-10-25
173

Pages
Global Rigid Polyurethane Foam Market: Snapshot
The global rigid polyurethane foam market is gaining from the excellent thermal insulation property of rigid polyurethane foam. Due to this, rigid polyurethane foam finds varied applications across several areas such as in domestic appliances, building and construction, automotive, and industrial insulation.
The insulating properties of rigid polyurethane foam make it ideal for walls and roofs of new homes and also for remodeling existing homes. Rigid polyurethane foam helps to maintain a uniform temperature inside homes and buildings that directly translates into energy savings. This holds significance in cold countries that have a huge temperature difference between the inside and outside temperatures. Rigid polyurethane foam also helps reduce noise level inside homes and buildings.
A report by Transparency Market Research (TMR) forecasts the global rigid polyurethane foam market to clock a CAGR of 6.0% between 2017 and 2025. Progressing at this rate, the market's valuation of US$15.2 bn in 2016 will become US$25.5 bn by the end of 2025.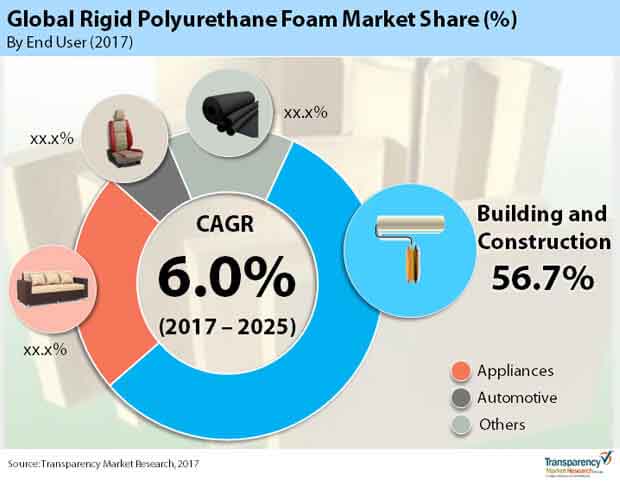 Building and Construction to Continue to Register Strong Growth
The various end users of rigid polyurethane foam are automotive, building and construction, industrial, and others. Vis-à-vis value and volume, building and construction stood as the leading end-use segment amongst all in 2016. The rigid polyurethane foam for building and construction is used for residential housing, commercial spaces, retail stores, factories, power stations, food processing plants, warehouses, cold stores, telecom shelters and public institutions such as schools and hospitals.
Some of the forms in which rigid polyurethane foam is used in the building and construction segment are sandwich panels with firm facings as roof and wall panels, insulating boards with flexible facings for ceilings, roofs, walls, and floors, spray-in-place foam for sealing and insulation, and insulating and construction material as cut to-size pieces from slabstock. Of these, insulation board and block is widely used in the construction sector owing to its range of qualities that make it simple and highly effective to work with.
In 2016, appliances stood as the second-leading end user in the rigid polyurethane foam market. Freezers, refrigerators, and hot water tanks are some of the appliances that use rigid polyurethane foam to maintain the inside temperature in the appliances.
Powered by China, Asia Pacific to Remain Dominant
Geography-wise, the report takes stock of the potential of rigid polyurethane market in North America, Europe, Asia Pacific, Latin America, and the Middle East and Africa. Of them, Asia Pacific led the overall market in 2016 holding more than 38% share in terms of revenue. Going forward too, the region is anticipated to hold on to its dominant position. China alone contributes more than 55% revenue of Asia Pacific rigid polyurethane foam market mainly because of large volume production of rigid polyurethane foam.
Rapid urbanization as well as increasing awareness about environmental sustainability will further boost Asia Pacific rigid polyurethane foam market over the forecast period. The construction sector accounts for substantial demand for rigid polyurethane foam, along with demand from appliances segment. Tax rebates on the purchase of energy efficient properties in some countries in Asia Pacific is further bolstering the market's growth. Developing countries such as China, India, and countries in South East Asia are anticipated to present ample opportunities to serve the thermal insulation needs of new construction undertakings in the upcoming years.
Europe is also a key market for rigid polyurethane foam; the region consumes more than 20% of the total volume of rigid polyurethane foam produced globally.
Some of the leading companies in the global rigid polyurethane foam market are Covestro AG, BASF SE, DUNA CORRADINI S.p.A., DuPont, Huntsman Corporation, ISOTHANE Ltd., Kingspan Group plc, Owens Corning, and Rockwoll International A/S.
Players Lean on Adopting Environmentally Friendly Ways of Synthesis in Rigid Polyurethane Foam Market
Rigid polyurethane foams are one of the most popular insulation materials used in wide range of insulation applications, the key reasons having to do with the combination of low-density, and attractive mechanical properties. The past few decades have seen rapidly expanding commercially available products for insulation for range of residential architectures and constructions. The need for energy-efficient walls and roofs in households has been a crucial approach for reducing the heating and cooling costs. This in essence reduces the use of air conditioning for the inmates. Developing high-performance foams that act as external weather and moisture barriers is one of the key focus areas for manufacturers in the rigid polyurethane foams market. Users of such high-performance foam materials also presume these foams to be dimensionally stable. Growing utilization of polyurethane foams is one of the key trends in commercial building construction, notably in the food and beverages industry. In recent years, the need for replacing fossil fuels in raw materials with renewable sources has caught on momentum with innovators and disruptors in the rigid polyurethane foams market. Bio-based polyols are a case in point. Focus is on using bioresources that are not only abundant in nature but have low carbon footprints. In this regard, lignin-derived polycarboxylic acids (LPCAs) have attracted research interest.
The health pandemic caused by the novel Coronavirus, popularly known as COVID-19, has made wide-ranging repercussions on the demand and consumption volumes. Business executives in consumer markets have had to suffer from vast unprecedented decline in demand in the second quarter of 2020. Rigid polyurethane foams market are witnessing new demand frameworks from construction industry. The stay-at-home restrictions for the most part of 2020 led to demand for cost-effective insulation materials. The market witnessed a new avenue from the trend of building and construction activities picking up some pace in a few developing countries in the last few months. Further, the growing focus of sustainability quotient will shape the strategies of key players in the rigid polyurethane foams market.
Global Rigid Polyurethane Foam Market: Overview
Rigid Polyurethane Foams are manufactured using a combination of a polyol and a polyisocyanate. The blowing agent is also added during the chemical reaction. Rigid polyurethane is mostly and best suited for the insulation purposes. Saving energy is the prime need in the today's world and the energy is lost through walls, roofs and windows and also significant amount of the energy is needed to heat or cool the buildings. Rigid polyurethane foams work to reduce heating and cooling loss, improving the efficiency of the building. Infact, it is the best insulation material in the present era. Rigid polyurethane foam can be applied on different building parts and components for internal or external insulation, to save energy, ensure a comfortable living climate and reduce cost for heating and cooling. Due to its superb thermal insulation performance, it is increasingly used in various segments of building and construction industry, including residential and commercial buildings, warehouses, factories, supermarkets and stadiums. PU rigid foam is also the preferred material for the insulation of hot water tanks as well as for district heating/cooling pipes.
Global Rigid Polyurethane Foam Market: Research Methodology
The report estimates and forecasts the rigid polyurethane foam market on the global, regional, and country levels. The study provides forecast between 2017 and 2025 based on volume (kilo tons) and revenue (US$ Bn) with 2016 as the base year. The report comprises an exhaustive value chain analysis for each of the end user segments. It provides a comprehensive view of the market. Value chain analysis also offers detailed information about value addition at each stage. The study includes drivers and restraints for the rigid polyurethane foam market along with their impact on demand during the forecast period. The study also provides key market indicators affecting the growth of the market. The report analyzes opportunities in the rigid polyurethane foam market on the global and regional level. Drivers, restraints, and opportunities mentioned in the report are justified through quantitative and qualitative data. These have been verified through primary and secondary resources. Furthermore, the report analyzes substitute analysis of rigid polyurethane foam market and global average price trend analysis.
The report includes Porter's Five Forces Model to determine the degree of competition in the rigid polyurethane foam market. It comprises qualitative write-up on market attractiveness analysis, wherein products, processes, applications and countries have been analyzed based on attractiveness for each region. Growth rate, market size, raw Process availability, profit margin, impact strength, technology, competition, and other factors (such as environmental and legal) have been evaluated in order to derive the general attractiveness of the market. The report comprises price trend analysis for rigid polyurethane foam between 2017 and 2025.
Global Rigid Polyurethane Foam Market: Research Methodology
Secondary research sources that were typically referred to include, but were not limited to company websites, financial reports, annual reports, investor presentations, broker reports, and SEC filings. Other sources such as internal and external proprietary databases, statistical databases and market reports, news articles, national government documents, and webcasts specific to companies operating in the market have also been referred for the report.
In-depth interviews and discussions with wide range of key opinion leaders and industry participants were conducted to compile this research report. Primary research represents the bulk of research efforts, supplemented by extensive secondary research. Key players' product literature, annual reports, press releases, and relevant documents were reviewed for competitive analysis and market understanding. This helped in validating and strengthening secondary research findings. Primary research further helped in developing the analysis team's expertise and market understanding.
Global Rigid Polyurethane Foam Market: Market Segmentation
The study provides comprehensive view of the rigid polyurethane foam market by dividing it into end user and geography. The rigid polyurethane foam market has been segmented by end user into automotive, building and construction, industrial, and others.
Regional segmentation includes the current and forecast of rigid polyurethane foam in North America, Europe, Asia Pacific, Latin America, and Middle East & Africa (MEA). Key countries such as the U.S., France, Germany, the U.K., China, India, ASEAN, South Africa, Mexico, and Brazil have been included in the study. Market segmentation includes amount of Rigid Polyurethane Foam consumed by product, process, and application in all the regions and countries.
Global Rigid Polyurethane Foam Market: Competitive Landscape
The report covers detailed competitive outlook that includes market share and profiles of key players operating in the global market. Major players profiled in the report include BASF SE, Covestro AG, DUNA CORRADINI S.p.A., DuPont, Huntsman Corporation LLC, ISOTHANE LTD, Kingspan Group PLC, Owens Corning, Rockwool International A/S, and Saint Gobain S.A. etc. Company profiles include attributes such as company overview, number of employees, brand overview, key competitors, business overview, business strategies, recent/key developments, acquisitions, and financial overview (wherever applicable).
The Rigid Polyurethane Foam market has been divided into the following segments.
End User Analysis

Automotive
Building and Construction
Industrial
Others

Regional Analysis

North America
Europe

Germany
France
U.K.
Russia
Turkey
Rest of Europe

Asia Pacific

China
India
Japan
South Korea
ASEAN
Rest of Asia Pacific

Latin America

Brazil
Mexico
Rest of Latin America

Middle East & Africa

GCC
South Africa
Rest of Middle East & Africa
Custom Market Research Services
TMR offers custom market research services that help clients to get information on their business scenario required where syndicated solutions are not enough.
REQUEST CUSTOMIZATION

Rigid Polyurethane Foam Market