Ride-on Trowel Market
Ride-on Trowel Market (Steering Type - Mechanical and Hydraulic; Blade Diameter - 36", 46"/48", Above 48"; Fuel Type - Petrol, Diesel, and Electric) - Global Industry Analysis, Size, Share, Growth, Trends and Forecast 2017 - 2025
Energy & Natural Resources
TMRGL24068
2017-11-07
222

Pages
Global Ride-on Trowel Market: Snapshot
Power trowels are widely used in construction activities world over for smoothing concrete surfaces of all sizes, mainly to meet safety requirements and achieve superior flat surfaces. Ride-on power trowels have gained significance as construction equipment to achieve superior concrete surfaces through various finishing and floating operations. These mechanized equipment are increasingly being demanded in various regions for achieving superior concrete finishes required of large construction projects such as those in warehousing, industrial buildings, and airports. The need for high-tolerance smooth, concrete surface in massive warehouse construction is also accentuating the demand for advanced ride-on trowelling technologies for high production finishing jobs in large areas.
A vastly rising infrastructural development in a number of emerging economies and the rapid pace of industrialization in developing regions are key factors opening up promising avenues for players in the ride-on trowels market. However, the need for cost-effective ride-on trowels that also provides superior fuel economy and better lever controls are key challenges. Nevertheless, in the coming years this may pan out as exciting opportunities for players. Teeming with opportunities worldwide, the worldwide ride-on trowel market is projected to rise from a valuation of US$67.0 Mn in 2016 to reach a worth of US$101.0 Mn by 2025 end. The market is projected to expand at a CAGR of 4.7% during 2017–2025.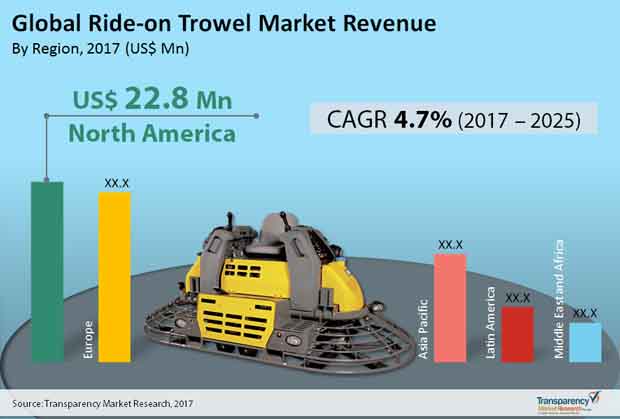 Easy Maneuverability and Maintenance to Account for Dominant Demand for Mechanical Ride-On Trowels
On the basis of steering type, the market is broadly bifurcated into mechanical and hydraulic ride-on trowels. Of the two, the mechanical ride-on trowel segment held the major share amounting to 71.0% in the global market and is expected to retain its dominance throughout the assessment period. The vastly rising demand for mechanical ride-on trowels is mainly attributed to their optimum maneuverability, higher operator comfort, and easy maintenance requirements. Stricter enforcement laws in various developed and developing nations is a key factor boosting their adoption during the forecast period.
Based on the blade diameter used for ride-on trowels can be segmented into 36", 46"/48" and over 48" ride-on trowels. Of these, the 46"/48" segment holds a substantial share in the global market currently and is expected to retain its dominance in the coming years as well. The prominent demand for 46"/48" enabled-ride-on trowels is on account of the wide flexibility they have in operations and the versatile concrete finishing jobs possible with them.
Petrol Fuel Powered by Ride-On Trowels Currently Leads, However Diesel Trowels to Rise at Prominent Pace
Of the various types of fuels used in the operation of ride-on trowels, the market can be divided into petrol, diesel, and electric. Of these, petrol fuel based ride-on trowels holds the leading share in the global market and is expected to maintain this trend. However, the diesel fuel based ride-on trowel segment is projected to rise at a substantial pace. The demand for these products is largely driven by the growing need for cost-efficient machines that can also meet high demand for superior concrete surface finishes. The declining prices of diesel in some regions is offering a robust fillip to their demand.
North America Dominates Global Market, Europe to Rise at Prominent Pace
The various regional markets for ride-on trowels comprise North America, Europe, Asia Pacific, Latin America, and the Middle East and Africa. Of these, North America leads the pack, holding the major revenue share of the global market and is expected to retain its dominance throughout the forecast period. The regional market is also projected to rise at the dominant CAGR of 5.0% during 2017–2025. This regional market is closely trailed by the Europe market and will rise at a significant pace in the coming years. Asia Pacific is expected to rise at a moderate growth rate, led by India. While, a marked slump in construction activities in China and Japan may hamper the growth to an extent, a burgeoning infrastructural development in India is anticipated to provide a strong impetus to the regional market.
Ride-on Trowel Market - Overview
For the construction of floors of significant size, riding trowels have become indispensable. They are productive and can provide very flat finishes. The two types of machines on the market are overlapping and non-overlapping. The troweling patterns of overlapping machines intersect one another and are especially suited for trowel finishing, but you can't install float pans on them. Non-overlapping machines have a space between the rotors, making it possible to mount float pans for initial floating operations and then switching to trowel blades for final finishing operations.
A power trowel's job is to create a flat, level and smooth concrete floor. Different jobs require different types of power trowels. If the area of concrete you want to level is less than 1000-square feet, a walk behind a trowel will do the job. For larger slabs, you will need to get a ride on a trowel (ROT). The selection of the right machine holds the key to achieve a smooth concrete surface
Ride-on type concrete trowel machines greatly reduce labor intensity, improve work efficiency, and the construction efficiency is more than that of the ordinary trowel machine. The power trowel allows you to get smooth and even concrete. The model discussed here has a Honda GX690 engine. Some of the advantages of this machine are that it allows you to get perfect and smooth concrete. Moreover, the ride on trowel machines can save you lot of time. They are easy to operate and easier to move around.
Ride on trowel can carry up to 15 liters of fuel, making it ideal for longer jobs along with precision blade pitch control. Ride on trowel machines aid flooring contractors to create concrete floors that are more level and stronger than those created by more conventional techniques of screeding. Their range has a lot of variety which is manufactured using premium grade raw material and latest technology. It comes with four blades per pan. The operation mode of the machine is ride-on. The large pitch-control range gives complete control over finishing. Floating for application versatility during operation
Global Ride-on Trowel Market: Overview
Ride-on trowels are a class of construction equipment which are used to finish a concrete slab or surface smoothly. The operator rides the machine while operating the machine and controls the machine from the control panel and the lever at the top of the machine. During the operation operator controls the power trowel installed at the bottom of the machine to provide smooth finish to the concrete surface. The ride-on trowel is more efficient in finishing large concrete surfaces from its counterpart walk behind trowel as it requires less time, labor and low energy consumption. Increasing number of industrial buildings, warehouses, garages, airports, and housing along with the rising demand for smooth finished concrete surfaces would eventually lead to the rise in demand for ride-on trowels. With increasing requirements of safety and setup big warehouses and airports should have smooth and flat concrete surface, which is easily possible with the help of ride-on trowel during the construction phase of the area.
Global Ride-on Trowel Market: Segmentation
The report provides comprehensive analysis of the global ride-on trowel market by steering, blade diameter, fuel type and regions. It segments the market into steering type such as mechanical and hydraulic. It also classifies market into blade diameter- 36", 46"/48", and above 48". The report divides the ride-on trowel market based on fuel type such as petrol, diesel and electric. The report also segments the ride-on trowel market based on major geographies into North America, Europe, Asia Pacific, Latin America, and Middle East & Africa.
Based on the steering, blade diameter, fuel type and country, the report analyzes the attractiveness of each segment and country with the help of an attractiveness tool. The study consist of value chain analysis, which offers a better understanding of key companies in the supply chain. Additionally, the study examines market competition through Porter's Five Forces Analysis.
Global Ride-on Trowel Market: Scope of the Study
This study analyzes, estimates, and forecasts the global ride-on trowel market in terms of volume (Units) and revenue (US$ Mn) from 2016 to 2025. Market numbers given in the report describe the demand for global ride-on trowel, but not production or supply. The global ride-on trowel market report also analyzes several driving and restraining factors and their impact on the market during the forecast period.
The report includes an overview of the market share of key companies in the global ride-on trowel market. Market share of companies has been derived on the basis of revenue generated by the companies from the sale of ride-on trowel. Primary research represents the majority of our research efforts, complemented by extensive secondary research. We reviewed key players' product literature, annual reports, press releases, and relevant documents for competitive analysis and market understanding. Secondary research also includes a search of technical writing, internet sources, and statistical data from government websites, trade associations, and agencies. This has proven to be the most consistent, effective, and productive approach for procuring precise market data, recognizing business opportunities, and understanding industry participants' perceptions.
Secondary research sources that are typically referred to include broker reports, corporation websites, external patented databases, financial reports, stockholder presentations, Securities & Exchange Commission filings, proprietary databases and relevant patent and regulatory databases, national government documents, statistical databases, and market reports, news articles, press releases, and webcasts specific to companies operating in the market. Secondary sources referred for this study include Association of Equipment Manufacturers, Committee for European Construction Equipment, Indian Construction Equipment Manufacturers Association, China Construction Machinery Association, Machinery Distributors Mexican Association, A. C., Hoover's, Factiva, and company presentations.
Companies Mentioned in the Report
Key market players profiled in the study are Allen Engineering, Bartell Machinery Systems, Atlas Copco, Shanghai Dragon Construction Equipment Co., Ltd., Multiquip-Whiteman, Masterpac, MBW Inc., Shandong Shenhua Machinery Manufacturing Co., Ltd., Parchem Construction Supplies Pty. Ltd., Shanghai Dynamic Construction Machinery Co. Ltd. and Wacker Neuson.
The report segments the global ride-on trowel market as:
Steering Type

Blade Diameter

Fuel Type

Region

North America
Europe

UK
France
Germany
Scandinavia
Rest of Europe

Asia Pacific

China
India
Japan
Australia
Rest of Asia Pacific (APAC)

Latin America

Brazil
Mexico
Rest of Latin America (LATAM)

Middle East & Africa

South Africa
GCC
Rest of Middle East & Africa (MEA)
Custom Market Research Services
TMR offers custom market research services that help clients to get information on their business scenario required where syndicated solutions are not enough.
REQUEST CUSTOMIZATION