Rheology Modifiers Market
Rheology Modifiers Market (Product Type - Organic, Inorganic; Application - Paints & Coatings, Personal Care, Adhesives & Sealants, Textiles, Pharmaceuticals, Construction, Pulp & Paper - Global Industry Analysis, Size, Share, Growth, Trends, and Forecast 2016 - 2024
Category :

Chemicals & Materials

Format :
Global Rheology Market: Overview
The primary application industries of the global rheology modifiers market include the paints and coatings industry and the personal care products industry. Both have been experiencing tremendous scope of growth recently and are expected to continue displaying a high growth rate. As a result, the demand for rheology modifiers is also expected to increase over the coming years, allowing key players to broaden their product profiles and for new players to gain entry into regional markets.
The top application industries of rheology modifiers are showing an accelerated growth rate in demand owing to the strengthening infrastructure in emerging economies, growing urban population densities, and quality improvements in rheology modifiers. Consumer goods and automotive and two industries that make wide use of theology modifiers, and are two industries currently showing a massive growth rate. They further provide fruitful ventures for players in the global rheology modifiers market.
Owing to these factors, the global rheology modifiers market is expanding at a CAGR of 3.7% between 2016 and 2024. It is expected to reach US$6.8 bn in 2024, after being recorded at US$4.9 bn in 2015.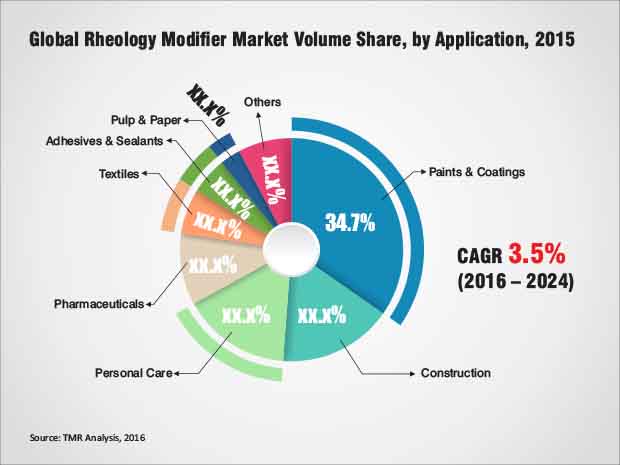 Asia Pacific Holds the Largest Growth Opportunity for Rheology Modifiers Manufacturers
From a geographical perspective, Asia Pacific is showing a robust economic growth, coupled with a high population density that is steadily increasing its spending power on consumer goods. As such, it is the perfect ground for the global rheology modifiers market and its players to prosper.
The Asia Pacific construction and automotive industries are the strongest ones in the region. Both are showing massive growth rates over the coming years and both are major application industries of rheology modifiers. As a result, the Asia Pacific rheology modifiers market is showing a CAGR of 3.9% between 2016 and 2024. Within this region, the product segment of organic rheology modifiers is expected to show the faster growth rate and market size in 2024, as compared to inorganic rheology modifiers. In 2015, nearly 52% of the Asia Pacific rheology modifiers market was taken up by China, manifesting the strong industrial growth of the country. The country's market share is expected to increase till 2024.
The North America rheology modifiers market stands to gain from upcoming construction projects in the region to drive itself. Apart from construction, sealants, personal care products, and paints and coatings are also expected to provide a significant scope of growth for rheology modifiers players. Meanwhile, Europe is showing a steady growth in its demand for rheology modifiers due to a growing concern over the use of clean raw materials and modifiers that are not detrimental to health.
Organic Rheology Modifiers Continue to Dominate Revenue Shares
With organic and inorganic being the two product segments in the global rheology modifiers market, about 63% was occupied by the organic segment in 2015. It is also expected to be the faster growing segment in the global rheology modifiers market in terms of both revenue generation and volume growth.
All major organic rheology modifiers – including polyurethane, guar gum, and xanthan gum – are heavily used in the industries of construction, pharmaceuticals, and paints and coatings, owing to their effectiveness and ease of production. On the other hand, inorganic rheology modifiers such as precipitated and fumed silica find major scope of use in adhesives, sealants, and pharmaceuticals. Most of the organo-clay based rheology modifiers find major use in personal care products and paints and coatings, which are the two top application industries for the global rheology modifiers market.
The report analyzes and forecasts the rheology modifiers market on the global and regional level. The study provides historical data of 2015 along with the forecast from 2016 to 2024 based on volume (kilo tons) and revenue (US$ Mn). The study includes drivers and restraints for the rheology modifiers market along with their impact on demand during the forecast period. The report also analyzes opportunities in the rheology modifiers market on the global and regional level. Drivers, restraints, and opportunities mentioned in the report are justified through quantitative and qualitative data. These have been verified through primary and secondary resources.
We have included a detailed analysis of the value chain to provide a comprehensive view of the rheology modifiers market. Value chain analysis provides details such as integration in the market, distribution channels, product segments, and applications. Analysis of Porter's Five Forces Model has also been included to help understand the competitive landscape of the rheology modifiers market. The study encompasses market attractiveness analysis, wherein application segments of the market are benchmarked based on market size, compound annual growth rate (CAGR), and general attractiveness.
The study provides a decisive view of the rheology modifiers market by segmenting it on the basis of products and end-users. Product and end-user segments have been analyzed based on current and future trends, and the market has been estimated from 2016 to 2024 in terms of volume (kilo tons) and revenue (US$ Mn). Regional segmentation includes current and forecast demand for rheology modifiers in North America, Europe, Asia Pacific, Latin America, and Middle East & Africa. It also includes demand for individual products and end-users in major countries in respective regions.
The report provides detailed competitive outlook that includes profiles of key players operating in the global rheology modifiers market. Key players profiled in the report include Altana AG, Akzo Nobel N.V., Ashland, Arkema S.A., Cargill Inc., BASF SE, Croda International plc, Clariant, The Dow Chemical Company, Eastman Chemical Company, DuPont, Elementis plc, Evonik Industries AG, The Euclid Chemical Company, The Lubrizol Corporation, Mallard Creek Polymers, Inc., and SNF Holding Company. Company profiles include attributes such as company overview, brand/product portfolio, financial overview, business strategy, and key/recent developments related to the market.
Constant currency rates have been considered while forecasting the market. Prices of materials used to manufacture rheology modifiers vary in each region; hence, a similar volume-to-revenue ratio does not follow for each individual region. Regional average price has been considered while breaking down the market by product segment and application in each region. Models and estimates have been used to produce comprehensive data sets when hard data was not available. We have used the bottom-up approach by considering individual product and application segments and integrating them to arrive at the global market. Product segment and applications have been further divided using the top-down approach to derive the consumption of products in the regional market.
In order to compile the research report, we conducted in-depth interviews and discussions with a wide range of key industry participants and opinion leaders. Primary research represented the bulk of research efforts, supplemented by an extensive secondary research. We reviewed key players' product literature, annual reports, press releases, and relevant documents for competitive analysis and market understanding. Secondary research includes a search of recent trade, technical writing, Internet sources, and statistical data from government websites, trade associations, and agencies. This has proven to be the most reliable, effective, and successful approach for obtaining precise market data, capturing industry participants' insights, and recognizing business opportunities.
The rheology modifiers market has been segmented as follows:
Rheology Modifiers Market - Product Analysis
Rheology Modifiers Market - Application Analysis
Paints & Coatings
Personal Care
Adhesives & Sealants
Textiles
Pharmaceuticals
Construction
Pulp & Paper
Others (Including Mining Chemicals, etc.)
Rheology Modifiers Market - Regional Analysis
North America

U.S.
Rest of North America

Europe

U.K.
Germany
France
Spain
Italy
Rest of Europe

Asia Pacific

China
Japan
ASEAN
Rest of Asia Pacific

Latin America

Brazil
Rest of Latin America

Middle East & Africa (MEA)

GCC
South Africa
Rest of Middle East & Africa
Custom Market Research Services
TMR offers custom market research services that help clients to get information on their business scenario required where syndicated solutions are not enough.
REQUEST CUSTOMIZATION

Rheology Modifiers Market