Global Release Liner Market: Snapshot
The demand for release liners is highly influenced by the progress in the packaging industry. The growing preference for innovative and quality packaging all over the world, together with the rising investments in the pharmaceuticals and the food and beverages industries, is likely to further boost the global market for release liners over the forthcoming years.
Driven by a widespread usage of release liners in pressure sensitive applications, the opportunity in this market is expected to increase from US$10.0 bn in 2015 to US$17.0 bn by 2024, rising at a CAGR 6.30% between 2016 and 2024. During the same period of time, the consumption volume is estimated to increase at a 4.30% CAGR.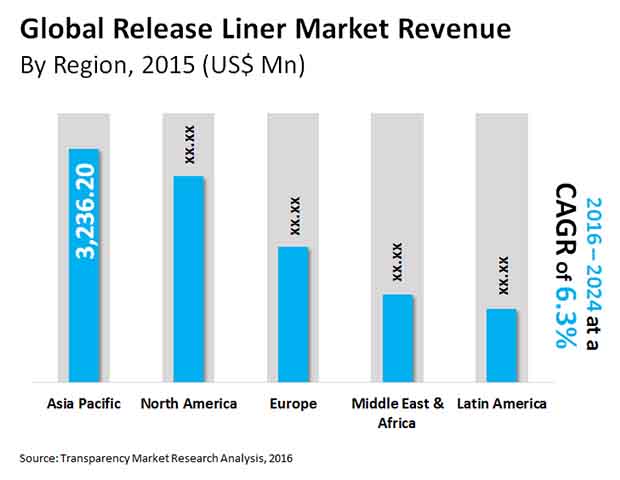 Pressure-sensitive Labeling Technology-based Release Liners to Witness Continued Increase in Consumption
Adhesive applied, pressure sensitive labeling, in-mold, and sleeving are the prime labeling technologies utilized in release liners. Thanks to the heightened need for packaging for food and beverages and pharmaceutical products, the consumption of pressure sensitive labeling-based release liners has been greater than other liners. In terms of revenue, this segment is projected to retain its dominance throughout the forecast period and account for a share of more than 44% by 2024.
The sleeving technology segment is also anticipated to gain significant momentum in the coming years due to the high level of efficiency provided by it to release liners. On the other hand, the adhesive applied technology segment will witness a decline in its market share over the forecast period.
Asia Pacific to Continue as Global Leader
The worldwide market for release liners is spread across Asia Pacific, the Middle East and Africa, Latin America, North America, and Europe. Among these, Asia Pacific surfaced as the leading regional market in 2015 with US$3.2 bn in revenues. Researchers expect this regional market to remain dominant over the forecast period. The presence of a large pool of manufacturers, as well as vendors of release liner products, in Asia Pacific is the key factor behind the growth of this regional market. Apart from this, the increasing construction of new manufacturing facilities in various Asian countries, such as Indonesia and Malaysia is also projected to boost the Asia Pacific markets for release liners over the forthcoming years.
The Middle East and Africa is also anticipated to exhibit a healthy rise in the demand for release liners in the near future, as the market is in its introductory phase in this region. However, Latin America may have to experience a stagnant rise in the years to come, as the regional market is moving towards maturity. Since the markets in North America and Europe have already matured, they are likely to witness sluggish growth over the next few years.
Some of the leading manufacturers of release liners across the world are Mondi Group, Avery Dennison Corp., 3M, Gascogne Group, UPM, Rayven Inc., and Loparex Holding B.V.
Global Release Liner Market: Overview
This report provides forecast and analysis of the release liner market on the global and regional level. The study provides historic data of 2015 along with forecast from 2016 to 2024 based on volume (Mn m2) and revenue (US$ Mn). It includes drivers and restraints of the release liner market along with their impact on demand during the forecast period. The report also comprises the study of opportunities available in the market for release liner on the global and regional level.
In order to provide the users of this report with comprehensive view of the market, we have included detailed competitiveness analysis and company players with unique selling propositions. The study encompasses market attractiveness analysis and basis point share analysis, by application, substrates type and labeling technology.
Market numbers have been estimated based on the average usage of release liner for different kinds of substrates such as film, glassine, polyolefin paper, clay coated paper and art paper. Market size and forecast for each segment have been provided in the context of global and regional markets. Market dynamics prevalent in China, Japan, South Korea, North America, and Europe have been taken into account for estimating the growth of the global market. Market estimates for this study have been based on volume, with revenue being derived through regional pricing trends. The release liner market has been analyzed based on expected demand. Market data for each segment is based on demand volume and corresponding revenue.
Prices considered for the calculation of revenue are average regional prices obtained through primary quotes from numerous regional manufacturers, suppliers, and distributors. All market numbers have been derived on the basis of demand for release liner in different applications in different regions. All existing key end-users have been considered and potential applications have been estimated on the basis of secondary sources and feedback by primary respondents.
Global Release Liner Market: Segmentation
Segmentation comprises demand for release liner in all the regions and important countries in the region. Application segmentation includes current and estimated demand of release liners for applications such as envelopes & packaging, graphic arts, hygiene, industrial, medical, pressure sensitive label stock and tapes segment. While labeling technology segmentation includes present and forecast demand for release liner with technology such as adhesive applied, in-mold, pressure sensitive labeling and sleeving. Substrates segmentation includes current and estimated demand of film, glassine, polyolefin paper, clay coated paper and art paper.
Regional demand patterns have been considered while estimating the market for various application for release liner in different regions. We have used the top-down approach to estimate the global release liner market, split by regions. The global application, labeling technology and substrates segment of the market has been derived using the bottom-up approach, which is cumulative of each region's demand. Regional demand is the summation of sub-regions and countries within a region. Market share of companies has been derived on the basis of revenues reported by key manufacturers.
The market has been forecast based on constant currency rates. Several primary and secondary sources were consulted during the course of the study. Secondary sources include OneSource, Factiva, Hoover's, International Federation of Robotics (IFR), Robotics Industries Association (RIA), Magazines published by the ABB Limited, label expo, packaging world, Alexander Watson Associates BV (AWA) and company annual reports and publications among many others.
Companies mentioned in this report
The report provides detailed competitive outlook including market shares and company profiles of key participants operating in the global market. Key players in the global release liner market include Mondi, Avery Dennison, 3M, Gascogne laminates, Rayven Inc., UPM Reflatac and Loparex. Company profiles include attributes such as company overview, financial overview, business strategy and recent developments.
The market has been segmented as below:
Release Liner Market - Application
Envelopes and Packaging
Graphic Arts
Hygiene
Industrial
Medical
Pressure sensitive label stock
Tapes
Release Liner Market – Labeling Technology
Adhesive applied
In-Mold
Pressure sensitive labeling
Sleeving
Release Liner Market – Substrates
Film
Glassine
Polyolefin Paper
Clay Coated paper
Art paper
Release Liner Market - Regional Analysis
North America
Europe

Germany
U.K.
France
Spain
Italy
Russia
Poland
Rest of Europe

Asia Pacific

China
Japan
India
ASEAN
Australia & NZ
Rest of Asia Pacific

Latin America

Brazil
Mexico
Rest of Latin America

Middle East & Africa (MEA)

GCC
South Africa
North Africa
Rest of MEA