Global Refinery Catalysts Market: Snapshot
Catalysts are at least one homogenous or heterogeneous substances presented in any compound response that begins or accelerates a synthetic response while experiencing no perpetual change itself. It improves the atom of the reactants to deliver new substances as items without evolving trademark. Catalysts perform distinctive kinds of capacities in light of the need of a specific substance process. They are ordinarily utilized in all mechanical synthetic procedures. Refinery catalyst are utilized in refineries for the way toward changing over oil refining items from unrefined to high octanes fluid items, for example, diesel, lamp fuel, gas, and others. These catalysts are utilized in different procedures, for example, hydrotreating, hydrocracking, and catalyst transforming among others.
Global refinery catalyst market is predominantly determined by the expanding demand for cleaner oil based commodities. The business is expected to see huge development throughout the following seven years because of expanding demand for elite transportation fuel all inclusive. Stringent fuel standards and gauges combined with expanding oil subordinates utilization are likewise anticipated that would direct development.
As per the estimations of the research report, the global market for refinery catalysts presented an opportunity worth US$11.4 bn in 2015. Expanding at a CAGR of 4.60% during the period from 2016 to 2024, this market is expected to reach US$17.0 bn by the end of the forecast period.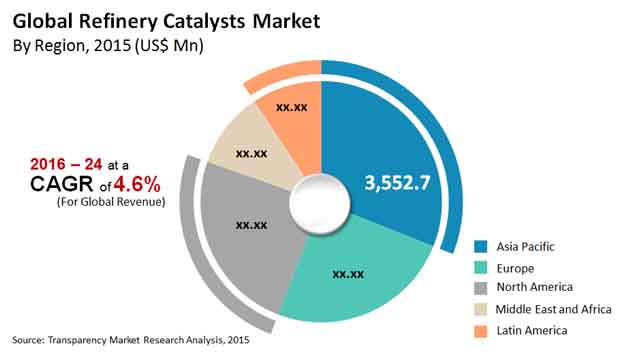 Zeolites to Remain Popular Segment
The key raw materials utilized in the assembling of refinery catalysts are metals, zeolites and substance mixes. Out of these, zeolites refinery catalysts represented 65.5% of the market in 2015, as far as volume. This significant demand for zeolites is inferable from its extending craving for high octane fuel over the world. Zeolites are essentially utilized for the liquid synergist breaking procedure, and offer advantages, for example, high temperature opposition, high selectivity, and cost-viability. Minimal effort of substance mixes when contrasted with zeolites and metals is expected to supplement the previous' development throughout the following seven years.
Inferable from taking off diesel and gas utilization as the essential transportation fuel are expected to support the refinery catalyst demand amid the estimate time frame. Stringent government directions identified with Ultra-Low Sulfur Diesel (ULSD) and strict outflow gauges among developed districts, for example, the U.S. what's more, Canada, are foreseen to drive the global refinery catalyst market demand in the oil refining part.
Asia Pacific to Hold Significant Market Share
Asia Pacific refinery catalyst market commanded the global demand, representing more than 30% of by and large volume share in 2014. Emerging refinery throughput in China, India, and South-East Asia combined with a few forthcoming limit extensions in these economies may credit to popularity.
China had a noteworthy share in global oil refining throughput and has risen as an assembling goal for synthetic and petrochemical items inferable from developing local demand combined with low assembling expense when contrasted with the U.S. furthermore, EU nations. Inspirational viewpoint for petrochemicals and refining areas in China and India is expected to fuel extension over the gauge time frame.
Indian government has chosen to actualize a considerably stricter take on emanation standards, the Bharat Stage VI, for all assortments of traveler vehicles by 2020. The expanded demand for low-sulfur energizes activated by that these controls and ascend in utilization of powers inferable from the mounting number of vehicle proprietors in the nation will empower the market for refinery catalysts sooner rather than later.
North America is predicted to be the most encouraging regional market for refinery catalysts from 2016 through 2024. The market will be mainly determined because of the ascent in the quantity of natural directions on fuel discharges and the rising utilization of gas. The U.S. was the significant buyer of refinery catalysts in North America in 2015.
The global refinery catalyst market presently features consolidation, and comprises of prominent vendors such as BASF SE, Albemarle Corporation, ExxonMobil Corporation, Royal Dutch Shell Plc, Sinopec Corporation, and Honeywell International Inc.
Refinery catalysts are widely employed in the refinery units to remove the impurities such as sulfur, nitrogen and other carbon compounds from the fuels. Stringent environmental regulations on fuel emissions across the globe is estimated to boost the demand for global refinery catalysts market. Zeolites are estimated to expand at a significant rate during the forecast period. Asia Pacific and Europe are likely to have a major share in refining catalysts market during the forecast period.
The report estimates and forecasts the refinery catalysts market on the global, regional, and country levels. The study provides forecast between 2016 and 2024 based on volume (kilo tons) and revenue (US$ Mn) with 2015 as the base year. The report comprises an exhaustive value chain analysis for each of the product segments. It provides a comprehensive view of the market. Value chain analysis also offers detailed information about value addition at each stage. The study includes drivers and restraints for the refinery catalysts market along with their impact on demand during the forecast period. The study also provides key market indicators affecting the growth of the market. The report analyzes opportunities in the refinery catalysts market on the global and regional level. Drivers, restraints, and opportunities mentioned in the report are justified through quantitative and qualitative data. These have been verified through primary and secondary resources. Furthermore, the report analyzes substitute analysis of refinery catalysts and global average price trend analysis.
The report includes Porter's Five Forces Model to determine the degree of competition in the refinery catalysts market. The report comprises a qualitative write-up on market attractiveness analysis, wherein end-users and countries have been analyzed based on attractiveness for each region. Growth rate, market size, raw material availability, profit margin, impact strength, technology, competition, and other factors (such as environmental and legal) have been evaluated in order to derive the general attractiveness of the market. The report comprises price trend analysis for refinery catalysts between 2016 and 2024.
The study provides a comprehensive view of the refinery catalysts market by dividing it into refining units, materials types, physical form and geography segments. The refinery units have been segmented into Fluid Catalytic Cracking Unit, Hydrocracking Unit, H-Oil Unit, Hydrotreating Unit (Naphtha & Distillate), Catalytic Cracking Unit, and Alkylation Unit. The materials are segmented into Zeolites, Molybdenum, Cobalt, Nickel and others. The physical form is segmented into Powders, Beads and Extrudates. These segments have been analyzed based on historic, present, and future trends.
Regional segmentation includes the current and forecast demand for refinery catalysts in Asia Pacific, North America, Europe, Latin America, and Middle East & Africa (MEA). Additionally, the report comprises country-level analysis in terms of volume and revenue for all the segments. Key countries such as the U.S., Canada, Germany, France, Italy, Spain, the U.K., India, China, ASEAN, Mexico, Brazil, GCC, and Nigeria have been included in the study. Market segmentation includes demand for individual refining units in all the regions and countries.
The report covers detailed competitive outlook that includes market share and profiles of key players operating in the global market. Key players profiled in the report include Royal Dutch Shell Plc, ExxonMobil Corporation, BASF SE, Honeywell International Inc, Johnson Matthey Plc., Albemarle Corporation and Others. Company profiles include attributes such as company overview, number of employees, brand overview, key competitors, business overview, business strategies, recent/key developments, acquisitions, and financial overview (wherever applicable).
Secondary research sources that were typically referred to include, but were not limited to company websites, financial reports, annual reports, investor presentations, broker reports, and SEC filings. Other sources such as internal and external proprietary databases, statistical databases and market reports, news articles, national government documents, and webcasts specific to companies operating in the market have also been referred for the report.
In-depth interviews and discussions with a wide range of key opinion leaders and industry participants were conducted to compile this research report. Primary research represents the bulk of research efforts, supplemented by extensive secondary research. Key players' product literature, annual reports, press releases, and relevant documents were reviewed for competitive analysis and market understanding. This helped in validating and strengthening secondary research findings. Primary research further helped in developing the analysis team's expertise and market understanding.
The global refinery catalysts market has been segmented as follows:
Refinery Catalysts Market – Refining Unit Analysis
Fluid Catalytic Cracking
Hydrocracking
H-Oil
Hydrotreating
Catalytic Reforming
Alkylation
Refinery Catalysts Market – Material Analysis
Zeolites
Molybdenum
Cobalt
Nickel
Others (including platinum, etc.)
Refinery Catalysts Market – Physical Form Analysis
Refinery catalysts market – Regional Analysis
North America
Europe

Germany
France
Italy
Spain
U.K.
Rest of Europe

Asia Pacific

China
India
ASEAN
Rest of Asia Pacific

Middle East & Africa

GCC
Nigeria
Rest of Middle East & Africa

Latin America

Brazil
Mexico
Rest of Latin America