Public Safety Analytics - Introduction
Public safety analytics is a platform that includes video analytics, social media analytics, sensor data analytics, identity analytics solutions, and various services, which are designed to ensure public safety.
Governments of various countries across the globe have increased their investment in public safety applications to protect the public and the nation from criminal and terrorist activities.
In the current technological world, organizations and businesses need to adopt advanced and modernized safety applications to protect and ensure public safety inside and outside of an organization.
Enterprises need to adopt public safety analytics solutions to handle emergency situations and to eliminate security threats in a smooth manner.
Global Public Safety Analytics Market: Dynamics
Global Public Safety Analytics Market: Key Drivers
Growing concern about penetration of AI and ML technologies and developments in security and public safety infrastructure to address crime, by collecting real-time information from security departments in various developing nations, are expected to boost the public safety analytics market
Rapid adoption of social media analytics solutions to intimate citizens about emergencies such as fire, overcrowding, criminal activities, and natural calamities is anticipated to drive the demand for public safety analytics during the forecast period
Rise in population is a key factor that highly impacts public safety across the globe. This is estimated to fuel the demand for public safety analytics during the forecast period.
Lack of awareness about public safety services in different industry verticals is estimated to restrain the public safety analytics market
High initial cost of investment is expected to hamper the adoption of public safety analytics
New product launches and evolution of the physical threat landscape offers significant opportunities for the public safety analytics market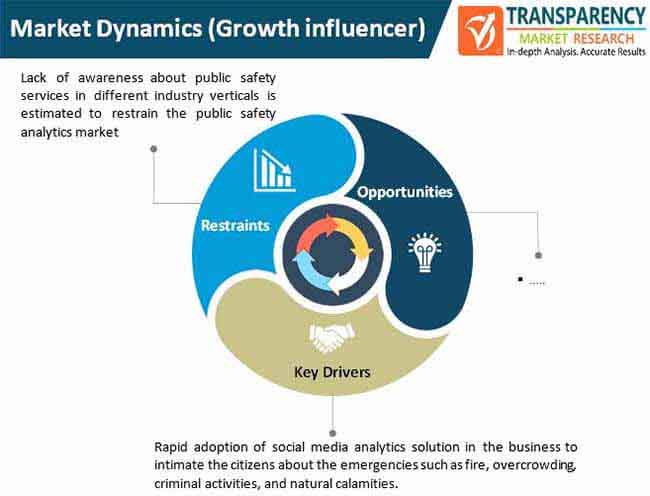 Impact of COVID-19 on the Global Public Safety Analytics Market
Increase in cases of COVID-19 across the globe is resulting in economic slowdown. The pandemic has created disruptions in several markets including public safety analytics.
Increase in adoption of technologies in public safety departments to safeguard public safety professionals, such as fire fighters, police officers, and doctors during the pandemic, is the key factor that drives the demand for public safety analytics during the COVID-19 situation across the globe
Hence, the COVID-19 pandemic is projected to propel the public safety analytics market during the forecast period
North America to Hold Major Share of Global Public Safety Analytics Market
In terms of region, the global public safety analytics market can be divided into North America, Europe, Asia Pacific, Middle East & Africa, and South America
North America dominates the public safety analytics market due to the presence of several large and emerging players of public safety analytics in the region. Moreover, the U.S. and Canada are facing numerous issues, such as terrorism, mass shooting, prison management, natural calamities, and migration, which have threatened the safety of its citizens. This factor is anticipated to further fuel the public safety analytics market in the region.
Rising digitalization in the automation sector among both large enterprises and small & medium enterprises by considering safety of employees in Europe is estimated to boost the demand for public safety analytics in the region
Increase in demand for public safety applications in MEA is estimated to propel the market during the forecast period
Rise in adoption of public safety solutions in smart city projects in Asia Pacific is projected to boost the demand for public safety analytics in the region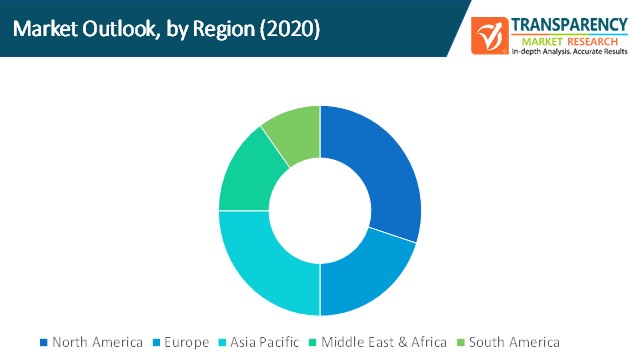 Global Public Safety Analytics Market: Competition Landscape
Several players have a strong presence in the public safety analytics market owing to rapid technological advancements
In June 2020, Cisco, a prominent player of public safety analytics market, added a new feature - Cisco DNA Spaces and indoor IoT services to its intent-based security solution that helps keep physical spaces safe for business purposes
Key Players Operating in the Global Public Safety Analytics Market Include:
Cisco Systems, Inc.
Civica UK Limited
FARO Technologies, Inc.
Hexagon AB
Haystax Technology, Inc.
Honeywell International Inc.
Hitachi Vantara Corporation
International Business Machines Corporation
Motorola Solutions, Inc.
NICE Systems Ltd.
NEC Corporation
SAP SE
SAS Institute Inc.
Splunk Inc.
Verint Systems, Inc.
Global Public Safety Analytics Market: Research Scope
Global Public Safety Analytics Market, by Component
Solutions

Video analytics
Social media analytics
Identity analytics
Sensor data analytics
Others (crowd analytics, speech analytics, and text analytics)

Services

System integration
Support and maintenance
Consulting services
Managed services
Global Public Safety Analytics Market, by Deployment
Global Public Safety Analytics Market, by Type
Predictive analytics
Prescriptive analytics
Descriptive analytics
Global Public Safety Analytics Market, by Application
Pattern Recognition
Incident Detection
Person of Interest Screening
Surveillance
Global Public Safety Analytics Market, by Industry Vertical
Law Enforcement and Intelligence Agencies
Border Control (Land, Sea, and Air)
Public Transportation Security
Critical Infrastructure Security
Others (Manufacturing and Emergency Services)
Global Public Safety Analytics Market, by Region
North America

U.S.
Canada
Rest of North America

Europe

Germany
France
U.K.
Italy
Rest of Europe

Asia Pacific

China
Japan
India
South Korea
Rest of Asia Pacific

Middle East & Africa

GCC
South Africa
Rest of Middle East & Africa

South America

Brazil
Rest of South America
This intelligence report by TMR is the outcome of intense study and rigorous assessment of various dynamics shaping the growth of the market. TMR nurtures a close-knit team of analysts, strategists, and industry experts who offer clients tools, methodologies, and frameworks to make smarter decisions. Our objective, insights, and actionable analytics provide CXOs and executives to advance their mission-critical priorities with confidence.
The scrutiny of the various forces impacting the dynamics of the market, and key and associated industries, guides enterprises in understanding various consumer propositions. Our clients leverage these insights and perspectives to enhance customer experience in the fast-paced business environment.
All our insights and perspectives are broadly based on 4 Pillars or Stages: ASBC-S, which offer an elaborate and customizable framework for the success of an organization. The essence and the roles of these in organizational successes are highlighted below:
Agenda for CXOs: TMR, through the study, sets the tone for agendas that are pertinent to CEOs, CFOs, CIOs, and other CXO executives of businesses operating in the market. The perspectives help our clients to bridge the gap between agenda and action plan. TMR strives to offer guidance to CXOs to undertake mission-critical activities empowered by various business analysis tools, and boost the performance of the organizations. The perspectives guide you to decide on your own marketing mix that align well with the policies, visions, and mission.
Strategic Frameworks: The study offers how organizations are setting both short-term and long-term strategic plans. Our team of experts collaborate and communicate with you to understand these to make your organizations sustainable and resilient during tough times. The insights help them decide sustainable competitive advantage for each business units.
Benchmarking for Deciding Target Markets and Brand Positioning: The assessments in the study provides a scrutiny of marketing channels and marketing mix. Our various teams work synergistically with you to help identify your actual and potential direct, indirect, and budget competition areas. Additionally, the study helps you decide most effective budgets for various processes and promotional activities. Furthermore, the study guides you to set benchmarks for integrating people and processes with the 4Ps of marketing. Eventually, this will empower you to find out unique propositioning strategies and niches.
Business Composability for Sustainability (C-S): Constant strategy planning for sustainability characterizing our C-S framework in the report has become more relevant than before in the face of disruptions caused by pandemics, recessions, boom and bust cycles, and changing geopolitical scenario. The TMR study offers a high level of customization to help you achieve business composability. Composable enterprises are increasingly gaining the attention of CXOs in order to help them combat market volatility. Our analysts and industry experts help you wade through such uncertainties and guide you to become a smart sustainable business in entirety.
The study presents scrutiny of region-specific consumer and technology trends, including the most recent industry dynamics. These broadly cover but not limited to
North America, South America, and the Americas
Asia Pacific and Japan
Europe
Latin America
Middle East and Africa
The study offers data-driven insights and guidance of several aspects. Some of the more notable questions are:
What are the major recent trends that can influence the product life cycle and the RoI?
Which regulatory trends shape corporate-level, business-level, and functional-level strategies?
Which micromarketing initiatives of leading players will bring in investments?
What can be the best framework and tools for PESTLE analysis?
Which regions will witness rise in new opportunities?
Which are the game-changing technologies being used to capture new revenue streams in the near future?
Which operational and tactical frameworks are being adopted by various players in gaining customer loyalty?
What is the current and expected intensity of competition the market in the near future?
Disclaimer: This market research study is an ongoing effort and extreme care has been taken to maintain the highest levels of accuracy at all stages. However, in the light of the rapidly evolving business dynamics, some region-specific or other segment-specific changes may take time to be part of the study.
Public Safety Analytics Market