PropTech: Introduction
Property technology, also called PropTech, can be defined as the use of software and technology to support today's real estate needs. For the office industry in particular, this could mean anything from digitally facilitating exclusive workplace experiences to providing advanced data and analysis.
PropTech is an innovative approach to real estate where technology optimizes the way people research, buy, rent, sell, and manage real estate. PropTech's real estate startups are all those trying to navigate the real estate industry better, more efficiently, and easier for people involved.
PropTech's goal is to make owning, renting, or working in a building easier and more efficient for everyone, be it by reducing the paperwork for property management or optimizing tenant-owner transactions.
In many aspects, PropTech is comparable to FinTech. Both are powered by cutting-edge technical advancements such as artificial intelligence (AI) and machine learning (ML). Smart buildings and smart houses have pushed the envelope in today's business and residential real estate market.
The PropTech industry has come a long way since its first wave. Today, PropTech funding is at an all-time high, according to CB Insights, with the real estate technology sector growing in importance every year. In 2019, funding for PropTech increased 65% from US$ 5.4 Bn to US$ 8.9 Bn. Statistics show that deal sizes in 2019 also increased from US$ 10.9 Mn in 2018 to US$ 17.4 Mn.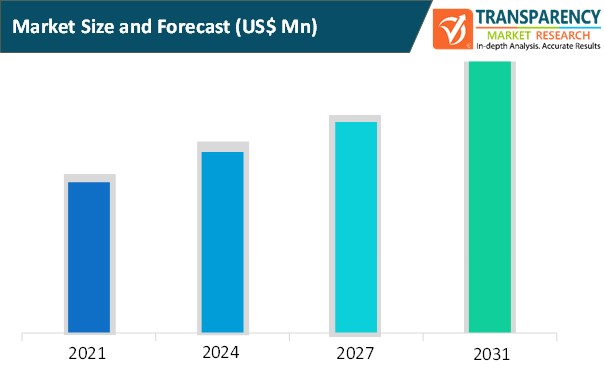 Global PropTech Market: Dynamics
Global PropTech Market: Key Drivers
Factors such as the increasing acceptance of numerous innovative technology-based solutions and services in the real estate industry are expected to be the driving force in the PropTech market in the coming years.
In addition, the emergence of robust and efficient solutions for real estate management and other business operations for asset and facility managers in residential and commercial buildings also has a positive impact on the growth of the PropTech market.
Demand from small and medium-sized businesses is expected to drive the growth of the ProTech market due to the development of cloud technology and digitalization.
However, high implementation costs, and limited spending on research & development are some factors that restrain the growth of the ProTech market.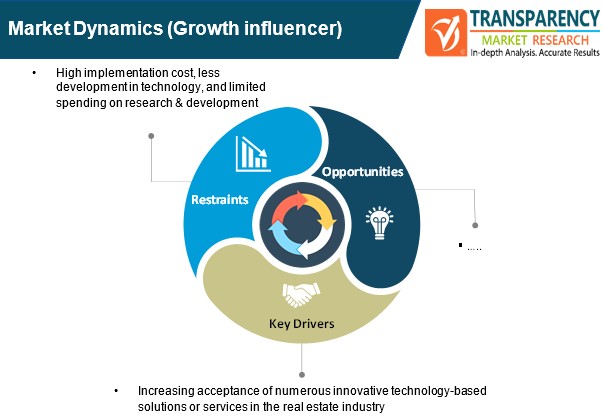 Impact of COVID-19 on the Global PropTech Market
COVID-19 began in Wuhan, China in December 2019 and has since spread around the world at an increasing pace. The United States, Brazil, India, Russia, the United Kingdom, France, Italy, Turkey, and Spain are among the worst-hit countries in terms of confirmed cases and reported deaths. COVID-19 has impacted economies and industries in several countries due to roadblocks, travel bans, and shop closings.
The closure of several factories and plants has impacted worldwide supply chains and negatively impacted production, delivery schedules, and product sales in the world market. Few organizations have already declared possible delays in product delivery and a decline in upcoming sales of their services.
Hence, the global PropTech market was negatively impacted by COVID-19 during the first half of 2020. Advances in technology have raised the demand of PropTech in the second half of the pandemic.
North America to Hold Major Share of the Global PropTech Market
The global PropTech market can be divided into North America, Europe, Asia Pacific, Middle East & Africa, and South America.
North America is expected to have a large share of the market due to the presence of several significant players in the region, and the adoption of digital technologies.
Increasing adoption of cloud technologies by various small- and medium-sized companies in countries in Asia Pacific and Europe is likely to propel the demand for PropTech during the forecast period.
Demand for PropTech is increasing in China, Japan, India, and Germany due to the rising trend of bring your own device (BYOD).
The markets for PropTech in South America and MEA is also projected to witness high growth rates in the coming years due to the growth of digital technologies and increasing acceptance of advanced technologies in the regions.
Global Digital PropTech Market: Competition Landscape
Various local and global players such as OpenDoor Technologies Inc. and Reonomy are active in the digital PropTech market with a strong presence.
OpenDoor is a PropTech startup that was founded in the USA in 2014. The Proptech platform offers transaction services for residential real estate on favorable terms for sellers and buyers.
Reonomy is one of the main PropTech and FinTech software database organizations providing machine learning-based information and PropTech big data for commercial real estate agencies, brokers, and other professionals.
Key Players Operating in the Global Digital PropTech Market Include:
Zumper, Inc.
OpenDoor Technologies Inc.
Reonomy
Guesty
HoloBuilder Inc.
Zillow Group, Inc.
ManageCasa Inc.
Ascendix Technologies
Compass, Inc.
NoBroker
Rethink Solutions
Anyone Home Inc.
Knotel
Cloud Kitchens
Global Digital PropTech Market: Research Scope
Global Digital PropTech Market, by Deployment
Global Digital PropTech Market, by Enterprise Size
Large Enterprises
Small and Medium Enterprises
Global Digital PropTech Market, by Type
Commercial PropTech
Residential PropTech
Global Digital PropTech Market, by End-user
Construction
BFSI
Retail
IT & Telecommunication
Transportation & Logistics
Healthcare
Manufacturing
Others
Global Digital PropTech Market, by Region
North America

U.S.
Canada
Rest of North America

Europe

Germany
France
U.K.
Italy
Rest of Europe

Asia Pacific

China
Japan
India
South Korea
Rest of Asia Pacific

Middle East & Africa

GCC
South Africa
Rest of Middle East & Africa

South America

Brazil
Rest of South America