The incidence of healthcare associated pneumonia or global hospital-acquired pneumonia drugs market is showing a progressive increase; however, the multidrug resistance shown by microorganisms that cause nosocomial infections has created a large market for drugs that treat hospital-acquired pneumonia. According to the report, six major phase III drugs will collectively generate revenue to the tune of US$3.8 bn by 2020.These findings are detailed in the report, titled 'Pipeline Analysis of Hospital Acquired Pneumonia Drugs Market - Global Industry Analysis, Size, Share, Growth, Trends and Forecast, 2014 - 2020.'
Browse the full Pipeline Analysis of Hospital Acquired Pneumonia Drugs Market (Tedizolid Phosphate, Ceftolozane/Tazobactam, Ceftazidime/Avibactam, Amikacin Inhale, Plazomicin, and Synflorix) - Global Industry Analysis, Size, Share, Growth, Trends and Forecast, 2014 – 2020 report at https://www.transparencymarketresearch.com/hospital-acquired-pneumonia-drugs.html
The appreciable demand for hospital-acquired pneumonia falls into perspective when one considers the fact that pneumonia accounts for over 22% of all hospital-acquired infections. Often, conventional antibiotics are unable to treat multidrug resistant organisms, creating a sizeable unmet demand for effective drugs for not just hospital-acquired pneumonia but also for other kinds of hospital acquired infections.
However, the astounding amounts of money spent on combating hospital-acquired drugs has forced governments to impose strict policies to address the root causes of such infections. As many of these programs meet success, the incidence rate of hospital-acquired infections will likely see a dip. This will, in turn, lead to a decline in the demand for hospital-acquired pneumonia drugs. The report terms this trend as an impending restraint for the growth of the global hospital-acquired pneumonia drugs market.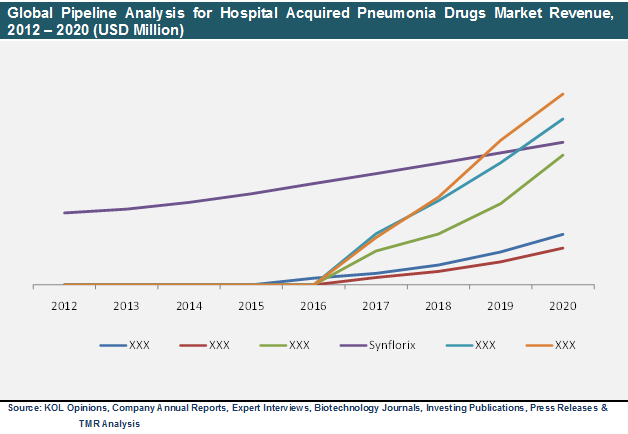 Hospital-acquired pneumonia, which is also sometimes referred to as ventilator-associated pneumonia, is typically seen among patients who are immunocompromised patients, on enteral feeding, or have undergone surgery. Infants, too, face a risk of acquiring hospital-acquired pneumonia. Among the newborn, respiratory syncytial virus (RSV) is identified as being the major cause of nosocomial pneumonia.
The global hospital-acquired pneumonia drugs market currently features one vaccine and five investigational drugs in clinical trials phase III. It is estimated that many of these drugs will hit the market in 2017. The following drugs are currently in phase III of clinical trials, as per the report: Cubist Pharmaceuticals' Ceftolozane/tazobactam and tedizolid phosphate, AstraZeneca PLC's Ceftazidime/avibactam, Bayer Healthcare's Amikacin inhale, Achaogen, Inc.'s Plazomicin, and GlaxoSmithKline's Synflorix. Of these, tedizolid phosphate is emerging as the most preferred drug for treating nosocomial pneumonia.
TMR's analysis reveals that many of the candidates that are expected to be launched over the coming years are biological drugs. With this, it can be gauged that a paradigm shift is taking place from traditional antibiotic therapy to more sophisticated biological drug therapy. With four drug candidates for hospital-acquired pneumonia, the pipeline of Aridis Pharmaceuticals is seen to be the strongest, and each of these drugs is a monoclonal antibody therapy.
In addition to these drugs, the market also features ten drugs that are in the early clinical trial stages. The market is characterized by numerous research and development activities.Companies that currently hold a strong position in the global hospital acquired pneumonia drugs market are: Achaogen, Inc., AstraZeneca PLC, Aridis Pharmaceutical, Valneva SE, Bayer Healthcare, Basilea Pharmaceutica Ltd., Cubist Pharmaceutical, Meiji Seika Pharma Co., Ltd., GlaxoSmithKline, and Merck & Co.
Global Hospital Acquired Pneumonia Drug Pipeline, Late Stage Candidates (Phase III)
Tedizolid phosphate
Ceftolozane/tazobactam
Ceftazidime/avibactam
Amikacin inhale
Plazomicin
Synflorix
Global Hospital Acquired Pneumonia Drug Pipeline, Early Stage Candidates (Phase II, Phase I and Preclinical Trials)
AR-101 or KBPA101
GSK 2189242A
BAL30072
MEDI4893
AR 301 or KBSA301
ME1100
V114
AR-104 or KBPA104
AR-201 or KBRV201
AR-401 or KBAB401
Browse : Our new press releases https://www.transparencymarketresearch.com/pressrelease/hospital-acquired-pneumonia-drugs-market.htm
About Us
Transparency Market Research (TMR) is a global market intelligence company providing business information reports and services. The company's exclusive blend of quantitative forecasting and trend analysis provides forward-looking insight for thousands of decision makers. TMR's experienced team of analysts, researchers, and consultants use proprietary data sources and various tools and techniques to gather and analyze information.
TMR's data repository is continuously updated and revised by a team of research experts so that it always reflects the latest trends and information. With extensive research and analysis capabilities, Transparency Market Research employs rigorous primary and secondary research techniques to develop distinctive data sets and research material for business reports.
Contact
Mr.Sudip S
90 State Street, Suite 700
Albany, NY 12207
Tel: +1-518-618-1030
USA - Canada Toll Free: 866-552-3453
Email: sales@transparencymarketresearch.com
Website: https://www.transparencymarketresearch.com