Polyimide Films Market
Polyimide Films Market (Application - Wires and Cables Insulation, Flexible PCB, Labels, and Barcode) - Global Industry Analysis, Size, Share, Growth, Trends and Forecast 2016 - 2024
Chemicals & Materials
TMRGL24746
2017-06-05
124

Pages
Global Polyimide Films Market: Snapshot
Polyimide films used widely in electronics, aerospace, and aircraft industry as they are capable of withstanding high temperatures they are widely used to make flexible printed circuit boards and pressure sensitive tapes. Polyimide films enable implementation of compact and complex assemblies which minimizes size and weight. Polyimide films can withstand temperatures above 3000 C and are widely used for insulating wires and cables of motors and generators. Due to their lightweight they are also used in insulating the wires of aircrafts as it provides significant weight savings. According to the research report, the global polyimide films market is expected to be worth US$ 1770.1 mn by 2024 from US$927.7 mn in 2015. During the forecast period of 2016 and 2024, the overall global market is likely to register a CAGR of 7.5%.
The increasing trend of miniaturization of electronic products and increasing demand for heat and fire resistant insulation films are expected to drive the market during the forecast period. However, the high cost of processing of polyimide films and its tendency to get hydrolyzed and shrink are anticipated to hamper the market during the forecast period. The application of polyimide films in flexible and thin photovoltaic materials and colorless polyimide films are expected to be the area of opportunity for polyimide films. Polyimide films are an ideal choice for usage as substrates in photovoltaic materials due to their high performance in the electronics industry, flexibility, and resistance to high temperature.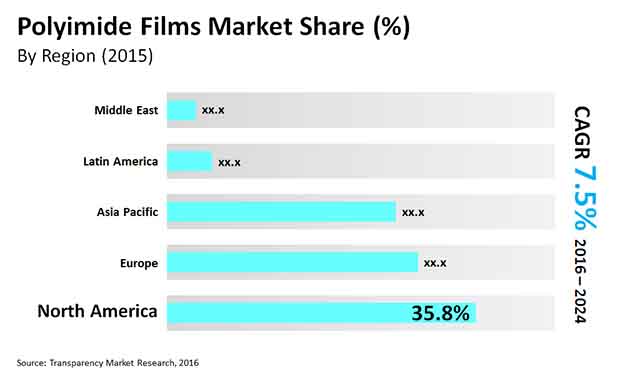 Flexible Printed Circuit Boards to Dominate Global Polyimide Films Market Over Forecast Period
Key applications of polyimide films include flexible printed circuit boards which accounts for more than 70% share of the global polyimide films market and is likely to be a highly lucrative segment during the forecast period. Wires and Cable insulation is expected to expand significantly during the forecast period. However the threat of substitutes from polyethylene terephthalate (PET) film and polyethylene naphthalate (PEN) film is expected to remain low during the forecast period due to the fact that, polyimide film has the advantageous characteristics of retaining its properties at high processing temperatures and provide a high range of operating temperature which is in contrast to PET and PEN films.
Asia Pacific to Offer Tremendous Scope for Growth to the Global Market
The global polyimide films market is anticipated to expand during the forecast period. In terms of volume, Asia Pacific above 40% share of the global polyimide films market in 2015 owing the huge electronics industry in China, Japan, and Taiwan. North America is likely to follow Asia Pacific in terms of consumption. It is likely to expand due to huge aerospace industry in the region. Europe is also forecasted to expand during the forecast period.
The key players of polyimide films market include Kaneka Corporation, DuPont, SKCKOLONPI Co. Ltd, Anabond Limited, Taimide Tech Inc., I.S.T. Corporation, Saint-Gobain Performance Plastics, UBE Industries Ltd, Toyobo Co. Ltd. DuPont and SKCKOLON PI are anticipated to be the leading manufacturers of polyimide films. Manufacturers are augmenting their production capacity to meet increasing demand from end user industries. Also, manufacturers of polyimide films are investing huge amounts in R&D for developing polyimide films which is shrinkage free. The manufacturers of polyimide film in China have eaten up the share of major manufacturers as Chinese polyimide films are available in low cost.
Converters Lean on Improving Functionalities in Polyimide Films Market to Meet Emerging Demands
Polyamide films are known for their remarkable resistance to heat and chemicals. Their characteristic to retain their mechanical and chemical properties in various harshest environments is what propels demand in the polyamide films market. Converter companies use cutting-edge engineering methods to further modify the functional characteristics to meet the specialized conditions in end-use applications. Leading chemical companies operating the polyamide films market are leaning on unlocking the versatility of their products to stay ahead of the curve. For instance, some behemoths in the chemical industry are developing films that withstand high heat and temperature and vibration prevalent in outer space and popular aerospace applications. Chemical companies aim at imparting a combination of mechanical properties to improve performance and reliability at high temperature. Such properties are utilized in range of material application, thereby expanding the revenue potential of the polyamide films market. A case in point is the demand for these films in making high-end insulation materials. Due to advanced functional characteristics, polyamide films also hold promise for specialized packaging applications. An example is in packaging of chips. Growing use of these in printed circuit boards is one of the key application areas that have boosted the sales in the market.
The COVID-19 pandemic has massive brought disruptions to the strategic frameworks companies had been adhering over the past few years. The mortality and morbidity of the novel coronavirus outbreaks forced governments to enter into massive, prolonged lockdowns, which severely hindered various economic activities. On the other hand, companies that were quick to shift their business models to align with new normals were the first to move past the competitive curve. For instance, market players see a new avenue in making films that can fight off the infections of the virus and its variants. This is likely to help players target new consumer propositions in the post-pandemic world.
Global Polyimide Films Market: Overview
Polyimide films are made from polyimide resins and are used widely as a substrate for manufacturing flexible printed circuits boards, pressure sensitive tapes for insulating wires and cables, and other applications such as barcode and labels. Polyimide films have advantageous property of heat and fire resistance, which make it a material of choice in the electrical and aerospace industry for insulating wires of motors and generators. Polyimide film is a preferred material for applications that require higher degree of dimension stability after exposure to high temperature. Key application areas of Polyimide Films is in electronics industry for manufacturing flexible printed circuit boards. Flexible printed circuit boards is expected to hold a dominant share of polyimide films market. The polyimide films market in Asia Pacific is expected to expand significantly during the forecast period.
This study analyzes, estimates, and forecasts the global polyimide films market in terms of volume (Tons) and revenue (US$ Mn) from 2015 to 2024. Market numbers given in the report describe the demand for global Polyimide Films, but not production or supply. The global polyimide films report also analyzes several driving and restraining factors and their impact on the market during the forecast period.
The report provides comprehensive analysis of the global polyimide films by applications and regions. It segments the market into applications such as flexible PCB, wires and cables insulation, and others (barcode, labels). The report also segments the polyimide films market based on major geographies into North America, Europe, Asia Pacific, Latin America, and Middle East & Africa. Besides the report comprises 12 unique country-specific analysis.
Global Polyimide Films Market: Segmentation
Based on the application and country, the report analyzes the attractiveness of each segment and country with the help of an attractiveness tool. The study consist of value chain analysis, which offers a better understanding of key companies in the supply chain from raw material manufacturers to end-users. Additionally, the study examines market competition through Porter's Five Forces Analysis.
Global Polyimide Films Market: Research Methodologies
Primary research represents the majority of our research efforts, complemented by extensive secondary research. We reviewed key players' product literature, annual reports, press releases, and relevant documents for competitive analysis and market understanding. Secondary research also includes a search of technical writing, recent trade, Internet sources, and statistical data from government websites, trade associations, and agencies. This has proven to be the most consistent, effective, and productive approach for procuring precise market data, recognizing business opportunities, and understanding industry participants' perceptions.
Secondary research sources that are typically referred to include broker reports, corporation websites, external patented databases, financial reports, stockholder presentations, Securities & Exchange Commission filings, proprietary databases and relevant patent and regulatory databases, national government documents, statistical databases, and market reports, news articles, press releases, and webcasts specific to companies operating in the market. Secondary sources referred for this study include Chemical Week Magazine, ICIS Chemical Business Magazine, Hoover's, Factiva, and company presentations.
Key Players Mentioned in the Report are:
The report includes an overview of the market share of key companies in the global polyimide films market. Market share of companies has been derived on the basis of production by manufacturers of polyimide films. Key market players profiled in the study include Kaneka Corporation, DuPont, SKCKOLONPI Co. Ltd, Anabond Limited, Taimide Tech Inc., I.S.T. Corporation, Saint-Gobain Performance Plastics, UBE Industries Ltd, Toyobo Co. Ltd., DuPont, and SKCKOLON PI.
The report segments the global Polyimide Films market as:
Application Analysis

Flexible PCB
Wires and Cables Insulation
Others (Barcode, Labels)

Regional Analysis

North America
Europe

Germany
France
UK
Spain
Italy
Rest of Europe

Asia Pacific

China
Japan
India
ASEAN
Rest of Asia Pacific (APAC)

Latin America

Brazil
Mexico
Rest of Latin America (LATAM)

Middle East & Africa

GCC
South Africa
Rest of Middle East & Africa (MEA)
Custom Market Research Services
TMR offers custom market research services that help clients to get information on their business scenario required where syndicated solutions are not enough.
REQUEST CUSTOMIZATION