Polyamide 6 Market
Polyamide 6 Market - (Product Type - Polyamide 6 Engineering Resin, BCF & Staple, High Ten Yarn, and Textile Filament; Commercial Grade - Fiber Grade, Injection Molding Grade, and Extrusion Grade; Applications - Automotive, Electrical & Electronics, Appliances, Films & Coatings, Wires & Cables, Consumer Goods, Industrial Machinery, and Others) - Global Industry Analysis, Size, Share, Growth, Trends and Forecast 2017 - 2026
Category :

Chemicals & Materials

Format :
Polyamide 6 is mainly a semi-crystalline polyamide which occur naturally in the form of silk and wool. It is also commonly known as Nylon-6. Polyamide 6 can be artificially synthesized through polymerization of caprolacta. This polyamide is highly adopted in various industries due to its excellent mechanical properties such as durability, strength, and elasticity. Polyamide 6 also poses higher temperature resistance property, which makes them to become a preferred material in various high-temperature applications. Such factors are driving the global polyamide 6 market. Apart from this, polyamide 6 is widely adopted in automotive, textile, packaging, coatings, and electronics industry, owing to their outstanding electrical resistance, toughness, and good insulation properties. Such rapid consumption rate of polyamide 6 in various industrial verticals is also fueling growth in the global polyamide 6 market.
According to experts, the global polyamide 6 market is anticipated to record the sales over 7,690 metric tons by the end of 2026. The growth is prophesized to occur at a promising CAGR of 3.5% during the forecast period from 2017 to 2026. Polyamide 6 is replacing the metal parts in automobiles and also highly used in manufacturing various sportswear. The market is mainly segmented on the basis of application, product type, and commercial grade.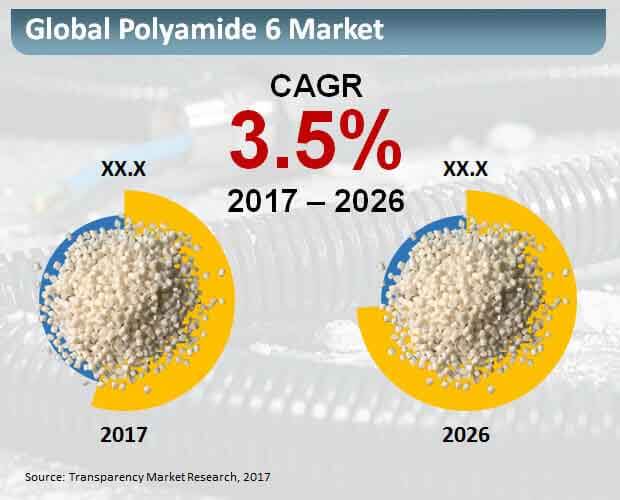 Textile Filament Witness Highest Sales in Polyamide 6 Market
From the perspective of product type, the global polyamide 6 market is segmented into polyamide 6 engineering resin, high ten yarn, BCF and staple, and textile filament. Among these segments, textile filament is expected to showcase fantastic expansion in the next few years, especially during the mentioned period – 2017 to 2026. Moreover, above 4,300 metric tons of textile filament made of polyamide 6 is expected to be sold across the globe by the end of 2017. This is because of booming textile industry globally. However, apart from textile filament, polyamide 6 engineering resin is the next segment to witness largest sale due to their high performance properties.
In terms of application, the global polyamide 6 market is divided into following segments – automotive, films and coatings, appliances, electrical and electronics, consumer goods, wires and cables, industrial machinery, and others. Among these applications, the automotive segment is expected to witness highest proliferation due to the rapid adoption of polyamide 6 in various automotive applications. From the perspective of commercial grade, the global polyamide 6 market is segmented into injection molding grade, fiber grade, and extrusion grade. Among these grades, fiber grade segment remains predominant in the market. Extrusion grade polyamide 6 is expected to become the next dominating segment during the forecast period.
APEJ Showcases Largest Share in Polyamide 6 Market
Geographically, the global polyamide 6 market is bifurcated into APEJ and Europe. Among these, APEJ is expected to lead the global polyamide 6 market with the highest CAGR of 3.7%. This is because the region has seen rapid establishment of manufacturers along with growing demand for high-temperature resistant engineering plastics and lightweight plastics. In Europe, rising electrical & electronics industry and automotive industry is driving demand for polyamide 6 market.
Some of the prominent players operating in the global polyamide 6 market are DSM Engineering Plastics, Honeywell International, Grupa Azoty, Nycoa, and Evonik Industries AG.
High Demand for Use across Several End-use Industries to Boost Polyamide 6 Market
The global polyamide-6 market is expected to expand due to rising demand from the automotive, electronics, coating industries, and increased initiatives from the government. Polyamide-6 also comes with higher temperature resistance, making it a preferred material for a variety of high-temperature uses. In addition to that, the increasing use of polyamide-6 and bio-based polyamide in newer industrial verticals is likely to provide new growth opportunities for the growth of the global polyamide-6 market in the projected timeframe.
As a result, the demand for the aforementioned application sectors is anticipated to boost the global polyamide-6 market in the near future. PA6's various niche uses, such as its use in musical and healthcare instruments, are projected to boost demand for the material in the years to come.
Beneficial Properties of the Product is likely to Spell Growth of the Market
Polyamide -6 is a semi-crystalline polyamide that is referred to as Nylon-6 (PA6). In certain cases, caprolacta polymerization results in polyamide-6. The power, durability, and elasticity it offers are greatly regarded in industries. Thanks to its ability to withstand high pressure, temperature, and a range of chemicals, it is a highly esteemed material. The physical and chemical attributes of polyamide-6 make it suitable for a wide array of uses, thereby driving development of the global polyamide-6 market in the years to come. Of all Polyamides groups, Polyamide-6 accounts for a large chunk of global production in terms of volume.
Irrespective of these facts, polyamide-6 (PA6) is considered as one of the preferred materials due to its chemical and physical characteristics. Certain characteristics such as reaction with strong acids and bases and high shrinkage in moulded parts can limit the use of PA6. Over specification, such as in the automotive industry for safety reasons, is likely lead to the utilization of various alternative products like reinforced polypropylene. This could limit the development of PA6. PA6's use could be hampered by its lack of flame retardance and significant flammable dripping, which are likely to impede growth of the global polyamide-6 market in the near future.
Polyamide 6 Market: Overview
Growing need for high-performance polymers and synthetic materials in a range of industries has driven the voluminous consumption of polyamide 6 materials. Their exceptional properties and competitive advantage when compared to other polyamide and monomer-ized materials has propelled their overall demand in the global landscape for chemicals and materials. However, leading producers of polyamide 6 materials are facing significant challenges in extending their capacities. Environmental protection agencies are actively restraining the mass-scale production of polyamide 6, as the products made of these materials are being openly dumped across the globe. The environmental burden of such consequential circumstances has forced the polyamide 6 producers to recycle the products over and over again, resulting in loss of capital expenditure and a dip in profit margins.
Transparency Market Research has developed an exclusive study on the global polyamide 6 market, delivering insightful analysis and accurate forecast on the expansion of the market for the assessment period, 2017-2026. The report has quantified the growth of the global polyamide 6 market on the basis of volumes (metric tons). The report stands apart as a reliable business document for leading producers of polyamide 6 in the global market.
Report Highlights
Some of the key features of the report include, the segmental analysis and forecast of the global polyamide 6 market, supply chain breakdown, and player profiling. The report provides a holistic overview of the global chemicals and materials industry, wherein the stance of polyamide 6 materials has been disclosed. The report also delivers insights on the changing dynamics in the production of polyamide 6, particularly with respect to the raw material procurement strategies of market participants.
The report has provided an intensity map which traces the presence of market players across several geographies. Key sections of the report provided segmental analysis and forecast, revealing the market size estimations on the basis of products, commercial grades, and applications. The report has extensively profiled the leading producers of polyamide 6, revealing their current market standings and strategic developments.
Research Objective
While developing this report, the key objective of analysts and research consultants at Transparency Market Research was to assess opinions of market participants and create a road map that brings clarity in their future undertakings. Every leading producer in the global polyamide 6 market has been directly interviewed in the development of this report. The report has interpreted the growth of the global polyamide 6 market across a range of metrics such as compounded annual growth rates (CAGR), Year-on-Year (Y-o-Y) growth rates, and absolute dollar opportunities. The scope of the report is to create inferences that reveal the key presumptive scenarios on the expansion of the global polyamide 6 market through 2026.
Market Taxonomy
For conducting a comprehensive market size forecasting & analysis, the report has segmented global polyamide 6 market on the basis of type of products, commercial grades of polyamide 6 materials, their applications, and region. The global polyamide 6 market taxonomy is illustrated below:
Region

North America
Latin America
Europe
Japan
APEJ
MEA

Product Type

Polyamide 6 Engineering Resin
BCF & Staple
High Ten Yarn
Textile Filament

Commercial Grades

Fiber Grade
Injection Molding Grade
Extrusion Grade

Application

Automotive
Electrical & Electronics
Appliances
Films & Coatings
Wires & Cables
Consumer Goods
Industrial Machinery
Others (packaging, construction, etc.)
Additional information on country-specific market forecast and analysis is also provided in the report.
Custom Market Research Services
TMR offers custom market research services that help clients to get information on their business scenario required where syndicated solutions are not enough.
REQUEST CUSTOMIZATION