Phycocyanin Market
Phycocyanin Market (Nature: Organic, Conventional; Form: Powder, Liquid; Grade: Phycocyanin E18, Phycocyanin E25, Phycocyanin E3.0; Application: Food & Beverages (Confectioneries, Beverages, Dairy Products, Bakery Products, Baby Food Formula, Others), Cosmetics & Personal Care (Face Creams, Moisturizers & Lotions, Lipsticks, Eye Liners, Eye Shadow, Soaps, Body Wash), Nutraceuticals, Animal Feed, Aquaculture) - Global Industry Analysis, Size, Share, Growth, Trends, and Forecast 2019 - 2029
Food & Beverages
TMRGL24329
2019-10-07
300

Pages
Manufactures Increase Production of Phycocyanin to Support Natural Colorants Industry
Revenue of the phycocyanin market accounted to be the highest in Western Europe in 2018, estimated to reach ~US$ 77 million in 2029. Currently, ~60% of Europeans consume functional foods, and a higher number of women consume functional beverages. As such, manufacturers are introducing patent-protected phycocyanin food additives. This indoor-grown pigment serves as a cost-efficient option for stakeholders in the food sector.
The food industry is experiencing a shift in consumer preference, from artificial ingredients to natural ingredients. This changing trend has triggered the production of phycocyanic, which acts as a nutritious protein-pigment complex in several food and beverage applications. Its antioxidant and anti-inflammatory properties are increasingly gaining consumer attention as far as food supplements are concerned.
Since the development of natural blue ingredients is a challenge, manufacturers are innovating on phycocyanin, which is naturally found in spirulina algae. For instance, in August 2019, ScotBio - a producer of all-natural food colorants and proteins, announced an increase in its production of phycocyanin for stakeholders in the natural colorants market.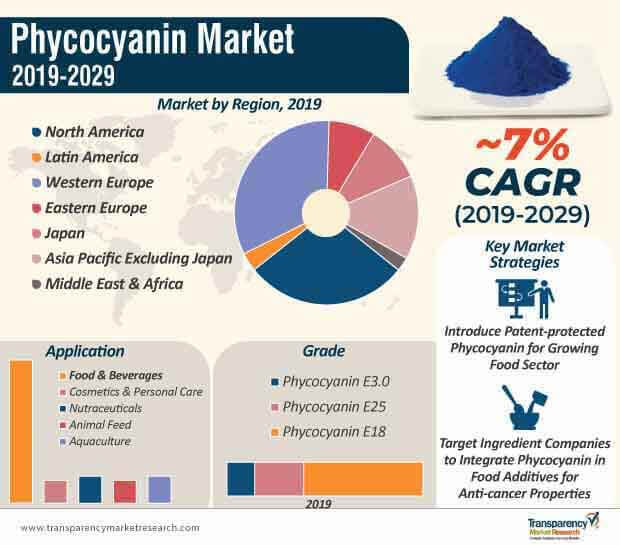 Request a sample to get extensive insights into the Phycocyanin Market
Several Food & Beverage Applications Increase Scope for Market Growth
The food and beverage (F&B) market is estimated to reach ~US$ 16 trillion by 2020. That is why, manufacturers are targeting stakeholders in the F&B space to increase the application of phycocyanin in confectionaries, ice creams, and beverages. Since phycocyanin provides more stability as compared to other natural blue colorants, stakeholders in the F&B landscape are increasingly using this pigment for alcoholic beverages.
As the F&B industry is rapidly growing, manufacturers are increasing the production of indoor-grown, high-quality, and pure phycocyanin. To achieve this, they are growing their own spirulina algae in custom-growing facilities to extract five times more algae as compared to extracting phycocyanin from open pond systems, which also serves as a cost-effective option for them.
To understand how our report can bring difference to your business strategy, Ask for a brochure
Stakeholders in the hospitality space are using phycocyanin to develop sugar-free food and beverage options. The blue pigment is mixed with different bulking agents and sugars to provide flexibility in the formulation stage to food professionals. Manufacturers are focusing on expanding their product portfolios of different ingredients with the help of synthetic biology. This helps them improve the quality, quantity, and stability of phycocyanin through non-transgenic genetic modification.
Patented Systems and Cost-competitive Techniques Ensure Year-round Supply
The phycocyanin market is moderately fragmented, which creates opportunities for new players to enter the market. However, stringent regulations by government authorities have created an added pressure over existing and emerging market players to comply with the same.
Growing awareness about clean-label ingredients amongst consumers has created challenges for manufacturers to achieve certain production requirements. For instance, the introduction of clean-label ingredients has forced manufacturers to ensure end-to-end traceability, maintain the security of supply, and establish a controlled environment. As such, manufacturers are developing patented systems that are integrated with special red lighting that helps in the production of all-natural ingredients.
The high demand for phycocyanin has created a shortage in the marketplace. Extracting phycocyanin from open pond systems serves as an easy and convenient option for manufacturers. However, these pond systems are prone to high risks of contamination. As such, manufacturers are adopting the cost-competitive method of growing their own spirulina algae to ensure the year-round supply of phycocyanin.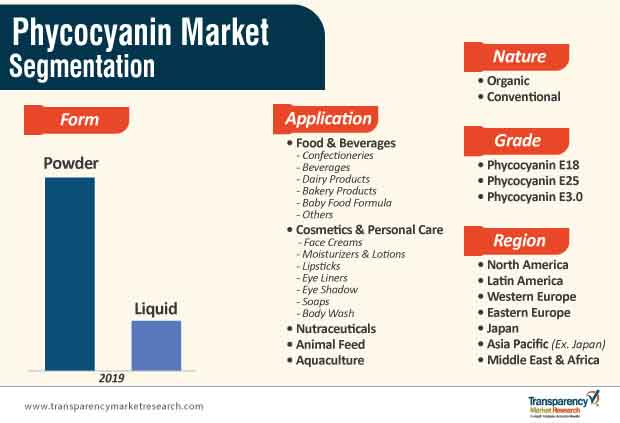 Stuck in a neck-to-neck competition with other brands? Request a custom report on Phycocyanin Market
Analysts' Viewpoint
The phycocyanin market is estimated for a 2X increase in revenue during the forecast period. This pigment is being increasingly used as a functional food additive that carries healthcare efficacy, with little or no side effects. Stakeholders in the healthcare industry are using phycocyanin in marine functional products to treat non-small cell lung cancer. The high protein content of phycocyanin is helping manufacturers in developing improved nutraceuticals. Other applications that are likely to catalyze market growth are pharmaceuticals, cosmeceuticals, and non-toxic inks. However, the demand for clean-label ingredients has added regulatory pressure on manufacturers. As such, manufacturers should look at producing clean-label phycocyanin with the help of special patented systems, and focus on improved methods for the commercial production of phycocyanin.
According to Transparency Market Research's latest market report on the phycocyanin market for the historical period of 2014-2018 and forecast period of 2019-2029, globally, revenue generated by the phycocyanin market is estimated to be ~US$ 120 Mn in 2019, projected to reach ~US$ 230 Mn by 2029, expanding at a CAGR of ~7%.
Things such as bright blue colored frosting on a cupcake or an ocean-blue colored candy have been attracting the attention of consumers belonging to different age groups. This blue color of the food product is imparted by food additives or food colorants. Phycocyanin is a blue pigment derived from a marine source, a blue-green algae, and used as a food colorant. Marine-originated phycocyanin has various key attractive aspects that are responsible for market growth.
Consumer demands and perceptions are reshaping the food and beverage market with a new wave of natural ingredients and natural products. Phycocyanin is derived from natural resources, providing natural solutions for blue colorants in the global market. Due to increased market demand for natural ingredients, phycocyanin is likely to experience a surge in market demand over the forecast period.
Approval from Regulatory and Governmental Bodies Creating Positive Impact
Phycocyanin is a food colorant available in various shades of blue, extracted from a blue-green algae that also has antioxidant and anti-inflammatory properties.
Phycocyanin, belonging to the group of phycobilli proteins, has been approved by the U.S. Food and Drug Administration for use in food and beverages products.
The amended use of phycocyanin in food products such as candy and chewing gum by the FDA is creating a positive impact on the global phycocyanin market.
Manufacturers of food products are encouraged to use phycocyanin in place of synthetic blue colors, which is resulting in progress of the phycocyanin market.
Growing Awareness about Health Benefits of Phycocyanin
Awareness about phycocyanin usage and its health benefits is increasing around the world. The use of social media platforms and websites for the marketing of new and innovative products is on the rise. Moreover, health-related blogs and vlogs are also responsible for creating new trends regarding health and wellness.
Phycocyanin is touted for its bright to dark blue color; however, its health benefits such as anti-cancer, anti-inflammatory, and antioxidant properties are creating a health halo surrounding consumption of phycocyanin.
The increasing prevalence of various diseases around the world, mostly in developed nations, is leading to increasing health concerns and consciousness, which is anticipated to result in increasing market demand for phycocyanin.
Increase in Research & Development Spending
The global food and beverage market is also driven by new product launches. Increased spending on research and development activities by governments and private entities is channeling new product development in the food and beverages industry. New products having specific requirements of food additives and ingredients, which is driving the growth of the ingredients market. Growth of the phycocyanin market is driven by increased demand for natural food colorants.
Rising Trend of Veganism Fueling Phycocyanin Market Growth
In the last few years, veganism has been spreading across the globe and strengthening its roots among various ethnic groups. With increasing veganism, the demand for animal-derived ingredients and products has been decreasing. As a result, plant-based alternative solutions have been developed and are enjoying increased market demand. Phycocyanin is a natural and plant-based food colorant that is used in various products in place of synthetic and animal-based ingredients.
Phycocyanin Market: Key Players
Key players in the global phycocyanin market are:

Chr. Hansen Holding A/S
DDW Inc.
Cyanotech Corp.
Dongtai City Spirulina Bio-Engineering Co., Ltd.
Parry Nutraceuticals Limited
Fuqing King Dnarmsa Spirulina Co., Ltd.
Sensient Technologies Corp.
GNT Holding B.V., Döhler GmbH
Naturex S.A.
DIC Corporation
Naturalin Bio-Resources Co., Ltd.
Far East Bio-Tec Co., Ltd.
Fraken Biochem Co., Ltd.
Phycocyanin Market: Key Developments
Some of the key developments seen in the phycocyanin market are as follows:
In February 2018, Florida-based Valensa International and EID Parry announced to venture into the Indian market with a new joint business partnership with India-based Synthite Industries, to produce phycocyanin from organic spirulina.
In August 2019, Scottish company ScotBio announced receiving a grant for a method for the enhanced production of phycocyanin from spirulina. The new method will enable the lower cost production of phycocyanin.
Phycocyanin Market - Scope of the Report
Transparency Market Research (TMR) recently published a market study on phycocyanin. The study provides detailed assessment on key market dynamics, including the drivers, trends, opportunities & restraints, and detailed information about the phycocyanin market structure. The market study presents exclusive information about how the phycocyanin market will grow during the forecast period of 2019-2029.
Key indicators of market growth, which include year-on-year (Y-o-Y) growth of the market, value chain, supply chain analysis, and compounded annual growth rate (CAGR) are explained in TMR's study in a comprehensive manner. This information can help readers understand the quantitative growth prospects of the phycocyanin market for the forecast period.
The study is relevant for stakeholders in the phycocyanin market, including phycocyanin manufacturers, suppliers, distributors, and investors, and can help them in developing appropriate strategies to grow in the market. Stakeholders in the phycocyanin market, investors, industry experts, researchers, and journalists, as well as business researchers can leverage the information and data presented in TMR's study.
The study also includes statistics as well as facts related to the macro as well as microeconomic factors that are impacting developments in the market. It also offers actionable insights based on the future trends in the phycocyanin market. Furthermore, small businesses and new entrants in the phycocyanin market too can make use of the information presented in this study, based on which, they can make appropriate business decisions in order to gain momentum in the market.
Key Questions Answered in TMR's Phycocyanin Market Report
Which regions will continue to remain the most profitable regional markets for phycocyanin market players?
Which factors will induce a change in the demand for phycocyanin during the assessment period?
How will the changing trends impact the phycocyanin market?
How can market players capture the low-hanging opportunities in the phycocyanin market in developed regions?
Which companies are leading the phycocyanin market?
What are the winning strategies of stakeholders in the phycocyanin market to upscale their position in this landscape?
Phycocyanin Market: Research Methodology
In TMR's study, a unique research methodology is utilized to conduct extensive research on the growth of the phycocyanin market, and reach conclusions on the future growth parameters of the market. This research methodology is a combination of primary and secondary research, which helps analysts ensure the accuracy and reliability of the conclusions.
Secondary resources referred to by analysts during the production of the phycocyanin market study include statistics from governmental organizations, trade journals, white papers, and internal and external proprietary databases. Analysts have interviewed senior managers, product portfolio managers, CEOs, VPs, marketing/product managers, and market intelligence managers, who contributed to the development of this report as a primary resource.
Comprehensive information acquired from primary resources and secondary resources acts as a validation from companies in the phycocyanin market, and makes TMR's projection on the growth prospects of the phycocyanin market more accurate and reliable.
Key Segments of the Phycocyanin Market
TMR's study on the phycocyanin market offers information divided into important segments-nature, form, grade, application, and region. This report offers comprehensive data and information about the important market dynamics and growth parameters associated with these categories.
Nature

Form

Grade

Phycocyanin E18
Phycocyanin E25
Phycocyanin E3.0

Application

Food & Beverages

Confectioneries
Beverages
Dairy Products
Bakery Products
Baby Food Formula
Others

Cosmetics & Personal Care

Face Creams
Moisturizers & Lotions
Lipsticks
Eye Liners
Eye Shadow
Soaps
Body Wash

Nutraceuticals
Animal Feed
Aquaculture

Region

North America
Latin America
Western Europe
Eastern Europe
Japan
Asia Pacific Excluding Japan
Middle East & Africa
Custom Market Research Services
TMR offers custom market research services that help clients to get information on their business scenario required where syndicated solutions are not enough.
REQUEST CUSTOMIZATION