Paraxylene Market
Paraxylene Market (Application - Purified Terephthalic Acid (PTA), Dimethyl Terephthalate (DMT), Coatings, Pesticides, and Solvents) - Global Industry Analysis, Size, Share, Growth, Trends, and Forecast 2016 - 2024
Category :

Chemicals & Materials

Format :
Paraxylene known as p-xylene, is a chemical important for the production of PET plastic containers and polyester fiber. Paraxylene is used as a feedstock to make other modern synthetics, prominently terephthalic acid (TPA), cleansed terephthalic acid (PTA) and dimethyl-terephthalate (DMT). TPA, PTA and DMT are utilized to produce polyethylene terephthalate (PET) polyesters, a sort of plastic.
Bottles produced using PET plastic are generally utilized to store water, soft drinks, and different refreshments since PET is lightweight, break safe, and strong. Moreover, PET helps keep the bubble in carbonated drinks since it has solid carbon dioxide barrier properties.
The global paraxylene market size is expected to reach US$60.04 bn by 2024, it is expected to expand at a CAGR of 7.0% over the forecast period. Increasing demand for polyester and fiber resin from various businesses is projected to move item request over the coming years. Fast development popular for polyester texture is going about as a noteworthy market driver. Rising demand for filtered terephthalic acid (PTA) in polyester creation process is expected to give fillip to the paraxylene market.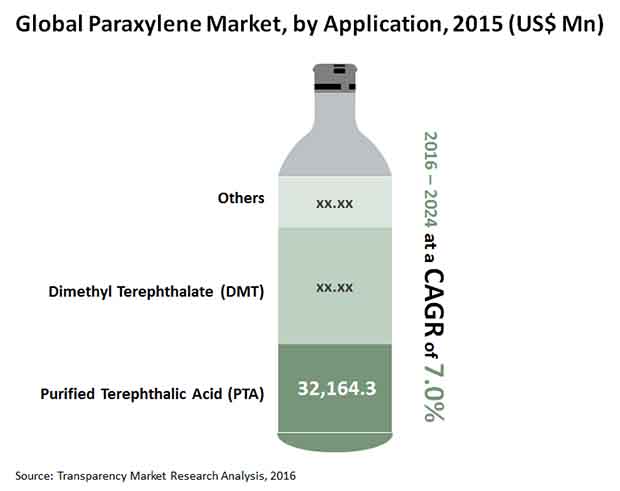 PTA See Swift Uptake due to High Demand
By application, the market is divided into PTA and DMT. PTA rose as the overwhelming application portion with a noteworthy market share. Various uses incorporate dissolvable. For all intents and purposes, PTA is the sole driver for item demand as around 97% of the all PX demand goes into PTA manufacturing.
Extreme demand for PTA in polyester application is giving considerable development potential to this item section. PET is generally used in packaging and bundling of soda pops. Development in drink industry alongside improvement in bundling and packaging advances is projected to create demand for PTA over the coming years.
In contrast with DMT, PTA has better manufacturing financial matters and lower capital cost which makes it a favored feedstock for various end-use businesses. Polyester makers lean toward PTA over DMT inferable from its financial nature which is confining development of DMT application. Nonetheless, demand from assembling of designing polymers, for example, polybutylene terephthalate is foreseen to push development of DMT over the estimate time frame.
Expanding utilization of bio-based paraxylene in bioplastics PET bottles (Bio-PET) and different bioplastics applications, for example, providing food utensils is making new open doors for the Paraxylene market.
Asia Pacific, Powered by China, Leads Market
Asia Pacific is leading the market for Paraxylene followed by Europe and North America, Latin America, Middle East and Africa, and RoW are the fastest-growing Paraxylene markets in recent years. Country wise, China, India, and the U.S. have some of the largest paraxylene market. China held the largest market share in terms of regional consumption of paraxylene. The size of the peracetic acid market is relatively low in the RoW region. However, it is expected to witness healthy growth throughout the forecasted period, especially in petroleum-rich countries of the Middle East.
Some of the key vendors operating in the global paraxylene market are Sinopec Corporation, China National Petroleum Corporation, BP plc, Exxon Mobil Corporation, and JX Nippon Oil & Energy Corporation, among others.
Increasing Demand for bio-based PET products will bolster Paraxylene Market
Rising interest for normal substitutes to customary items and advancement of bio-based items are projected to hamper development of the market for paraxylene in not so distant future. PX being respectably risky to oceanic life forms and climate, a few administrative bodies carefully screen creation units to control plant-produced emanation. Rising worries about non-superfluity of PET and costs of sap are making prerequisite for bio-based PET. This is pushing makers to create bio courses to PX and PTA, which are key crude materials for PET. Significant clients of PET, for example, PepsiCo and Coca-Cola have declared joint endeavors and associations with sustainable substance innovation designers like Virent, Gevo, and Avantium.
Expanding interest for polyester and fiber tar from different organizations is projected to move thing demand throughout the next few years. Quick advancement famous for polyester surface is going probably as a significant market driver. Rising interest for sifted terephthalic corrosive (PTA) in polyester creation measure is required to offer fillip to the paraxylene market. The huge utilization of PET holders among individuals, particularly in creating locales of Asia Pacific, is highlighting the market development. The rising take-up of PET holders, credited to them being viewed as protected and prudent, in the food and refreshments industry is boosting the market. The broad take-up of polyester in the material business world over has reinforced the interest for paraxylene.
The generous use of paraxylene in making PTA which is a key crude material for making PET gives a strong supporting to the fast extension of the market during the figure time frame. The boundless take-up of PET in various applications in the material business is a key factor boosting the market. The utilization of paraxylene in production of goods, specialized materials, and dress, is significantly adding to the by and large worldwide incomes on the lookout. The appealing development of the market will be supported by the quick walks being taken by the material business across the globe.
Global Paraxylene Market: Methodology and Scope
Paraxylene is an aromatic hydrocarbon, which is used as feedstock to manufacture industrial chemicals, notably purified terephthalic acid (PTA) and dimethyl terephthalate (DMT). PTA and DMT are further employed in the manufacture of polyethylene terephthalate (PET) polyester. PET is used to produce bottles, which are widely used as containers for soda, water, and other beverages due to the superior physical attributes of PET. PET is shatter resistant, strong, and light in weight.
PET/Polyester is available in various forms such as filaments, staple, and fiberfill. It is used in clothing, furnishings, and technical textiles. Polyester is mostly preferred over cotton and other natural fibers due to its low cost and easy availability. PET possesses high strength-to-weight ratio and is non-reactive to food and beverages. It is a transparent thermoplastic; therefore, it is preferred in food packaging. Demand for PET is expected to increase in the F&B packaging market due to the rise in population, changing lifestyle, and growth in disposal income. This is anticipated to drive the paraxylene market in Asia Pacific. Fuelled by significant gains, PTA and PET producers in Asia Pacific have started to expand rapidly, the production capacity which is likely to exceed the demand in the next few years.
This study examines, estimates, and forecasts the global paraxylene market in terms of volume (kilo tons) and revenue (US$ Mn) from 2015 to 2024. Market numbers given in the report describe the demand for global paraxylene, but not production. The paraxylene report also analyzes several driving and restraining factors and their impact on the market during the forecast period.
Primary research represents the majority of our research efforts, supplemented by extensive secondary research. We studied key players' annual reports, press releases, product literature, and appropriate documents for market understanding and competitive analysis. Secondary research also includes a search of technical writing, recent trade, internet sources, and statistical data from trade associations, government websites and agencies. This has proven to be the most reliable, effective, and dynamic approach for acquiring precise market data, identifying business opportunities, and understanding industry participants' perceptions.
Secondary research sources that are typically referred to include broker reports, corporation websites, stockholder presentations, Securities & Exchange Commission filings, financial reports and regulatory databases, national government documents, statistical databases, and market reports, news articles, press releases, and webcasts specific to companies operating in the market. Secondary sources referred for this study include PlasticsToday, Plastics Business magazine, Factiva, ICIS, Chemical Week Magazine, Chemical Business Magazine, Hoover's, and company presentations.
Global Paraxylene Market: Segmentation
The report provides comprehensive analysis of the paraxylene market by key applications. It segments the market into the following key applications: purified terephthalic acid (PTA), dimethyl terephthalate (DMT), and others (solvents, etc.). The report also segments the market based on major topographies into North America, Europe, Asia Pacific, Latin America, and Middle East & Africa. The report further provides volume and revenue for each application segment for each region.
Based on application and country, the report examines the attractiveness of each segment with the help of an attractiveness tool. The study comprises value chain analysis, which provides enhanced understanding of key players in the supply chain (from raw material producers to end-users). Additionally, the study examines market competition through Porter's Five Forces Analysis.
Global Paraxylene Market: Competitive Landscape
The report includes an outline of the market share of key companies in the global paraxylene market. Market share of companies has been derived based on production by manufacturers of paraxylene. Key market players profiled in the study include BP plc, Exxon Mobil Corporation, Sinopec Corporation, China National Petroleum Corporation, S-Oil Corporation, JX Nippon Oil & Energy Corporation, Reliance Industries Limited, Jurong Aromatics Corporation, CNOOC Limited, Lotte Chemical Corporation, and BASF SE. Profiles of key players include vital parameters such as financial overview, business strategy, company overview, and current developments.
The report segments the global paraxylene market as follows:
Paraxylene Market – Application Analysis
Purified Terephthalic Acid (PTA)
Dimethyl Terephthalate (DMT)
Others (solvents, etc.)
Paraxylene Market – Regional Analysis
North America
Europe

France
UK
Spain
Germany
Italy
Rest of EU

Asia Pacific

China
Japan
ASEAN
India
Rest of APAC

Latin America

Brazil
Rest of Latin America (LATAM)

Middle East & Africa

GCC
South Africa
Rest of Middle East & Africa (MEA)
Custom Market Research Services
TMR offers custom market research services that help clients to get information on their business scenario required where syndicated solutions are not enough.
REQUEST CUSTOMIZATION