Organic Yogurt Market
Organic Yogurt Market (Product Type - Plain Yogurt, Flavored Yogurt; Distribution Channel - Specialty Stores, Modern Trade, Convenience Stores, Traditional Grocery Stores, Online Store, Other Distribution Channel; Form Type - Spoonable Yogurt, Drinkable Yogurt) - Global Industry Analysis, Share, Size, Growth, Trends and Forecast 2017 - 2022
Category :

Food & Beverages

Format :
Organic yogurt is a good source of fats, proteins, vitamins, carbohydrates as well as numerous minerals. It is considered as a super food owing to its huge health related benefits. It can be prepared from cow milk or goat milk. When using cow milk the nutrition value it provides is enhanced even further and whey proteins, magnesium, calcium, omega 3 fatty acids, vitamin D, probiotics, potassium and other enzymes content is maximized. The advantages of organic yogurt is associated with healthy metabolism of the body, healthy blood pressure and a healthy triglyceride level.
Transparency Market Research, in its new report on global organic yogurt market, has included several research insights associated with this market. These include numerous trends, developments in manufacturing, various key players or manufacturers, drivers impacting growth of the organic yogurt market as well as few restraints. Moreover, a future projection for the period of five years has been covered which includes forecasts on every segment of the organic yogurt market.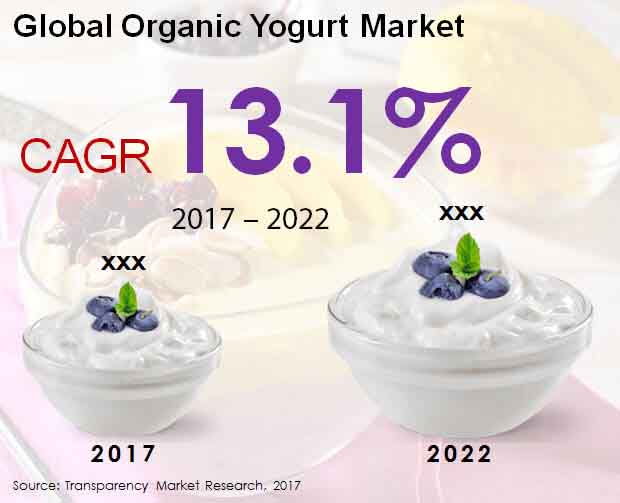 According to this analytical research report, the global market for organic yogurt is predicted to expand at a stellar CAGR during the period of forecast and is anticipated to reach a valuation of around US$ 15.5 Bn by 2022 end.
Specialty Stores Seems to be a Good Choice for Organic Yogurt Distribution
The specialty stores segment by distribution channel is anticipated to be a potential channel for the distribution of organic yogurt market. This segment has been a much preferred choice since last few years. During the course of 2012-2016, specialty stores gained high traction for distribution of several products in food and beverage sector. In case of organic yogurt, in 2017, specialty stores marked a remarkable valuation and dominated other distribution channels in terms of market share. This is expected to grow over the next few years and the specialty stores segment is estimated to reach a noteworthy value of more than US$ 4 Bn by 2022 end. It is also expected to gain the highest BPS during this period. The modern trade segment in the distribution channel category is also catching steam. It is the second largest segment by value share and growth rate.
Spoonable Yogurt is a High Selling Product
Spoonable yogurt is highly preferred by consumers. It is convenient to consume, store and carry. The spoonable yogurt segment by form type is a highly potential category produced on a large scale. The growth of spoonable yogurt segment is high and during the forecast period of 2017-2022, spoonable yogurt segment is expected to reflect a robust CAGR of 14.4% to reach a significant market value by 2022 end.
Competitive Analysis
The extensive market research report on organic yogurt includes analysis on various key players operating in the yogurt industry. Details such as company overview, key financial aspects such as market share and valuation, product portfolio, new product innovations, development in manufacturing techniques, a complete SWOT analysis, geographical reach, etc., of the key players has been covered in this section. The in-depth research report has profiled major players such as Aurora Organic Dairy, Ben & Jerry's Homemade Inc., Wallaby Yogurt Company, Inc., Horizon Organic Holding Corp., Kroger Co., Purity Foods, Inc., Safeway Inc., Stonyfield Farm, Inc., Whole Foods Market Inc., and BJ's Wholesale Club.
Increasing Popularity among the Global Populace to Accelerate the Growth Prospects of the Organic Yogurt Market
The evolving food preferences of a massive chunk of the populace are urging the players in the food and beverage sector to tweak their existing products or launch novel products that bode well with their choices. The growing inclination of the global populace toward organic foods is also a popular trend that will keep growing.
Organic food products are consumed by consumers due to their authenticity, good nutrition composition, and superior quality. Organic yogurt is one of them. Based on the aforementioned factors, the global organic yogurt market is expected to gain tremendous growth opportunities across the forecast period of 2017-2022.
Organic yogurt is lower in fats than traditional yogurt. They do not contain lactose, unlike traditional yogurt which has lactose. These yogurt types are the perfect choices for people having lactose intolerance. Vegans also prefer organic yogurt. Thus, all these factors help in boosting the growth prospects.
The health benefits attached to organic yogurt will serve as a prominent growth generator during the assessment period. The expanding popularity of fitness among a substantial chunk of the populace will serve as a vital growth factor for the organic yogurt market. This yogurt type enhances the fat loss mechanism. Furthermore, it also assists in eliminating chronic pain problems. Therefore, all these factors will boost the growth prospects.
The novel coronavirus pandemic has a minimal impact on the food and beverage industry since the production of food products was exempt from the stringent lockdown measures taken by the government bodies of numerous countries to contain the spread of COVID-19. Organic yogurt is said to have immunity-increasing properties. Immunity plays a crucial role in tackling COVID-19. Hence, this aspect is leading to an increase in sales, eventually adding extra stars of growth to the organic yogurt market.
The comprehensive research report titled "Organic Yogurt Market (Product Type - Plain Yogurt, Flavored Yogurt; Distribution Channel - Specialty Stores, Modern Trade, Convenience Stores, Traditional Grocery Stores, Online Store, Other Distribution Channel; Form Type - Spoonable Yogurt, Drinkable Yogurt)- Global Industry Analysis, Share, Size, Growth, Trends and Forecast 2017-2022" by Transparency Market Research assists the reader in devising and implementing key strategies with a view to gain stability in the market with changing dynamics and also gain an edge over the competition. The research report includes vital forecast projections of five years down the line which can give a realistic picture of the global organic yogurt market.
The Research Report Includes a Holistic Approach
Research report on organic yogurt market includes a global perspective. Important regions across the globe are covered and the trends, developments, drivers, restraints and challenges impacting the growth of the market across these important geographies are studied. This delivers a 3600 perspective to the reader which can assist him/her in gaining intelligence on various regional markets for organic yogurt. Various revenue pockets can be identified with the help of this research study and regions with high potential can be identified. Moreover, the global analysis is carried out without biasness which delivers the much needed value addition to the reader.
Unique Research Methodology Implemented
Transparency Market Research implements a one of a kind research process to garner key insights of the market. This research methodology has two main arms, namely, primary research and extensive secondary research. Secondary research is used to gain a clear market understanding based on which the entire market is segmented and major players are identified. At the same time, primary research is carried out in parallel to the secondary research, with respect to the region, distribution channel, and product type. Several primary interviews with opinion leaders, key market observers and experts are conducted during which each data point gathered in the secondary research is cross verified. Moreover, the data and statistics obtained from one primary interview is again verified in the second and this process continues till the completion of the final research study. These multiple validation and verification funnels ensure high accuracy of the researched data thus giving a real perspective to the reader.
Competitive Assessment is Vital to Understand Growth Path
This research report covers an in-depth competitive landscape in which key players are profiled. Various manufacturers involved in the organic yogurt are assessed. Their key financials, general company overview, weighted SWOT analysis, key developments, innovations, geographical spread and strategies are studies and have been skilfully crafted in this comprehensive research report. This can support the reader in making informed decisions and slate key strategies. The pulse of the market is revealed in this section which can help the reader in implementing key tactics to gain competitive advantage.
Such an in-depth, comprehensive research study delivers the much needed value addition, with unbiased statistical analysis and key recommendations which can be used to plan future expansions and improve current position in the market in a particular region. Just a click away, the reader can gain intelligence on key companies and entire market segmentation across regions. All the data and insights are skilfully crafted and presented in a systematic order for reader's convenience.
Market Taxonomy
The global research report on organic yogurt includes weighted market segmentation which covers product type, distribution channel, form type and region.
Region

North America
Latin America
Europe
Japan
APEJ
MEA

Product Type

Plain Yogurt
Flavored Yogurt

Distribution Channel

Speciality Stores
Modern Trade
Convenience Stores
Traditional Grocery Stores
Online store
Other Distribution Channel

Form

Spoonable Yogurt
Drinkable Yogurt
Custom Market Research Services
TMR offers custom market research services that help clients to get information on their business scenario required where syndicated solutions are not enough.
REQUEST CUSTOMIZATION