Organic Soups Market
Organic Soups Market- (Product Type - Soup Pre-mixes, Ready to Serve Wet Soup, Condensed Wet Soup; Ingredient - Tomato Soup, Beans Soup, Chicken Soup, Beef Soup, Artichokes Soup, and Mixed Vegetables Soup; Sales Channel - HORECA, Modern Trade, Convenience Stores, and Online)–Global Industry Analysis, Size, Share, Growth, Trends and Forecast 2017 - 2022
Category :

Food & Beverages

Format :
Organic Soups Market Digs Deep for Natural Ingredients
Organic soups market is likely to experience a healthy growth, thanks to a growing awareness about unnatural lifestyle and its extreme side-effects. Many food items today like poultry chicken are brought to the dinner table in a nick-of-time with injected hormones and other chemical substances to promote growth. Naturally available substances like fruits are not immune to this trend. Coloring, flavoring, and unnatural growth is also common among fruits. Additionally, it is not entirely possible to reverse this trend. Commercial agricultural spaces can only bring a mass-produced food products at cheap price. Hence, the growing awareness about these trends are resulting in increased opportunity for players in the organic soups market.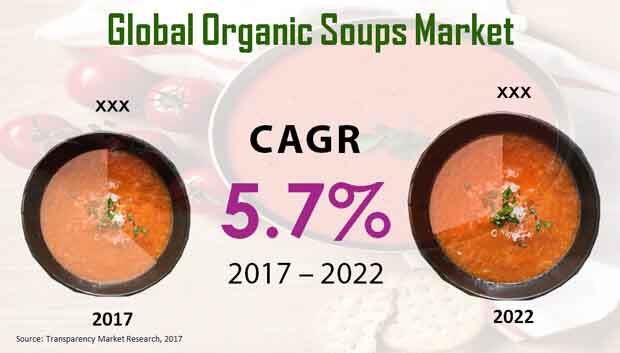 The global organic soups market was valued at US$1,895.5 Mn in 2017. It is predicted to reach US$2,497.8 mn by 2022 end. Due to profound changes in the dynamics of commercial agriculture, thanks to growing demand for organic food, the market is estimated to expand at a CAGR of 5.7% between 2017–2022.
Wet Soup to Drive Growth for the Organics Soups Market
The organic soups market includes main product segments such as ready to serve wet soups, soup pre-mixes, and condensed wet soups. The serve wet soup accounted for 32.5% share of the total revenues in the organic soups market in 2017. The share was valued at US$ 615.1 mn. The segment is expected to rise, thanks to the growing demand for ready-to-eat foods. The segment is predicted to rise at 6.1% CAGR to US$ 615.1 mn over the forecast period. The segment is expected to register an astounding US$ 42.4 Mn year-over-year growth during 2017-2022.
The relatively higher costs of products in the organic soups market are still keeping them from bursting onto mainstream. However, this is expected to bring more consolidation in the near future and result in more quality products in the long run. Additionally, packaging in the organic soups market makes way for facilitating easy storage and convenience in cooking. Furthermore, key players in the organic soup market are also working on increased quality, flavor, and inclusion of nutrients to create more opportunities in the organic soups market.
Growing Demand for Read-to-eat Soups Propels the Organic Soups Market
Growing sedentary and busy lifestyle are leading to an increased attraction of healthy lifestyle. Additionally, soups are a low-cost starter on the menu, which can also be consumed during short breaks, to improve daily nutrient intake. Furthermore, ready-to-eat products like steaks and other various fast food items are on the rise. This is expected to lead to a major growth in the organic soups market.
The rising demand for food products in emerging economies of Asia Pacific are also expected to drive revenue growth for the organic soups market. Countries like India and China are witnessing a major rise in food production, demand for ready-to-eat products, and growing disposables income. The growing private infrastructure such as retail chains, and e-commerce in Asia Pacific are also expected to create new opportunities for all players in the organic soups market.
Multiple Health Benefits to Drive Demand in the Global Organic Soups Market
Over the forecast timeframe, the global organic soup market is anticipated to benefit from increasing demand for convenience foods products. In addition to that, rising consumption of various meal replacements by people seeking safe food alternatives is likely to augur well for the market. Organic soups are made from organically grown produce and are processed without any synthetic additives, which is likely to make them a healthier alternative to traditional soup.
Due to many health benefits, such as a reduced risk of chronic diseases and allergies, the global organic soups market is predicted to expand significantly during the forecast timeframe. Intake of genetically modified or GM ingredients in soup could cause a variety of health problems, such as digestive problems and food poisoning. As a result, during the period of evaluation, these factors are expected to push consumers toward organic soup. Furthermore, trends in changing lifestyle and urbanization have prompted customers to shift to convenience foods products, wholesome meal options, and ready-to-drink beverages. These factors are likely to foster growth of the global organic soups market in the years to come.
Growth of the Market to be Influenced by Increased Awareness about Unhealthy Lifestyle
Because of an increasing awareness of unhealthy lifestyles and its adverse side effects, the organic soups market is expected to expand at a healthy rate. Many foods products, such as chicken and poultry items, are now presented on the dinner table with injected chemical substances and hormones to encourage growth. This trend extends to even naturally occurring substances such as fruits. These fruits are also prone to flavoring, coloring, and abnormal growth. Furthermore, reversing this trend is also not completely possible. Commercial farm spaces can only provide low-cost, mass-produced meals. As a result of greater understanding of these trends, players in the global organic soups market come with more opportunities.
Global Organic Soups Market: Snapshot
The report on the global organic soups market offers in-depth insights into key trends and factors shaping the market dynamics. The study offers a through overview of various segments, current and emerging opportunities, and notable consumption trends in various regions. The research evaluates various key factors driving the prominent segments, their market prospect, and the strategic dynamics of major players. Recent development trends pertaining to ingredient sourcing and technological advancements in processing are analyzed in detail in the study. The findings offered in the study help market participants identify new revenue streams. Innovative measures taken by manufacturers of organic soups to tap into emerging opportunities are also covered in the analysis, which will help players formulate evidence-based strategies for their growth.
The estimated valuation of the global organic soups market is US$1,895.5 Mn in 2017 and is expected to register a CAGR of 5.7% from 2017 to 2022. Rising at this growth rate, the worldwide market is anticipated to reach US$2,497.8 Mn by the end of the forecast period.
Global Organic Soups Market: Dynamics
The report offers an elaborate assessment of key drivers and restraining factors, notable trends and prominent opportunities, share and size of various segments, and competitive landscape. The study tracks key shifts in strategies of market players along with the game-changing strategies adopted by leading players to maintain their dominance. The intensifying focus of populations world over for consuming packaged soups that are sourced naturally, high on nutritional benefits, and are convenient to store and make has been a crucial factor leading the demand for organic soups.
A number of grocery retailers adopting innovative merchandising strategies is a prominent trend expected to accentuate the global organic soups market. Incorporation of healthier and fresher ingredients and shunning GMO foods has bolstered the demand for organic soups in major regions. The use of herbs and the addition of supplemental ingredients, including extra fiber, is expected to cut across the taste of consumers. The introduction of time-honored flavors using a variety of medicinal plants is catalyzing the demand for organic soups.
Global Organic Soups Market: Segmentation
The report provides a detailed segmentation of the market and offers their market sizing. The study evaluates key factors driving the prominent segments and assesses their role in boosting the demand for organic soups over the forecast period of 2017–2022. It captures the revenue held by various segments such as product type, ingredient, and sales channel and offers a comparative analysis of their prominence in major regions.
Based on ingredient type, the report segments the organic soups market into tomato soups, beans soups, chicken soups, beef soups, artichoke soups, mixed vegetable soups, and others. On the basis of sales channel, the report segments the market into HORECA, modern trade, convenience stores, online stores, and others.
On the basis of product type, the report segments the market into soup pre-mixes, ready to serve wet soups, condensed wet soups, and others. Of these, the ready to serve wet soup holds the major share 32.5% in 2017, amounting to US$ 615.1 Mn of the market. The share is expected to increase incrementally and reach US$ 826.9 Mn by 2022 end. The segment is projected to rise at a CAGR of 6.1% during 2017–2022.
The major regional markets are North America, Latin America, Middle East and Africa, Europe, APEJ, and Japan. Among these, the North America market for organic soups holds the major revenue currently and is expected to maintain its dominance in the next few years as well. The regional market is valued at US$ 591.7 Mn in 2017 and is projected to expand at the dominant CAGR of 6% during 2017 – 2022. The market will reach to US$ 793.4 Mn by 2022 end.
Companies profiled in the report are:
The study provides a detailed profile of various players and analyzes key strategies adopted by major players to consolidate their shares in the coming years. Leading players profiled in the report are Campbell Soup Company, the Kraft Heinz Company, Unilever PLC, Wolfgang Puck Worldwide, Inc., Trader Joe's Company, Blount Fine Foods, Amy's Kitchen Inc., Hain Celestial Group, Kettle Cuisine, LLC., and General Mills, Inc.
Custom Market Research Services
TMR offers custom market research services that help clients to get information on their business scenario required where syndicated solutions are not enough.
REQUEST CUSTOMIZATION