Organic Pasta Market
Organic Pasta Market (Source: Wheat, Rice, Legumes, Buckwheat, Oats, Others; Product: Penne, Spaghetti, Elbows, Fettuccine & Linguine, Filled Pasta, Others; Packaging: Boxes, Trays, Packets & Pouches; Category: Fresh, Dried; Distribution Channel: Direct (B2B), Indirect (B2C) (Hypermarkets/ Supermarkets, Convenience Stores, Discount Stores, Food and Drink Specialty Stores, Independent Small Groceries, e-Commerce (Online Retail))) - Global Industry Analysis, Size, Share, Growth, Trends, and Forecast 2019 - 2029
Category :

Food & Beverages

Format :
Organic Pasta Market: Organic Wheat Pasta to Become Popular Choice for Kids
A lot of parents are health conscious, and keep a close watch on the eating habits of their children. Since the early years of toddlers and kids determine their health curve, parents are encouraging growing kids to consume nutrient- and vitamin-rich food for better physiological and cognitive development.
However, most kids are reluctant to try out and develop a taste for healthy food, and keep demanding interesting flavors. The trick that parents follow is camouflaging the healthy ingredients in food, such as including flavorsome sauces in organic pasta. Players operating in the organic pasta market are introducing products that are wholly-organic and chemical-free.
On a global level, wheat pasta is projected to account for a volume sales of ~54 million tons by the end of 2019. As such, manufacturers in the organic pasta market are introducing added nutrition in their products, such as fiber-rich nutrients that provide healthy growth minerals such as iron, manganese, selenium, and copper in the child's diet. Organic pasta market players need to create more awareness about the health benefits of organic wheat pasta, and educate consumers about unadulterated and chemical-free product offerings.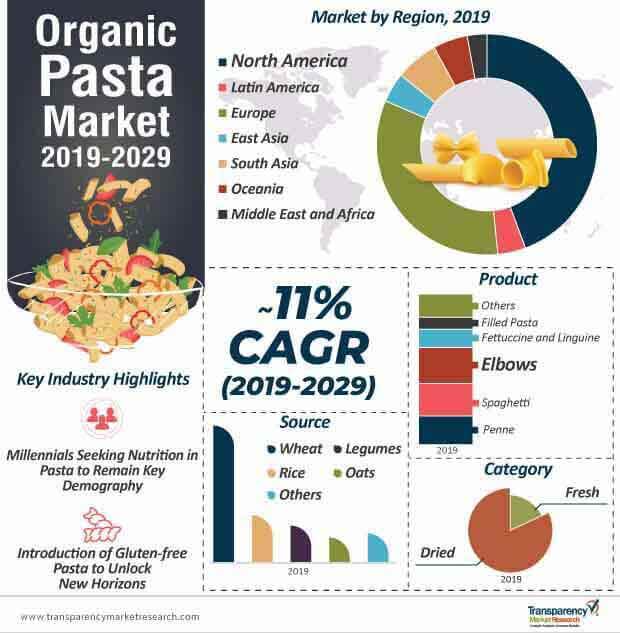 Request a sample to get extensive insights into the Organic Pasta Market
Clean-label Enzymes Influence Customer Purchase Decisions in the Organic Pasta Market
Manufacturers in the organic pasta market are investing on the production of non-stick organic spaghetti pasta by developing an enzyme that helps stabilize overcooked pasta. This enzyme helps improve the cooking tolerance of pasta, which could aid manufacturers in saving cost on raw materials. Adding the enzyme while preparing any organic pasta helps prevent the pasta from sticking together even when cooked for more time. For instance, in December 2018, Mühlenchemie GmbH & Co. KG — a leading flour treatment company, announced the launch of Pastazym PD — a 'clean label' enzyme that helps in exceptional stability in cooking pasta, even under extreme conditions.
Fluctuating wheat quality, restricted availability of high-quality hard wheat, and unsteady prices of raw materials force manufacturers to resort to soft wheat mixtures that affect the quality of organic pasta. Thus, players of the organic pasta market can build strategic partnerships with flour treatment companies and devise marketing tactics such as free sampling of the enzyme along with organic pasta products. This strategy can have a positive influence on the purchase decisions of customers.
To understand how our report can bring difference to your business strategy, Ask for a brochure
Increased Promotion and Gluten-free Offerings to Trigger Growth of the Organic Pasta Market
In order to offer added value to consumers, manufacturers are increasing their organic farming capacities. Also, there is the need for increased marketing and promotion of organic pasta, highlighting its health, safety, and sustainability attributes. Increased promotion will help reduce the adverse effects of stringent supply chain policies, and will help manufacturers in making their products more accessible to broader sections of the population, thus increasing its penetration in the organic pasta market.
There is the growing need to portray a positive image for dry pasta products, as they are becoming less popular in light of other alternative products and substitutes such as fresh pasta, rice pasta, ready-to-serve soups, cereals, and grains. Since consumers have a general perception that pasta is fattening, difficult to digest, and complicated to cook, market players need to devise communication strategies that highlight the health benefits of organic pasta. As such, manufacturers are triggering the increased demand for organic pasta by introducing gluten-free and whole grain ingredients in ready-to-serve products.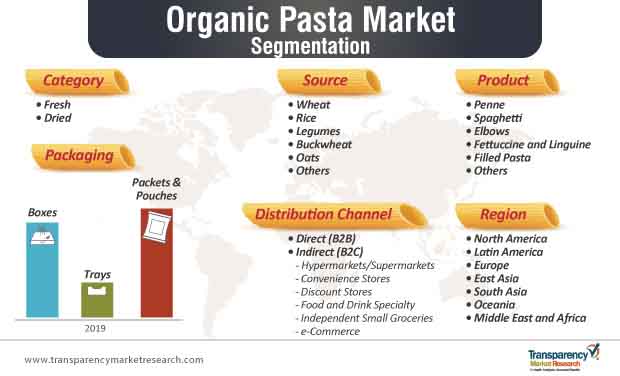 Stuck in a neck-to-neck competition with other brands? Request a custom report on "Organic Pasta Market "
Analysts' View on the Growth of the Organic Pasta Market

The comprehensive market study done by our analysts at Transparency Market Research on organic pasta market sheds light on the high growth areas of the landscape. Innovative offerings such as organic pasta made from legumes, lentils, beans, and carrots are being seen in the market. Stakeholders are investing in rigorous research and development to experiment with 3-D (3 Dimensional) printed pasta. Due to stringent environmental regulations, manufacturers are adopting traditional procedures of producing organic pasta to prevent soil degradation, reduce agro biodiversity loss, and minimize the usage of non-renewable resources. Thus, market players should produce chemical-free organic pasta and raise awareness about gluten-free pasta, as well as educate consumers about the various health benefits of dry organic pasta.
According to Transparency Market Research's latest market report on the organic pasta market for the historical period of 2014-2018 and forecast period of 2019-2027, globally, revenue generated by the organic pasta market is estimated to reach ~417 million in 2019, and expand at a CAGR of ~11% in terms of value throughout the forecast period.
North America Stands Out in Terms of Sales and Growth
The production of pasta has been high in Europe, followed by North America. However, consumption wise, the U.S. has been significant in the pasta market. The same trend has been observed in the organic pasta market. The U.S. has the highest consumption of organic pasta, and also enjoys prominent growth in the organic pasta market. This is owing to the demand for organic products being high in North America, and consumers being highly aware of the products that are being launched in the market.
In South Asia and East Asia, the demand for organic pasta remains low due to many reasons, but the main being unawareness and high price of organic pasta. However, the demand is expected to rise in the coming years at a high growth rate. The consumption of organic pasta is high in the Middle East in the foodservice sector, as consumers are willing to pay premium prices for clean label products.
Millennials the Main Driving Force for Organic Pasta Market Growth
Manufacturers are also gradually shifting towards the production of organic pasta instead of the conventional one. This change is with respect to the changing consumer demand for clean label products and transparency in the supply chain of the products that they consume.
Increasing awareness among millennials is paving the way for trends such as organic, non-GMO, vegan, and many more. A majority of the consumers of organic pasta are millennials.
Health Attributes of Organic Pasta Influencing Purchase Decisions
Consumers are more interested in products that have certifications and claims such as organic, vegan, non-GMO, made from vegetables, etc., as compared to the regular products that are available in the market.
28% of the consumers in the U.S. who shop for food and beverages look for the 'organic' label on products. Thus, the organic pasta market has been on the rise, owing to the rising demand for clean label products among consumers.
Manufacturers Re-Branding Organic Pasta Products to Attract More Consumers
The marketing of products plays a crucial role in increasing consumer awareness about various products that are available in the market. It is very crucial to recognize the needs of consumers and project various products accordingly to fulfill these.
Thus, organic pasta manufacturers are re-branding their products and improving their marketing strategies for these. Also, unique brand images are being created for these organic pasta products, which has led to consumers knowing the brand rather than the company.
High Prices Restraining Market in Developing Countries
Price remains a major factor that is hindering the growth of the organic pasta market in developing countries. Organic pasta, which is priced higher, enjoys good sales in North America, and Europe. However, in developing countries such as Mexico, India, Turkey, China, etc., the demand for organic pasta is comparatively low.
This is due to low disposable incomes and consumer awareness. However, in the coming years, the demand for organic pasta in South Asia is expected to gain traction at a growth rate of 10.5% in terms of value.
Organic Pasta Market: Competitive Landscape
Key manufacturers such as Barilla Group, Ebro Foods Inc., and TreeHouse Foods Inc., in the organic pasta market, are trying to increase their global presence in developing countries. Tier I players include
Barilla Group
Ebro Foods Inc.
TreeHouse Foods Inc.
George DeLallo Company
Dakota Growers Pasta Co.
Windmill Organics, etc.
which account for more than five percent of the global players present in the organic pasta market. Tier II players include
MXO Global, Inc. (Tolerant Organics)
Mizkan America, Inc.
Seggiano
Pastificio Felicetti S.p.a
Pastificio Lucio Garofalo S.p.A.
Bionaturae, LLC
some other players.
Tier III usually consists of unorganized players in the organic pasta market.
Organic Pasta Market: Key Developments
Some of the key developments seen in the organic pasta market during the past few years are as follows:

In 2019, a group of designers tried to develop innovative shapes of organic pasta and photographed them for the Milan Design Week. This was a combined effort by two leading pasta manufacturers - Trafile Turconi and Baradello.
Barilla Group also has developed a 3D printer along with Bühler, which generates innovative pasta shapes for sale in the retail market.
Sanrio Co., Ltd. launched organic pasta under the Hello Kitty range to target kids. This was launched in August 2019 along with organic pasta sauce under the Hello Kitty range. The launch was in the U.S., and the products are available through online retail channels and in Hello Kitty Cafés.
Organic Pasta Market - Scope of the Report
Transparency Market Research (TMR) recently published a market study on organic pasta. The study provides detailed assessment on key market dynamics, including the drivers, trends, opportunities & restraints, and detailed information about the organic pasta market structure. The market study presents exclusive information about how the organic pasta market will grow during the forecast period of 2019-2029.
Key indicators of market growth, which include year-on-year (Y-o-Y) growth of the market, value chain, supply chain analysis, and compounded annual growth rate (CAGR) are explained in TMR's study in a comprehensive manner. This information can help readers understand the quantitative growth prospects of the organic pasta market during the forecast period.
The study is relevant for stakeholders in the organic pasta market, including organic pasta manufacturers, suppliers, distributors, and investors, and can help them in developing appropriate strategies to grow in the market. Stakeholders in the organic pasta market, investors, industry experts, researchers, and journalists, as well as business researchers can leverage the information and data presented in TMR's study.
The study also includes statistics as well as facts related to the macro as well as microeconomic factors that are impacting developments in the market. It also offers actionable insights based on future trends in the organic pasta market. Furthermore, small businesses and new entrants in the organic pasta market too can make use of the information presented in this study, based on which, they can make appropriate business decisions in order to gain momentum in the market.
Key Questions Answered in TMR's Organic Pasta Market Report
Which regions will continue to remain the most profitable regional markets for organic pasta market players?
Which factors will induce a change in the demand for organic pasta during the assessment period?
How will changing trends impact the organic pasta market?
How can market players capture the low-hanging opportunities in the organic pasta market in developed regions?
Which companies are leading the organic pasta market?
What are the winning strategies of stakeholders in the organic pasta market to upscale their position in this landscape?
Organic Pasta Market: Research Methodology
In TMR's study, a unique research methodology is utilized to conduct extensive research on the growth of the organic pasta market, and reach conclusions on the future growth parameters of the market. This research methodology is a combination of primary and secondary research, which helps analysts ensure accuracy and reliability of the conclusions.
Secondary resources referred to by analysts during the production of the organic pasta market study include statistics from governmental organizations, trade journals, white papers, and internal and external proprietary databases. Analysts have interviewed senior managers, product portfolio managers, CEOs, VPs, marketing/product managers, and market intelligence managers, who contributed to the development of this report as a primary resource.
Comprehensive information acquired from primary resources and secondary resources acts as a validation from companies in the organic pasta market, and makes TMR's projection on the growth prospects of the organic pasta market more accurate and reliable.
Key Segments of the Organic Pasta Market
TMR's study on the organic pasta market offers information divided into important segments-source, product, packaging, category, distribution channel, and region. This report offers comprehensive data and information about the important market dynamics and growth parameters associated with these categories.
Source

Wheat
Rice
Legumes
Buckwheat
Oats
Others (Fava Beans, Quinoa, etc.)

Product

Penne
Spaghetti
Elbows
Fettuccine & Linguine
Filled Pasta
Others (Angel Hair, Farfalle, etc.)

Packaging

Boxes
Trays
Packets & Pouches

Category

Distribution Channel

Direct (B2B)
Indirect (B2C)

Hypermarkets/ Supermarkets
Convenience Stores
Discount Stores
Food and Drink Specialty Stores
Independent Small Groceries
e-Commerce (Online Retail)

Region

North America
Latin America
Europe
East Asia
South Asia
Oceania
Middle East and Africa
Custom Market Research Services
TMR offers custom market research services that help clients to get information on their business scenario required where syndicated solutions are not enough.
REQUEST CUSTOMIZATION