Online Event Ticketing Market: Introduction
An online event ticketing system is a one-of-a-kind platform that enables ticket sellers to sell tickets online. It is a kind of software that is used to create a one-stop-shop for booking tickets on smart devices. An online event ticketing system is a method of creating a ticket using an application, website, or something similar related to the online system. The online event ticketing system has not only made it easier for buyers, but has made it even easier for vendors. It enabled a streamlined workflow in supporting management, sales, marketing, and support services to trigger the necessary actions for a seamless customer experience. Sellers have access to tools such as real-time analytics, which allow them to track sales and data in the online event ticketing system. Growing usage of online event ticketing software in theatres, clubs, schools and colleges, hotels and restaurants, and other businesses is propelling the global market for online event ticketing.
The COVID-19 pandemic has negatively impacted the online event ticketing market. As a result of lockdown measures imposed by governments to control the spread of the virus, many hotels and theaters have shuttered, causing the ticketing business to suffer. However, as the pandemic is better controlled, internet ticketing markets are likely to see significant trends. This, in turn, is anticipated to create significant opportunities for the online event ticketing market during the forecast period.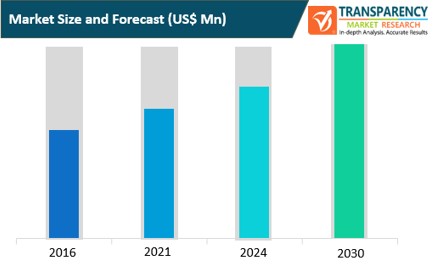 Global Online Event Ticketing Market: Dynamics
Global Online Event Ticketing Market: Key Drivers
Governments globally have been compelled to encourage digital transactions in order to reduce paper usage and save trees. Online platforms for monetary transactions have been implemented by several banking institutions and telecom service providers. Online movie ticket booking services generate e-tickets that may be delivered through email or text message as a result of the growing popularity of paperless transactions. This is projected to fuel the online event ticketing market.
Furthermore, in response to the huge popularity of the internet, many businesses have worked hard to develop new methods to communicate with clients. E-tickets are intended to offer a wide range of applications by provider services, ranging from e-shopping coupons to concert or sporting event tickets. Proliferation of e-tickets indicates a shift in how traditional ticket purchases are made. E-tickets appear to offer agencies a number of benefits, including cheaper costs and improved operational efficiency. These factors are anticipated to boost the online event ticketing market during the forecast period.
North America to Account for Major Share of the Global Online Event Ticketing Market
In terms of region, the global online event ticketing market is divided into North America, Europe, Asia Pacific, Middle East & Africa, and South America.
North America is expected to account for dominant market share over the forecast period due to higher per capita income and growing internet proliferation in countries such as the U.S. and Canada. Additionally, mobile movie ticketing services are likely to become an important revenue-generating industry in North America throughout the forecast period owing to the ease and accessibility of purchasing movie tickets.
Furthermore, the U.S market is expected to develop significantly in the coming years as a result of a growing number of tech-savvy people with increasing disposable incomes. Also, significant demand for convenient ticket purchasing options exists because Hollywood is a well-known entertainment business in the U.S. This has propelled the demand for online event ticketing in the country.
New movie releases result in large lines at theatres for advanced bookings, making India a lucrative market for movie-ticketing service companies. While providing consumers with preferred seating options is typically an optional service in the U.S., it is a requirement in places such as India and China. For instance, according to reports, BookMyShow, a major participant in India, conducts over 35,000 transactions each day and sells over 95,000 tickets in the country.
MEA is anticipated to witness considerable growth in the market during the forecast period. Rapid adoption of smartphones and tablets in countries such as the UAE is anticipated to drive the online event ticketing market growth in the region.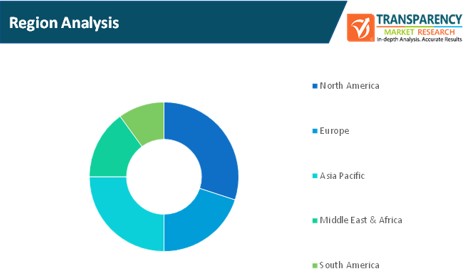 Global Online Event Ticketing Market: Competitive Landscape
Key Players Operating in the Global Online Event Ticketing Market
Providers of online event ticketing solutions are implementing development strategies to enhance their presence and consolidate their share in the market. Online event ticketing providers have adopted major growth strategies such as product acquisitions, partnerships and launches, and forming regional and global distribution networks in order to expand their presence in the market.
Key players operating in the global online event ticketing market include:
AOL Inc.
Anschutz Entertainment Group
Attom Tickets LLC
BookMyShow.com
Brown Paper Tickets
Big Cinemas
Cinemark Holdings Inc.
Cvent Inc.
Eventbee Inc.
Eventbrite Inc.
Eventzilla
Fandango
moshtix Pty Ltd.
Movietickets.com
Razorgator LLC
StubHub Inc.
Thundex Tix
Ticketek Pty. Ltd.
Ticketmaster
Vue Entertainment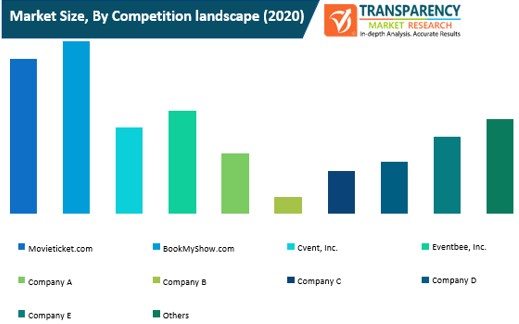 Global Online Event Ticketing Market: Research Scope
Global Online Event Ticketing Market, by Platform
Global Online Event Ticketing Market, by Event
Sports
Music & Other Live Shows
Movies
Global Online Event Ticketing Market, by Region
North America
Europe

Germany
France
Spain
Italy
U.K.
Rest of Europe

Asia Pacific

China
India
Japan
ASEAN
Rest of Asia Pacific

Middle East & Africa

GCC
South Africa
Rest of MEA

South America

Brazil
Argentina
Rest of South America
This intelligence report by TMR is the outcome of intense study and rigorous assessment of various dynamics shaping the growth of the market. TMR nurtures a close-knit team of analysts, strategists, and industry experts who offer clients tools, methodologies, and frameworks to make smarter decisions. Our objective, insights, and actionable analytics provide CXOs and executives to advance their mission-critical priorities with confidence.
The scrutiny of the various forces impacting the dynamics of the market, and key and associated industries, guides enterprises in understanding various consumer propositions. Our clients leverage these insights and perspectives to enhance customer experience in the fast-paced business environment.
All our insights and perspectives are broadly based on 4 Pillars or Stages: ASBC-S, which offer an elaborate and customizable framework for the success of an organization. The essence and the roles of these in organizational successes are highlighted below:
Agenda for CXOs: TMR, through the study, sets the tone for agendas that are pertinent to CEOs, CFOs, CIOs, and other CXO executives of businesses operating in the market. The perspectives help our clients to bridge the gap between agenda and action plan. TMR strives to offer guidance to CXOs to undertake mission-critical activities empowered by various business analysis tools, and boost the performance of the organizations. The perspectives guide you to decide on your own marketing mix that align well with the policies, visions, and mission.
Strategic Frameworks: The study offers how organizations are setting both short-term and long-term strategic plans. Our team of experts collaborate and communicate with you to understand these to make your organizations sustainable and resilient during tough times. The insights help them decide sustainable competitive advantage for each business units.
Benchmarking for Deciding Target Markets and Brand Positioning: The assessments in the study provides a scrutiny of marketing channels and marketing mix. Our various teams work synergistically with you to help identify your actual and potential direct, indirect, and budget competition areas. Additionally, the study helps you decide most effective budgets for various processes and promotional activities. Furthermore, the study guides you to set benchmarks for integrating people and processes with the 4Ps of marketing. Eventually, this will empower you to find out unique propositioning strategies and niches.
Business Composability for Sustainability (C-S): Constant strategy planning for sustainability characterizing our C-S framework in the report has become more relevant than before in the face of disruptions caused by pandemics, recessions, boom and bust cycles, and changing geopolitical scenario. The TMR study offers a high level of customization to help you achieve business composability. Composable enterprises are increasingly gaining the attention of CXOs in order to help them combat market volatility. Our analysts and industry experts help you wade through such uncertainties and guide you to become a smart sustainable business in entirety.
The study presents scrutiny of region-specific consumer and technology trends, including the most recent industry dynamics. These broadly cover but not limited to
North America, South America, and the Americas
Asia Pacific and Japan
Europe
Latin America
Middle East and Africa
The study offers data-driven insights and guidance of several aspects. Some of the more notable questions are:
What are the major recent trends that can influence the product life cycle and the RoI?
Which regulatory trends shape corporate-level, business-level, and functional-level strategies?
Which micromarketing initiatives of leading players will bring in investments?
What can be the best framework and tools for PESTLE analysis?
Which regions will witness rise in new opportunities?
Which are the game-changing technologies being used to capture new revenue streams in the near future?
Which operational and tactical frameworks are being adopted by various players in gaining customer loyalty?
What is the current and expected intensity of competition the market in the near future?
Disclaimer: This market research study is an ongoing effort and extreme care has been taken to maintain the highest levels of accuracy at all stages. However, in the light of the rapidly evolving business dynamics, some region-specific or other segment-specific changes may take time to be part of the study.
Online Event Ticketing Market