Off-Grid Solar Lighting Market
Off-Grid Solar Lighting Market by Type and Geography - Global Industry Analysis, Size, Share, Growth Trends, and Forecast 2016 - 2024
Category :

Energy & Natural Resources

Format :
Off-grid solar lighting products are rapidly becoming the primary mode of illuminating remote areas in developing and under-developed countries where grid infrastructure is either non-existent or is highly unreliable and incompetent. Nearly 18% of the world's population had no access to electricity as of 2013, making the demographic directly dependent on solid fuels such as coal and wood and liquid fuels such as kerosene for lighting purposes.
Of these, kerosene takes a major share and is estimated to account for nearly US$30 bn in expenses directly incurred by millions of households across the globe every year for lighting purposes only. Off-grid solar lighting products are efficient contenders to this supposedly cleaner fuel (as compared to solid fuels such as wood and coal) and are gaining increased attention from governments and consumers alike.
TMR projects that by completely replacing kerosene with off-grid solar power products, the annual costs on lighting incurred by the world's off-grid population can be brought down by 10% to 15%. Savings of this level can have a major impact on the overall development of developing economies. Environmental benefits of switching to a cleaner energy source such as solar power are also vast.
Owing to these factors, governments are focusing on raising consumer awareness about the increased use of off-grid solar lighting techniques and promoting the development of more efficient products by initiating funds and tax-abatements for vendors. The rising prices of kerosene,
Solar Lanterns to Rank High in Consumer Preference List
Solar lantern systems and solar home systems are currently two of the most popular off-grid solar lighting products in the market. Of these, solar lantern systems have been more preferred than solar home systems in the past years, majorly owing to portability, low cost, and fewer constituent elements in these systems, which make their maintenance easy. TMR states that 6.42 mn units of solar lantern systems were sold across the globe. With 3.56 mn units sold in the global market in the same year, solar home systems accounted for a comparatively low share in the market.
Over 2014-2024 as well, solar lantern systems will be the dominant product type and their sales are expected to rise to 47.53 mn units by 2024. Sales of solar home systems are projected to rise to 34.44 mn units by 2024. In terms of revenue, the market for solar lantern systems is expected to rise from US$386.31 mn in 2014 to US$2360 mn by 2024.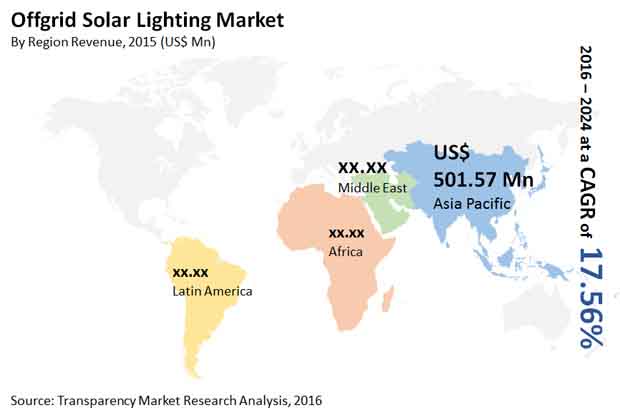 Off-grid Solar Lighting Market in Africa to Closely Follow Asia Pacific
Poor grid infrastructure in several African countries has led to major growth opportunities for the off-grid solar lighting market in the region in the past years. With rising intervention of government and increased awareness among consumers, Africa is expected to emerge as a highly lucrative regional market for off-grid solar lighting products in future years as well. Nevertheless, Asia Pacific will emerge as the leading regional market owing to favorable regulatory platform and provision of direct subsidies for solar lantern systems for household usage. Asia Pacific will account for the largest 50.51% share, Africa will account for the second largest share at 46.63% in the global off-grid solar lighting market by 2024.
The rising consumer base of mobile devices such as smartphones and tablets in Asia Pacific will also boost the consumption of innovative off-grid solar power products capable of charging these products. The unreliable grid infrastructure, frequent power cuts, and complete unavailability of grid in certain remote locations of Asia Pacific will prompt mobile users to go for the cost-efficient and reliable off grid solar products.
In India, which is one of the most lucrative markets for off-grid solar lighting systems with around 260 million households directly dependent on off-grid lighting options, government bodies are taking active measures to increase the adoption of solar lighting systems in remote parts of the country. The Ministry of New and Renewable Energy (MNRE) in India plays a major role in launching public missions such as The Jawaharlal Nehru National Solar Mission (JNNSM), which aims at increasing the adoption of solar home systems in the country to 15 mn by 2022. Meanwhile, Latin America will have a meagre 1.64% share in the global off-grid solar lighting market by 2024 owing to low consumer awareness about the innovative and cleaner solar lighting products.
Off-Grid Solar Lighting Market to Gain Impetus from Increasing Demand and declining Prices of LED lights
Off-grid solar lighting items are quickly turning into the essential method of enlightening far off regions in creating and immature nations where grid foundation is either non-existent or is profoundly inconsistent and clumsy. Almost 18% of the total populace had no admittance to power starting at 2013, making the segment straightforwardly reliant upon strong fills, for example, coal and wood and fluid energizes like lamp oil for lighting purposes.
Significant drivers for the development of the market are developing requirement for energy-effective solar lighting frameworks for interstates, expanding utilization of sustainable power for lighting, rising entrance and diminishing expense of LEDs, and developing interest from creating and arising nations. Moreover, hidden freedoms for this market remember a decrease for the expense of solar lighting frameworks, great government drives, and upgrade in innovative parts of a solar lighting framework.
Worldwide the interest for off-grid solar lighting items is increasing at a critical rate as individuals needs better and progressed lighting choices. In a few locales, particularly in creating districts individuals are exceptionally subject to normal fills like wood, lamp fuel, and coal. In any case, the utilization of these sources have a limit antagonistic impact on the climate. Consequently, off-grid solar lighting items have been presented that will help in limiting the impact of these regular energizes and increment the interest in this market.
The worldwide off-grid solar lighting market is probably going to encounter high development in the several years, yet absence of client mindfulness about this item may hamper the development in this market. Furthermore, restricted accessibility of money and frail dispersion channels are not many other limiting variables that are required to deflect the development of off-grid solar lighting market. In any case, diminishing expense of off-grid solar lighting items and exorbitant costs of lamp fuel particularly in creating locales are probably going to extend the interest for off-grid solar lighting items sooner rather than later.
This research study analyzes the off-grid solar lighting market in terms of volume (million units) and revenue (US$ Mn). The market has been segmented on the basis of type and geography. For the research, 2015 has been taken as the base year, while all forecasts have been given for the period from 2016 to 2024. Market data for all the segments has been provided at the regional and country level from 2015 to 2024. The report provides a broad competitive analysis of companies engaged in the off-grid solar lighting business. The report also includes the key market dynamics such as drivers, restraints, and opportunities affecting the off-grid solar lighting market. These market dynamics were analyzed in detail and are illustrated in the report with the help of supporting graphs and tables. The report also provides a comprehensive industry analysis of off-grid solar lighting with the help of Porter's Five Forces model. This analysis helps in understanding the five major forces that affect the market structure and profitability of the off-grid solar lighting market. The forces analyzed are bargaining power of buyers, bargaining power of suppliers, threat of new entrants, threat of substitutes, and degree of competition.
The high-level analysis in the report provides detailed insights into the off-grid solar lighting business globally. There are currently numerous drivers of the market. One of the most prominent drivers is decreasing cost of off-grid solar lighting products. Market attractiveness analysis was carried out for the off-grid solar lighting market on the basis of revenue realization and industrial growth. Market attractiveness was estimated on the basis of common parameters that directly impact the market in different regions.
The off-grid solar lighting market was analyzed across four regions: Asia Pacific, Africa, Latin America, and the Middle East. These regions are further segmented by country and type of installed off-grid solar lightings globally. Segmentation on the basis of types (solar lantern system (SLS), solar home system (SHS), and large solar home system (LSHS) has been provided for each country and region. Regional data has been provided for each sub-segment of the off-grid solar lighting market.
Some of the key manufacturers of off-grid solar lightings are Koninklijke Philips N.V., OSRAM GmbH, Niwa Solar, Tata Power Solar Systems Ltd., SunnyMoney, Omnivoltaic Power Co. Ltd., WakaWaka, BBOXX Ltd., Sinoware Technology Co. Ltd., and Azuri Technologies Ltd.
The off-grid solar lighting market has been segmented as follows:
Off-grid Solar Lighting Market: By Region
Asia Pacific
Africa
Latin America
Middle East
Off-grid Solar Lighting Market: By Type
Solar Lantern System (SLS)
Solar Home Systems (SHS)
Large Solar Home Systems (LSHS)
Custom Market Research Services
TMR offers custom market research services that help clients to get information on their business scenario required where syndicated solutions are not enough.
REQUEST CUSTOMIZATION

Off Grid Solar Lighting Market