Notoginseng Root Extract Market
Notoginseng Root Extract Market (End Use - Pharmaceuticals, Cosmetics, Health Supplement Products; Form- Powder, Liquid) - Global Industry, Size, Share, Growth, Trends, Forecast, 2018 - 2028
Category :

Food & Beverages

Format :
Fondly known as the miracle root for preservation of life, notoginseng has always nurtured research interests of geroscientists. Beyond the relatively conventional and more commonly sought-after application area, i.e. in anti-aging products, a new research study of Transparency Market Research (TMR) attempts to explore additional functional areas of the extracts of notoginseng root to help stakeholders in the global notoginseng root extract market, spot profitable opportunities.
Global revenues from notoginseng root extract roughly equated US$ 300 Mn in 2018, which are likely to see steady growth in the forthcoming years. Through 2028, the modest rise in global notoginseng root extract consumption is foreseen to account for a just-under 4% CAGR for the market revenues. The demand from end-use segments will continue to revolve around the health trend, which governs a majority of revenue generation channels driven by current consumer sentiments.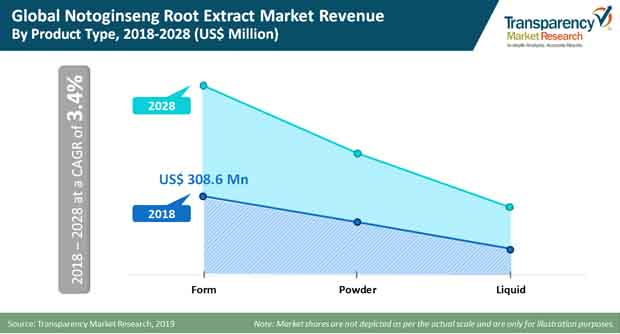 Targeting the ever-expanding health-conscious consumer demographics and eyeing the rapidly surging number of buyers associated with the health supplements category, manufacturers in the notoginseng root extract market are harnessing the growing popularity of 'organic and natural'. With a consistently increasing consumer number seeking products that hold therapeutic potential, TMR projects a fairly optimistic market outlook for the therapeutically effective attributes of notoginseng root extract.
Contemplating Whitespace Opportunities in Pharma, Banking on Therapeutic Excellence
Pro-haemostatic activity of notoginseng root extract has been affirming its benefits in accelerating blood clotting process, which continues to create opportunities for producers in pharmaceuticals industry. However, the recently demonstrated anti-haemostatic properties point to a critical research area that deserves deeper assessment of the possible role of notoginseng root extract in the process of excessive bleeding.
While several pharmacological formulations already include notoginseng root extract as one of the key ingredients, immuno-stimulatory, anti-inflammatory, anti-fibrotic, neuroprotective, vasodialatory, and anti-hypertensive properties of notoginseng root extract further prompt a broader scope of application in years to come.
China's Primacy Pervasive, Importers' Focus Shifting to Non-traditional Territories to Reach Quality Benchmark
China's traditionally popular medicinal herb, notoginseng has been witnessing decently growing traction within the developed regional markets over the recent past. European and North American pharmaceutical industry is cited to generate sizeable demand for high-quality notoginseng root extract. However, looking at the stringent and highly specific complex growth requisites of notoginseng, producers in the market ought to remain focused on the optimization of growth environment for notoginseng so as to deliver the desired quality of its root extract.
Ongoing research studies on identification of the most feasible growth environment and growth cycle of notoginseng for determining and preserving its biological attributes are likely to assist the growth of market further. The pressing demand for high-quality root extracts is compelling companies to reconsider their focus for import, which has been restricted to China's traditional cultivating lands. Surpassing the traditional Chinese cultivators of notoginseng, including Qujing, Honghe, and Kunming, market stakeholders are accelerating a shift toward a few other lucrative areas for high-quality notoginseng production – such as Baise and Wenshan.
Competition Landscape Highly Consolidated, Remains Influenced by Quality Quo
Notoginseng root extract is extensively used by health supplement manufacturers owing to its numerous health benefits and low cost. In addition, increasing reliance on plant-based protein and record amount of spending on wellness and personal care by millennials are also influencing the use of natural ingredients such as notoginseng root extract in health supplement products. Leading notoginseng root extract manufacturers are thus particularly focusing on targeting health supplements manufacturers for their pipelined product sales strategies.
Key players in the notoginseng root extract market are prominently based in China and are currently focusing on shifting to new regional markets that represent flourishing pharmaceutical landscape. On backdrop of maximum potential for health supplements sales and strong presence of globally leading pharma and neutraceutical manufacturers, North America is expected to remain the preferred destination for Chinese players. Europe also remains an important expansion target for producers of notoginseng root extract.
The global market landscape is governed by a few number of notoginseng root extract manufacturers, a majority of which are investing efforts in catering to the billowing demand for high-quality notoginseng root extract. With surge in the demand for high quality notoginseng root extract, companies are focusing on quality evaluation methods to measure the chemical composition of the notoginseng. This evaluation is further likely to help them identify innovative health benefits of notoginseng and explore opportunities in new end-use categories.
For instance, Puritan's Pride, MeiHerb Biotch Co. Ltd., and a few other players are focusing on increasing their customer base to achieve a global footprint. On the other side, manufacturers such as Ginco International, NutraChamps Inc., and The Garden of Natural Solutions Co. Ltd are likely to maintain strategic focus on new, high-quality launches.
From the Analyst's Viewpoint
Widening applicability of organic ingredients is prominently driving global demand for novel ingredients, such as notoginseng root extract. However, producers need to focus on increasing awareness regarding therapeutic benefits of notoginseng and its root extract for a broader outreach in existing as well as new markets. On the other hand, focusing on new cultivation techniques and controlled growth environment will be of paramount importance for manufacturers. Moreover, companies need to diversify focus on product differentiation strategies, as several other healthy substitutes are already witnessing strong gains in the market, such as white tea and green tea extracts.
A new study by Transparency Market Research (TMR) on the notoginseng root extract market offers forecast for the nine-year assessment period, 2019-2028. The report provides in-depth research and detailed insights on the global notoginseng root extract market. The report covers untapped growth opportunities for manufacturers, important factors along with the developments and trends shaping the notoginseng root extract market dynamics and other key insights on various segments in notoginseng root extract market.
This study identifies driving factors and challenges affecting the growth of the notoginseng root extract market. Latest and evolving trends are also included and analyzed in the report to provide exclusive information to the clients about the notoginseng root extract market to help in the decision making process. The report also includes both micro and macro-economic factors that affect the growth of the notoginseng root extract market directly and indirectly.
Key Questions Answered
What are the key factors driving notoginseng root extract market growth?
What will be the market share of powdered form of notoginseng root extract?
Which region or country will account for the largest share in the notoginseng root extract market?
What is the most impactful challenge facing notoginseng root extract market?
What is the market share of leading players in the notoginseng root extract market?
What is the key focus area of key companies operating in the notoginseng root extract market?
To understand the insights on the notoginseng root extract market, the report offers a breakdown of the market in three sections: market analysis by form, by end-use, and by region. The report analyzes the notoginseng root extract market in terms of market volume and market value. In order to get a better idea on key segments in terms of performance and growth of the notoginseng root extract market, TMR provides market attractiveness index. This index should help manufacturers identify real growth opportunities in notoginseng root extract market.
The report provides an overview of the notoginseng root extract market and also includes analysis of drivers, key trends, and challenges from the demand and supply perspective. The report also includes impact analysis of the growth drivers and challenges based on the weighted average model to better understand the market and help in planning future strategies.
The report also sheds light on the competitive landscape in the notoginseng root extract market along with the dashboard view of the leading market players. Company market share and notoginseng root extract industry structure has also been analyzed in this report. The market share of various companies operating in the notoginseng root extract market is provided on the basis of sales across the globe. Sources referred to provide data and insights include investor presentations, company annual reports, press releases, and analyst presentations.
Research Methodology
To estimate the market size, the report focuses on average selling price of notoginseng root across regions. Moreover, information from primary sources have been included to provide appropriate market estimations. The forecast offered in the report provides the revenue that is projected to be generated across the notoginseng root extract market. During market forecast development, sizing up the current market forms the basis on how market will perform in the coming years. We also provided the outcome based on the analysis results which is based on both demand and supply side.
It is important to note that in an ever-fluctuating economy globally, we not only provide forecasts in terms of the compound annual growth rate (CAGR) but also analyze the market based on key factors, such as Year-on-Year (Y-o-Y) growth, to help players identify the growth opportunities in the notoginseng root extract market.
Market Taxonomy
Region

North America

Latin America

Europe

China

APEC

MEA

Form

Powder

Liquid

End-Use

Pharmaceuticals

Cosmetics

Health Supplement Products
Custom Market Research Services
TMR offers custom market research services that help clients to get information on their business scenario required where syndicated solutions are not enough.
REQUEST CUSTOMIZATION

Notoginseng Root Extract Market