Global Night Vision Surveillance Cameras Market: Snapshot
The recurrent incidents of terror strikes have raised an alarm globally, compelling governments to explore technologies offering improved safety to their citizens. The rising cross border infiltration and growing fear of terrorism have created a market for products facilitating perpetual surveillance. As the situation surrounding global security worsens, the demand for night vision surveillance cameras is expected to rise, says TMR.
The increasing demand for secured borders, secured living premises, and secured access surges, will in response bolster opportunities for the global night vision surveillance cameras market. As per TMR, the global market is likely to pace at an exponential CAGR of 26.5% between 2015 and 2024. Benefitting from the growing security concerns and demand for uninterrupted surveillance, the global night vision (IR) surveillance cameras market, which stood at US$22.8 mn in 2015, is expected to reach US$175.8 mn by 2024.
Subsequent to the advent of latest technologies in the market, the price of night vision (IR) cameras is likely to fall at a significant rate. The market is also likely to gain from the increasing competition, as it encourages product innovation.
The demand for night vision cameras is expected to increase in response to the rising construction of smart homes. These homes are in general integrated with technologies that enable to control and detect any criminal activities. Gaining impetus from demand for advanced protection of offices, homes, and properties, the global night vision (IR) surveillance cameras market is poised to surge exponentially.
However, as online shopping makes inroads into lives of consumers, sellers are likely to emphasize more on aggressive pricing strategies. This could have an adverse impact on the market's trajectory during the forecast period.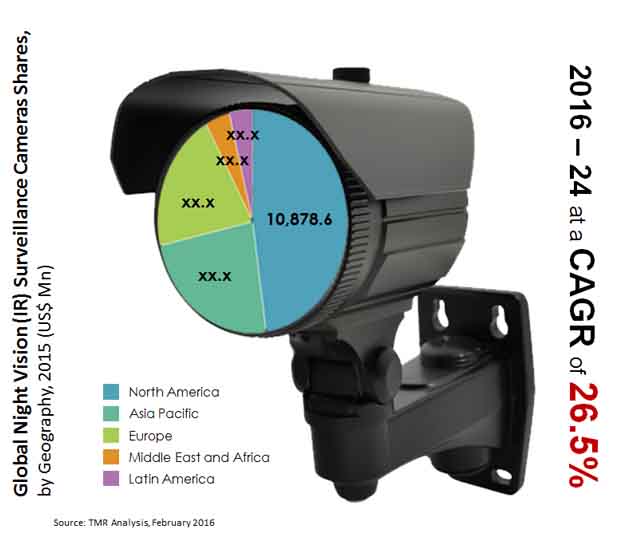 Defense and Public Sector Exhibits Highest Deployment of Night Vision Surveillance (IR) Cameras
Demand for night vision surveillance cameras is highest in the defense segment and the public sector. The recent instances of terror attacks on critical infrastructure, have brought their safety concerns at the fore. Banking, power, health, water supply, and communication systems have continued to remain at the target of sophisticated terror attacks. Any attack on critical infrastructure could make an economy highly vulnerable to further adversities. Ensuring their safety is therefore considered the foremost objective of any government. Proliferation of night vision (IR) surveillance cameras is therefore rapid across the public sector.
Beside terror attacks, rising concerns related to natural disasters, accidents, criminal activities, and accidents have also resulted in the high market share of this segment in the market.
Highest Demand for Night Vision Surveillance Cameras Witnessed in North America
Regionally, North America has been exhibiting the most attractive opportunities for the global night vision surveillance (IR) cameras market. TMR projects the regional market to expand at a CAGR of 27% during the forecast period. The higher spending of developed economies in North America on public sector and defense provides ripe opportunities for the sale of advanced security devices.
Other regional segments of the global night vision (IR) cameras include Europe, Asia Pacific, Latin America, and the Middle East and Africa. Among these regions, the sale of night vision cameras in Europe has been increasing at a robust pace. It is further expected to increase owing to the high demand for intelligent video in the region. Besides this, the increasing manufacturing of surveillance products in Asia Pacific creates substantial opportunities for sale of surveillance cameras in the region.
Some of the most prominent companies operating in the global night vision (IR) surveillance cameras market include Axis Communications AB, Robert Bosch, GmBH, L-3 Communications Holdings, Pelco Corporation, BAE System Plc., and others. These companies mainly focus on product innovation and research and development to increase their profit margins in the market.