NFC Payments Market: Introduction
Near Field Communication (NFC) is the mode of wireless data transmission that allows tablets, smartphones, laptops, and other devices to share information when in close proximity. NFC powers contactless payments via contactless cards as well as mobile wallets.
NFC payments are like radio frequency identification technology (RFID) but is limited to sharing data with another device within four inches. So when a consumer is paying with the mobile wallet the person should place the mobile in front of the terminal so that contactless payment is been executed.
NFC payments are widely used because they are encrypted, contactless, and highly secured, and speed up the checkpoint process.
The global NFC payments market is anticipated to expand at a rapid pace during the forecast period due to advancement in technologies across the globe.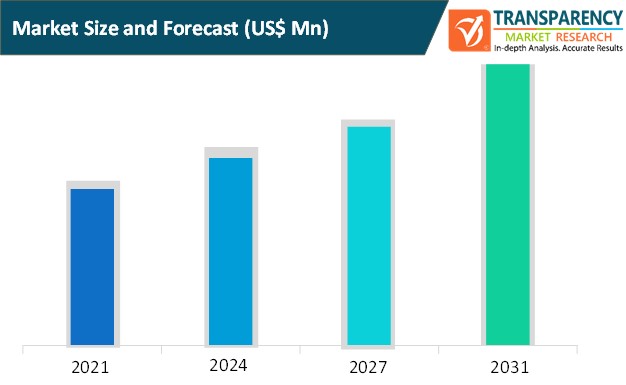 Global NFC Payments Market: Dynamics
Global NFC Payments Market: Key Drivers
NFC payments create a lightning-fast process because it has encrypted data to complete the payment from sender to receiver. An increasing move from cash to digital payments across the globe drives the growth of the market.
The customer can store the debit and credit card information on the mobile phone and leave the cash and card at home and use the mobile phone by tapping or waving the mobile phone to pay at the point of the sales terminal.
Nowadays, capabilities of smart devices are used for electronic payments. Smart devices such as credit card, cellphones, and products such as chains implant and armbands have been used with the help of NFC capable devices.
Continuous innovation in services and products and in secure payment technologies is strengthening the market growth. Increasing demand from consumers and merchants to reduce transactions and billing time is likely to drive market growth.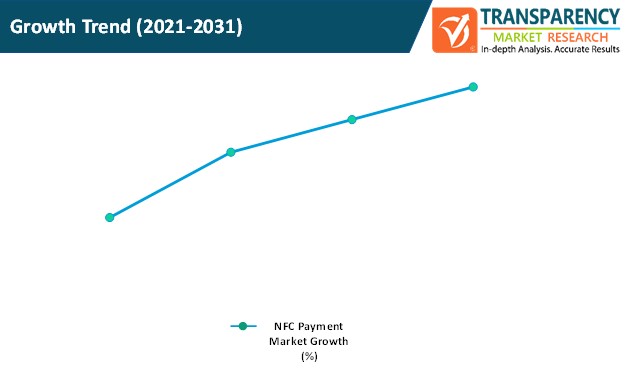 Impact of COVID-19 on the Global NFC Payments Market
Increasing cases of COVID-19 across the globe is boosting the growth of the NFC payments market; thus, the utilization rate of online payment technologies has increased in the pandemic situation. Many countries across the world have mandated regulations on payment processing to keep people safe during the pandemic situation. Overall, the growth of NFC payment market is expected to increase in the coming years.
North America to Hold a Major Share of Global NFC Payments Market
In terms of region, the global NFC payments market can be divided into North America, Europe, Asia Pacific, Middle East & Africa, and South America
Europe dominated the global NFC payments market in 2020. The market growth can be attributed to the consistency of increasing electronic money transactions in the region. Furthermore, encouraging government regulations, such as payment service directives and open banking contributes to the regional market growth.
North America is expected to emerge as the fastest growing regional market over the forecast period because North America sees robust development of technology in the IT industry, Companies are collaborating with numerous banks and financial institutes to develop transparent, secure, robust, and decentralized platforms owing to increasing challenges of cybercrime.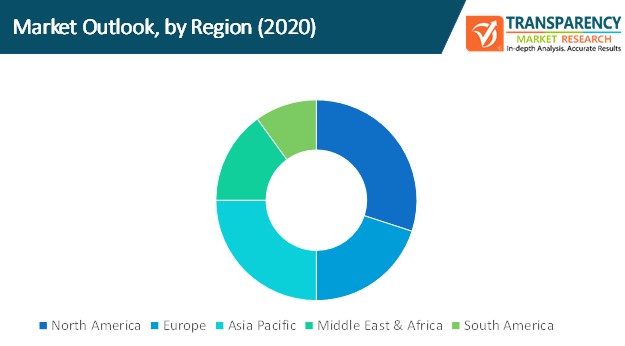 Global NFC Payments Market: Competition Landscape
Market players are developing new strategies, such as increasing the customer base, new product launches, and strengthening their product portfolio. Several players are working on technology to improve their payment platforms. Vendors are upgrading blockchain technology to increase the speed and security of retail payment applications.
Key players operating in the global NFC payments market include:
Visa, Inc.
Gemalto N.V.
Thales Group
Wirecard AG
Heartland Payments Systems
Giesecke & Devrient GmbH
IDEMIA
Verifone Systems, Inc.
On Track Innovations (OTI) Ltd.
Ingenico Group SA
Global NFC Payments Market: Research Scope
Global NFC Payments Market, by Operating Mode
Reader Emulation
Peer-To-Peer
Card Emulation
Global NFC Payments Market, by Offerings
Auxiliary Products

NFC Micro SD Cards
NFC Sim / UICC Cards
NFC Covers

Non-auxiliary Products

NFC ICS & Antennas
NFC Tags
NFC Readers

Software
Global NFC Payments Market, by Application
Medical & Healthcare
Consumer Electronics
Retail
Transportation
Automotive
Residential & Commercial
Hospitality
Banking & Finance
Others
Global NFC Payments Market, by Region
North America

U.S.
Canada
Rest of North America

Europe

Germany
France
U.K.
Italy
Rest of Europe

Asia Pacific

China
Japan
India
South Korea
Rest of Asia Pacific

Middle East & Africa

GCC
South Africa
Rest of Middle East & Africa

South America

Brazil
Rest of South America
Interested in this report?
Get a FREE Brochure now!