Music Rights Management Market - Introduction
Music rights management is a technology platform that allows music companies to maintain the intellectual property rights of songs and music content. Music content includes compositions, lyrics, and sound recordings which are protected under trademarks, copyrights, trade secrets, and patents.
Music rights management helps companies to maximize the revenue generated by the royalties on music, and other content. Music rights management platforms are majorly adopted by music publishing companies, individual songwriters, record producers, management companies, and recording artists to manage all records regarding the copyrights and royalties of the music content.
Music rights management protects the rights regarding the broadcasting of music on television, radio, or in any public concert without any legal procedure. If broadcasting companies want to broadcast the content, broadcasting companies have to purchase copyrights from musicians or music production companies.
Music rights management services ensure that music or content royalties are collected and paid to artists or labels across all regions. Increasing awareness among artists regarding digital music platforms helps to boost the demand for music rights management solutions.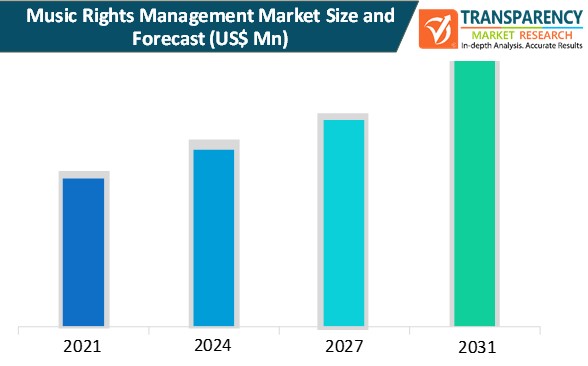 Key Drivers of the Music Rights Management Market
Increasing demand for a digital platform to manage all royalties and copyrights of music content is expected to drive the growth of the market. The media and entertainment industry is increasing investment in digital rights management systems to control the illegal copies available online as well as offline, which is also expected to boost the growth of the market.
Increasing adoption of music rights management by individual creators is expected to generate revenue opportunities for software providers during the forecast period.
Lack of awareness among artists and availability of open-source solutions expected to hinder growth of the music rights management market
Lack of awareness about the advanced digital music rights platform among individual creators and musicians may restrain the growth of the market.
Open-source music rights management solutions available on internet platforms are also expected to hamper the growth of the music rights management market.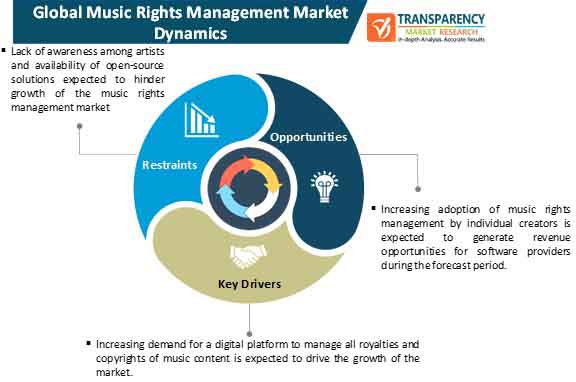 Impact of COVID-19 on the Global Music Rights Management Market
Popularity of on-demand music or entertainment content is increasing during the COVID-19 period across all regions. Music companies and content creators are providing rights to broadcast their content on television, online streaming platforms, and other entertainment applications. Hence, demand for music rights management is increasing among creators to manage all royalties from different streams.
Demand for music rights management solutions is increasing during COVID-19 and also enhancing the awareness about new advanced digital platforms to secure and manage royalties of content and work.
North America to Hold Major Share of the Global Music Rights Management Market
North America holds a prominent share of the music rights management market due to the early adoption of new technologies & platforms and also due to the presence of major solution providers in the region.
The music rights management market in Asia Pacific and Europe is expected to expand the fastest during the forecast period due to the increasing adoption of technologically advanced software platforms to manage royalties on digital platforms and reduce the expense of companies on managing royalties manually.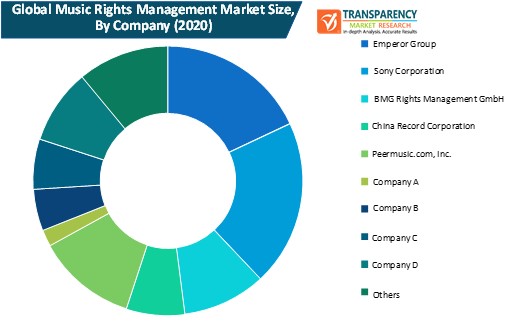 Key Players Operating in the Global Music Rights Management Market
Emperor Group offers publishing services to musicians and production companies. The company also offers solutions and services in financial terms, property, hospitality, and media & entertainment sectors. The company has expertise in the distribution and production of music content publishing, concert production, and talent management. It is also engaged in TV & film production, merchandise licensing, and theater.
Sony Corporation provides music rights management solutions for digital content which utilizes blockchain technology. The company operates its music rights management services through its subsidiaries. It also provides services in content creation, publishing, and recording of music content.
Other key players operating in the global music rights management market include BMG Rights Management GmbH, China Record Corporation, Peermusic.com, Inc., The Royalty Network, Inc.,and Merlin Network Company Limited
Global Music Rights Management Market: Research Scope
Global Music Rights Management Market, by Deployment
Global Music Rights Management Market, by Enterprise Size
Small & Medium Enterprises
Large Enterprises
Global Music Rights Management Market Segmentation, by Region
North America
Europe

Germany
U.K.
France
Russia
Italy
Spain
Nordic
Rest of Europe

Asia Pacific

China
India
Japan
Australia
Singapore
Malaysia
South Korea
Rest of Asia Pacific

Middle East & Africa (MEA)

UAE
Saudi Arabia
South Africa
Rest of Middle East & Africa

South America

Brazil
Rest of South America
Alternative Keywords
Digital Rights Management
Royalty Management System