Music Production Software Market - Introduction
Music production software is used for digital recording, musical composition, and the creation of electronic music and other music-related production processes. Music production software is widely adopted by musical companies and individual content creators for recording, mixing, and editing music content to deliver final composed music to the audience.
Solution providers offer music production software user interface according to the user needs and provide enhanced features in a premium software solution. Solution providers are targeting residential or individual users to boost the adoption of music editing and mixing software among end-users.
Music production software enables users to create and compose their content without any traditional training in music instruments. Music production software creates new opportunities for non-professional end-users to create their composition.
Most software solution providers are offering advanced music production software due to the increasing popularity of digital audio content among end-users. Most music artists and music production companies are investing in music production software for high quality musical content. This is expected to significantly boost the demand for music editing or music production software among the media and entertainment industry.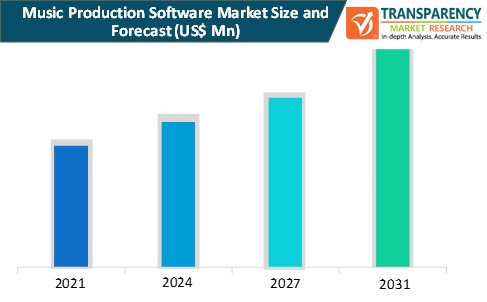 Key Drivers of the Music Production Software Market
Rise in demand for online streaming services and an increase in investment by music production companies in advanced music editing platforms is expected to drive the market. Increase in demand for short video mobile apps and growing awareness about music editing platforms among individual users are also expected to boost the market.
Increase in the rate of adoption of professional music composition software by individual creators and social media influencers is projected to generate significant opportunities for software providers during the forecast period
Availability of open-source music production software on internet to hinder music production software market
Most solution providers are offering open-source music production software on the internet in order to boost the popularity and customer base for solutions, which in turn is estimated to restrain the market
Lack of awareness regarding the benefits of music production software among individual creators is also expected to hamper the music production software market.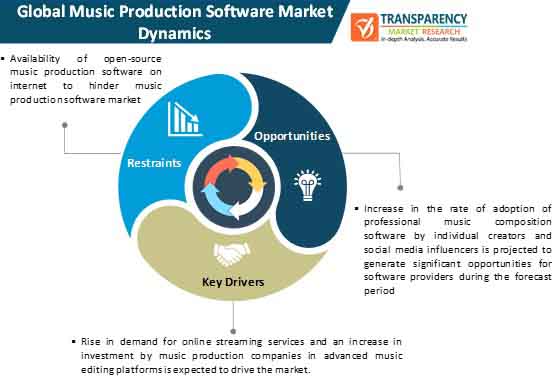 Impact of COVID-19 on Global Music Production Software Market
Demand for on-demand music or entertainment content has been increasing across all regions during the COVID-19 period. Music companies and content creators are adopting advanced software platforms to create and mix audio-video content on different social media platforms. Hence, the demand for music production software is rising among creators to manage the music composition process with fine advanced music features.
Demand for music production software solutions is increasing during COVID-19 and also fueling the awareness about new advanced digital platforms in the music or content creation process.
North America to Hold Major Share of Global Music Production Software Market
North America holds a prominent share of the music production software market due to the early adoption of the new technologies & platform and also due to the presence of major media & entertainment production studios in the region
The music production software market in the Asia Pacific is expected to expand at a rapid pace during the forecast period due to a rise in the rate of adoption of technologically advanced software platforms in music production companies and an increase in number of mobile application users in Asia Pacific.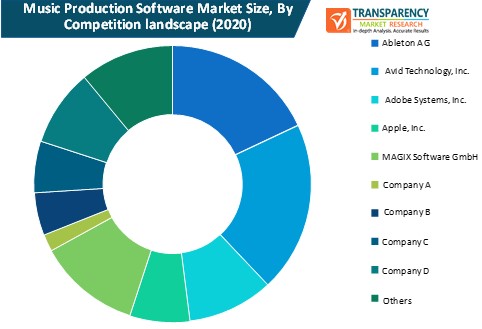 Key Players Operating in the Global Music Production Software Market
Ableton AG was founded in 1999 and is based in Berlin, Germany. The company is a global provider of music software and content distributing firms. The company offers services in Live Show broadcasting and software solutions to edit and mix recorded musical content. The company also offers a hardware controller for music creation and composition to creators.
Avid Technology, Inc. is a global provider of music software and system solutions. The company engages in the development, marketing, and sale of integrated software solutions for audio and video content management, creation, and content distribution.
Other key players operating in the global music production software market include Adobe Systems, Inc., Apple, Inc., MAGIX Software GmbH, Cockos, Inc., Image Line Software NV, PreSonus Audio Electronics, Inc., and Reason Studios AB.
Global Music Production Software Market: Research Scope
Global Music Production Software Market, by Deployment
Web-based
Application Based
Global Music Production Software Market, by Type
Global Music Production Software Market, by End-user
Professionals
Non-professionals/Individual
Global Music Production Software Market Segmentation, by Region
North America
Europe

Germany
U.K.
France
Russia
Italy
Spain
Nordic
Rest of Europe

Asia Pacific

China
India
Japan
Australia
Singapore
Malaysia
South Korea
Rest of Asia Pacific

Middle East & Africa (MEA)

UAE
Saudi Arabia
South Africa
Rest of Middle East & Africa

South America

Brazil
Rest of South America
Alternative Keywords
Digital Audio Workstations Solutions
Audio Editing Software