Mobile VoIP Apps Market - Introduction
A mobile VoIP application uses Voice over Internet Protocol technology for smartphones that are supported on Android, iPhone (iOS), and Windows operating systems. Solution providing companies are developing mobile VoIP apps for end-users in commercial as well as residential sectors.
Mobile VoIP apps allow companies to make international and domestic calls at cheap rate, and it is a cost-effective solution for commercial sectors to reduce expense on international communications. End-user industries are increasing the adoption of mobile VoIP apps to manage business communication in sales, supply & demand, board meetings, and other business-related data transfer.
Mobile VoIP app services can be adopted by businesses and individual users to improve the quality of voice, overall call cost, and efficiency of communication. Mobile VoIP apps also offer features such as video chat, group chat, or 4-way calling systems that can be beneficial for commercial users. VoIP calls can be transferred to an employee's local number by following all policies decided by local governments.
Adoption of mobile VoIP apps is increasing among service-based companies and lead generation companies to run business operations by reducing the overall investment in the communication system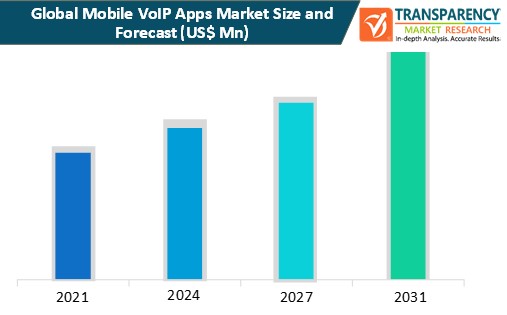 Key Drivers of the Mobile VoIP Apps Market
Increasing demand for cost-effective communication systems among commercial and individual users is expected to drive the growth of the market. Companies are investing in platforms or tools to be used in business communication that helps to improve business operations. This is also expected to boost the growth of the mobile VoIP apps market.
Increasing adoption of smartphones in commercial sectors is expected to create better business opportunities for solution providers of mobile VoIP apps.
Availability of open-source mobile VoIP apps and lack of awareness in small & medium enterprises expected to hinder market growth
Some of the start-up companies offer open-source mobile VoIP app services to increase their market penetration in individual end-user segments, which restrains the growth of the market.
Lack of awareness about the benefits of the VoIP solution and services among small & medium enterprises and issues related to the security of business communication is also expected to hamper the growth of the market.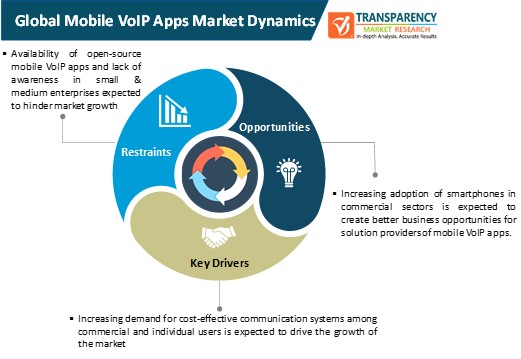 Impact of COVID-19 on the Global Mobile VoIP Apps Market
Increasing impact of COVID-19 on global economic conditions has resulted in increasing adoption of the work from home business module among major industries. Companies are using paid service of mobile VoIP apps for employees to enhance their productivity and efficiency during the pandemic period. Companies are increasing their investment in digital and internet-based solutions to maintain their business processes.
Demand for mobile VoIP app solutions is increasing during the COVID-19 lockdown situation but is expected to show better growth during the forecast period due to the increasing dependency of companies on digital platforms.
North America to Hold Major Share of the Global Mobile VoIP Apps Market
North America holds a prominent share of the mobile VoIP apps market due to the increasing demand for advanced communication tools among large enterprises to reduce enterprise expenses on business communication processes.
The mobile VoIP apps market in Asia Pacific is expected to expand the fastest during the forecast period due to increasing investment by major players to provide the solution across regions and also due to the increasing number of VoIP apps or solution providing companies in Asia Pacific.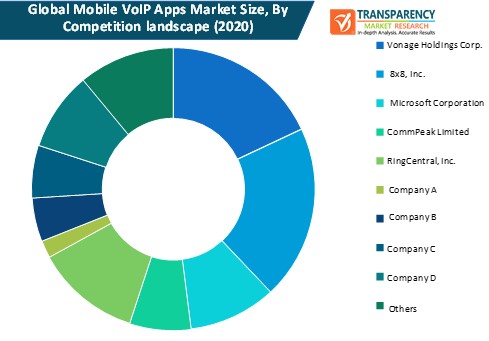 Key Players Operating in the Global Mobile VoIP Apps Market
Vonage Holdings Corp. is a global business cloud communication solution and service provider. The company offers solutions in communication APIs, unified communication, and contact center solutions. The company provides VoIP service to residential and commercial sectors. It serves industry verticals such as healthcare, finance, education, retail & e-commerce, transportation & logistics, and manufacturing.
8x8, Inc. was founded in 1987 and is based in Campbell, California, U.S. The company is a leading provider of VoIP solutions and services for different industry verticals. It offers a wide range of products that include all-in-one communications, business phones, video conferencing, APIs and embeddable apps, and contact centers.
Other key players operating in the global mobile VoIP apps market include 3CX, Microsoft Corporation, CommPeak Limited, RingCentral, Inc., Junction Networks Inc., and PhonePower (Syndeo LLC).
Global Mobile VoIP Apps Market: Research Scope
Global Mobile VoIP Apps Market, by Service Type
International VoIP
Domestic VoIP
Global Mobile VoIP Apps Market, by Platform
Global Mobile VoIP Apps Market, by End-user
Commercial
Individual/Residential
Global Mobile VoIP Apps Market Segmentation, by Region
North America
Europe

Germany
U.K.
France
Russia
Italy
Spain
Nordic
Rest of Europe

Asia Pacific

China
India
Japan
Australia
Singapore
Malaysia
South Korea
Rest of Asia Pacific

Middle East & Africa (MEA)

UAE
Saudi Arabia
South Africa
Rest of Middle East & Africa

South America

Brazil
Rest of South America
Alternative Keywords
Business Communication Application
Voice over Internet Protocol (VoIP) Solutions
Interested in this report?
Get a FREE Brochure now!