Mobile Money Market
Mobile Money Market (Payment Mode - NFC, Mobile Billing, SMS, USSD/STK; Purchase Type - Airtime Transfers & Top-ups, Money Transfers & Payments, Merchandise and Coupons, Travel and Ticketing; Industry Vertical - BFSI, Energy and Utility, Retail, Health Care, Hospitality and Tourism, Media and Entertainment, SCM and Logistics, Telecommunication and IT) - Global Industry Analysis, Size, Share, Growth, Trends and Forecast 2016 - 2024
Category :

IT & Telecom

Format :
Mobile Money Market: A Snapshot
The mobile money market is a vast fragmented landscape with several regional, and international players playing a key role in shaping its growth. The rising advancements in technology, and lack of uniform standards in the industry continues to drive growth for new players in payment modes, and provides a wide array of opportunities in a wide range of payment options. Despite its fragmented nature, some key players in the mobile money market including: Bango.net Limited, Boku, Inc., Dwolla, Inc., Fortumo OÜ, Judo Payments, Paypal, Inc. (PayPal Holdings, Inc.), Square, Inc., Stripe, and WePay, Inc. continue to engage in innovation and acquisitions to drive growth. The rising opportunities in established sectors like hospitality and tourism, BFSI, Telecommunication, and media and entertainment presents lucrative opportunities for growth for new entrants. Barriers to entry, and potential risks to disruptions remain really high in the market.
According to TMR experts, the mobile money market will register significant growth during 2016-2024, rising at 22% CAGR. The market reached a valuation of US$17.25 bn in 2016, and its growth remains one of the most promising for new entrants.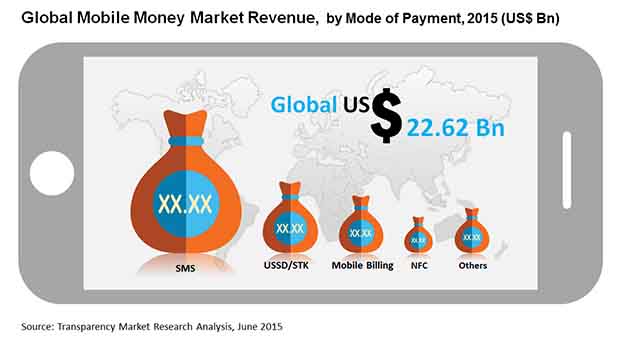 SMS Payment Remains Most Promising Segment in Growth
The global money market report will feature various segments including SMS payment, NFC, mobile billing, USSD, among others. Among these, the SMS segment is expected to witness largest expansion due to growing preference of millenials to prefer non-human interaction over direct human ones. The trend is apparent in various other industries including customer service, where non-human help modules like IVR, online troubleshooting forms, and chatbots continue to replace human interactions. The SMS service is also expected to make major headways as it remains most cost-effective, and reliable over availing third-party platforms for businesses. The growth of SMS segments will drive incredible growth for mobile money market in near future.
Payment and Money Transfer to Remain in Dominant Position
Payments and money transfer made serious gateway in the market as online transfers provided a convenient option for people to interconnect, and reduce dependence on physical means of banking. The segment remains promising, however airtime transfers, and top-ups are expected to top the charts during the forecast period as growth for these is witnessing growth at the highest CAGR. Among end-sectors, the healthcare sector is expected to lead growth, however, hospitality, and BFSI, and energy also show promising prospects in near future. Increasing initiatives by governments around the world to digitalize energy consumption to drive energy efficiency, and increased use of sustainable energy promises new opportunities for growth for players in the mobile money market. Recently, UK ordered digitalization of all existing meters in the country, which is expected to up digital linking with mobile wallets in near future.
Asia Pacific and North America to Dominate Growth in Mobile Money Market
Segments like SMS payments are already witnessing a major growth in regions like Asia Pacific. The trend is extremely popular, and continues to make huge headways for enterprises. Additionally, the segment is also expected to witness major growth in North America region. The larges-scale commercial operation in the US, and promising penetration of platforms like PayPal prohibits growth of the growth new channels in North America. However, thanks to large demand in banking, telecommunication, and especially healthcare, the market will witness dominant emergence of North America region during the forecast period.
The mobile money market report provides an analysis of the global mobile money market for the period 2014 – 2024, wherein 2015 is the base year and the period from 2016 to 2024 is the forecast period. Data for 2014 has been included as historical information. The report covers all the prevalent trends playing a major role in the growth of the mobile money market over the forecast period. It also highlights various drivers, restraints, and opportunities expected to influence the market's growth during the said period. The study provides a holistic perspective on market growth throughout the above forecast period in terms of revenue estimates (in US$ Bn), across different geographies, which include North America, Europe, Asia Pacific (APAC), Middle East & Africa (MEA), and Latin America (LATAM). The report provides cross-sectional analysis of the global mobile money market in terms of market estimates and forecasts for all the segments across different geographic regions as well as on the basis of mode of payment, types of purchase, industry verticals, and select countries across each region. The report also includes competitive profiling of major players, their growth strategies, their market positioning, and their various recent developments. This report also provides market positioning analysis of key players operating in the mobile money market.
The report offers an in-depth analysis of the market's drivers, restraints, and growth opportunities during the forecast period from 2016 to 2024. Impact of these factors over short, medium and long term is also provides for global and regional markets. The report includes comprehensive coverage of the underlying economic and technological factors under the key trends analysis section. Based on the industry verticals, the mobile money market is segmented into BFSI, energy and utility, retail, health care, supply chain and logistics, hospitality and tourism, media and entertainment, telecommunication and IT, and others. Based on factors such as privacy and security, customized requirement, flexibility in payment options, and relevant customer care support, users select the best-fit mobile money solution in order to cater to their requirements and business usage.
The report highlights the key factors contributing to the growth of mobile money across major emerging market such as India, China, South East Asian countries (Indonesia, Malaysia, and Vietnam), Latin American countries, and major African nations such as Kenya, South Africa under the section country snippets and regional mobile money market analysis. Further, to provide insight to nature of transactions carried out by consumers, analysis in terms of mode of payment and type of purchases is also included in the study. Mode of payments considered within the scope are – NFC, Mobile Billing, SMS, and USSD/STK. Different major type of purchases included while estimating the market size are – Airtime Transfers & Top-ups, Money Transfers & Payments, Merchandise and Coupons, and Travel and Ticketing.
The report aims to provide a comprehensive analysis of the mobile money market across geographies including North America, Europe, Asia Pacific, Middle East and Africa (MEA), and Latin America. Major challenges faced by the developed countries and key factors contributing to the popularity of mobile money across developing countries are highlighted in the report. The report also offers the contribution of the developed and emerging countries across the world. Under the company profiles section, the report provides an overview of the mobile money service providers operating in the market, the strategies deployed by them to gain competitive advantage, the annual revenue generated by them in the past two or three years, and their recent developments.
The companies profiled in this report include Amobee, Inc. Bango.net Limited, Boku, Inc., Dwolla, Inc., Fortumo OÜ, Judo Payments, Paypal, Inc. (PayPal Holdings, Inc.), Square, Inc., Stripe, WePay, Inc.
The global mobile money market has been segmented as follows:
Mobile money market, by mode of payment
NFC
Mobile Billing
SMS
USSD/STK
Others
Mobile money market, by types of purchase
Airtime Transfers & Top-ups
Money Transfers & Payments
Merchandise and Coupons
Travel and Ticketing
Others
Mobile money Market, by Industry Vertical
BFSI
Energy and utility
Retail
Health Care
Hospitality and Tourism
Media and Entertainment
SCM and Logistics
Telecommunication and IT
Others
Mobile money Market, by Geography
North America
Europe

The U.K.
Germany
France
Spain
Italy
Rest of Europe

Asia Pacific (APAC)

China
Japan
India
Indonesia
Australia
Rest of APAC

Middle East & Africa (MEA)

The United Arab Emirates (UAE)
Saudi Arabia
South Africa
Rest of MEA

Latin America

Brazil
Rest of Latin America
Custom Market Research Services
TMR offers custom market research services that help clients to get information on their business scenario required where syndicated solutions are not enough.
REQUEST CUSTOMIZATION