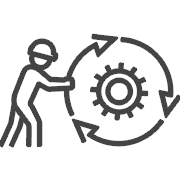 Research Methodology
---
We are not just another market research firm. We employ multifarious assets to produce the best results for our clients. Our "on the ground" research study at both regional and local levels assists us in deciphering even the finest distinctions of local country-wise markets while we enlarge our global reach. We are proud of our wide-ranging coverage that encompasses the understanding of several key industry verticals. Our clients take advantage of the consistency we provide on the part of analysis or forecast across a gamut of coverage areas and geographies.

Aim
We promise lawful and fair dealings with honesty when conducting business with our clients. Our professionals pledge to observe the highest ethical standards in our day-to-day operations. The objectivity of our opinions, analysis, and research agenda is supported by our strong internal policies. We ensure that there is no conflict of interest or any bias in our interactions with clients. The production and dissemination of our analysis and research is supported by the preservation of independence, integrity, and objectivity recognized as a serious responsibility at TMR.
Standards
What really separates us from competitors in the field of market research is the uniformity we demonstrate when it comes to research standards. With a view to ensure consistency, we urge our analysts to employ the best analytical tools and implement standard definitions across a multitude of coverage areas and geographies. In order to provide boundary conditions for market forecasts, we follow the standard of performing "sanity checks" and validations. We consider projections procured from statistically sound surveys so that only accurate and factual data is employed in our analysis. One of the standards our analysts follow is to document forecast assumptions and the methodologies used during the research process.


Assessment
We fine-tune the scope of standard characteristics with which vendors are evaluated via interviews, surveys, and structured discussions with end users, participants, and market leaders. Our business acumen is proved with our well-researched discernment about specific vendors and various markets. Our review boards of experts for different markets provide their valuable inputs that form the basis of market weightings apart from buyer surveys and user interviews. We provide a consistent and accurate examination of the capability, behavior, and characteristics of each assessed vendor. For this purpose, our analysts take assistance from end-user experiences, publicly available data, detailed interviews, and surveys on vendors, vendor positions, and individual vendor scores.
Segmentation
All our research studies share a fundamental selection of methodological approaches and elements, although we maintain the attitude of suiting our methodology to the concerned market segments. These elements incorporate the analysis of external linkages and drivers, distribution channel models, supplier models, updating and verification of segmentation, regional and local analysis, global data collection, cross-examination of data integrity, and demand-side data.


Forecast
Our researchers uphold a primary research mission of precisely forecasting and assessing not just the size of key market segments but also the various sub-segments falling within the assessed categories. We refer to various primary and secondary sources for market forecasting and sizing, including but not restricted to user surveys, historic market data, public financial records, and interviews with IT vendors. We recognize systematic data collection as the first step towards successful forecasting and sizing of any market. Generation of TMR market forecasts and data incorporates proprietary models of market segments that integrate demand and supply-side data. This is followed by a structured validation of the preliminary values in the market model using standard processes after which the market models are adjusted accordingly.
Analysts
We have directed large investments towards the collection of important analytical tools and analyst training programs to allow easy research and collaboration. We place great significance on our analysts who put in all the hard work to analyze the future of our clients' businesses and key global markets. We believe our analysts give strength and meaning to TMR's foundation of research, research standards and methods, and analytical tools. Our processes, tools, methodologies, and analysts are the backbone of the "analysis of the future" we provide to help our clients garner success in the market.