Medical Tubing Packaging Market
Medical Tubing Packaging Market (Material Type - Plastic, Silicone, Metal; Process Type - Extruded Tubing, Thermoformed Tubing, Heat Shrink Tubing, Reinforced Tubing, Laser Machined Tubing; Application - General Purpose Application, Catheter Tubing, Peristaltic Pump Tubing, Smoke Evacuation Tubing, Feeding Pumps, Urological Retrieval Devices, Cannulas, Surgical Tools, Others; End Use - Hospitals, Ambulatory Surgical Centers, Diagnostic Centers & Clinics, Medical Labs) - Global Industry Analysis, Size, Share, Growth, Trends and Forecast 2018 - 2026
Packaging
TMRGL15419
2018-09-19
224

Pages
The global medical tubing packaging market has witnessed tremendous growth in the past, owing to greater demand for minimally invasive surgical techniques, globally. The medical tubing packaging market stood at US$ 4,119.2 Mn in 2017, and is forecast to register a CAGR of 6.4% during 2018 – 2026. The medical tubing packaging market is estimated to be valued at US$ 7,208.8 Mn, by the end of the forecast period.
Medical tubing packaging is a category of healthcare packaging which refers to tubing that meets certain medical standards, and can be used for a variety of medical and pharmaceutical applications. The manufacturing process for medical tubing packaging must comply with Good Manufacturing Practice (GMP) and Current Good Manufacturing Practice (cGMP). Performance of medical tubing packaging depends largely on the type of material being used, which in turn depends on the application. For instance, silicone tubing is considered as one of the finest and most efficient, due to the high resistance of Silicone to extreme temperature changes. However, silicone tubing is not recommended for implantable/in-body applications or in treatments which require continuous steaming.
Plastic medical tubing packaging is expected to retain its leading position in the market. This is attributed to several factors such as the growing prevalence of single-use medical tubing applications, which include medical devices such as catheters made from plastics such as PVC. The use of disposable medical components helps surgical centers and clinics avoid the risk of spreading infection, thereby saving significantly on costs. Plastic metal tubing packaging also offers metal-like strength and efficiency in certain areas. One of the key areas where plastic medical tubing packaging can fall short in terms of performance as compared to metal medical tubing packaging is – accuracy.
In many surgical processes, accuracy of tubing shape is crucial and may even lead to fatal result if inaccurate. Plastic material although is cost-effective, cannot be cut as accurately as metals. Several plastic materials have been considered in the study, wherein, PVC, PA, PP, and TPE have been found to be in the leading position. This is attributed to their unique combination of performance and cost. Also, plastics such as PEEK are expected to witness rise in market share due to their usefulness in niche medical applications. PEEK is also widely regarded as a good replacement for stainless steel medical tubing packaging. Some of the desirable features which make PEEK one of the top choices for medical tubing packaging are light weight, biocompatibility, and high lubricity, which aids easy insertion in the human anatomy.
Furthermore, PEEK is chemically inert, and has high tensile strength – features which are highly desirable in medical tubing packaging applications. TPE is widely marketed as plasticizer-free, and therefore, replaces PVC in many areas, especially when special features are required. As a plastic, TPU has decent resistance to heat, and also scores well in terms of durability. However, the high cost of TPU is expected to be a demerit.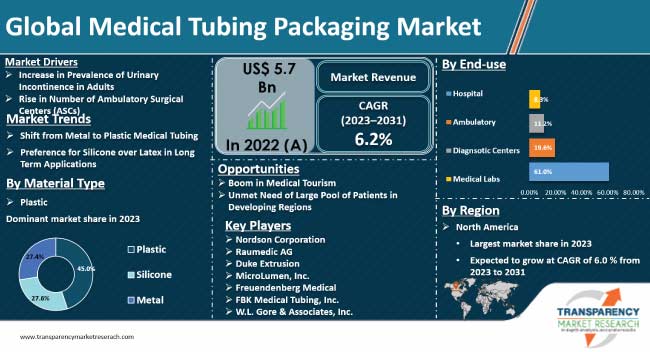 Silicone medical tubing packaging is expected to register significant growth in the next eight years, which can be attributed to the high level of biocompatibility. Silicone is resistant to chemicals and has a varying range of surface hardness. However, one of the key restraints for growth of the global Silicone medical tubing packaging market is – cost. Silicone being expensive, is used only for medical applications where high performance characteristics are desired, such as urinary catheterization.
Drivers and Restraints
The global medical tubing packaging market is likely to benefit from an increased aged population leading to high prevalence of urinary incontinence. It is forecast that around 20% of the global population would be above the age of 60 years, by the year 2050. Urinary disorders such as urinary incontinence, urinary retention etc., particularly post-prostate gland surgery, are prevalent in the global elderly population. The growing demand for medical devices requiring minimally invasive surgical techniques is also likely to play a pivotal role in growth of the global medical tubing packaging market. Challenges associated with medical tubing packaging are expected to be a hindrance to market growth. The global medical tubing packaging market might experience sluggish growth due to high preference for manual labor in medical tubing packaging assembly. There are special requirements associated with the adoption of automated machinery for medical tubing packaging assembly, wherein, changes in wind radius of tubes from one end of the reel to another must be accounted for.
Competitive Landscape
Key players which have been profiled in the report include – Nordson Corporation, Raumedic AG, Duke Extrusion, MicroLumen, Inc., Freudenberg Medical, FBK Medical Tubing, Inc. W.L. Gore & Associates, Inc., AlkorDraka Group, Kent Elastomer Products, Inc., Sunlite Plastics, Inc., Polyzen, Inc., and Optinova Group. Apart from these, key medical tubing packaging material suppliers such as PolyOne Corp., Wacker Chemie AG, and Shin-Etsu Chemical Co. Ltd. have also been profiled in the global medical tubing packaging report.
Rising Demand from Varied Applications to Boost Growth of Medical Tubing Packaging Market between 2018 and 2026
The medical tubing packaging market is extrapolated to gain intensive growth during the assessment period of 2018-2026. The increasing demand for minimally invasive surgeries coupled with the escalating demand for medical devices may prove to be vital growth accelerators for the medical tubing packaging market. Medical tubing packaging is a type of healthcare packaging. This type of packaging can be used across a variety of applications.
The heightening disposable income and the rising purchasing power parity of a substantial chunk of the individuals around the world may bring expansive growth prospects for the medical tubing packaging market. The escalating prevalence of chronic diseases will further strengthen the growth of the medical tubing packaging market to a great extent. Hence, all these aspects may prove to be growth boosters for the medical tubing packaging market.
A varied range of features attached to medical tubing packaging such as high lubricity, light weight, biocompatibility, and great tensile strength may prove to be beneficial for the medical tubing packaging market. Heat resistance and durability properties also play a crucial role in expanding the growth of the medical tubing packaging market. The increasing demand for this packaging type from a large number of healthcare applications will further propel the growth of the medical tubing packaging market.
The novel coronavirus pandemic has negatively affected the growth of a large number of sectors. The lockdown restrictions imposed by the governments of various countries had a negative impact on the growth of the medical tubing packaging market. The closure of borders on the back of the restrictions also resulted in supply chain and logistics disruptions. Thus, all these aspects have restrained the growth of the medical tubing packaging market to a certain extent.
Nevertheless, the relaxations in lockdown restrictions will offer golden opportunities for the medical tubing packaging market to regain lost growth.
In this report, Transparency Market Research provides an 8-year forecast for medical tubing packaging market, both by value (US$ Mn) and volume (Tons), between 2018 & 2026. The global medical tubing packaging market value is projected to clock a CAGR of 6.4%, during the forecast period. The study on global medical tubing packaging is geographically segmented into five key regions, wherein market analysis has been provided on the basis of material type, process type, application, and end use.
Report Description
The TMR report provides study on the global medical tubing packaging market for 2018 – 2026. The key objective of this report (medical tubing packaging market) is to assess data and offer insights, along with key market trends related to medical tubing packaging market that are gradually helping transform global businesses.
The market study begins with a crisp executive summary on various segments, and their contribution to medical tubing packaging in the current market scenario. The executive summary also briefly discusses the key findings of the study as well as the market overview. Furthermore, the role of Plastic and Silicone as key material for medical tubing packaging has also been discussed in brief. Key market dynamics (TMR analysis of drivers and trends) have been provided in the executive summary. A dedicated section has been provided for detailed description of the market dynamics influencing the medical tubing packaging market. These are provided as drivers, restraints, opportunities, and trends for the market. To help the reader understand the attractiveness of various regions and segments, market attractiveness analysis has been provided in the report for each segment and region. BP (Basis Point) analysis is intended to give the reader a clear perspective about the change in market shares of various segments and regions in the scope of the study. Furthermore, to show the performance of medical tubing packaging market in each country and region, Y-o-Y growth analysis has been provided.
To estimate the market size in terms of value and volume, the revenue generated by key manufacturers of medical tubing packaging, and their corresponding production capacity has been taken into consideration. As an initialization of the study, the current market size was estimated, along with the tracking of historical growth in market size. This formed the basis on how the medical tubing packaging market is expected to shape up in the future. The market was assessed by a three-pronged approach – by tracking the supply side, downstream industry, and the economic envelope. In addition, it should be noted that in an ever-fluctuating global economy, TMR not only conducts forecasts in terms of CAGR, but also analyses the market based on key parameters, such as year-on-year (Y-o-Y) growth rates, to understand the predictability of the medical tubing packaging market and identify the right opportunities across the market.
The market has also been assessed on the basis of segment-wise Y-o-Y growth rates. This detailed level of information is important for identifying key trends in the medical tubing packaging market. Another key feature of global medical tubing packaging market is the analysis of the market in terms of absolute dollar opportunity. Absolute dollar opportunity is critical for evaluating the scope of opportunity that a provider can look to achieve, as well as to identify potential resources from a delivery perspective of the medical tubing packaging market. The overall absolute dollar opportunity along with the segmental split is mentioned in global medical tubing packaging market report.
In the final section of the report, a detailed competitive dashboard has been provided to give a detailed overview of the key manufacturers. It is intended to represent a comparative analysis based on the segment-wide revenues of the manufacturers along with their product portfolios, key strategies, and market presence. Report audiences can gain segment-specific manufacturer insights to identify and evaluate key competitors based on the in-depth assessment of their capabilities and success in the medical tubing packaging marketplace. A list of key participants in the market, including suppliers and distributors is provided in the report, along with a list of key raw material suppliers, and medical grade polymer formulators & compounders.
The segmentation has been done as follows –
Material Type

Plastic

Polyvinyl Chloride (PVC)
Polyamide (PA)
Polytetrafluoroethylene (PTFE)
Polypropylene (PP)
Thermoplastic Elastomer (TPE)
Polyether ether ketone (PEEK)
Thermoplastic Polyurethane (TPU)
Others (Fluoropolymers, Polycarbonate, Ethylene-vinyl acetate)

Silicone
Metal

Process Type

Extruded Tubing
Thermoformed Tubing
Heat Shrink Tubing
Reinforced Tubing
Laser Machined Tubing

Application

General Purpose Application

Intravenous (IV) & Drug Delivery
Infusion Pumps
Oxygen and Anesthetic Gas Delivery

Catheter Tubing

Drug Delivery
Diagnostic Catheters
Surgical Application
Central Venous Catheters
Angioplasty Catheters
Others

Peristaltic Pump Tubing

Dialysis
Drug Infusion applications

Smoke Evacuation Tubing
Feeding Pumps
Urological Retrieval Devices
Cannulas
Surgical Tools
Others

End Use

Hospitals
Ambulatory Surgical Centers
Diagnostic Centers & Clinics
Medical Labs

Region

North America
Europe

Germany
Italy
France
U.K.
Spain
Benelux
Nordic Countries
Russia
Poland
Rest of Europe

Asia Pacific (APAC)

China
India
ASEAN
Australia & New Zealand
Japan
Rest of APAC

Latin America

Mexico
Brazil
Rest of Latin America

Middle East & Africa

GCC Countries
Northern Africa
South Africa
Rest of MEA
Custom Market Research Services
TMR offers custom market research services that help clients to get information on their business scenario required where syndicated solutions are not enough.
REQUEST CUSTOMIZATION