Meat Snacks Market
Meat Snacks Market (Product: Jerky, Biltong, Strips, Sticks, and Chips, Bars, Chunks & Cubes, Sausages, Others; Nature: Organic, Conventional; End Use: Food Industry, Household; Sales Channel: Direct, Indirect (Store-based Retailing, Online Retailing)) - Global Industry Analysis, Size, Share, Growth, Trends, and Forecast, 2019 - 2029
Food & Beverages
TMRGL34466
2019-08-28
267

Pages
Meat Snacks Market - Growth Due to Quest for Protein-rich Meals
The global meat snacks market will reach a value tantamount to ~US$ 14.5 Bn by 2029, recording 2X growth from 2019. Meat snacks, acting as twofers to complete consumers' quest for protein-rich and on-the-go dietary options, will continue to witness an increase in demand during the period of 2019-2029. The recent trend of Paleo diets will catalyze the demand for high-protein nutrition, highly contributed by North America.
Another exciting feature of the meat snacks market, to look out for, will be the improved penetration and exposure of products with newly-devised strategies, targeted at improving distribution networks in untapped markets. While the merger- and acquisition-oriented global reach approach has been a norm in the landscape, the advent of e-Commerce will complement the sales opportunities for market players. On top of that, meat snacks, seen as a meal replacement option among consumers leading a demanding lifestyle, are projected to offer a stout tailwind to the market during the forecast period.
However, market players also need to focus on the undercurrents of regulatory norms and fickle consumer choices. Stringent food control norms overruling the meat snacks market are likely to upkeep strong scrutiny on product claims, and any failure to justify these claims could lead to product recalls. What is more of a concern for market players is the surging popularity of plant-based snacks with the growing adoption of veganism and vegetarianism among the Western populace, which could shrink the size of the consumer base.
On the whole, considering the changing dynamics, seasoned analysts maintain a propitious outlook on the growth of the meat snacks market at a CAGR of ~7% during 2019-2029.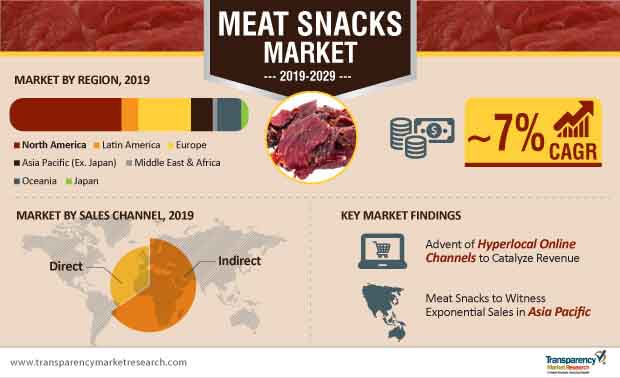 Looking for Customized Insights to build your business for future, ask for a sample report here
How Growth Will Unfold in the Meat Snacks Market
The recent revolution apropos of flavors and products brought in by market players sits at the nexus of evolving consumer preferences. While bars, chunks, and cubes need to find strong inroads in the consumer space, the popularity of jerky meat snacks is already high. This is owing to the marketability of jerky snacks as affordable, healthful, and delicious, and their easily availability at convenience stores and gas stations. According to TMR's research, the sales of jerky meat snacks are projected to grow to ~US$ 6.3 million by 2029, while the demand for chunks and cubes is likely to strengthen at a CAGR of ~8% during 2019-2029.
Considering the high sales of jerky meat snacks, a leading company, Krave, capitalized on the popularity of quality-focused and high-protein snacks to target affluent consumers. Since affluent consumers evince a marked sensitivity towards the quality and taste of meat snacks, market players are focusing on increasing the exclusiveness of their premium product-based portfolios.
Advent of Hyperlocal Channels to Drive More Success for Meat Snacks Market
As per TMR's estimates, global sales through indirect distribution channels, including store-based retailing and online retailing, are projected to reach a value of ~US$ 9.3 billion by 2029. While a majority of the sales closed through store-based retailing can be ascribed to the high concentration of hypermarkets, supermarkets, convenience stores, and specialty stores, consumers' proclivity for convenience will open up new dimensions of revenue through online sales channels. On similar lines, the sales of meat snacks through online sales channels are estimated to register a CAGR of 9.5% during the forecast period.
With the success of e-Commerce channels, market players began looking at targeting niche demands, and are moving towards novel trends of hyperlocal marketing. Hyperlocal is likely to extend the frontiers of e-Commerce channels by targeting niche demand and catering to it. A rise in the number of on-demand startups such as Grofers, Instacart, Amazon Fresh, and Amazon Pantry point towards the underway shift from brick-and-mortar stores to online stores. The success rate and popularity of hyperlocal is likely to surpass that of e-Commerce channels, owing to the substantially shorter wait window for consumers, in terms of delivery.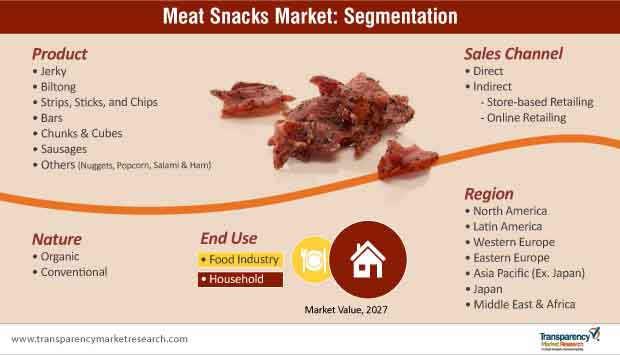 To get glimpse of what our report offers, ask for a report brochure here
Growth Stagnation in Developed Countries Driving Market Majors towards Developing Countries
Traditionally, North America has been a leading meat snacks market in terms of consumption and production, with a market share of ~46% in 2018, and much of this has to do with clean label and organic product claims. Efforts towards fostering a product-level innovation have instigated a notable spurt in the adoption of meat snacks in the region.
Meat snacks, once available at gas stations, have graduated to sophisticated sales channels, and their production process has an integral part to play. With a spurt in the innovative approach taken by market players, low-fat and sugar ingredients, small-sized packaging, and introduction of flavors such as smoke, honey bourbon, herbs and spice, pepper, BBQ, and teriyaki, are developed in order to penetrate into the affluent markets of North America and Europe.
With unequal distribution of meat snacks producers at a global level, meaning, a high concentration of market players in North America and Europe, and their low presence in Asia Pacific, Middle East and Africa, and Latin America, market majors are strategizing a shift to developing countries by entering into production and distribution partnerships & collaborations with regional players operating in these regions.
In the APEJ region, where the food and beverage industry is thriving, meat snacks are projected to perform well in terms of sales, to cater to the protein requirements of consumers. During the forecast period, the APEJ meat snacks market will register an exponential growth at a CAGR of ~9%.
To get a bird's eye view of Meat Snacks Market forecasts, ask for a Custom Report
How Should Players Approach the Meat Snacks Market?

Traditionally, in the consolidated meat snacks landscape, with Conagra Brands and Tyson Inc. operating globally, expansion of production facilities in high-growth countries - China and India - remains a key highlight. Besides, these players leverage new sales channels and emphasize on strategic alliances with regional suppliers and distributors. For instance, Conagra Brands Inc. provides meat snacks such as pepperoni meat sticks, jalapeno meat sticks, cranberry turkey jerky, and honey-glazed beef jerky, among others.

The meat snacks market operates amidst stringent regulations and food control authorities that need products to pass through numerous tests, including organic, halal, kosher, and non-GMO. This means that, market players should conform to these protocols in order to prevent product-recall instances. Since both, the household and food industry segments are key consumers of meat snacks, market players can look at strengthening partnerships with restaurants, fast-food chains, and similar eateries, with the intent to achieve a consolidated market position.
Meat Snacks Market: Overview
TMR has executed research on the meat snacks market, according to which, the meat snacks market is estimated to be valued at ~US$ 7.1 Bn in 2019, in terms of value, and is anticipated to reach ~US$ 14.5 Bn by 2029, with a value CAGR of ~7%
The growth of the food and beverage industry is underpinned by the growing trend of premiumization, fortified products, and clean label. Consumer sentiments and preferences for premium, safe, and healthy food products play an essential role in shaping the global food and beverage industry as well as the global meat snacks market.
Growing at an epic rate, the meat snacks market is driven by novel innovations that are new in flavors, and fortified with unique and healthy proteins and ingredients.
Meat snacks such as classic jerky, biltong, strips, sticks and chips, bars, chunks & cubes, and sausages made from meat sources such as turkey, chicken, beef, and pork are low in calories and high in omega-3, vitamin B12, and iron. These healthy aspects of meat snacks are expected to drive the market beyond their convenience nature.
Free-From Trend in Meat Snacks Market to Attract Millennials
The chunks & cubes product segment of the meat snacks market is likely to witness a high growth rate of ~8% in the matured meat snacks market. Following the chunks & cubes segment, the strip, sticks, and chips segment is projected to register a prominent CAGR over the forecast period, owing to increasing product launches by manufacturers and growing acceptance by consumers owing to promotional activities targeting specific consumer groups.
Growing consciousness about health and wellness across all regions in the world is likely to shape and drive the market growth of meat snacks products. Consumers are becoming well aware of the harmful effects of certain chemicals, preservatives, and additives used in the food products. Due to this, they are getting more attracted towards products with claims such as gluten-free, no additives/preservatives, reduced fat, hormone-free, etc.
Product launches in the category of meat snacks, globally, were positioned and marketed on a health platform, accounting for a big share of 30%. High/added protein meat snacks products are witnessing enormous success in developed regions such as North America and Europe.
The millennial generation is said to be suffering from various health issues such as depression, high blood pressure, high cholesterol, etc., due to their busy lifestyles. They are opting for healthier snacks that are beneficial to their health and wellness. Consumers are increasingly getting inclined towards snacks that offer clearer and cleaner labels. Meat snacks fulfill the demand for clean, healthy, and natural snacks.
Meat Snacks Market: Trends
Clean label is likely to affect the sales of meat snack products in the global market in a big way. Due to increasing incidents of food fraud and adulteration, consumer awareness and demand for clean label products is rising at a tremendous rate. Since zoonotic diseases are becoming more serious issues, manufacturers of meat snacks are pressurized to follow the trend of clean label.
The organic segment in the global meat snacks market is anticipated to have profitable growth over the forecast years, owing to the increasing consumer demand for healthier and organic products. 32% of millennial consumers show interest in grass-fed meat snacks. Manufacturers of meat snacks are thus launching and promoting organic products to cater to the altering consumption patterns and changing consumer trends.

Mighty Organics, recently, in 2017, launched meat snack sticks packed with protein, made from grass-fed beef. The product is available in three flavors in the market, i.e., original, spicy jalapeno, and teriyaki.

Producers of meat snacks are regularly offering consumers more innovative products regarding ingredients and flavors. Innovation in meat snacks is done to meet consumer demand for healthier products without compromising on the taste, flavor, texture, and nutritional qualities of the product.
Meat Snacks Market: Strategy
Strong branding and promotional strategies are being used by manufacturers in the meat snacks market. They are opting for modern, consumer-targeted, and eye-catching packaging for their products. The packaging is designed to grow the interest of consumers with the introduction of names such as natural, organic, free-from, reduced, clean, etc. This gives manufacturers an upper hand in the global meat snacks market.
Meat snack manufacturers are planning strategic expansion and mergers & acquisitions to expand their businesses and customer base by entering into untapped markets. Besides, manufacturers are also focusing on product innovation and positioning strategy, owing to the increasing premiumization of products, and maintaining the brand value of products.
Product Innovation and Launches: Novel and innovative products are being developed and launched by manufacturers by understanding the specific needs of consumers with cutting-edge research & development activities.
Target Regions for Meat Snacks Market
MEA and APEJ are expected to witness significant rise in demand for meat snacks in the latter half of the forecast period, owing to the adoption of Western lifestyle, frequency of new product launches, increase in the middle-class population, increase in middle-class income, rising per capita disposable income of consumers, increasing penetration of global meat snack brands, and rising health and wellness trends.
Countries such as Brazil, India, China, and South Korea present promising market opportunities during the forecast period.
Meat Snacks Market: Players
Key players operating in the meat snacks market, as profiled in the study, include

Tillmook Country Smoker, Inc.
ConAgra Brands Inc.
Mighty Organic
Wild Bill's Foods, Inc.
Tyson Foods, Inc.
Oberto Sausage Co.
Choo Choo R Snacks Inc.
Bumble Bee Seafood LLC
GoPicnic, Inc.
Tarczynski S.A.
Meat Snacks Market: Scope of the Report
TMR started a new study on the global meat snacks market, providing forecast for the period of 2019 to 2029. The report enumerates valuable insights to enable readers in making winning business decisions for the future growth of their businesses. The report sheds light on significant factors that are constantly shaping the growth of the meat snacks market, untapped opportunities for manufacturers, trends and developments, and other insights across various key segments. Macroeconomic factors that are directly or indirectly affecting the growth of the global meat snacks market are also incorporated in the report.
Key Questions Answered
What will be the meat snacks market size in 2029?
Which region will remain the most lucrative for the growth of the meat snacks market?
Which product is most preferred for meat snacks, and what was its market size in 2018?
What is the market share comparison between different products in the meat snacks market?
What will be the growth rate of the meat snacks market in 2021?
Key indicators associated with the meat snacks market have been evaluated thoroughly in the report. The study highlights vital market dynamics such as key drivers, challenges, and trends, along with potential opportunities in the global meat snacks market. A comprehensive study on the supply chain of the meat snacks market has also been encompassed in the report.
Other key aspects laid down in the meat snacks market report include cost breakdown, pricing strategy of leading market players, and raw product cost breakdown. Furthermore, forecast factors and forecast scenario of the meat snacks market have been encompassed in the report to understand the future prospects of the market.
A comprehensive evaluation and forecast on the meat snacks market has been provided on the basis of product, nature, end use, sales channel, and region. The report also renders imperative numbers such as the historical and forecast size of the various segments of the meat snacks market.
Y-o-Y growth comparison, and revenue comparison, and market share comparison of various market segments has been delivered in the report. The meat snacks market has been analyzed at both, regional and country levels.
The meat snacks market report provides an exhaustive evaluation on the structure of the meat snacks market, in tandem with a dashboard view of all the leading companies profiled in the report. A company share analysis on meat snacks market players has also been presented in the report, apart from the footprint matrix of the profiled market players. The report depicts the presence of meat snack manufacturers by leveraging an intensity map.
Key companies profiled in the meat snacks market report include Tillamook Country Smoker, Inc., ConAgra Brands Inc., Mighty Organic, Wild Bill's Foods Inc., Tyson Foods, Inc., Oberto Sausage Co., Choo Choo R Snacks, Inc., Bumble Bee Seafoods, LLC., GoPicnic, Inc., Tarczynski SA., etc.
Research Methodology
A realistic methodology along with a holistic approach makes the base for incisive insights provided in the meat snacks market report for the study evaluation period. The TMR report comprises detailed information on the growth prospects of the meat snacks industry, along with riveting insights into the forecast assessment of the market.
Extensive primary and secondary research has been employed to garner incisive insights into the forecast study of the meat snacks market. The report on the meat snacks market has further gone through cross-validation by in-house professionals to make the meat snacks market report one-of-its-kind with the highest credibility.
Meat Snacks Market: Segmentation
The meat snacks market has been bifurcated on the basis of product, nature, end use, sales channel, and region. Each of these segments have been analyzed to provide readers with a holistic view of the industry.
Product

Jerky
Biltong
Strips, Sticks, and Chips
Bars
Chunks & Cubes
Sausages
Others

Nature

End Use

Sales Channel

Direct
Indirect

Store-based Retailing

Hypermarkets/Supermarkets
Convenience Stores
Independent Small Groceries
Specialty Stores

Online Retailing

Region

North America
Latin America
Western Europe
Eastern Europe
APEJ
Japan
MEA
Custom Market Research Services
TMR offers custom market research services that help clients to get information on their business scenario required where syndicated solutions are not enough.
REQUEST CUSTOMIZATION