Marine Insurance Market
Marine Insurance Market (Risk Type: Ocean Cargo, Marine Liability, and Hull & Machinery Insurance; Policy/Plan Type: Multinational, Open Marine Insurance, Floating, Voyage, Port Risk, and Others; and Premium Type: Large Market, Middle Market, and Small Market) - Global Industry Analysis, Size, Share, Growth, Trends, and Forecast, 2021-2031
Category :

Consumer Goods & Services

Format :
Marine Operators Invest in New Technologies to Support Claimants amid COVID-19 Uncertainties
The COVID-19 crisis has reshaped the marine sector's risk landscape, whilst compelling the marine insurance market to change the way it views risks. Tim Martin, head of casualty/marine at Gallagher Bassett - a premier claims services provider, states that the pandemic has heavily disrupted airline travel and the aviation freight industry, which has caused ripple effects, impacting the demand for goods being shipped and transferred across the world.
Companies in the marine insurance market are witnessing significant supply chain disruptions, since major manufacturing points have been impacted by the virus. Stakeholders in the marine insurance market are facing international border restrictions that are causing a delay in shipments. Due to the pandemic's direct and indirect interruptions in the marine sector, marine operators are becoming more competitive and investing in stronger & faster technologies to support claimants & clients.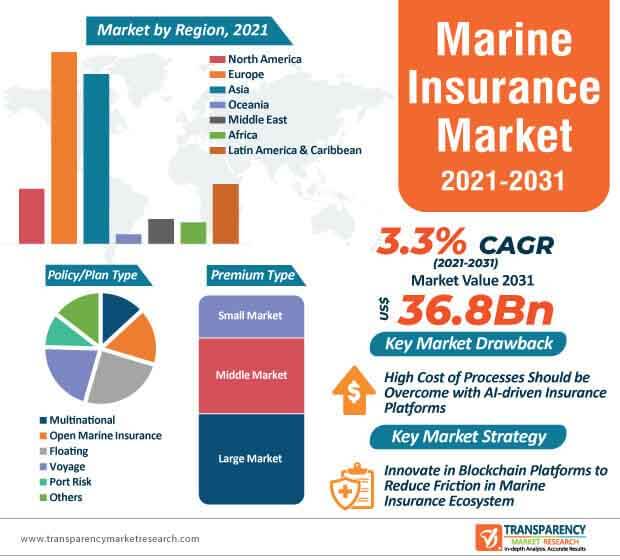 Request a sample to get extensive insights into the Marine Insurance Market
Insurtech Products Prove Cost-efficient Tools for Settling Claims
The speed of the process is one of the biggest challenges faced by marine insurance claims managers. In a research conducted by Marine Judge - an AI-driven marine insurance platform, it has been found that more than 40% of managers involved in maritime insurance claims state that the claims process is potentially time consuming. High cost of processes and poor communication are among other challenges faced by claims managers in the marine insurance market. Thus, to overcome these challenges, stakeholders are introducing insurtech products that hold promising potentials to reduce the time and expense of settling claims. The adoption rate for insurtech products is anticipated to increase dynamically.
To understand how our report can bring difference to your business strategy, Ask for a brochure
Marine Insurance Digitalization Empowers Insurers, Brokers to Act Swiftly
With the influx of insurtech products, the digitalization of marine insurance is emerging as one of the key drivers for market growth. Artificial intelligence (AI)-driven insurance platforms and real-time data are empowering brokers and insurers with insights to react swiftly. Digitalization is minimizing poor communication in processes within the marine insurance market. The broker's role is transitioning from providing only transactional information to providing better insight on risk and exposure through analyzing meaningful data.
The digitalization of marine insurance is helping insurers to react swiftly to a vessel on the move, adapt prices, and coverage in real time in order to manage risks more accurately. Such trends are translating into revenue opportunities for stakeholders in the marine insurance market, which is estimated to cross a valuation of US$ 36.8 Bn by 2031.
Blockchain-enabled Platforms Hold Potential to Reduce Risk & Friction in Processes
Blockchain platforms are gaining recognition in the global marine insurance market. Ernst & Young - a multinational professional services network, has joined forces with Guardtime - a specialist in cyber-security and blockchain, to work with Microsoft's Azure Blockchain to reduce risk and friction in global trade & the marine insurance ecosystem.
Companies in the marine insurance market are increasing their R&D capabilities to develop blockchain-enabled platforms that meet the needs of different parties involved in a marine insurance contract.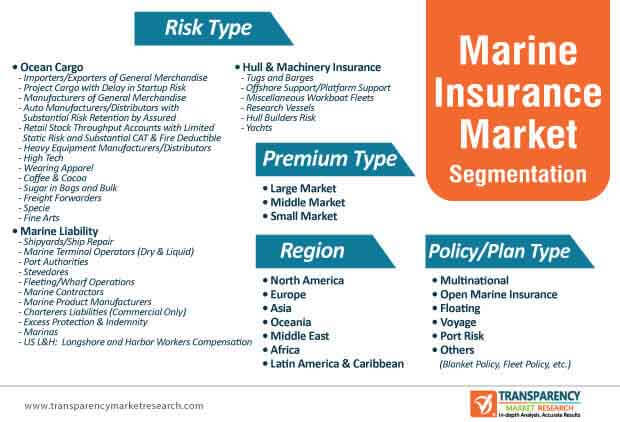 Stuck in a neck-to-neck competition with other brands? Request a custom report on Marine Insurance Market
Analysts' Viewpoint

Brokers and insurers are increasing their R&D efforts to calculate the risk of business interruptions in the pandemic-influenced trade economy. The marine insurance market is slated to register a modest CAGR of 3.3% during the assessment period. This is evident since marine insurance claims managers are facing time, cost, and communication challenges in claims processes. Hence, companies should increase the availability of insurtech products, digitalization of processes, and blockchain-enabled platforms to streamline claims processes. Brokers are suggested to acquire new talent with a strong data and analytics skillset. Blockchain-enabled platforms are being developed with the consultation of large shipping companies, international brokers, and multiple specialty insurance firms.
Marine Insurance Market: Overview
According to Transparency Market Research's latest research report on the global marine insurance market for the historical period 2017, 2018, and 2019, and the forecast period of 2021–2031, marine insurance is important, as it provides protection against any damage or loss incurred to a ship and to the cargo that the ship is transporting. Thus, a rise in awareness about the importance of marine insurance is fueling the marine insurance market.
Marine insurance covers the loss or damage to ships, cargo, terminals, and any transportation method by which the property is transferred, acquired, or held between the point of origin and the final destination. Marine insurance is necessary for all ship owners who use it for commercial or transportation purpose.
In terms of revenue, the global marine insurance market is estimated to reach the value of US$ 36.8 Bn by 2031, expanding at a CAGR of 3.3% during the forecast period. Marine insurance covers the risks faced by cargo owners, ship owners, and various intermediaries in the shipping business. Various risks, such as navigation issues and weather conditions can affect the cargo. This factor is expected to drive the market growth during the forecast period.
Marine Insurance Companies Adopting Latest Technologies to Help Clients in Risk Management, Loss Prevention Efforts
Increase in the number of risk factors that can affect cargo, such as weather conditions and navigation issues, fuels the demand for marine insurance worldwide. Companies are adopting new technologies to provide end users with better services. This is expected to create huge opportunities for the marine insurance market in the upcoming years.
Additionally, an increase in awareness about the importance of marine insurance and the use of new technologies are driving the demand for marine insurance
Rise in the number of marine insurance brokers and agents is a key factor boosting the market. Marine insurance brokers are representatives of companies that provide marine insurance.
Climate change and unpredictable weather conditions can lead to loss or damage of cargo ships and in such cases, marine insurance is helpful. This drives the marine insurance market.
Rising investment in shipbuilding and commercial freight transport is expected to offer high growth opportunities for the global marine insurance market during the forecast period
However, various laws, rules, and regulations associated with insurance services, data privacy, and cyber-security that require additional certification, digital security, license, and technical support, may hamper the marine insurance market
Increasing Demand from Asia Pacific
The market in Asia Pacific is expected to expand at a fast-paced CAGR, owing to an increasing number of marine insurance players operating across the region
China is projected to register a high growth rate followed by Singapore in the region's marine insurance market in the years ahead. The number of ship-owners in China is increasing due to a rise in the demand for waterborne transportation and increase in import & export activities, which, in turn, fuels the marine insurance market in China.
Increase in trade agreements across the globe and import & export activities provide opportunities to key players active in the marine insurance industry, which propels the market in the Asia Pacific region
Marine Insurance Market: Competition Landscape
Detailed profiles of providers of marine insurance have been provided in the report to evaluate their financials, key product offerings, recent developments, and strategies
The marine insurance market is fragmented due to the presence of several players. Competition is expected to intensify in the upcoming years due to the entry of several local players.
Key players operating in the global marine insurance market are

American International Group, Inc.
American Financial Group, Inc.
Allianz SE
Axa S.A.
Arthur J. Gallagher & Co.
Aon Plc
Aspen Insurance Holdings Limited
Berkshire Hathaway Specialty Insurance
Swiss Re
Zurich Insurance Group
Tokio Marine Holdings, Inc.
Chubb Limited
The Hanover Insurance Group, Inc.
Markel Corporation
HDI Global SE
Intact Insurance Company
ProSight Global, Inc.
RLI Corp
Sompo International Holdings Ltd
The Hartford
The Travelers Indemnity Company
Assicurazioni Generali S.p.A.
Beazley Group
Starr International Company, Inc.
Marsh LTD., among others
Marine Insurance Market: Key Developments
Key market players are focused on the adoption of business strategies such as mergers & acquisitions and geographical expansion. Furthermore, market players are more focused on product development and enhancement to gain a competition advantage over others.

In April 2021, Allianz SE announced partnership with Sea Shepherd Global for marine protection. The partnership is initially for two years and covers Italian coastal areas in the Mediterranean Sea.
In October 2020, Assicurazioni Generali S.p.A. completed the acquisition of Seguradoras Unidas S.A. and the service company AdvanceCare from Calm Eagle Holdings S.à r.l. and Calm Eagle Parent Holdings II S.à r.l. in Portugal
In June 2018, The Navigators Group, Inc. announced that that it has acquired Bracht, Deckers & Mackelbert NV (BDM) and it is a joined insurance company
Marine Insurance Market – Scope of Report
A new study on the global marine insurance market has been published by Transparency Market Research (TMR). It presents a wealth of information on key market dynamics, including drivers, market trends, and challenges, as well as the structure of the global marine insurance market across the globe. TMR's study offers valuable information about the global marine insurance market to illustrate how the market would grow during the forecast period, 2021–2031.
Key indicators of market growth, which include value chain as well as supply chain analyses, and Compound Annual Growth Rate (CAGR), are elucidated in TMR's study in a comprehensive manner. This data can help readers interpret quantitative growth aspects of the global marine insurance market during the forecast period.
An extensive analysis on business strategies of leading market players is also featured in TMR's study on the global marine insurance market. This can help readers understand principal factors to foresee growth in the global marine insurance market. In this study, readers can also find specific data on the qualitative and quantitative growth avenues for the global marine insurance market, which is expected to guide market players in making apt decisions in the future.
Key Questions Answered in TMR's Marine Insurance Market Study
What are the key factors influencing the marine insurance market in each region?
What will be the CAGR of the global marine insurance market between 2021 and 2031?
What is the future scope and current trends in technologies of the global marine insurance market?
What is the revenue of the global marine insurance market based on segments?
Which key strategies are used by top players of the global marine insurance market?
Which are the leading companies in the global marine insurance market?
Research Methodology – Marine Insurance Market
A unique research methodology has been utilized by TMR to conduct a comprehensive research on the growth of the global marine insurance market and arrive at conclusions on the future growth prospects of the market. This research methodology is a combination of primary and secondary research, which helps analysts warrant the accuracy and reliability of the drawn conclusions.
Secondary sources referred to by analysts during the production of the global marine insurance market report include statistics from company annual reports, SEC filings, company websites, World Bank database, investor presentations, regulatory databases, government publications, and industry white papers. Analysts have also interviewed senior managers, product portfolio managers, CEOs, VPs, and market intelligence managers, who contributed to the production of TMR's study on the marine insurance market as a primary source.
These primary and secondary sources provided exclusive information during interviews, which serves as a validation from marine insurance industry leaders. Access to an extensive internal repository and external proprietary databases allows this report to address specific details and questions about the global marine insurance market with accuracy. The study also uses the top-down approach to assess the numbers for each segment and the bottom-up approach to counter-validate them. This has helped in making TMR's estimates on the future prospects of the global marine insurance market more reliable and accurate.
Marine Insurance Market – Segmentation
TMR's study on the global marine insurance market includes information categorized into four sections - risk type, policy/plan type, premium type, and region. Changing industry trends and other crucial market dynamics associated with these sections of the marine insurance market are discussed in detail.
Risk Type

Ocean Cargo

Importers/Exporters of General Merchandise
Project Cargo with Delay in Startup Risk
Manufacturers of General Merchandise
Auto Manufacturers/Distributors with Substantial Risk Retention by Assured
Retail Stock Throughput Accounts with Limited Static Risk and Substantial CAT & Fire Deductible
Heavy Equipment Manufacturers/Distributors
High Tech
Wearing Apparel
Coffee & Cocoa
Sugar in Bags and Bulk
Freight Forwarders
Specie
Fine Arts

Marine Liability

Shipyards/Ship Repair
Marine Terminal Operators (Dry & Liquid)
Port Authorities
Stevedores
Fleeting/Wharf Operations
Marine Contractors
Marine Product Manufacturers
Charterers Liabilities (Commercial Only)
Excess Protection & Indemnity
Marinas
US L&H: Longshore and Harbor Workers Compensation

Hull & Machinery Insurance

Tugs and Barges
Offshore Support/Platform Support
Miscellaneous Workboat Fleets
Research Vessels
Hull Builders Risk
Yachts

Policy/Plan Type

Multinational
Open Marine Insurance
Floating
Voyage
Port Risk
Others (Blanket Policy, Fleet Policy, etc.)

Premium Type

Large Market
Middle Market
Small Market

Region

North America

Canada
U.S.
Rest of North America

Europe

Belgium
France
Germany
Greece
Italy
Netherlands
Spain
U.K.
Rest Of Europe

Asia

China
Japan
Philippines
Singapore
South Korea
Rest Of Asia

Oceania
Middle East
Africa

Egypt
South Africa
Rest Of Africa

Latin America & Caribbean

Brazil
Panama
Rest of South America
Custom Market Research Services
TMR offers custom market research services that help clients to get information on their business scenario required where syndicated solutions are not enough.
REQUEST CUSTOMIZATION